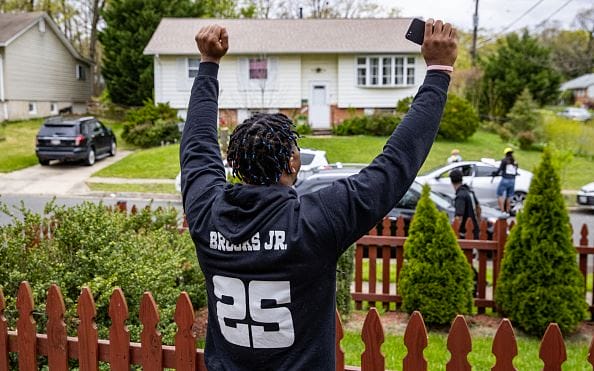 Tonight on The Kickoff, join host Harry Broadhurst, Erik Watkins, Jason Teasley, and Brandon Biskobing as they present their unique blend of insight and humor covering the worlds of professional and college football.
On this episode: First, the boys break down the breaking free agency news of Andy Dalton. Later on, we talk about the no longer free agent Jameis Winston as he signs a deal with the Saints.
The focus then shifts to Rounds 4 through 7 as the guys discuss the happenings of the later rounds as they first discuss their individual teams and then get into player specifics about names to watch for. To wrap up their draft coverage, the team then picks one team that they thought had the best draft and the one team they thought had the worst.
All that and much more to digest in this preview edition of The Kickoff, a presentation of the W2M Network (online at w2mnet.com).
The 2020 NFL Draft Review – The Best of the Rest (4-7), Overall Final Thoughts and Some Free Agent News
About The Kickoff
Ladies and gentlemen, welcome to The Kickoff with Harry Broadhurst, Erik Watkins, Jayson Teasley, and Brandon Biskobing. This is not your traditional football show. Rather than breaking down every single game, we give you all the must-know information and the debate. While encouraging each other to speak what we think. Whether we are right, wrong or just plain nuts.
Harry Broadhurst
Harry Broadhurst is a lifelong Buffalo Bills fan based out of Youngstown, Ohio. In addition, he also enjoys torturing himself by watching tons of Reality TV and listening to pop music. When he's not watching the Bills on Sunday's, you'll find him rooting on his beloved Florida Gators on Saturdays as well.
Jayson Teasley
Jason Teasley, the man, the myth, the legend, in his own mind. Fantasy football junkie and the residential evil ginger that brings his insights and opinions whether warranted or not.
Erik Watkins
Erik started out with watching games and staying up late for Sunday and Monday night. It spread to college, and eventually just about every single sport in the book. By the time he graduated from UNF, all his friends and family thought Erik would be better off as a sportswriter. Perhaps a journalist, or a commentator than anything to do with math (boy were they right). So, after wandering around with a degree and looking for a job, he started a blog. The blog turned into some freelance work. After that, work led him right here talking about the game that he loves.
MAIN PHOTO:
Embed from Getty Images