New Japan Pro-Wrestling kick things into spring with their big April event. The newly named Sakura Genesis may set the tone for NJPW going into some huge events in the summer. It also replaces the former Invasion Attack, which New Japan used since 2013. There are 10 matches in total, with five championships on the line. Kazuchika Okada makes it his third main event on this PPV's history. Last year he faced Tetsuya Naito and lost his title defense. This year he stares at an equally tough task, with Katsuyori Shibata. A match that certainly tests Okada's toughness, with a fiery Shibata who has no problem making someone pass out.
KUSHIDA challenges once again for the IWGP Junior Heavyweight Championship, looking to avenge his loss to champion Hiromu Takahashi at Wrestle Kingdom 11. If they can do anything comparable to their first match, fans are in for a treat. In another highly anticipated match, Hirooki Goto defends the NEVER Openweight Championship against wrestling stalwart Zack Sabre Jr. ZSJ already has a match against Shibata under his belt, which could prove valuable in taking on his former friend. War Machine continues to light it up in NJPW and are hoping to pickup some IWGP Tag Team Title gold against TenKoji. Finally, a couple of Suzuki-Gun members, Taichi and Yoshinobu Kanemaru battle with the New Japan bookers Gedo and Jado for the IWGP Jr Tag Titles.
Plus, there's the usual assortment of multi-man tags, Young Lion versus veterans and more. This is our NJPW Sakura Genesis 2017 Preview.
New Japan Pro-Wrestling: NJPW Sakura Genesis 2017 Preview
An Introduction to the Article
As someone that has quite a bit of experience doing these roundtable type articles, I wanted to do this a bit differently than some others. Instead of having numerous people all give thoughts on each match, I felt it better to assign one match to each person. So, one of our staff members will give their thoughts on the match itself and predict a winner. This continues until the end of the article, when everyone gathers to give their overall thoughts on the event. – Sean Garmer
W2Mnet Staff
Sean Garmer, Co-Host of Wrestling 2 the MAX, W2Mnet Editor-in-Chief
Paul Leazar, Co-Host of Wrestling 2 the MAX, W2Mnet Wrestling Dept. Head
Jeff Sugg, W2Mnet Editor
Tom Reese, W2Mnet Wrestling Contributor
Glenn Smith, W2Mnet Wrestling Contributor
Match 0: Sakura Genesis Pre-Show Match
Hirai Kawato, Tomoyuki Oka, Katsuya Kitamura (Young Lions) vs. David Finlay, Jushin Thunder Liger, Manabu Nakanishi
Even though this is technically the pre-show Dark match, it's still nice for the NJPW Young Lions to get time on the promotion's big events. In reality, this is your typical veterans versus young lions situation. Expect the Young Lions to lose. However, getting to watch them in their progression is the interesting part of these matches. It's quite obvious New Japan has a lot of stock in Katsuya Kitamura and he should get some strong man spots against Manabu Nakanishi.
Hirai Kawato has been showing heel tendencies of late. Especially attacking opponents before the bell. He's slowly getting better each time we see him. Him and Jushin Thunder Liger could get some nice interactions. Tomoyuki Oka is another heavyweight that New Japan has some hope for. He doesn't have the behemoth look of Kitamura, but he could wind up the more technically sound of the two. It's also great to see David Finlay back in the ring too. In the end, we know the result, but hopefully it's a good five to 10 minute match. – Sean Garmer.
Winners: Finlay, Liger & Nakanishi
Other Staff Members Predictions: Everyone else also picked: Finlay, Liger & Nakanishi.
Match 1: New Japan vs. Bullet Club
Tiger Mask IV, Tiger Mask W, Yuji Nagata, Togi Makabe vs. Chase Owens, Yujiro Takahashi, Tama Tonga, Tanga Roa (Bullet Club)
It's amazing that Tiger Mask W (we all know who's under the mask), can main event a show with Okada and then spend most of his time in prelim bouts like this one. The fans love the return of the character and considering who the wrestler is, it makes a lot of sense. Seeing him tag with the current wrestling Tiger Mask IV is always interesting. I wonder if NJPW ever has them go after the Tag Team Titles.
This match also marks the big event return of Togi Makabe since the severe injury to Tomoaki Honma occurred. I'm sure this will be an emotional moment for him as well. Yuji Nagata actually had to replace Honma in the New Japan Cup 2017, but he continues his battle against the Bullet Club along with Makabe. If they can keep Tama Tonga and Chase Owens in the ring more than the other two, we could have a pretty decent match here. Tama Tonga has lifted the Stun Gun from former stablemate Karl Anderson and really turned it a great finish for himself. You have to believe one of these days he's going to get a true singles run.
Owens has steadily gotten more and more appearances on these NJPW tours, which is an absolute plus. I feel that especially since last year's Best of the Super Juniors, Owens has stepped it up big time. He had some terrific matches with several of his opponents in the B Block. Even though, Bullet Club certainly has it's mixed bag of talent. Owens is one of the best workers in the stable. In the end, these multi man tags are a collaborative effort. With this combination of talent involved, it's sure to be fun opener. I can't imagine it being anything less. Team Tiger Mask should get the win here to start the show off on a happy note. – Sean Garmer.
Winners: Team Tiger Mask
Other Staff Members Predictions: Everyone else also picked: Team Tiger Mask.
Match 2: CHAOS vs. Suzuki-Gun
Roppongi Vice & YOSHI-HASHI (CHAOS) vs. El Desperado, Taka Michinoku, Minoru Suzuki (Suzuki-Gun)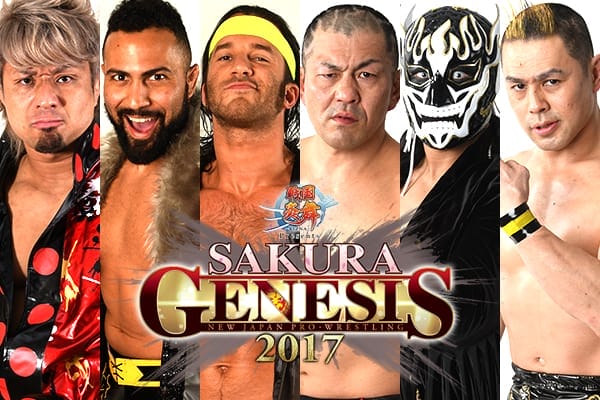 Look no further than Minoru Suzuki's presence in this match to confirm just how deep the Sakura Genesis card truly is. MiSu joins up with TAKA Michinoku and El Desperado to take on several Chaos members. YOSHI-HASHI and Roppongi Vice. Y-H has had an up and down year following the best summer of his professional life in 2016. His partners are looking to gain some momentum in the hopes of regaining the IWGP Jr. Heavyweight tag team title.
But before they can hope to get to Taichi and Kanemaru they must first dispatch TAKA and El Desperado. While this might be the highest form of motivation for RPG Vice and Y-H, they have a stern test ahead of them. Suzuki-Gun is always a tight-knit unit of wrestlers and they also have a tendency to try and one up their stablemates. This makes them twice as dangerous.
This tendency is magnified anytime The Boss is around. So not only is Minoru the most dangerous of the bunch, but his presence makes the others more sadistic too. I anticipate Chaos has a sound gameplan, I fear the presence of Minoru trumps that. – Jeff Sugg
Winners: Suzuki-Gun
Other Staff Members Predictions: Glenn Smith: Suzuki-Gun. Sean & Paul: CHAOS.
Match 3: IWGP Junior Tag Team Championship Match
Yoshinobu Kanemaru & Taichi (Suzuki-Gun) vs. Gedo & Jado (CHAOS)
The Jr tag division is one area New Japan just doesn't do well with for some reason. This is a total mystery, considering the amount of talent they have. Gedo and Jado are a mainstay act for starting together in 1989. They can put out decent performances but not at a top level. Taichi may be the most undeserving wrestler in a title program in all of Japan. And that's being nice about it. Kanemaru is an underrated journeyman who always delivers solid performances. This match will be anywhere from bad to ok depending upon how much Taichi we get. In the end, this match probably winds up an afterthought – Tom Reese
Winners AND STILL CHAMPIONS: Kanemaru & Taichi
Other Staff Members Predictions: Everyone else also picked: Kanemaru & Taichi.
Match 4: CHAOS vs. Bullet Club
Tomohiro Ishii & Toru Yano (CHAOS) vs. Kenny Omega & Bad Luck Fale (Bullet Club)
Well, here's a bit of pickle. Tomohiro Ishii and Toru Yano are former tag team champions, and the teaming doesn't seem to be over for these two. Kenny Omega and Bad Luck Fale are two bad hombres. Fale went to the finals of the New Japan Cup recently. While Kenny Omega continues being Mr. Six Stars. I'm sure we'll get a good match here, but I'm thinking that Kenny avenges the loss he took in the opening round of the New Japan Cup by pinning Ishii. – Paul Leazar
Winners: Omega & Fale
Other Staff Members Predictions: Everyone else also picked: Omega & Fale.
Match 5: Tanahashi & Friends vs. Los Ingobernables de Japon
Hiroshi Tanahashi, Juice Robinson, Ryusuke Taguchi, Ricochet vs. Tetsuya Naito, EVIL, SANADA, BUSHI (Los Ingobernables de Japon)
In one corner, we have the Team of Taguchi Japan. (Made up of Ricochet, Hiroshi Tanahashi, Ryusuke Taguchi and Juice Robinson). In the other corner, we have Los Ingobernables de Japon.
So here's why I think Taguchi Japan and Juice get the job done. After an unsuccessful attempt to win The NEVER Openweight Championship, Robinson really needs to reclaim that mojo he had when he was chasing Goto for his title. A pinfall victory over Naito easily would put him into the IC Title picture. Not to mention, continue his push he's been getting recently. Also, three fourths of this teams just won the Never six Man titles. They need to keep momentum in their favor and show the members of L.I.J why they are the team to beat.
There is the possibility L.I.J. get the win too. Especially with the recent loss by EVIL SANADA and BUSHI. Avenging their loss and getting another shot at the titles makes sense. It would show that Taguchi Japan are just a flash in the pan and their win was a fluke.
My prediction is that Juice pins Naito. Giving Juice a IWGP Intercontinental Championship shot down the line. – Glenn Smith
Winners: Tanahashi & Friends
Other Staff Members Predictions: Sean, Paul, Jeff: Team L.I.J.
Match 6: IWGP Tag Team Championship Match
(Champions) Hiroyoshi Tenzan & Satoshi Kojima (TenKoji) vs. War Machine (ROH)
Well, this should be a pretty awesome brawl. War Machine have been on a tear since they first showed up in New Japan. They are a perfect fit for the promotion. TenKoji are the constant here, and sorta took the reigns after Lance Archer's injury derailed New Japan's plans for the tag division. At any rate, War Machine and TenKoji should put on a pretty great match here. TenKoji retaining here wouldn't surprise me. They get good pops from the crowd, no matter what. Honestly, I wouldn't mind them getting a long run with the belts. However, giving War Machine the titles wouldn't be bad either. You know, they can go with anybody on the roster, and I think the crowd likes them enough to warrant giving them a run. So, why not? I'll pick War Machine to win here. – Paul Leazar
Winners AND NEW CHAMPIONS: War Machine
Other Staff Members Predictions: Jeff Sugg: TenKoji. Sean & Glenn: War Machine.
Match 7: NEVER Openweight Championship Match
(Champion) Hirooki Goto (CHAOS) vs. Zack Sabre Jr. (Suzuki-Gun)
Boy what a match this is sure to be. Goto has been working with a lot of the younger, and less over talent. So far, it has done wonders for them. Juice was on the verge of getting over. After his match and sort of mini feud with Goto, it's been a great boon to his career. Of course, Zack Sabre Jr. is a different story altogether. His name is well known, and his abilities are well known the world over.
I love Goto. He's one of my favorite wrestlers. He's just an incredibly tough human being, who wrestles in a more classic way then a lot of the other guys at the top of the mountain right now. However, I think this is Zack Sabre's match to win. Realistically, outside of KES and Suzuki, the Suzuki-gun doesn't have anybody else who really feels like they are that essential to making the stable feel big. Zack winning here does that, and makes the NEVER Openweight Title actually live up to it's name. Plus, I fancy the idea of Sabre with four championships. – Paul Leazar
Winner AND NEW CHAMPION: Zack Sabre Jr.
Other Staff Members Predictions: Glenn Smith: ZSJ. Sean & Jeff: Goto.
Match 8: IWGP Junior Heavyweight Championship Match
(Champion) Hiromu Takahashi (Los Ingobernables de Japon) vs. KUSHIDA
In one of the most highly anticipated IWGP Jr. Heavyweight Championship rematches in recent memory, longstanding ace of the division, KUSHIDA, has earned the right to once again step into the ring with one of the most exciting, demented, and talented champions of this, or any other, generation and attempt to wrest the strap away from Hiromu Takahashi.
And make no mistake, KUSHIDA can do it. He has all of the talent and skill necessary to regain the strap. But one has to wonder if Hiromu is in the challenger's head, or at least has his number. Does KUSHIDA have the mean streak required to put Hiromu down?
If the BUSHI rivalry proved anything about KUSHIDA, it was that there is indeed a bit of a mean streak there. KUSHIDA needs every bit of that, every bit of technique, and every bit of skill he possesses to pull this victory off. But is that enough to overcome Takahashi?
As if Hiromu wasn't talented enough, joining Los Ingobernables and becoming "the man" has instilled an additional, unwavering confidence within the champion. Combined with his absence of care for his own well being; his absolute willingness to do whatever it takes to succeed. It truly feels, as if the champ is unstoppable right now. – Jeff Sugg
Winner AND STILL CHAMPION: Hiromu Takahashi
Other Staff Members Predictions: Everyone else also picked: Hiromu.
MAIN EVENT: Match 9: IWGP Heavyweight Championship Match
(Champion) Kazuchika Okada (CHAOS) vs. Katsuyori Shibata
Katsuyori Shibata FINALLY gets a shots at the IWGP Heavyweight Title. He's had a long journey to get to this point, having been somewhat an outcast. Shibata started his career with NJPW. However, he left during the dark days of the promotion. His reasoning for leaving was to try MMA. He actually wrestled freelance for a while before trying his hand, unsuccessfully, at MMA. He was reluctantly allowed back into NJPW, but he had to work long and hard to earn back the trust of the promotion and fans alike.
Despite great performances against the likes of Ishii and Suzuki, the fans didn't necessarily trust him. This changed three years ago, after a program with the perennial ACE and face of the company Hiroshi Tanahashi. Tanahashi was very vocal in his feelings on Shibata leaving when the company was down. Including writing about it in his book. But after great matches withe ACE, Tanahashi offered the handshake that welcomed Shibata back as one of their own. By this point, there was a lot of clamor to see Shibata move up the card. Noise is made every year for him to win G1 Climax. This could be the year where that happens, because in 2017, Shibata is ready to main event. He's already won this year's NJ Cup. He now goes onto Sumo Hall with a shot at the gold.
Okada finally cemented his place as the face of NJPW and current ACE. He's on a roll of great title defenses against the likes of Marufuji, Omega, and Suzuki. This match has the lure of something new and fresh. Enough people desperately want to see Shibata as champion. It's a great match-up period. Okada brings the flashy style. While Shibata is the no nonsense ass kicker. This is going to be heated for sure. Especially, due to the believability of Shibata's offense and his fighting spirit. Okada never delivers anything less than great in big matches. I look for a tremendous match with Okada coming out on top. – Tom Reese
Winner AND STILL CHAMPION: Kazuchika Okada
Other Staff Members Predictions: Everyone else also picked: Okada.
Overall Thoughts Part 1
Man, am I excited for this show. Every single title match should deliver in some fashion, and the IWGP Title should be just absolutely incredible. I'm so excited for that match to go down. Even though I picked Okada to retain, I'm really hoping against hope that Shibata pulls it out, and wins the championship. That NEVER Title match could be sneaky good, and you already know you're going to get some insane action in the Junior Heavyweight Title. Basically, April 9th can't get here soon enough. – Paul Leazar
Overall Thoughts Part 2
Breaking up the monotony of recent, all tag team shows, Sakura Genesis is not only offering big singles encounters, but also multiple title matches. And what an intriguing lineup it is. I love the Tiger Masks, Nagata, and Makabe team and would love to see more of the Nagata/Makabe tandem moving forward. Good to see Rocky Romero back, unfortunately Minoru Suzuki is awaiting him. The Yano/Ishii team has an intriguing match up against Fale and Omega. Which Kenny will we see? Will he and Yano perform a comedy routine? Or will the encounter take on more of Ishii's personality?
On any other card, I might say that War Machine challenging TenKozy for the IWGP tag titles had a chance to be MOTN. While that might be off the table, I still suspect fireworks. I love Gedo's decision to put the titles on TenKozy, one of the better tag teams of all time, in an attempt to stabilize and reignite the division. War Machine is one of the better gaijin additions to the roster in recent memory. I can't wait for this one.
Then we get to the big 3. The NEVER Openweight title bout is specifically intriguing. ZSJ is seemingly a permanent heavyweight and clearly a promotional favorite. But Goto is in the midst of one of his strongest years in New Japan. The Japanese Bret Hart, as Jim Ross refers to Goto, and the technical wiz should indeed produce a wrestling clinic. And if there is anything we can be sure of, it is that KUSHIDA and Hiromu Takahashi will do their best to put on an amazing performance and with their chemistry there is little doubt that they will deliver.
And finally we have a main event that is seemingly years in the making. New Musketeer, New Japan Cup 17 winner, and folk hero Katsuyori Shibata finally gets his crack at the IWGP title as he challenges the man, the myth, the legend in his own time, the Rainmaker, Kazuchika Okada. This should be a fantastic wrestling match as each man's style promises to play well off one another. And it promises to be full of drama and intrigue; how will the fans react during the match? Whom do they want to see emerge victorious? We find out on Sunday, April the 9th. – Jeff Sugg
Farewell For Now
Before leaving you, be sure to check out Gary Vaughan Sean and Paul previewing Sakura Genesis on the latest Wrestling 2 the MAX podcast below.