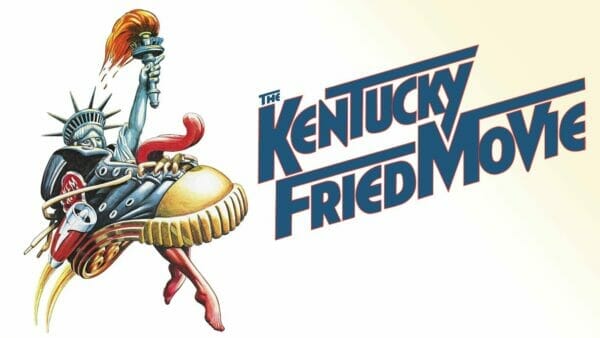 Robert Winfree and Mark Radulich present their The Kentucky Fried Movie Review! The Kentucky Fried Movie (1977) is a 1977 independently made American sketch comedy film, produced by Kim Jorgensen, Larry Kostroff, and Robert K. Weiss, and directed by John Landis. Among the numerous star cameos are George Lazenby, Bill Bixby, Henry Gibson, Barry Dennen, Donald Sutherland, Tony Dow, Stephen Bishop, and the voice of Shadoe Stevens. According to writer David Zucker on the DVD commentary track, David Letterman auditioned for the role of the newscaster, but was not selected. The film also features many former members of The Groundlings and The Second City. The "feature presentation" portion of the film stars Evan C. Kim and hapkido grand master Bong Soo Han. The Kentucky Fried Movie marked the first film appearances of a number of actors who later became famous, and launched the careers of the Zucker brothers, Abrahams and Landis.
For more of the On Trial podcast series check out Fight Club (1999), Barb Wire and High Fidelity (2000)!
Support the W2M Network
Grammarly Ad: XXXX
Amazon Music Ad: XXXX
Receive a 30 Day free trial of Amazon Music on us. Also, you can get a special offer from Grammarly too!
This movie is totally out of control! The Kentucky Fried Movie Review!
About Radulich in Broadcasting
Mark Radulich has been an internet personality since 2004 with his Progressive Conservatism blog. He then took that blog to the airwaves and created a podcast for it. It then changed to PC Live. After that, he brought out the 411mania Ground and Pound Radio as well.
Also, Mark would partner up with another 411mania alum, Sean Comer, to create the movie franchise review podcast Long Road to Ruin and then Robert Cooper to create the metal album review podcast, The Metal Hammer of Doom. Robert Winfree took over the MMA show and then added his own podcast, Everybody Loves a Bad Guy. That's when the Radulich in Broadcasting Network was born. Joining Winfree in having their own podcasts were super fan's Jesse Starcher (Source Material). Finally, Winfree and Radulich added a weekly movie review show to the ever-growing lists of podcasts on the Network.
Don't forget to also give that Radulich in Broadcasting Network Facebook page a like to stay up on top of all the great podcasts that they offer. You can also find them at your convenience on Spreaker, Stitcher, TuneIn Radio, or iTunes! Just search "radulich" to subscribe to the network. Make sure to give the Network a follow on twitter @MarkRadulich.
About On Trial
Mark Radulich and Sean Comer review older films, usually in a well-known series. Making comparisons to see how it holds up to today's film standards. While also discussing the film in anticipation of the newest film in that series releasing in theaters shortly afterward.