Chile come into this FIFA Confederations Cup looking to raise a trophy for the third consecutive summer. The last two they've spent conquering South America winning Copa America 2015 and then Copa America Centenario in the United States last year. Now, they take things to an even grander stage in this tournament of champions. Although the road to a third trophy will be challenging. Chile have the squad that can defeat anyone on a pitch.
Also be sure to seek out our Group A Previews: Portugal, Mexico, Russia, New Zealand
FIFA Confederations Cup 2017 Preview: Chile
Introduction to the Article
The crew from Soccer 2 the MAX, Rachael McKriger, Erik Watkins and Sean Garmer divided the eight teams among themselves and have done previews for each squad ahead of the FIFA Confederations Cup 2017 tournament. They give a little about of information on their history in the tournament. Their recent form, the manager and the squad. After that, they give a Player to Watch, a X-Factor, and discuss what could happen. Finally, they give their prediction on the team's final place in the tournament. Hopefully, you enjoy our team preview articles.
FIFA Confederations Cup History
Although Chile are one of the four founding members of CONMEBOL, and one of the nine teams who competed in the first World Cup in 1930, until two years ago, they'd never won any major trophies. So, this makes their debut at the Confederations Cup. Chile is now the fifth different South American team to make the tournament. With Brazil, Argentina, Uruguay and Bolivia being the others.
During the time period of the Confed Cup's existence, Chile's closest opportunity came in 1999 at the Copa America. After losing to both Mexico and Brazil in their first two matches. They defeated Venezuela to gain three points and it was enough to get them through to the Knockout round as a best third. There, they defeated Colombia, but lost to Uruguay on penalties and then lost the third place game 2-1 to Mexico, finishing in fourth place.
In other Copa America tournaments they either didn't make it past the group stage, or only made it to the Quarterfinals. They suffered about the same fate in World Cups during that span as well. Either they didn't qualify at all, or only got to the Round of 16. However, what matters is much more recent history for Chile, and that's much more positive.
Recent Form
Since the end of Copa America Centenario, Chile have participated in 13 matches. They've won seven of those. Two at the China Cup over Iceland and on penalties over Croatia. Four in World Cup 2018 Qualifying against Bolivia, Peru, Uruguay and Venezuela. Also in preparation for the tournament they won their first Friendly on June 2 over Burkina Faso 3-0. There's also two draws, one in WCQ 2018 against Colombia. Then, in their second preparation match they drew 1-1 with hosts Russia. The other matches contain four losses. three in WCQ 2018 against Paraguay, Ecuador and Argentina. Most notably their final loss came on June 13 in their final warm-up Friendly against Romania (3-2).
The Manager: Juan Antonio Pizzi
Born in Argentina, but spent most of his time in Spain. A prolific Striker in his playing days from 1987-2002 for various clubs including Tenerife twice, where he had his greatest individual success scoring 76 goals in 141 appearances for the club. He also played for Rosario Central, Valencia and Barcelona, where he won a league title and several Copa Del Rey's. Pizzi also appeared for the Spanish national team 22 times, scoring eight goals.
After ending his playing career at Villarreal, Pizzi went into coaching. He bounced around several clubs, until he found a slight stay with Valencia, but he was sacked because Valencia didn't qualify for Europe. Then, he went to Leon in Liga MX and ammassed a 50% winning percentage there. It was with Leon where he wound up taking over for Jorge Sampaoli as the new Chile Manager.
Confederations Cup 2017 Team Roster
Goalkeepers 1 Claudio Bravo, 12 Cristopher Toselli, 23 Johnny Herrera
Defenders 2 Eugenio Mena, 3 Enzo Roco, 4 Mauricio Isla, 13 Paulo Diaz, 15 Jean Beausejour, 17 Gary Medel, 18 Gonzalo Jara
Midfielders 5 Francisco Silva, 6 Jose Fuenzalida, 8 Arturo Vidal, 10 Pablo Hernandez, 14 Felipe Gutierrez, 20 Charles Aranguiz, 21 Marcelo Diaz
Forwards 7 Alexis Sanchez, 9 Angelo Sagal, 11 Eduardo Vargas, 16 Martin Rodriguez, 19 Leonardo Valencia, 22 Edson Puch
Player to Watch: Jean Beausejour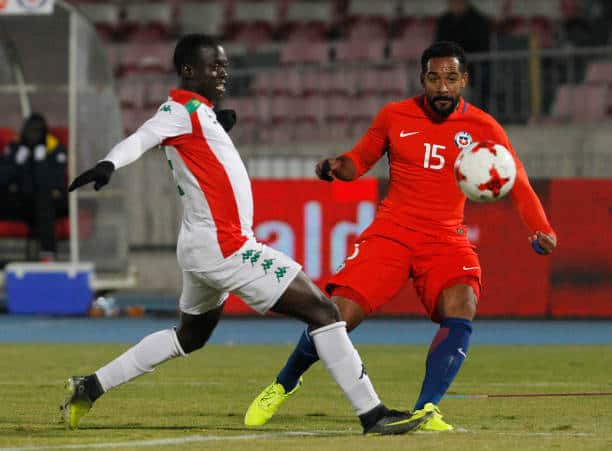 The first Chilean to score in two different World Cups, Jean Beausejour has made over 90 appearances for Chile and is a left back that loves to get into the attack and make some big crosses into the area. Although the last few years he's spent time playing his club soccer for Colo Colo and Universidad de Chile, scoring 8 goals in that span. He's also won a League Cup with Birmingham City and was part of the Wigan squad who beat Manchester City in the FA Cup. Not to mention being a part of the Copa America winning squads for Chile. He's a man that brings experience in playing in many countries, can score and create chances for others.
X-Factor: Arturo Vidal
The supremely experienced and the heart of Chile, Arturo Vidal is important to La Roja's fortunes in Russia. Everyone knows what Alexis Sanchez brings, but Vidal goes box to box and provides the grit needed in tough situations. Vidal not only knows this from his 90 plus appearances with Chile. But from playing with some of the best clubs in the world. Playing for Bayern Leverkusen, the squad made it to the Pokal Cup Final and played in the UEFA Europa League too. He went on to Juventus winning four Scudetto's and scoring 35 goals there. Not to mention, reaching a UEFA Champions League Final as well. Currently, he's at German Champions Bayern Munich, as Vidal goes, so does Chile in this tournament. He even recently scored a goal in one of the warm-up Friendlies against Burkina Faso too.
Final Thoughts
Chile are in Group B. Where they play first on June 18 against Cameroon. Then, it's World Cup holders Germany on June 22. Finally, they finish against Australia on June 25. Chile's squad is stacked everywhere and is certainly one of the favorites. For me, Chile top their group and make it all the way to the final. Where they raise a third consecutive trophy. They have a defense that can also get into the attack and make it difficult for teams to keep possession. The middle game being against Germany is tricky, but a draw should be enough to see them through. Although Chile's world stage history isn't great, this team is much different than the others. At some point history is broken and this is the squad to get it done.
Sean's Prediction: Winners of FIFA Confederations Cup 2017
Erik's Prediction: Lose in Semi-Final, Third Place in Tournament. Rachael's Prediction: Lose in Semi-Final, Fourth Place in Tournament.
MAIN PHOTO:
MANAGER PHOTO:
TEAM PHOTO:
PLAYER TO WATCH:
X-FACTOR PHOTO: