Lucha Underground S03E02 "The Amulet" Review
Location: Boyle Heights, California inside The Temple
Lucha Underground Review 09.14.16
We open with the usual recap video package going over the happenings of last week. Dario Cueto scheduled Killshot vs. Marty The Moth Martinez in a Weapons of Mass Destruction match, and we get a quick review of Famous B pairing up with Mascarita Sagrada, which would ultimately lead to their split after Sagrada's string of losses. Famous B would reveal his new client, Dr. Wagner Jr., at Ultima Lucha Dos.

The show then cuts to another video that takes place after Ultima Lucha Dos. Officers Ricky Reyes and Joey Ryan are listening to a tape with Captain Vasquez. The trio hear Mr. Cisco's murder at the hands of Matanza, and Reyes is ready to move in. The good Captain, however, speaks about a war, and that it's way more important then the murder of some street thug. Ryan laughs about Reyes loyalty to his former friend, which leads to the usual kung fu sequence. Vasquez wants to make sure they are on the right side of this war, and Reyes storms off.
One on One Grudge Match!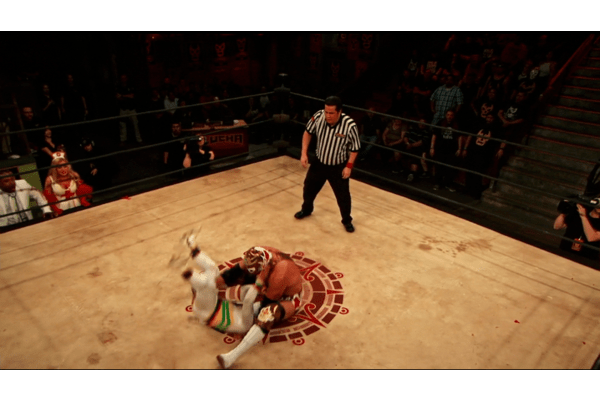 Dr. Wagner Jr. w/ Famous B & Nurse Brenda vs. Mascarita Sagrada
Winner: Dr. Wagner Jr. via Doctor Driver
There isn't a whole bunch to talk about here. Wagner mocks Mascarita's height to start us off. Sagrada manages a springboard headlock takeover on Wagner, but that would be all the offense he would muster. The good doctor takes it home from there. Famous B comes in post match with the stethoscope to mock Mascarita some more. SQUASH
We cut to a scene from back in the time of the Aztecs. An old man lies on his deathbed with his daughter standing beside him. He asks her to lead the coming war with the gods, and arms her with an amulet called "Piedra Immortal"…
…The amulet's power only works on women, and makes them immortal. The chief tells his daughter that even if this war lasts a thousand years, it's too important for them to lose. We flash forward to another video that takes place during the night of Ultima Lucha Dos. Captain Vasquez holds a half of the medallion in her hand, when Officer Reyes walks in, and she quickly stashes it away. It seems that the commissioner of the police has dispatched the task force to arrest Dario, and the good Captain is quiet upset. She suspends Officer Reyes so he can figure which side of the war he wants to be on.
One on One!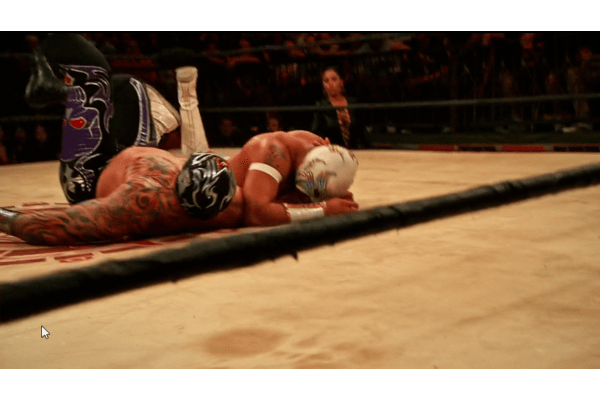 Argenis vs. Mil Muertes w/ Catrina
Winner: Mil Muertes via Flatliner
Well folks, we get another short match here. Argenis gets to land a nice springboard moonsault for a one count! Mil Muertes decides he's had enough of that though, and runs Argenis over with a vicious spear, before he decides to Argenis to his final fate. Post match, Catrina gets in the lick of death. Prince Puma comes charging into the ring! He beats Mil up some before Catrina holds him back, and practically pushes him out of the arena. It's good to see them immediately follow up on that Vampiro/Puma segment from last week. SQUASH
We flashback to a video that took place last week. Dario walks into his office, but something seems to be amiss as Dario explores his office. Officer Ryan walks in, and surprises Dario with the news that he knows that Dario had Mr. Cisco killed. Ryan reveals he's a cop, and wants to be on the right side of the war, Dario's side. He'll work as a double agent for him, and reveals that Reyes is also a cop. He wants a payout though, as he's got child support to pay, which Dario forks over.
We're back in Captain Vasquez's office. It's been months since his suspension, but he's made a decision. He's on the good captain's side, and she tells him that he's going back into the Temple. She then eyes the amulet.
Weapons of Mass Destruction Match!
Killshot vs. Marty The Moth Martinez
Winner: Killshot via Double Stomp from a ladder through a table!
All weapons are legal in this one, and the Temple is dressed up with an army look. Marty comes out dressed in military gear with Killshot's dog tags in toe. Killshot sneaks up behind him on the entryway, and attacks! These guys brawl all over the Temple, through the audience, and Killshot evens goes so far as to hit Marty in the face with one of the .50 caliber machine guns set up at ringside. The blow turns Marty's face into a bloody mess. Killshot hits a beautiful somersault tope off one of the upper guardrails onto Marty, who awaits him on the ringside floor. The battle finally makes it way back into the ring, where they work a couple of spots with some heavy metal cargo crates. A particularly nasty superplex onto those crates caps off that sequence.
Finally, both men decide to start go for home run swings. Marty powerbombs Killshot to the outside through two tables from inside the ring. Killshot levels Marty with a death valley driver onto a ladder draped across the ring apron, and one of the guardrails. Killshot brings in a giant ladder, and two tables are setup on both sides of it once it's setup. As both men make that inevitable climb, Mariposa runs in, only to get kicked in the face by Killshot that sends her through one of the tables. Killshot beats the battered Marty down his side of the ladder, rips his dog tags off of Marty's neck, and finally puts Marty away!
What an incredible brawl! I may not have been super invested in this feud the whole way, but these two put on a match reminiscent of Fenix and Mil Muertes's Grave Consequences match from back in Season 1. This match is one you should really go out of your way to watch. **** and ½ *
Mil Muertes lets loose his rage on a set of lockers in the back. Catrina tries to reign him in, but he's wants Puma something fierce. Catrina tells Mil that patience is a virtue. She's waited hundreds of years to get what she wants. Catrina reveals that she has the other half of the Piedra Immortal amulet!
And with that, we're out!
Overall Rating: 9 out of 10 What an episode! This episode is certainly meant to be one of those lynchpin episodes for Lucha Underground that fleshes out the lore of the show. It also provides the backbone for the upcoming arc that will take over the entire show at some point. Sides are being taken, and intrigue abounds as to who the heck the greater powers are behind this upcoming war. While the rest of the show was all squash matches, the main event delivered on every level, and will impress the pants off of anybody who gives it a look.