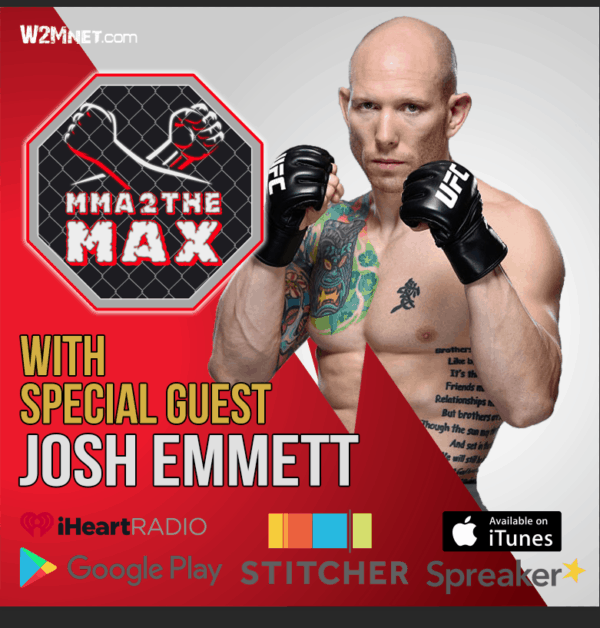 On this episode of MMA 2 the MAX, Robert Taylor and Riverside Joe Hudson sit down and have a chat with #4 ranked UFC featherweight, Josh Emmett. The guys talk with him about his knockout upset of Ricardo Lamas. His upcoming main event with #8 ranked Jeremy Stephens, and more!
They also review the results of UFC 220: Miocic vs. Ngannou! Does this victory make Stipe Miocic the greatest heavyweight of all time? What happens to the hype train of Francis Ngannou after this? Is Daniel Cormier the greatest (clean) light heavyweight fighter of all time?
Sadly, no Beer of the Week this time, as your host is down with the sickness. Excuse the scratchy voice!
MMA 2 the MAX: UFC 220 Review, Josh Emmett Interview
About MMA 2 the MAX
An MMA podcast focused on reviewing fights from UFC, and sometimes Bellator! Listen as hosts Robert Taylor and Joseph Hudson discuss the UFC fights right after they happen, sometimes in sloppy drunken detail! They'll also discuss the biggest news, from fight announcements to major signings! Not to mention, they give you their thoughts on weigh-ins, outside of the fighting world stuff, and much more.
Robert Taylor
Robert has been a long time MMA fan from back in the early days of the UFC. Growing up a pro wrestling fan, the transition to MMA fandom seemed organic. A fan obsessed with stats and random trivia, he hopes to entertain the masses with his analysis.
Joe Hudson
Joe is a huge fan of footwork and distance, but even he throws those ideas to the side for an entertaining brawl. A fan since before the first Ultimate Fighter, he truly found his hardcore fandom while watching Griffin vs. Bonnar 1. He enjoys nothing more than discussing the finer points of MMA.