Congratulations Nashville, Tenessee you now have a Major League Soccer team. Managing to disappoint soccer fans in Cincinnati, Detroit and Sacramento with your inclusion as the 24th MLS squad.
The league officially announced Nashville to be awarded an expansion team on Wednesday. MLS has not yet decided if Nashville will compete in the 2019 or 2020 season. MLS already has an expansion team competing in 2018 (Los Angeles FC), and plans on adding three more by 2020.
Nashville MLS: Don't Call It Soccer City Just Yet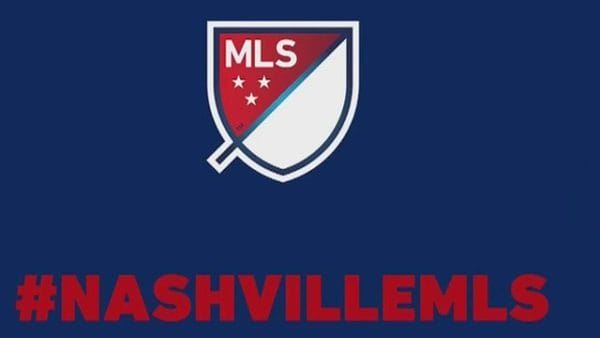 This also comes off the heels of MLS adding two expansion teams in 2017 in Atlanta United and Minnesota United. While Minnesota had probably a more expected freshman season. Atlanta blew the doors off the league, both on the pitch, and in the stands. 55,000 went throught the turnstyles at Bobby Dodd Stadium for their home opener against the New York Red Bulls.
After moving to their permanent home, Mercedes-Benz Stadium, they continued breaking records. Multiple games saw upwards of 70,000 in the stands. While they finished the season with an average attendance of 48,200 people per game. The best average for any MLS team in the league.
Can Nashville do the same thing?
This is why you can't call Nashville a soccer city just yet. The odds of them setting attendance records even close to those are rather slim. Although the city did host a United States Men's National Team 2017 CONCACAF Gold Cup match, which drew 47,622 fans, that's a huge outlier.
However, there's a big difference between club soccer and international soccer. And it shows not only in higher attendances, but also in the quality of players on the pitch as well. Not to mention, it carries a much more broad atmosphere than a regular season MLS game.
Could Nashville SC Help?
Nashville does have a USL team, which begins play in 2018. But instead of MLS Commissioner Don Garber waiting to see some attendance numbers from those games, he awards Nashville a team anyway. Now granted, there's obviously a huge difference between the USL and the MLS. But there's something to be said for already having a club soccer atmosphere in the city. Something that giving Nashville SC a one year head start may have provided.
Looking at the other expansion teams
Detroit falls in the same scenario as Nashville, and also has a stadium situation with Ford Field that MLS isn't too crazy about. While Sacramento suddenly fell into an ownership problem at the last minute.
Taking all of that into consideration, this is why FC Cincinnati, a USL club that has drawn consistent, top numbers for games, should have been awarded the 24th MLS expansion spot.
Instead, Garber and company chose Nashville — the "Music City."
"Nashville is a rising city with a passionate soccer fan base, a dedicated ownership group and civic leaders that truly believe in this sport," said Garber in a statement. "Nashville continues its ascent as one of America's most dynamic communities, with its incredible energy and creativity. For us, that makes it a perfect place for MLS expansion. John Ingram and his partners had a plan to bring MLS to Nashville during the last year and they executed it at every level."
"Thanks to their vision, the soccer fans of Tennessee will soon have their own MLS club and a state-of-the-art soccer stadium that undoubtedly will be a centerpiece of the community."
Right, because that's worked out so well with the Nashville Predators.
Garber needs to do right, after saying that more expansion news is on the way, and give Cincinnati that other expansion slot. If anything, it lessens the blow from the error they made here.
You can listen to Rachael, Erik Watkins and Sean Garmer each week right here on W2Mnet.com or I-Tunes, Youtube and more on the Soccer 2 the MAX Podcast. Specifically listen to this week's show for more on the Nashville MLS decision.