New Japan Pro-Wrestling: NJPW New Beginning in Osaka 2017 Preview
An Introduction to the Article
As someone that has quite a bit of experience doing these roundtable type articles, I wanted to do this a bit differently than some others. Instead of having numerous people all give thoughts on each match, I felt it better to assign one match to each person. So, one of our staff members will make the case for each person winning said match, then give their thoughts on the match itself, and finally predict a winner. This continues until the end of the article, when everyone gathers to give their overall thoughts on the event. – Sean Garmer
W2Mnet Staff
Sean Garmer, Co-Host of Wrestling 2 the MAX, W2Mnet Editor-in-Chief
Paul Leazar, Co-Host of Wrestling 2 the MAX, W2Mnet Wrestling Dept. Head
Tom Reese, W2Mnet Wrestling Contributor
Glenn Smith, W2Mnet Wrestling Contributor
Jeff Sugg, W2Mnet Wrestling Contributor
1. Opening Singles Match
TAKA vs. Hirai Kawato
This match on the card was changed due to the David Finlay Jr injury and the El Desperado injury on the 2/7 Road-To show. Two other matches on the card, are also affected by El Desperado as well.
Hirai Kawato is very young and still many moons away from being at the high level. However, having matches with TAKA can only help the progress. TAKA works with guys much like Kawato in his Kaientai Dojo. Hopefully, it is a good match between these two. Although, we know who's getting the win here – Sean Garmer
Winners: TAKA
Other Staff Member Predictions: Everyone else also picked: TAKA
2. The Combination Six Man
Satoshi Kojima & Hiroyoshi Tenzan (TenCozy) & Henare vs. Yoshitatsu, KUSHIDA & Tomoyuki Oka
Henare has been the Young Lion benefiting the most from all of the extra work. Being in the World Tag League 2016 with Manabu Nakanishi gave him a nice way to get used to the New Japan event environment. While also developing some spots he can work into matches. Henare shows some fire in the tags. His size is something new for recent Young Lions too. I'm not ready to prognosticate anything on him, but it's been a nice change of pace from the mostly Juniors and smaller Heavyweights like Jay White. Then, working with Satoshi Kojima and Hiroyoshi Tenzan only helps.
They face KUSHIDA who's a bit aimless after the loss at Wrestle Kingdom. Another Young Lion in Mr. Oka and someone else that is leaving soon in Yoshitatsu. This should be an interesting mixture of talents. That being said, usually they go with the elder statesman team. – Sean Garmer
Winners: Ten Cozy & Henare Everyone Else also picked: Ten Cozy & Henare
3. CHAOS vs. New Japan 8-Man Tag
Jushin Thunder Liger, Tiger Mask IV, Yuji Nagata & Juice Robinson vs. Gedo, Jado, YOSHI-HASHI & Hirooki Goto (CHAOS)
Lets look at the pieces here. We got a nice fallout from the NEVER Title from Sapporo. the New Japan Junior Dads, plus Juice Robinson and Yuji Nagata. Then, there's Gedo & Jado, Hirooki Goto and YOSHI-HASHI. I wonder if they drew straws for this one? It's sure to be your usual, fun eight man tag from New Japan. Interesting fallout from both sides could happen too.
Let's say Nagata taps Goto. I'd love to see those two hook up again with the NEVER Title on the line. On the other side, you have YOSHI-HASHI, who got a strong win against Iizuka at Sapporo, and they could want to build on that going forward. I'm leaning more towards Nagata beating Goto for a title match setup down the road. This sets up a scenario we had last year with the Third Generation feuding with Goto over never becoming what he could have been. – Paul Leazar
Winners: Liger, Tiger, Nagata & Juice
Glenn: CHAOS Team. Jeff, Tom, Sean: Liger, Tiger, Nagata & Juice
4. Suzuki-Gun vs. CHAOS Six Man
Minoru Suzuki, Taichi & Yoshinobu Kanemaru (Suzuki-Gun) vs. Kazuchika Okada, Beretta & Rocky Romero (CHAOS)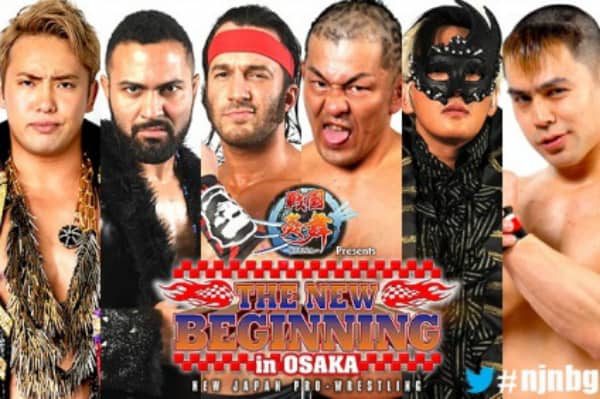 The CHAOS v Suzuki-gun feud continues. Kazuchika Okada and Minoro Suzuki are at it again after their 40 minute classic last Sunday in Sapporo, which saw Okada retain the IWGP Title. This match will probably go on before intermission, as they will not be the focal point of this show. The match will be heavily centered around Rocky Romero and Trent Beretta v Yoshinobu Kanemaru and Taichi (who replaces El Desperado due to a knee injury) as the Suzuki-gun team look to be the next challengers for the Jr tag titles. Romero and Beretta defeated the previous Suzuki-gun challengers, TAKA Michinoku and Taichi, last Sunday. This should be a really good match with the vastly underrated Romero and Kanemaru carrying things, while Suzuki and Okada give just enough to make the crowd happy. Okada pins Taichi here with the Rainmaker. – Tom Reese
Winners: CHAOS. Everybody Else picked: Suzuki-Gun
5. NEVER Openweight Six Man Tag Team Titles!
Hiroshi Tanahashi, Ryusuke Taguchi, and Manabu Nakanishi defends against Los Ingovernables de Japon (BUSHI, EVIL, and SANADA)
The NEVER Openweight 6 Man titles have been the hardest to accurately predict since their inception at WK10. Just when we believed that Los Ingobernables de Japon's victory at WK11 might actually settle the titles a bit, maybe even elevate its prestige, they did not even successfully defend them. Now, in Osaka, BUSHI, EVIL, and SANADA look to regain the titles. They are menacing, they are talented, and they are united. The trio has more experience in trios matches, as each has competed in Mexico regularly, and are unafraid to cut any corner in order to win. That unpredictability is definitely the key to their success. Will they wrestle or will they fight? They must keep the champions guessing.
What the champions have going for them is, not only do they have Hiroshi Tanahashi, but they are as evenly comprised team as you could hope for. Ryusuke Taguchi is a former Junior Heavyweight Champion, and has speed to spare. Manabu Nakanishi is a grizzled veteran, a former champion, and the team's resident heavy hitter. Then, you have Tanahashi, the once in 100 year talent. As big a cop out as this seems, Tanahashi is the key to his team's success.
When he is near 100%, and in the right frame of mind, there are no two partners that Tana can't carry to victory over any three opponents. But, where is Tana's mind at? Where is his body at? What kind of shape, physically and mentally, is Nakanishi in? With those questions unanswered, I fear that Taguchi's focus on his funky weapon will end disastrously, and result in new NEVER 6 man champions in Osaka. – Jeff Sugg
Winners and NEW NEVER Six Man Openweight Tag Team Champions: Los Ingovernables de Japon
Glenn: Tanahashi & Friends. Everybody Else: LIJ
6. RevPro Undisputed British Heavyweight Title Match!
Katsuyori Shibata defends against Will Ospreay
Boy, has the build to this one been great. We've seen Will Ospreay dropkick Katsuyori Shibata across the ring twice, and Shibata generally show that he's going to murder Will when actually gets his hands (and feet) on him. I'm really looking forward to this one, and this could be one to steal the show on a stacked card. I'm leaning more towards Shibata retaining here. I don't think RevPro would have Ospreay win the championship away from York Hall so they could have the moment, but this could certainly setup to that kind of match.
However, if Ospreay does win, what does this say for his aspirations for the Junior Heavyweight Title? Winning a heavyweight title when you've been slotted into the Junior role could be confusing (something I think Ring of Honor was smart with doing, as everybody they've had challenge on New Japan shows have been distinctly heavyweight). It's hard to see Ospreay winning this one, but never say never. We've been surprised by this lad more times than I can count.
Winner and STILL RevPro Undisputed British Heavyweight Champion: Katsuyori Shibata
Glenn: Will Ospreay. Everybody Else: Katsuyori Shibata
7. IWGP Tag Team Title Three Way!
CHAOS (Tomohiro Ishii & Toru Yano) defend against Suzuki-Gun (Davey Boy Smith Jr. and Takashi Iizuka) and Great Bash Heel (Togi Makabe and Tomoaki Honma)
For those who are curious, Lance Archer has been sidelined from this event (and probably more, as he's missing some independent bookings here in the states too) due to a back injury. So, Takashi Iizuka now teams up with Davey Boy Smith Jr. to challenge for the tag team titles. Frankly, all of us here on the staff had the Killer Elite Squad walking away with the championships here, and with the injury, I think you can safely rule the Suzuki-Gun contingent out of winning this one.
However, I think New Japan plays it safe, and leaves the straps on Tomohiro Ishii and Toru Yano for a while longer. You know what you have with those guys, and letting some of the other teams chase until Archer finds himself back at 100% so you can crown the team you want makes sense. However, with Togi Makabe getting his own anniversary show in the coming weeks, New Japan might give Tomoaki Honma and Makabe another go with the belts so they could headline with those titles to make a bigger match. However, in my experience, these kind of shows either have big six to eight man tag team matches, or a big singles match to celebrate the honoree. – Paul Leazar

Winners and STILL IWGP Tag Team Champions: CHAOS
8. IWGP Junior Heavyweight Title Match!
Hiromu Takahashi defends against Dragon Lee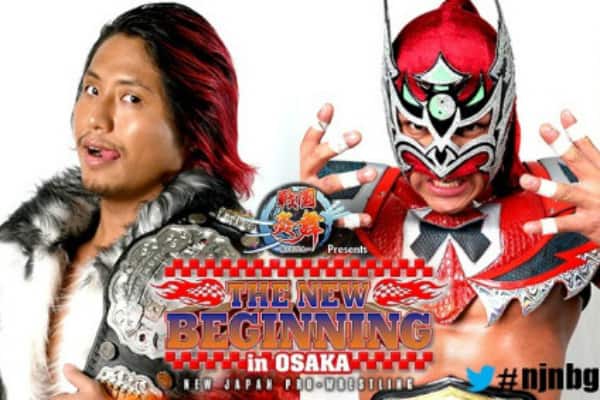 This is the match I'm looking forward to the most on this show. This will be the biggest match of both men's career to date. These two put themselves on the map with a series of matches in Mexico that first began in the fall of 2014. Dragon Lee was a rookie, and Hiromu Takahashi was a NJPW Young Lion working in Mexico as the masked Kamaitachi. It's very rare for two unknowns to makes waves without mixing in with established stars. However, these two grabbed everyone's attention with their spectacular matches. The word of mouth, and the power of the Internet, had people interested in seeing them.
Their rise to stardom reminds me of Tiger Mask and Dynamite Kid from the early 1980's. Two guys who were so different and so good, having the type of matches that captivated a generation. Dragon Lee and Kamaitachi would trade the CMLL Lightweight title in a series of matches leading to a mask v mask match in 2015 which Dragon Lee would win. The feud would continue in Mexico before heading to Japan in January 2016 for the annual Fantastica Mania tour. On the final night in Korakuen Hall, they put on a classic that had everyone buzzing. They would have one more singles match in 2016 for Ring of Honor at the All Star Extravaganza PPV.
Kamaitachi would return home to Japan last November joining Tetsuya Naito and his Los Ingoberbobles stable under his real name, Hiromu Takahashi, and found himself a perfect fit. Takahashi defeated KUSHIDA at Wrestle Kingdom for the IWGP Jr Title. Dragon Lee then made a surprise appearance at this year's Fantastica Mania, much like Kamaitachi did a year ago. So, the stage is set for Saturday in Osaka in the semi main event. This will either be their 11th or 12th singles match. They will be in front of a very rabid Osaka crowd. Osaka is known as among the best to perform for in recent years. So, these two will be pumped for their highest profile match. I think this will be nothing short of spectacular with Takahashi going over. – Tom Reese
Winner and STILL IWGP Junior Heavyweight Champion: Hiromu Takahashi
Glenn: Dragon Lee. Everybody Else: Hiromu Takahashi
9. IWGP Intercontinental Title Match!
Tetsuya Naito defends against Michael Elgin
I think it's pretty safe to say that everybody has been looking forward to this rematch for quite some time. Their first match for the championship was a dozy, and the build for this one has been superb. In case you haven't been paying attention, Tetsuya Naito broke Michael Elgin's orbital bone in their first match, which saw Naito walk away with the title. The injury put Elgin on the bench for the remainder of 2016. Elgin, however, came roaring back into the New Japan fold by winning the New Japan Rumble on the pre-show of Wrestle Kingdom 11.
Ever since, he's been on a singular mission to get his hands on Naito any chance he can get. If he's been in tag matches against Naito, he'll quickly toss around the person in the ring with him just to force Naito to tag in! Naito, to his credit, has used the dropkick that broke Elgin's eye every chance he can get to remind him that he's only move away from being sent right back to the bench.
Naito and LIJ continue to be one of New Japan's hottest acts, and there are few who are more on top of their game then Naito right now. I would consider Elgin to be one of those few right now, and a title change could happen, but I don't think it's in the cards right now. I think they like Naito holding the belt so he can main event the other shows, while they continue to make new rivals for Okada, with Naito simply waiting in the wings to re-engage his feud with Okada that deserves to main event Wrestle Kingdom some day. However, this Saturday, it'll be Naito walking away with the Intercontinental Title in toe. You know, after he tosses it into the air. – Paul Leazar
Winner and STILL IWGP Intercontinental Champion: Tetsuya Naito
Glenn: Michael Elgin. Everybody Else: Tetsuya Naito
Overall Thoughts Part 1
Match for match, it is hard to deny that Osaka isn't the more stacked card; even without having an IWGP Heavyweight Championship match. Very few Junior Heavyweights on earth are more evenly matched, nor produce as many quality bouts, as Takahashi and Dragon Lee. Big Mike, seeking retribution for his eye injury, continues his crusade against one of the hottest performers in the world in Naito. Ospreay seems hell bent on proving that he is much more than just a Junior, and has that opportunity as he faces one of the roughest and toughest heavyweights in New Japan, the always motivated Shibata. Then, you have a litany of tag matches.
Each of which combines interesting match ups, current feuds, and compelling storylines with raw, athletic, unadulterated New Japan wrestling match ups. After coming up short in Sapporo, Great Bash Heel and Suzuki-Gun continue to try and wrestle the tag team titles away from CHAOS. The NEVER 6 man titles are also on the line with LIJ looking to regain some momentum. Okada and MiSu lock horns once again, this time with their Junior Heavyweight friends. Juice looks to continue his rise up the ranks, with plenty of veteran back up, but faces a tough test with Goto and YOSHI-HASHI across from him. There is a little something for everyone on this card and plenty of opportunities for youngsters and veterans alike to gain some momentum as New Japan heads into the spring. – Jeff Sugg
The two main events carry a lot of the hype for me. Elgin/Naito and Dragon Lee/Takahashi should be absolutely killer matches. The three way tag title match at Sapporo surprised me with how good it was, and I'm eager to see if they can change the formula not even a week removed from their last contest. The NEVER Six Man Title match should (hopefully) be better then what we got at New Year's Dash. I'm sure a title change is in store for us once again.
The rest of the undercard features CHAOS, and their ongoing battle with Suzuki-Gun. The young lion's will also continue to display their progress. It's a real shame the injuries shook up this card so much, but there are still so many big shows left in the year, it's hard to complain at this point. To sum up, I'm much more hyped for this show then I was for Sapporo, and we're almost guaranteed a better crowd then what we got on Sunday. – Paul Leazar

Overall Thoughts Part 2
I'm really looking forward to this show. It's deeper than last weekend's show, even though that show had Okada v Suzuki. This show has five title matches, and Suzuki-gun looking to regain some momentum. The show being in Osaka is always a major plus, as the Osaka crowd is always pumped, and the wrestlers love to perform there. The opening four tag matches should be by the numbers and entertaining. Dragon Lee v Hiromu Takahashi should tear down the house. Michael Elgin and Tetsuya Naito always seem to gel well together. However, they follow the Jr title match, and that won't be easy to top. The sleeper match that has the potential to steal the show is Shibata v Ospreay. Their match ups in tag matches during the current tour have been amazing. This should be a fun show with a hot crowd and some great wrestling. – Tom Reese

This is gonna be the show where everyone proves to the fans, and themselves, that nothing will stop them. They need to keep their momentum going. If they happen to be on a losing streak, this show is their opportunity to break it and forge a path. – Glenn Smith