The New Japan Cup is a yearly single elimination tournament hosted by New Japan Pro-Wrestling. New Japan Cup usually takes place in March or April, with the 2017 NJ Cup being the 12th consecutive edition of the tournament. The first took place in 2005 and the final featured two wrestlers who are currently still with the company, a young Hiroshi Tanahashi against Togi Makabe. Tanahashi would go on to become the inaugural winner and also later win the 2008 tournament as well.
The following year, in 2006, the New Japan Cup grew in great significance to the company's plans. Since the winner now obtained a future IWGP Heavyweight title opportunity at a big event like New Dimension, Invasion Attack or Wrestling Dontaku. In 2014, the significance grew even further when the winner was given a choice of what championship they'd like to pursue. They now had the option to not only go for the IWGP Heavyweight Championship, but also the Intercontinental or the NEVER Openweight titles as well. Thus opening more opportunities for surprises and upset decisions. Although, challenging for a title that isn't the IWGP Heavyweight has only happened once in history. In fact, the very year multiple options were introduced, is when Shinsuke Nakamura won and then challenged Hiroshi Tanahashi for the IWGP Intercontinental Championship. Nakamura would end up successfully regaining the Intercontinental Championship later that year at Invasion Attack.
However, none of this would matter if the New Japan Cup Winner didn't go on to have future success. As of 2016, the NJ Cup winner is 4-7 in their title challenges. Yuji Nagata was the first to win his title challenge. Then, there would be a big string of losses from 2008-2012 by Hiroshi Tanahashi, Yuji Nagata and Hirooki Goto, the only consecutive winner (2009 and 2010) and only three-time winner (also winning in 2012,) of the tournament. Goto is also the biggest loser in the tournament as well. He's appeared in six finals, losing his last three (2013, 2015, 2016) for a 3-3 record overall.
Although, more recently from 2013-2016 the winner is 3-1, with only Kota Ibushi losing to AJ Styles in that time period. Current IWGP Heavyweight Champion Kazuchika Okada and last year's winner Tetsuya Naito, both were successful in winning. Certainly, this bodes well for this year's winner as well. – Sean Garmer
New Japan Pro-Wrestling: W2Mnet NJPW New Japan Cup 2017 First Round Preview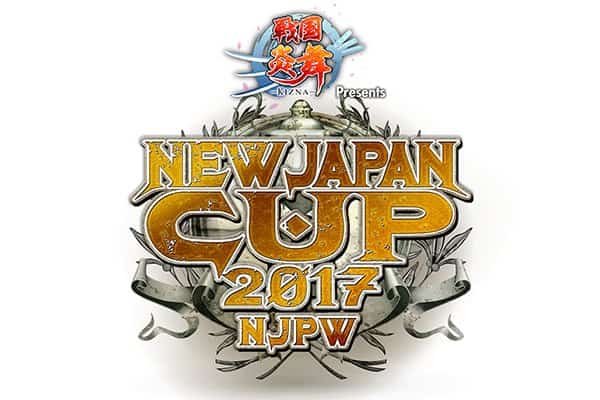 The 2017 New Japan Cup features a nice mixture of previous winners, debutantes, lower card talent, upper midcard talent and main eventers. Myself and the staff members are going to breakdown each individual first round match-up below, but let's look at the talent as a whole. The interesting thing is that looking at the bracket below, you could easily make the case for anyone to win their first round match-up. Just based on how well Gedo tends to book the wrestlers throughout the year. Not to mention, there's always a surprise or two as well.
The Bracket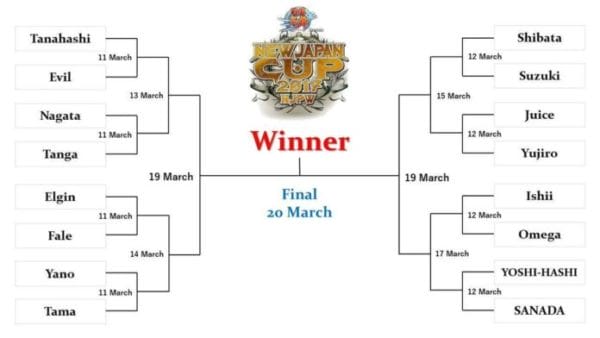 The right side of the bracket also features some absolutely tasty matches. These bouts could knockout some heavy favorites or see them narrowly progress. While the left side of the bracket creates a much more clear path. Although, things could easily get muddy depending on who wins. Michael Elgin jumps out immediately as a big contender. Especially, since his pal Tanahashi has lost in the first round the last two years. At the bottom of the bracket sits the crazy wildcard Toru Yano too. However, I'd keep my eye out on a potential upset special by EVIL.
As I mentioned, the right side of the bracket is a true toss-up. You could make a case for almost everyone there except for Yujiro Takahashi. How far Kenny Omega goes could be a big sign of how quickly he's getting back into the title picture. Technically, Tomohiro Ishii is still owed a title challenge from last year's G1 Climax, but could he win here to force Okada's hand? Everyone is once again at a fever pitch about this being the year Katsuyori Shibata wins the G1 Climax 27. If that's the case, it could mean an early exit. But I wouldn't punch that ticket quite yet. Although, Minoru Suzuki is no joke. Not to mention, the Suzuki-Gun stable is getting a big push right now.
Could Juice Robinson's push wind up in a mini-run for him? Maybe. Plus there's the underrated rivalry of 2016, finally getting a spotlight with YOSHI-HASHI vs. SANADA. YOSHI-HASHI got a bit of a push last year, but he's kinda returned to normalcy in 2017. SANADA's potential looms large and no doubt he has the talent to be a big star for New Japan. Will Gedo pull the trigger with a win in this tournament? There are quite the number of possibilities. So, let's get to it shall we. Here's the W2Mnet NJPW New Japan Cup 2017 Preview. – Sean Garmer
An Introduction to the Article
As someone that has quite a bit of experience doing these roundtable type articles, I wanted to do this a bit differently than some others. Instead of having numerous people all give thoughts on each match, I felt it better to assign one match to each person. So, one of our staff members will give their thoughts on the match itself, and predict a winner. This continues until the end of the article, when everyone gathers to give their overall thoughts on the event.
This article is going to be updated throughout the tournament as well. Right now, it features predicted winners and potential match-ups, but those are going to be changed to reflect what occurs in the tournament as it goes along. This roundtable is also only going to focus on the tournament matches themselves. Skipping the undercard.- Sean Garmer
W2Mnet Staff
Sean Garmer, Co-Host of Wrestling 2 the MAX, W2Mnet Editor-in-Chief
Paul Leazar, Co-Host of Wrestling 2 the MAX, W2Mnet Wrestling Dept. Head
Tom Reese, W2Mnet Wrestling Contributor
Glenn Smith, W2Mnet Wrestling Contributor
Angel Gonzalez, W2Mnet Full Staff Member
Jeff Sugg, W2Mnet Editor
Robert Cooper, W2Mnet Wrestling, Games & Entertainment Contributor
3/11 First Round Match
Hiroshi Tanahashi vs. EVIL (Los Ingobernables de Japon)
Since rejoining in October 2015, NJPW has done a great job building up EVIL as a great force. He is a one-time NEVER Openweight Champion and a current two-time NEVER Openweight 6-Man Tag Team Champion. Despite this success, he has come up short in single NJPW tournaments. He was eliminated in the first round by Tomohiro Ishii in last year's NJ Cup. He also failed to advance out of his block in the 2016 G1 Climax. Making his second appearance in this tournament, EVIL looks to make a much bigger mark this time.
Hiroshi Tanahashi is the perfect opponent for EVIL. They have been going back and forth since Wrestle Kingdom 11 in six man and tag matches. This is their first encounter in a singles match. Gedo has done a great job setting-up this match during the 45th Anniversary shows as well. During the March 6th show, EVIL attacked Tanahashi after the match. Then the next day, The former NJPW ACE took it to EVIL during their tag match. Honestly, this is one of those match-ups that could go either way. I think EVIL takes this first round, but this budding rivalry is far from over. – Angel Gonzalez
Winner: EVIL
While Omega v Ishii is the match that grabs everyone's attention, Tanahashi v EVIL has taken the spotlight through the great job they've done building up the match. This undoubtedly will be the best match of the first night because of that. EVIL has gained a lot of momentum since last year's G1 tournament. Including a brief stint as NEVER Champion. He has the perfect dance partner here with Tanahashi who will make sure EVIL shines and looks like a main eventer. Tanahashi is making his seventh appearance in this tournament. Now, he has the story of the fading legend, trying to earn another shot at the IWGP Title. I can certainly see EVIL winning this match but I'm going with Tanahashi. – Tom Reese
Winner: Tanahashi
Other Staff Member Predictions: Glenn: Tanahashi. Paul, Robert, Sean & Jeff: EVIL.
3/11 First Round Match
Tonga Roa (Bullet Club) vs. Yuji Nagata
Yuji Nagata is sadly replacing the injured Tomoaki Honma. From all of us here at W2Mnet, we hope he gets better soon. The good thing about this, is Nagata has a lot of history in this tournament and he also has history with both of his potential second round opponents. Nagata is making his 10th appearance in the tournament and has won it twice. However, he has to get past Bullet Club member, Tonga Roa, before even dreaming of anything else first. When Nagata is given a feature spot like this, he tends to deliver.
Although Roa is improving, being in a tag team environment is much different than one of the singles variety. I'd expect Nagata to wear down Roa's arm or leg, thus creating a weak spot to make it difficult for Roa to use his power game. Nagata eventually hits the Backdrop Hold and advances. There's a slim chance Roa advances, but with his brother also in the same side of the bracket, I'd think he goes through, before Roa. – Sean Garmer
Winner: Yuji Nagata
Other Staff Member Predictions: Everyone else also picked Nagata
3/11 First Round Match
Michael Elgin vs. Bad Luck Fale (Bullet Club)
In a New Japan Cup stacked with intriguing first round match ups, only one bout features a battle between legitimate super heavyweights. "Big" Mike Elgin and the "Underboss" Bad Luck Fale have exhibited a pension for success when it comes to single elimination tournaments. Big Mike was in the final four in 2016, even earning a victory over Fale. Meanwhile, the Underboss has made a habit of upsets, including a trip to the championship final in 2014.
In a rare case of being the smaller man in a fight, Elgin must showcase his amazing dexterity and otherworldly athleticism. In order to win, Big Mike has to rely on his 3 S's; speed, strength, and stamina. Luckily for the Canadian strong man, he has each of them in spades.
For Fale, his key to victory is to strike first, strike hard, and get this fight over with as quickly as possible. I mean, he isn't paid by the hour. The shorter the match, the better the Underboss' chances. Luckily for him, his simplistic offense is efficient and highly effective. Fale's proven, he can put down any man on the New Japan roster for a 3 count.
In the end, it boils down to game planning and focus. I believe that 2017 will be a special year for Big Mike Elgin, and it begins right here in the New Japan Cup. – Jeff Sugg
Winner: Michael Elgin
Other Staff Member Predictions: Everyone Else Also Picked Elgin
3/11 First Round Match
Toru Yano (CHAOS) vs. Tama Tonga (Bullet Club)
Toru Yano is making his 11th consecutive appearance in the New Japan Cup. Yano has always been a wildcard and is used as a way to produce special moments in tournaments. Who can forget his feuds with Minoru Suzuki and Hiroshi Tanahashi. Yano has also lost in the first round, probably just as much as he's advanced. Last year, he lost in the Semi-Final to eventual champion Naito. Tama Tonga also pulled an upset last year defeating Togi Makabe. So, anything is possible here. Seeing as Guerrilas of Destiny are multiple time tag team champions, it's hard to think both members would go out in Round 1.
Also, from a wrestling perspective, Elgin and Tonga could absolutely standout. Whereas with Yano, you kinda know it's all gimmick. I personally have Elgin going a long way and facing Tonga certainly would allow for him to proof himself. Tonga has also improved immensely over the last year and perhaps Gedo rewards him for it. Just there's something about Yano that makes it hard to pick against him. So, I'm going with my gut and picking the CHAOS #1 Producer. – Sean Garmer
Winner: Toru Yano
Other Staff Members Predictions: Glenn & Robert: Yano. Paul, Angel, Tom, Jeff: Tonga.
3/12 First Round Match
Katsuyori Shibata vs. Minoru Suzuki (Suzuki-Gun)
I think this will be the best match from the entire New Japan Cup tournament. Two men who quite frankly are the absolute paramount of pain. You've got in one corner Katsuyori Shibata who in all honesty is the most terrifying man to lace up a pair of boots. In the opposing corner, The Face That Ran Pancrase in Minoru Suzuki. Quite simply, this will be Strong Style Puroresu at its' finest.
Why Shibata needs to win this match: Shibata needs this win so he can show Suzuki-Gun he's still pissed after they cost him his Revolution Pro British Heavyweight Title. There is absolutely nothing more terrifying in this world than a vengeful Shibata. Shibata has one thing on his mind, destroy Suzuki.
Why Suzuki can win this match: Minoru Suzuki is an absolute master manipulator and brilliant strategist. Shibata's vengeful mindset absolutely plays into the wheelhouse of Suzuki. Not to mention, Minoru has Suzuki-Gun to help him out in a pinch too.
After much consideration, I feel Minoru Suzuki is winning this. Shibata lets his anger blind him and it becomes his ultimate downfall. – Glenn Smith
Winner: Minoru Suzuki
Other Staff Members Predictions: Sean & Paul: Shibata. Robert, Angel, Jeff, Tom: Suzuki.
3/12 First Round Match
Juice Robinson vs. Yujiro Takahashi (Bullet Club)
This is certainly the easiest match on this side to predict. Juice Robinson is making his debut in the New Japan Cup. While Yujiro is making his eighth consecutive appearance. Yujiro has been past the first round, about as many times as he's lost in the first round. Juice is getting a little bit of a push and getting him against a Shibata or Suzuki creates a great dynamic for a match. Yujiro is what he is at this point. He's either going to be motivated and you could have a decent match, or he's not going to care and Juice has to work his ass off to make this interesting. Outside of some Bullet Club shenanigans, I just can't imagine Juice doesn't advance. I also wouldn't be surprised if this is also rather short because of the three bigger matches happening on this show. – Sean Garmer
Winner: Juice Robinson
Other Staff Members Predictions: Everyone else also picked Juice
3/12 First Round Match
Tomohiro Ishii (CHAOS) vs. Kenny Omega (Bullet Club)
There are a few matches in the first round that have people as a buzz, as this potential huge match-up does. Mr. Six Stars himself is making his debut in the New Japan Cup. While also getting the honor of going one on one with my favorite guy in New Japan. Also, quite possibly, the toughest human being walking the planet right now, in Tomohiro Ishii. Ishii himself isn't a stranger to this competition making his eighth appearance. Just like Omega, Ishii is quite familiar with the top of the star ratings, having made the NEVER Openweight Championship what it is. Plus, the knockdown, drag out encounter he had with Okada during last year's G1 as well. Kenny has a herculean task ahead of him right out of the block. I look forward to seeing just how Kenny is going to get past this challenge, because I think he does make it through to the next round. This is hard, because I love Ishii, but it's Kenny's show right now. However, Ishii will make his mark during this match, and hopefully, we can see him get elevated to challenging Naito down the line. – Paul Leazar
Winner: Kenny Omega
Other Staff Members Predictions: Glenn, Tom & Jeff: Ishii. Sean, Robert & Angel: Omega.
3/12 First Round Match
YOSHI-HASHI (CHAOS) vs. SANADA (Los Ingobernables de Japon)
Coming into the New Japan Cup, we have some very interesting match-ups in the brackets. However, this is one where I truly feel like Gedo can turn an interesting result on us. YOSHI-HASHI has went from the fall guy for CHAOS, to being a spoiler, much like his stable mate Toru Yano. It's really hard to know what the booking team is thinking with him. He has the ability to go a bit further in the tournament, and it'd be a really cool thing to see him versus Kenny Omega one more time. But, with his inconsistent booking, I'm really not sure what they'll do with him.
SANADA, on the other hand, is an interesting case. He's never been one to be booked in a super strong manner in his singles outings. But he's not often in singles action. He's booked in a fairly strong manner in his tag matches, so this could be his year. He could possibly breakout, and I wouldn't complain. I'm thinking at the end of the day, they're going to be going for one final HASHI/Omega match. So I'd say that we're in for another shock win from ol' YOSHI-HASHI. – Robert Cooper
Winner: YOSHI-HASHI
Other Staff Members Predictions Paul & Angel: YOSHI-HASHI. Sean, Tom, Jeff & Glenn: SANADA.
Overall Thoughts Part 1
This year's New Japan Cup has a lot of interest going in for two reasons. One is the company is hot right now, based on the high standard they have produced the last several years. The other is because this is a tough one to predict. I think it's a six man race with Tanahashi, Elgin, Suzuki, Shibata, Ishii, and Omega. Elgin and Ishii being longshots. But trying to figure out who needs a win and who should challenge Okada next, is a tough call. The A Block comes down to Tanahashi and Elgin.
Would they go with Tanahashi and another match with Okada? Or make Elgin a main event player? I'm going with Elgin to win. B Block is more interesting with two very big first round matches. Shibata v Suzuki and Omega v Ishii. These really could go either way. I think Suzuki wins with interference from Suzuki-gun. While Ishii beats Omega and starts a fun run. Ishii beats Suzuki due to interference from Shibata. This furthers the Suzuki and Shibata program. Then, in the Finals, Elgin defeats Ishii in a classic, to earn a shot at Okada. – Tom Reese
I love the New Japan Cup. It takes me back to my youth when I loved the WWE King of the Ring. However, the New Japan Cup is so much better because they don't only get a silly crown and a useless title. They can choose to go after any of the three major champions. I can foresee Elgin actually going after the IWGP IC Title again. So that he could face Tetsuya Naito again. They had excellent match at The New Beginning In Osaka 2017 event. Elgin is more driven than ever to defeat Naito for the belt. If not Elgin, than you have Omega, Suzuki, and various other wrestlers who have interesting storylines going into this tournament. – Angel Gonzalez
Overall Thoughts Part 2
I really like the matches we know in the first round. Omega/Ishii, SANADA/HASHI, Shibata/Suzuki, and Tanahashi/EVIL should all deliver in big ways. Not to mention, the added bonus of not knowing if Gedo is going to go off book again as well. This could make every New Japan show something to watch. I enjoy the New Japan Cup every year, and if the G1 seems like a daunting task for you to follow so closely, the NJ Cup is much easier for those not looking for the serious commitment. If you are, then the Cup serves as a nice prep for the main course later this year come G1 time. No matter what happens though, I trust New Japan to deliver every time I tune-in. I don't see a reason why this year's New Japan Cup should prove to be any different.