Coming off an interesting Wrestling Dontaku and tremendous Best of the Super Juniors 24.
New Japan Pro-Wrestling prepares for one of it's biggest events of the year in Dominion 6.11. This also serves as the last major stop before their big foray into the United States with the G1 Special shows.
The injury to Katsuyori Shibata probably forced one of these to happen, but there are several Wrestle Kingdom rematches on this card. Not that it's a bad thing at all, as many of these matches should live up to their lofty expectations. In particular the two final matches with Tetsuya Naito defending the IWGP Intercontinental Championship against a recovering Hiroshi Tanahashi.
While the main event sees the sequel to the six star encounter for the IWGP Heavyweight Championship between Kazuchika Okada and Kenny Omega. There are seven championships on the line in all and so many possibilities in store. This is the W2Mnet NJPW Dominion 2017 Preview & Predictions.
NJPW Dominion 2017 Preview & Predictions
An Introduction to the Article
As someone that has quite a bit of experience doing these roundtable type articles, I wanted to do this a bit differently than some others. Instead of having numerous people all give thoughts on each match, I felt it better to assign one match to each person. So, one of our staff members will give their thoughts on the match itself and predict a winner. – Sean Garmer
W2Mnet Staff
Sean Garmer, Co-Host of Wrestling 2 the MAX, W2Mnet Editor-in-Chief
Paul Leazar, Co-Host of Wrestling 2 the MAX, W2Mnet Wrestling Dept. Head
Jeff Sugg, W2Mnet Staff Member
Angel Gonzalez, W2Mnet Staff Member
Tom Reese, W2Mnet Wrestling Contributor
Glenn Smith, W2Mnet Wrestling Contributor
Robert Cooper, W2Mnet Wrestling & Games Contributor
Match 0: Pre-Show Young Lion Match
6-Man Tag Match: David Finlay, Syota Umino, Tomoyuki Oka vs. Hirai Kawato, Tetsuhiro Yagi, Katsuya Kitamura
The Young Lions get some play time before the show starts with David Finlay organizing the field trip this time around. There's a lot to like about this class of Young Lions, and watching them progress continues to be a treat every opportunity they get. Kawato has a ton of infectious energy, Umino has a lot of natural charisma for somebody so young, Kitamura has the look and potential to be a huge star.
Oka, however, has been earmarked for that role, and the booking shows it continuously, especially since his training is being handled by Yuji Nagata.
I still haven't seen enough of Yagi to really form a strong impression, but he's been solid so far, if a little lost in the Young Lion shuffle. Oka usually gets the wins in these situations, and I'd wager he'll make Yagi tap out to net the win for his team. – Paul Leazar
Winners: Finlay, Umino & Oka
Other Staff Member Predictions: Sean, Jeff, Glenn, Coop: Team Finlay. Tom & Angel: Team Kitamura.
Match 1: New Japan Dad's & Tiger Mask W
8-Man Tag Match: Jushin Thunder Liger, Manabu Nakanishi, Satoshi Kojima & Hiroyoshi Tenzan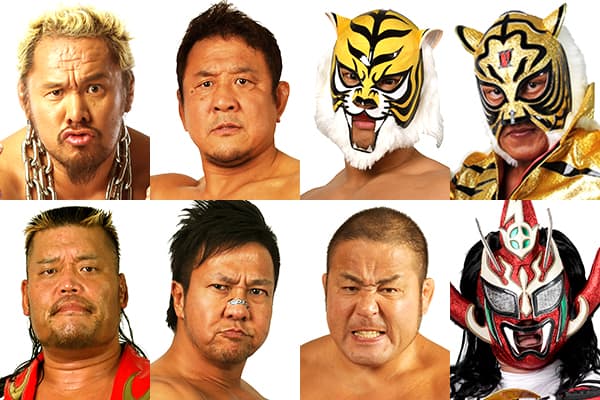 A cluster with the New Japan Dads, and Tiger Mask W getting another opportunity to sell you on the anime. I'm sure this'll be short, sweet, and to the point with Tiger Mask W getting in his big spots along the way, but I'm not gonna try and sell that this'll be some big match. It'll get the fans hyped to see the big names, they'll perform well, and they'll move right along. – Paul Leazar
Winners: Team Tiger Mask W
Other Staff Member Predictions: Everyone else also picked: Team Tiger Mask W.
Match 2: NEVER Openweight Six Man Tag Team Championship Match
Gauntlet Match: (Champions) BUSHI, EVIL, SANADA (Los Ingobernables de Japon) vs. Tomohiro Ishii, YOSHI-HASHI, Toru Yano (CHAOS) vs. Bad Luck Fale, Yujiro Takahashi, Hangman Page (Bullet Club) vs. Ryusuke Taguchi, Ricochet, Juice Robinson (Taguchi Japan) vs. Taichi, Yoshinobu Kanemaru, Zack Sabre Jr. (Suzuki-Gun)
Faction warfare for the NEVER six man belts? Sign me up right now. Los Ingobernables have battled Taguchi Japan for most of this year. Gedo could certainly keep that going and have Taguchi and friends get the belt again. However, I think we shouldn't sell the other teams short here either.
The CHAOS squad features Ishii and Yano, who have already held the IWGP Tag Titles this year. It's not a stretch that they could get these belts, along with the undervalued YOSHI-HASHI. Fale and Yujiro have held these belts before.
Now, their team includes another up and coming talent in Hangman Page. Keeping Fale strong is always in the cards for New Japan. So, it's possible another title win could happen.
Finally, and for me most likely, the Suzuki-Gun contingent. Taichi did a lot more in the BOSJ than many people probably wanted. I don't think Gedo has that die in vain. Kanemaru is always serviceable and Zack Sabre Jr is a tremendous talent waiting to even more for NJPW. This combination has a lot going for it.
Not to mention, if say Minoru Suzuki retains his title, having more in the faction as champions lends them credibility. Regardless of how little these Six Man belts mean in the grand scheme. Expect a lot of craziness and fun stuff happening. Plus, much depends on exactly when the champions themselves enter the match. At the end, count on Suzuki-Gun to leave as new champs. – Sean Garmer
Winners AND NEW CHAMPIONS: Suzuki-Gun Team
Other Staff Member Predictions: Glenn, Paul, Angel & Coop: Suzuki-Gun. Tom: Taguchi Japan. Jeff: Bullet Club.
Match 3: IWGP Junior Tag Team Championship Match
(Champions) Roppongi Vice vs. Young Bucks
This will probably be an entertaining match that will go unnoticed by the time the show is over. Often times the IWGP Jr Title match gets overlooked on shows with a deep line-up, such as this show. This is also a rematch from the Tokyo Dome on January 4th.
RPG Vice, Rocky Romero and Trent Baretta, won the titles for the third time on that show. They've since lost and regained the belts from the Suzuki-gun tandem of Yoshinobu Kanemaru and Taichi.
The Jr tag belts seem to change hands fairly often. The Bucks continue their rise as one of the premier acts in all off wrestling with their unique mix of high flying fast paced action combined with entertaining comedy thrown in.
They're looking to become champs for a sixth time. These two teams have worked with each other in and out of Japan and know how to work with one another in order to put on fun matches.
Romero and Beretta are vastly underrated as they're often overlooked when talking about top in-ring performers. This match should be all action with it probably being time for the Bucks to regain the titles.
The Jr tag title match is often a hard sell to the audience, but with this show in Osaka it should get a good reaction as the Osaka crowd is considered among the best. Not to mention that the guys love performing in that city. – Tom Reese
Winners AND NEW CHAMPIONS: Young Bucks
Other Staff Member Predictions: Glenn: RPG Vice. Everyone else picked: Young Bucks.
Match 4: IWGP Tag Team Championship Match
(Champions) War Machine (ROH) vs. Guerrilas of Destiny (Bullet Club)
War Machine has continually established themselves as stars this year in New Japan. The crowd has really taken to the two big men. They have put themselves on the map and will be big time players before long. GoD, the Guerillas Of Destiny, is an act that's kind of just there. Tama Tonga is an extremely talented performer but his brother, Tanga Loa, has not really caught on.
Talent wise nor character wise. His ability is nowhere near the level that has come to be expected for NJPW over the years. That being said I think this match could be a surprise hit on this show. The two teams seem to work well together having wild brawls and featuring War Machine hitting their big man highspots. – Tom Reese
Winners AND STILL CHAMPIONS: War Machine
Other Staff Member Predictions: Everyone else also picked: War Machine.
Match 5: Special Singles Match
Cody (Bullet Club) vs. Michael Elgin
Cody Rhodes made his intentions known pretty early into his journey into Independent Wrestling that a match between him and Elgin is happening. It's certainly a match I've anticipated for a long time.
From here, everything leads to, Two words: The G1 Climax. It is about who shows that they are ready, both physically and mentally, for New Japan's big summer test.
In my eyes, both Elgin and Cody have everything to gain with a victory in Dominion. For Cody, it's about proving to the New Japan faithful that he isn't some fly by night wrestler who only comes in for certain tours and should be taken seriously in the lockeroom.
For Elgin, it is about continually cementing himself as a viable contender for any major championship in New Japan. Being the first to defeat Cody could easily make him one of the next contenders to either the IWGP Heavyweight or IWGP Intercontinental titles.
Also, take into account what a win does for either man entering the G1 USA Special shows. Not to mention, the subsequent IWGP US title tournament. Bullet Club could also be a factor here in helping Cody win. However, if there's anyone who can overcome them, it's Big Mike. – Glenn Smith
Winner: Michael Elgin
Other Staff Member Predictions: Coop & Angel: Cody. Jeff, Tom, Sean, Paul: Elgin.
Match 6: IWGP Jr. Heavyweight Championship Match
(Champion) Hiromu Takahashi (Los Ingobernables de Japon) vs. KUSHIDA (2017 Best of the Super Juniors Winner)
Six months after losing his title to the ticking time bomb that is Hiromu Takahashi and then getting practically squashed by the same guy in 2 minutes, KUSHIDA is back to prove that he is no fallen ace.
KUSHIDA has been one of the major pieces of the Junior Heavyweight division for a few years, besting almost every challenge that has come his way, until Hiromu Takahashi came back into the picture. Since the newest member of L.I.J hit the scene, he has carved a swath through the Junior Heavyweight division, only losing singles matches in the aforementioned tournament.
I feel that this match is truly the end of the KUSHIDA redemption tour. Takahashi beating him in 2 minutes was to show that he has started to lose his touch. The BOSJ had KUSHIDA trading wins with the block before beating Will Ospreay in a barnstormer of a finals match.
To have him lose to Takahashi would open some interesting possibilities for his career, but I don't think that is what they're angling for.
As for Takahashi, a loss for him would mean that he possibly has to climb his way back up the ranks. Him winning would mean rematches with Dragon Lee, and Ricochet for the title, which I am all for. But with that being said, I think he is more of a villain for KUSHIDA to overcome in the match; this doesn't feel like his story.
So now comes the time to see if the former ace of the division still has it or if the ticking time bomb of the division will continue his reign of terror. I'm going with the hero regaining his rightful throne.- Robert Cooper
Winner AND NEW CHAMPION: KUSHIDA
Other Staff Member Predictions: Angel & Paul: Hiromu Takahashi. Sean, Tom, Glenn, Jeff: KUSHIDA.
Match 7: NEVER Openweight Championship Match
Lumberjack Death Match: (Champion) Minoru Suzuki (Suzuki-Gun) vs. Hirooki Goto (CHAOS)
I'm actually really looking forward to this match. It's a Lumberjack Death Match. I haven't seen the rules for the match other than the lumberjack aspect. How many guys outside the ring? How can the match end? The only sure thing will be the interference of Suzuki-Gun and others.
I can only guess that the Deathmatch aspect means it can end on KO or submission. Goto continues to be the talented guy who, for whatever reason, hasn't been able to elevate himself in fans eyes.
Minoru Suzuki is the aging veteran who continues to be one of the most intriguing and believable workers in history. He's different than anyone else and he knows how to play his persona like nobody's business.
This will be a wild brawl with all kinds of shenanigans from SuzukiGun and CHAOS. Normally this hinders a match. But because of the stipulations it will play into the story of the match here. – Tom Reese
Winner AND STILL CHAMPION: Minoru Suzuki
Other Staff Member Predictions: Everyone else also picked: Minoru Suzuki.
Match 8: IWGP Intercontinental Championship Match
(Champion) Tetsuya Naito (Los Ingobernables De Japon) vs. Hiroshi Tanahashi
I was surprised to read that these two have only had four singles matches against each other in their career. A lot has changed since their first bout in 2011. Naito, the "Stardust Genius," was the young up and comer trying to dethrone the man he desperately wanted to replace as the ace of NJPW, the "Once in a Century Talent" Hiroshi Tanahashi for the IWGP Heavyweight Championship. Now it's the other way around.
Tanahashi is entering the twilight of his career and is attempting to save the IWGP Intercontinental Championship from NJPW's resident bad boy. Save is the paramount word in that sentence.
Naito has pretty much destroyed the Intercontinental title, literally not figuratively, by throwing it in the air, kicking it across the ground, and slamming it against every surface of the ring. I am sure this massive lack of respect is getting under Tanahashi's skin.
Will Tanahashi defend NJPW's honor or will LIJ leader continue to hold the Intercontinental title hostage, doing with it as he pleases? I could see NJPW reward Tanahashi with a second title reign, but I am going with Naito for the win. I believe the broken title storyline is leading to Naito revealing his own version of the IWGP Intercontinental title. Why else would NJWP allow to Naito to destroy such a beautiful looking belt? – Angel Gonzalez
Winner AND STILL CHAMPION: Tetsuya Naito
Other Staff Member Predictions: Tom, Jeff, Coop: Tetsuya Naito. Sean, Paul & Glenn: Hiroshi Tanahashi.
MAIN EVENT: Match 9: IWGP Heavyweight Championship Match
(Champion) Kazuchika Okada vs. Kenny Omega (Bullet Club)
The rematch. Just over five months after rocking the wrestling world and enticing Uncle Dave to dole out only the second six star match in history. "The Cleaner" Kenny Omega challenges "The Rainmaker" Kazuchika Okada. It all goes down, fittingly, in the number two building. Osaka-Jo Hall, during the number three show of the year for Shinon Puroresu. I can't wait to see if they can get a sell out.
On January 4th in the Tokyo Dome, Omega and Okada met in their first ever singles encounter. They spent the opening third of the match figuring each other out and neither man wanting to make a mistake. For that select few that thought the bout was too slow early on, it wasn't just to pad the time of the bout.
It was because the main event was the only bout they watched. There was no "cool down" between this match and the awe inspiring, rip roaring conclusion to Naito vs Tanahashi. Interestingly enough, is exactly the position that Omega and Okada find themselves in once again.
At the Tokyo Dome, Okada landed four, count 'em, four Rainmaker lariats. He was unable to go for the cover after each one, so we're not sure exactly how many he needed, but we know how many it took. Kenny has yet to hit his dreaded, devastating, spectacular One-Winged Angel on Okada in a singles bout.
God bless Gedo, that is the ultimate deciding factor in this contest. Can Kenny hit it? Because I don't believe Okada survives it. The Rainmaker will happen, the question is how many times?
So, what all is truly at stake here? Legacy. Kenny Omega was only the 3rd gaijin to participate in the finals of the G1 Climax (Rick Rude and Karl Anderson being the other two) and is the only foreigner to ever win the most grueling, prestigious tournament in all of professional wrestling.
Kenny is truly the "best bout machine" out there. He is able to get 4-stars out of anyone. Kenny is the only Canadian to ever headline the Tokyo Dome. And he is one of only three gaijin to ever headline the January 4th Tokyo Dome mega event. But what does that mean without an IWGP reign to tie it all together?
After an incredible trilogy with Hiroshi Tanahashi that spanned four Tokyo Dome main events. Two years of being the undisputed Ace of puroresu. Not to mention, producing main event classic after main event classic, all prior to his 30th birthday, can this bout impact Okada's legacy at all?
Though this might be Okada's favorite venue, this is just another day at the office for the Rainmaker. In stark contrast, this match is Omega's everything. Kenny, So, much weighs on this one match for what Omega could be for the company.
Conversely, Okada has turned out one of the single most entertaining, and grueling, years of any wrestler in history. Yes, even Ric Flair's 1989.
We cannot forget that not only is New Japan expanding into the United States, Dominion goes down only three weeks prior to the highly anticipated G1 Specials in Long Beach, California where NJPW sold out, twice, mere hours after tickets went on sale. And with every championship set to be defended over the two night event, will that play a factor in the bout?
The next big event on the New Japan calendar is the G1 Climax itself. Anticipation for it is at an all time high. The winner goes on to headline Wrestle Kingdom 12 at the Tokyo Dome. Does that play a factor in the outcome of the bout?
So much rides on this outcome. There's so much history coming to a crescendo, and with so much on the horizon. I dare say that this, is as big as any, non-January 4th main event in New Japan's history. What excites me more than anything is the pride that each of these amazing athletes have in their craft.
I have no doubt that this bout will be just as entertaining as their first encounter while also telling a different, yet equally compelling story. However, I do believe that this rivalry is destined for the Dome once more. I do believe that this rivalry is destined for a trilogy, at least. And yes, I do believe Omega finally hits his One Winged Angel. – Jeff Sugg
Winner AND NEW CHAMPION: Kenny Omega
Other Staff Member Predictions: Everyone else also picked: Kenny Omega.
Farewell For Now
This is all for our NJPW Dominion Preview & Predictions article. There's certainly a lot to be excited about when it comes to this event. Now can it live up to all the hype.