New Japan Pro-Wrestling: NJPW New Beginning in Sapporo 2017 Preview
New Japan Pro-Wrestling delivered as they have for a number of years at Wrestle Kingdom 11. Then, an invading force interrupted the party at New Year Dash. Suzuki-Gun returned in full force with their leader Minoru Suzuki staking his claim for the IWGP Heavyweight Championship by taking out champion Kazuchika Okada. This is now the main event for the first of two 2017 New Beginning shows.
Underneath that, is a whole host of matches involving Suzuki-Gun members, CHAOS members, and various other wrestlers on the New Japan roster. The IWGP Junior Tag Team Championships are on the line with Roppongi Vice defending against Taichi and TAKA Michinoku. Then, Suzuki-Gun battles for some more tag gold. Killer Elite Squad take on Great Bash Heel and the champions Tomohiro Ishii and Toru Yano of CHAOS. Hirooki Goto also defends the NEVER Openweight Title against Juice Robinson as well. This is the W2Mnet NJPW New Beginning in Sapporo 2017 Preview.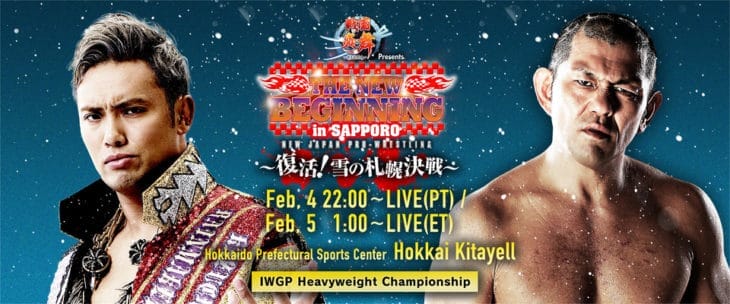 An Introduction to the Article
As someone that has quite a bit of experience doing these roundtable type articles, I wanted to do this a bit differently than some others. Instead of having numerous people all give thoughts on each match, I felt it better to assign one match to each person. So, one of our staff members will make the case for each person winning said match, then give their thoughts on the match itself, and finally predict a winner. This continues until the end of the article, when everyone gathers to give their overall thoughts on the event. – Sean Garmer
W2Mnet Staff
Sean Garmer, Co-Host of Wrestling 2 the MAX, W2Mnet Editor-in-Chief
Paul Leazar, Co-Host of Wrestling 2 the MAX, W2Mnet Wrestling Dept. Head
Tom Reese, W2Mnet Wrestling Contributor
Glenn Smith, W2Mnet Wrestling Contributor
Angel Gonzalez, W2Mnet Wrestling, Games & Entertainment Contributor
Jeff Sugg, W2Mnet Wrestling Contributor
Opening Tag Match
Hirai Kawato and KUSHIDA vs. Suzuki-gun (El Desperado and Yoshinobu Kanemaru)
With Suzuki-gun on the horizon and an obvious endearment, KUSHIDA finds himself in a unique position. He is the bonafide Junior Ace, without the strap. However, he finds himself defending the honor of New Japan against an invading army. In Sapporo, Ace, Jr. teams with one of the bright Young Lions in New Japan, Hirai Kawato. They are paired against El Desperado and Kanemaru, two of the devious SZG. If Kawato can survive what is sure to be an early onslaught and exercise some experience beyond his years, KUSHIDA can lead him to one of the biggest victories of his young career.
KUSHIDA is the key to success for his team. His superior grappling can overcome any obstacles presented to him inside the ring. But Desperado and Kanemaru offer a unique puzzle to solve. If they play the grappling game, they could use their familiarity to overcome their opponents, even if they arent on KUSHIDA's level. Mainly because they are more accustomed to tag action. If the members of SZG choose to be unpredictable brawlers searching for every advantage they can find, they can use Kawato's inexperience against him. Coming off a mistake by the young lion, or an extended period of cutting the ring in half, Suzuki-gun should open the New Beginning in Sapporo with a victory. – Jeff Sugg
Winner: Suzuki-Gun
Other Staff Member Predictions: Everybody else also picked Suzuki-Gun
Yoshi & The Young Lions vs. New Japan Dads 6-Man Tag Match
Henare, Tomoyuki Oka, and Yoshitatsu vs. Hiroyoshi Tenzan & Satoshi Kojima and Yuji Nagata
This match will be different in some form as David Finlay Jr. is out with a shoulder injury. I'm guessing the latter with Tomoyuki Oka replacing Finlay. Either way, the match should have the same theme and result. The vets shine for the most part with the Young Lions getting in a couple of spots. Henare is one to keep an eye on as he has shown some good potential. Match should be decent and fairly quick. Nagata scores the win for his team. – Tom Reese
Winners: TenKozy & Yuji Nagata
Other Staff Member Predictions: Angel: Henare, Oka, and Yoshitatsu. Everybody Else: TenKozy & Nagata
CHAOS vs. Liger, Tiger & Shibata
Gedo, Jado & Will Ospreay (CHAOS) vs. Jushin Thunder Liger, Tiger Mask IV, and Katsuyori Shibata
Old men plus the Shibata and Ospreay feud. Oh boy. Seriously, I'm sure this will be fun, as most New Japan six man's are. Shibata and Ospreay are building up to their Rev Pro British Title Match at the next New Beginning event. I'm sure this should be a nice teaser. Ultimately, those two won't be involved in the decision, so I'll say Team Shibata takes this one for reasons. – Paul Leazar
Winners: Liger, Tiger & Shibata
Other Staff Member Predictions: Glenn: CHAOS. Everybody Else: Liger, Tiger Mask, and Shibata
Suzuki-Gun vs. CHAOS Match
Singles Match: Takashi Iizuka vs. YOSHI-HASHI
I think we can certainly say this should be a different kind of encounter. New Japan spent a good part of 2016 trying to elevate YOSHI-HASHI. He always works hard in the ring and gives people something exciting. Takahashi Iizuka on the other hand, brings a unique brand of entertainment to his matches. Something that may leave you thinking, what am I watching? Personally, I feel like we could see a repeat of the 2015 run of New Beginning shows. Where Bullet Club came in and took back all of their belts. If you are doing some kind of big return for Suzuki-Gun, doing the same thing may be a great way to make a statement. That being said, because of the way Iizuka matches usually go, he can be the one to afford a loss and get a win for CHAOS on this night. – Sean Garmer
Winner: YOSHI-HASHI
Other Staff Member Predictions: Glenn: Iizuka. Tom: No contest via Double DQ or count-out. Everybody Else: YOSHI-HASHI
Tanahashi & Friends vs. Los Ingobernables de Japon
Dragon Lee, Hiroshi Tanahashi, Manabu Nakanishi, Michael Elgin, and Ryusuke Taguchi vs. Los Ingobernables de Japon (BUSHI, EVIL, Hiromu Takahashi, SANADA, and Tetsuya Naito)
I'm picking Team Dragon Lee to win this match. Mainly, because after The Fantastica Mania tour this needs to be a Dragon Lee moment to show why he is the most credible threat to Hiromu Takahashi's reign as IWGP Jr Heavyweight Champion. It should also be said that Hiroshi Tanahashi Ryusuke Taguchi Minobu Nakanishi need to show L.I.J why they're the dominant Trio in New Japan. Same to be said for Elgin with Naito too. Now, in the case of L.I.J. it's a pretty simple situation. Win the way they always do. I personally want to see Lee get the win over Takahashi in order to further cement his legitimacy to be in the IWGP Jr. Heavyweight Title picture. – Glenn Smith
Winners: Dragon Lee, Hiroshi Tanahashi, Manabu Nakanishi, Michael Elgin & Ryusuke Taguchi
Other Staff Member Predictions: Tom: Team Dragon Lee. Everybody Else: L.I.J
IWGP Junior Tag Team Title Match: CHAOS vs. Suzuki-Gun
(Champions) Beretta and Rocky Romero (Roppongi Vice) vs. Taichi and Taka Michinoku (Suzuki-Gun)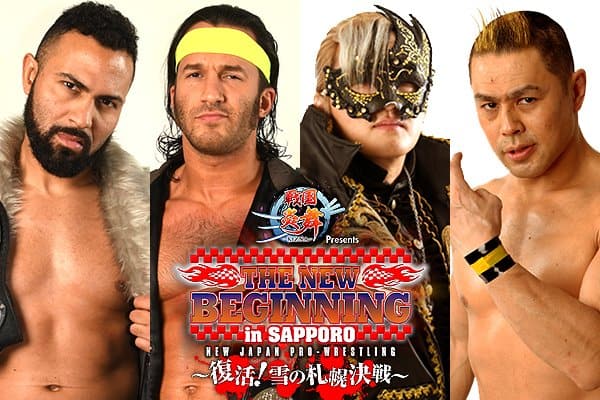 It has been two years since we have seen the team of Taichi and Taka Michinoku in a NJPW ring. As members of Suzuki-Gun, they helped invade the Noah promotion in 2014. For two years they dominated the the junior heavyweight division. Taichi was the GHC Junior Heavyweight champion for 283 days. While Taka with fellow Suzuki-Gun member El Desperado held the GHC Junior Heavyweight Tag Team Championship belts for for 203 days. Now they are back in NJPW, Taka and Taichi are teaming up again to regain the IWGP Junior Heavyweight Tag Team Championship. The only time they won the tag belts was in October 2014 when they beat the Forever Hooligans (Rocky Romero and Alex Koslov).
Roppongi Vice just recently won the belts at Wrestle Kingdom 11. Prior to this, NJPW was hinting they were going to break up. Even after they won the titles, they were still chipping at each other. To further complicate things RPG Vice has never had a successful title defense. The stage is set for them to break up, but will that occur at The New Beginning in Sapporo event?
What if Roppongi Vice wins? This means that NJPW is planning for a long program between them and Suzuki-Gun. Then when they lose the titles they are going to break up. It's inevitable. NJPW has been really focusing on how dysfunctional RPG Vice is right now.
What if Suzuki-Gun wins This means that NJPW is going to be pushing Suzuki-Gun as the hottest stable in NJPW. Wether you like or dislike Taichi and Taka Michinoku, they are a heel team that makes everyone want to see them lose.
For once in a long time, we could finally have a strong storyline in the junior tag division. I think RPG Vice wins. Finally getting a title defense. I could see this match going either way. What made me go with RPG Vice is that I think Suzuki-Gun as whole will only win one title at the event. Its not going to be Taichi and Taka. With that said, I fully expect to see them jump RPG Vice after their loss. – Angel Gonzalez
Winner AND STILL CHAMPIONS: Roppongi Vice
Other Staff Member Predictions: Tom & Jeff: RPG Vice. Sean, Paul & Glenn: Suzuki-Gun.
NEVER Openweight Championship Match
(Champion) Hirooki Goto vs. Juice Robinson
Hirooki Goto defends against Juice Robinson. This is a very interesting match-up. Especially, With the injuries New Japan took at the end of last year, they looked to their young lion's to step up. One of those was Juice Robinson, who really impressed the hell out of everybody, and suddenly beats Goto at New Year Dash. This is almost a reward match, and while the NEVER has morphed into something completely different from its original purpose, Juice could make for a fun champion. However, it just won't happen here. Goto seems to be turning the corner, and New Japan could be testing the waters for another push to try to solidify Goto at the top of the card. I think that starts with a strong run here. This match should be all kinds of awesome. I can't wait to see what this fresh match brings. – Paul Leazar
Winner and STILL NEVER Openweight Champion: Hirooki Goto
Other Staff Member Predictions: Everyone Also Picked: Hirooki Goto.
IWGP Tag Team Championship Match
(Champions) Tomohiro Ishii and Toru Yano (CHAOS) vs. Togi Makabe and Tomoaki Honma (G-B-H) vs. Davey Boy Smith Jr. and Lance Archer (Suzuki-Gun)
The prospects of double duty for the newly crowned, defending IWGP Tag Team Champions, Toru Yano and Tomohiro Ishii seems daunting. Chaos' resident odd couple does posses a unique set of skills. However, they also face two of the very best tag teams in wrestling. Between the antics and roll-up prowess of Yano, and the bull headed, straight ahead, smash mouth style of Ishii. This can lead to a title retention.
For Great Bash Heel, Tomoaki Honma and Togi Makabe, the key to success lies in them merely being themselves. Their tandem offense and forward momentum lends them to thriving in chaos. Particularly the kind of chaos presented in a 3 way tag title match. Especially, one that not only contains Yano, but also members of Suzuki-gun.
The Killer Elite Squad, Lance Archer and Davey Boy Smith Jr., are one of the finest gaijin tag teams to ever cross the Pacific. They are bruising, they are intimidating, and they are the perfect reflection of their leader. They can beat you up, they can stretch you out, and they can ruin your day. They've not only outlined their plan to take whatever they want from whomever they want in New Japan, but they've also called their shot in reclaiming the IWGP tag titles in their first attempt. You have highly motivated challengers, the champions are in for a stern test for their first defense, but the antics of Yano and the pride of Ishii should insure their first title defense. – Jeff Sugg
Winners and STILL IWGP Heavyweight Tag Team Champions: Ishii & Yano
Other Staff Member Predictions: Paul & Angel: CHAOS. Sean, Tom & Glenn K.E.S.
IWGP Heavyweight Championship Match
(Champion) Kazuchika Okada vs. Minoru Suzuki
This is a most intriguing match to say the least. Okada is comes into New Beginning after having defended his IWGP Title against Kenny Omega at the Tokyo Dome on January 4th in the "Six Star" classic. He faces Minoru Suzuki who has returned to NJPW along with his Suzuki-gun group. This match was set up when Suzuki-gun made their much anticipated return on January 5th laying waste to Okada and his CHAOS group. Suzuki and his team had been on loan to NOAH for the last two years where he was the dominant wrestler in the promotion. However, now the ultra cool badass is back home to challenge for the only major championship in Japan that he's never held.
Suzuki has had a long and storied career. He began in the NJPW dojo and made his pro debut against fellow Suzuki-gun member Takashi Izuka. He would leave NJPW to wrestle in shoot style promotions UWF and PWFG. From there he would be one of the early pioneers of MMA when he helped form Pancrase. This group would play to future MMA stars Ken Shamrock and Bas Rutten. Suzuki won the King of Pancrase championship in 1995. Then, he would return to traditional Puroresu in the early 2000's.
He would wrestle for various promotions winning the All Japan Triple Crown Championship 2006 and 2010. During his second run with Pro Wrestling NOAH he won the GHC Championship in 2015. Over the past ten plus years he has gained a cult like following as a grizzled old time vet. While on the small side physically, he is a very believable ass kicker. He's a go to guy for the wrestlers, both native and foreign, because of his great mind for the business. Could he be poised for one more big run?
Okada, the current face of NJPW has solidified his top spot after finally emerging from the shadow of perennial ACE Hiroshi Tanahashi. Okada is coming off a year where he had classic bouts with Tanahashi, Ishii, and Marufuji. Then, he started 2017 with the Omega match. This is a big test for both men given the high standard that is now in place for main event title matches in NJPW. Suzuki, who is inching closer to fifty, is not the young athletic wrestler that can light up the arena with cool moves.
Instead, he draws you in with realistic psychology that will have the audience captivated by the end. They've had several matches years ago that were good, but nothing special. Okada is better now and still improving. Suzuki brings an unmistakable aura. Suzuki has two Match of the Year honors to his credit. In 2012, against Hiroshi Tanahashi and 2014 against AJ Styles in the G-1 Climax. Does he still have that magic? I think he comes through again and Okada adds another chapter to his growing legacy. I'm looking for a different type of main event. But one that we'll be talking about. I'm going out on a limb and predicting a title change with a Suzuki victory. – Tom Reese
Winner and NEW IWGP Heavyweight Champion: Minoru Suzuki
Other Staff Member Predictions: Paul: Kazuchika Okada. Everyone Else: Minoru Suzuki.
Overall Thoughts Part 1
This should be an excellent show. There are a lot of storylines that will continue to be fleshed out during this event. The most important storyline revolve around returning stable Suzuki-Gun. This will be their chance to remind everyone why they where the most feared stable in Noah. Now that the Bullet Club are taking a hiatus, this leaves a void that will be filled by Suzuki-Gun. The match I am looking to the forward to the most is Minoru Suzuki vs Kazuchika Okada. Suzuki is one of my favorite wrestlers in the world. He is a monster in the ring. I don't think Okada will be able to stop Suzuki. – Angel Gonzalez
Now that the Tokyo Dome is behind them NJPW presents The New Beginning. The first of two New Beginning shows will showcase the new matchups and programs going foward. A lot of it features the returning Suzuki-gun led by Minoru Suzuki challenging for the IWGP Title. Suzuki-gun will probably go over in most of their matches to get them rolling. However, they're not as deeply talented as CHAOS or L.I.J. so they won't be as dominant in NJPW as they were for two years in NOAH.
Although, I do expect a Suzuki victory here. Smith and Archer will also win the tag titles. This match happens again next weekend in Osaka. Not a whole lot of major note is on this show as the other big singles match happens next weekend. Furthermore, I do expect plenty of fireworks between Dragon Lee and Hiromu Takahashi in the ten man tag match. Also keep an eye on the Shibata v Ospreay exchanges in their tag match. They lit it up last week at Korakuen Hall and their singles match is also next week. The other title match on this show is Juice Robinson vs. Hirooki Goto. Should be a really good match with Juice looking good before going down in defeat to Goto. This is a by the numbers show with the main event being the big story coming out of it. – Tom Reese
Overall Thoughts Part 2
It's hard not to love this, or any New Japan line up. The sister card, to be held in Osaka, makes many of these matches rather interesting as it opens up a plethora of possibilities. There is never a question about the in-ring aspect for New Japan. Likewise, there is never a doubt about the decision making behind New Japan. These reasons help make NJPW cards the easiest to get excited about. After a less-than-spectacular excursion, what does Suzuki-gun bring to the table? Are they merely a high hurdle for the established leaders of New Japan to overcome and build momentum as the company gears up for the Spring and Summer? Or is SZG here to shake up the empire and establish their own New Beginning.
Are Juice Robinson and Will Ospreay ready for upper-midcard singles success? Will SZG bring sustained depth the Junior division? Is L.I.J cooling off? Where is the Bullet Club? Does it matter? Is 2017 finally, maybe, possibly, Shibata's year? Is there another level remaining for the Rainmaker to ascend to? The journey to these answers begins in Sapporo on Sunday. – Jeff Sugg
The Sapporo show looks great. Not to mention that main event should be terrific. However, I'm much more psyched for the Osaka show. The undercard here at Sapporo has some stuff to look forward to, and the new crop of young lion's are all on the lineup as well. This should be something fun to follow in the openers. The rest of the midcard builds toward Osaka. Honestly, that should be awesome to see too. – Paul Leazar
Farewell For Now
This ends our NJPW New Beginning in Sapporo 2017 Preview. You can also listen to Sean and Paul preview the show on the latest Wrestling 2 the MAX Podcast as well.