PWG Threemendous I 2006 Review
July 16th, 2006
Los Feliz Jewish Community Center (The Sweatbox)- Los Feliz, California
Announcers: Disco Machine and Excalibur
The Opening Match!
Match #1: Disco Machine vs. Excalibur
Result: Disco Machine pins Excalibur @ 8:31 (Chokebreaker)
Harry: One of the unique things about PWG in it's early days is that commentary would be recorded after the show, allowing people who had wrestled that night to do the audio track for their own match. In this particular case, it was the commentary team facing off for I believe what was called the "PWG Commentary Championship". Match itself isn't bad, but would not really amount to much of anything outside of general shenanigans on the behalf of both participants. Capable of more from both, for sure. (*½)
Patrick: This is weird. Like, really weird. Disco Machine picks up a heated win, and then the opponents do commentary like nothing happened. A little off putting. For someone who knows modern PWG only, it's different not seeing a super high flying indie spot-fest. Good, not great. (**)
Oh Boy…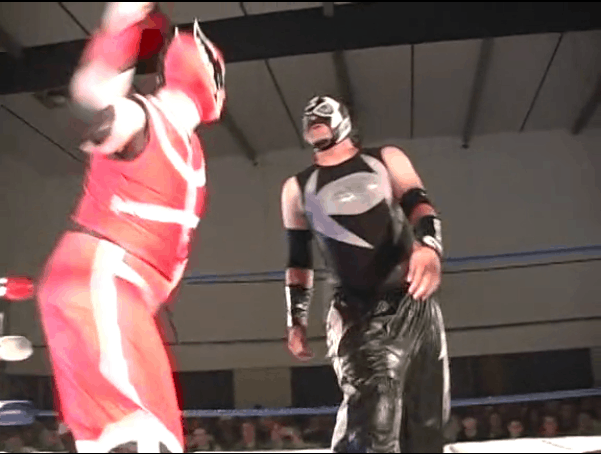 Match #2: Ronin vs. Nemesis
Result: Ronin pins Nemesis @ 7:07 (DVD)
Harry: To be frank, I'm not a big fan of either guy and this match did nothing to change my perception. Surprising that this is the kind of match that would make it to an anniversary show back in the early days. Ronin would eventually get better. To my knowledge, Nemesis would end up fading away. (*)
Patrick: How does a seemingly throwaway match to open end up being better than this? Sure, Ronin would get better, but this was not good. (*½)
Some Comedy Shenanigans!
Match #3: Topgun Talwar vs. Colt Cabana
Result: Colt Cabana taps Topgun Talwar @ 12:06 (Reverse Bearhug)
Harry: Obviously, you have to check your 'work-rate' expectations at the door when it comes to these two. There is some pretty good actual wrestling involved in this match, but it's more about the entertainment aspect that the two gentlemen bring and for the most part, I think that comes across quite well. The best thing on the show to this point (**½)
Patrick: What a goofy match. This is Cabana at his prime as a comedy wrestler. Talwar holds his own, and they have an entertaining match. Talwar would show why he was a mainstay in PWG, and Cabana shows he can go when need be. (**1/2)
Fast Paced Six Man Tag Team Action!
Match #4: Chris Bosh/Scorpio Sky/Scott Lost vs. Davey Richards/Human Tornado/Kevin Steen
Result: The Dynasty defeats Team Richards @ 20:11 (Scorpio Sky pins Human Tornado)
Harry: If I were to show someone a match to get into PWG from this show, this is the match that I would pick. The ring work is a little better in the later tag match, but the crowd is on fire for this one and all six men bring it. You can actually feel a sense of resentment between the two teams which is something that doesn't always come across on the Indies and by and large, the ring work is spot on as well. (***½)
Patrick: Suddenly were reminded of current PWG, with a bunch of people who'd become famous one way or another… and Davey Richards. 6 of the best at the time, plus 2 who'd become damn good at their respective jobs outside. Makes for a damn fun match (***)
NXT's Present is PWG's Past!
Match #5: Roderick Strong vs. TJ Perkins
Result: Roderick Strong taps TJ Perkins @ 18:55 (Strong Hold)
Harry: The knock on both of these guys has never been their in ring ability. The knock on both of them has always been their lack of personality. This is a perfect example of that. The ring work is good, but there is nothing that actually causes you to want to invest yourself into the match itself. It's good but it's just there. (***)
Patrick: Suddenly, NXT shows up… kind of. This was not the Roderick Strong he'd become, but he's still good, approaching great. Perkins holds his own as well, and makes for a good match. Maybe a little long, but not bad, by any means. (***)
Behold The Kings of Wrestling!
Match #6: El Generico/Quicksilver (Cape Fear) vs. Chris Hero/Claudio Castagnoli (Kings of Wrestling)
Result: Kings of Wrestling defeat Cape Fear @ 20:47 (Castagnoli pins El Generico)
Harry: I mentioned earlier that this tag match is superior in ring to the six man tag earlier and it is. That being said, for as good as the in-ring work is, the crowd is nowhere as into this match are they are that six man. I think it has a lot to do with the fact that a lot of people in attendance didn't take Cape Fear as credible opponents for the Kings, who were running roughshod over the Indies at this time. Cape Fear more then holds it own though and the crowd does eventually come around, making this another worthwhile contest for the show (***½)
Patrick: Kings reign supreme, of course. What happens when you put 4 of the best you have together? Of course, it's great. Cape Fear manages to make themselves look like they could pull off the upset against the Kings. Worthy of a sub-main (***½)
Guerrilla Warfare Cage Match Main Event!
Match #7: PWG Heavyweight Title: 'Guerrilla Warfare' Cage Match: B-Boy vs. Joey Ryan ©
Result: Joey Ryan defeats B-Boy by KO @ 34:17 (ether rag)
Harry: So fucking long. It's not bad or anything, but in some cases the length of a match can directly affect how someone feels about it. I have a higher tolerance for long matches then most and even I felt myself worn out by this. Sorry guys, most of the work was good, but there wasn't enough of it to justify the length with which it ran. (***)
Patrick: Thirty five minutes… thirty five long minutes. Granted, B-Boy and Joey know what they do and then some. But, this turns south quickly and becomes a cluster and a half and goes too long. Between weapons, the cage, interference, and time, it's a pretty good match, but I started high and went down. (***)
The Show & More!
Harry Average Star: 2.57
Patrick Average Star: 2.64
For the 'Big Finish' to find out what we gave best and worst match, our "Cash and Trash" and the overall rating for the show as well to hear us go into more detail about the matches you see listed above, be sure you check out episode 5 of Wrestling Unwrapped: PWG Threemendous I 2006 on the W2M Network.
OVERALL TOP 25 THROUGH SEVEN SHOWS
Harry
1: Royal Rumble 1992- WWF Heavyweight Title- WWF Royal Rumble 1992- ****½
2: Bret Hart © vs. Owen Hart- WWF Heavyweight Title: cage- WWF SummerSlam 1994- ****½
3: Kevin Steen © vs. Michael Elgin- ROH Heavyweight Title- ROH Glory by Honor XI 2012- ****
4: Mikey Whipwreck/Yoshihiro Tajiri vs. Little Guido/Tony Mamaluke vs. Kid Kash/Super Crazy- ECW Guilty as Charged 2001- ****
5: Jay Lethal vs. Davey Richards- ROH Glory by Honor XI 2012- ****
6: Jazz vs. Sara Del Rey- SHINE Volume I 2012- ****
7: Tommy Dreamer vs. CW Anderson- "I Quit" match- ECW Guilty as Charged 2001- ***½
8: Chris Bosh/Scorpio Sky/Scott Lost vs. Davey Richards/Human Tornado/Kevin Steen- PWG Threemendous I 2006- ***½
9: Chris Hero/Claudio Castagnoli vs. El Generico/Quicksilver- PWG Threemendous I 2006- ***½
10: Rain vs. Nikki Roxx- SHINE Volume I 2012- ***½
11: New Foundation vs. Orient Express- WWF Royal Rumble 1992- ***½
12: Caprice Coleman/Cedric Alexander vs. Harlem/Lancelot Bravado- ROH Glory by Honor XI 2012- ***½
13: Alundra Blayze © vs. Bull Nakano- WWF Women's Title- WWF SummerSlam 1994- ***
14: Danny Doring/Roadkill © vs. EZ Money/Julio Dinero- ECW Tag Titles- ECW Guilty as Charged 2001- ***
15: Reby Sky vs. Jayme Jameson- SHINE Volume I 2012- ***
16: Roderick Strong vs. TJ Perkins- PWG Threemendous I 2006- ***
17: Joey Ryan © vs. B-Boy- PWG Heavyweight Title- 'Guerilla Warfare' Cage Match- PWG Threemendous I 2006- ***
18: MnM vs. Hardy Boyz- WWECW December to Dismember 2006- ***
19: Diesel © vs. Razor Ramon- WWF Intercontinental Title- WWF SummerSlam 1994- **½
20: Jimmy Jacobs/Steve Corino © vs. Jay/Mark Briscoe- ROH Tag Team title- ROH Glory by Honor XI 2012- **½
21: Allysin Kay/Taylor Made vs. Su Yung/Tracey Taylor- SHINE Volume I 2012- **½
22: Adam Cole © vs. Eddie Edwards- ROH Television title- ROH Glory by Honor XI 2012- **½
23: Colt Cabana vs. Topgun Talwar- PWG Threemendous I 2006- **½
24: Big Show © vs. Bobby Lashley vs. Test vs. CM Punk vs. Rob Van Dam vs. Hardcore Holly- WWECW December to Dismember 2006- **½
25: Mercedes Martinez vs. Leva Bates- SHINE Volume I 2012- **½
Patrick
1: Royal Rumble 1992- WWF Heavyweight Title- WWF Royal Rumble 1992- ****½
2: Kevin Steen © vs. Michael Elgin- ROH Heavyweight Title- ROH Glory by Honor XI 2012- ****
3: Jay Lethal vs. Davey Richards- ROH Glory by Honor XI 2012- ****
4: Bret Hart © vs. Owen Hart- WWF Heavyweight Title: cage- WWF SummerSlam 1994- ***½
5: Jazz vs. Sara Del Rey- SHINE Volume I 2012- ***½
6: Chris Hero/Claudio Castagnoli vs. El Generico/Quicksilver- PWG Threemendous I 2006- ***½
7: Rain vs. Nikki Roxx- – SHINE Volume I 2012- ***½
8: Reby Sky vs. Jayme Jameson- – SHINE Volume I 2012- ***
9: New Foundation vs. Orient Express- WWF Royal Rumble 1992- ***
10: Chris Bosh/Scorpio Sky/Scott Lost vs. Davey Richards/Human Tornado/Kevin Steen- PWG Threemendous I 2006- ***
11: Roderick Strong vs. TJ Perkins- PWG Threemendous I 2006- ***
12: Tommy Dreamer vs. CW Anderson- "I Quit" match- ECW Guilty as Charged 2001- ***
13: Jimmy Jacobs/Steve Corino © vs. Jay/Mark Briscoe- ROH Tag Team title- ROH Glory by Honor XI 2012- ***
14: Mikey Whipwreck/Yoshihiro Tajiri vs. Little Guido/Tony Mamaluke vs. Kid Kash/Super Crazy- ECW Guilty as Charged 2001- ***
15: Adam Cole © vs. Eddie Edwards- ROH Television title- ROH Glory by Honor XI 2012- ***
16: Alundra Blayze © vs. Bull Nakano- WWF Women's Title- WWF SummerSlam 1994- ***
17: Joey Ryan © vs. B-Boy- PWG Heavyweight Title- 'Guerilla Warfare' Cage Match- PWG Threemendous I 2006- ***
18: MnM vs. Hardy Boyz- WWECW December to Dismember 2006- ***
19: Caprice Coleman/Cedric Alexander vs. Harlem/Lancelot Bravado- ROH Glory by Honor XI 2012- ***
20: Rob Van Dam vs. Jerry Lynn- ECW Guilty as Charged 2001- **½
21: Mercedes Martinez vs. Leva- – SHINE Volume I 2012- **½
22: Colt Cabana vs. Topgun Talwar- PWG Threemendous I 2006- **½
23: Natural Disasters © vs. Legion of Doom- WWF Tag Team Titles- WWF Royal Rumble 1992- **½
24: Diesel © vs. Razor Ramon- WWF Intercontinental Title- WWF SummerSlam 1994- **½
25: Mike Bennett vs. Mike Mondo- ROH Glory by Honor XI 2012- **½
ELIMINATION NOTES:
Harry took out Van Dam vs. Lynn, Bigelow/IRS vs. Headshrinkers, Natural Disasters vs. Legion of Doom, Mahoney vs. Striker and Veda Scott vs. Kimberly from last review's Top 25
Patrick took out Bigelow/IRS vs. Headshrinkers, Extreme Elimination Chamber, Doring/Roadkill vs. Money/Dinero, Garrett vs. San Antonio and TD Thomas vs. Rhino from last review's Top 25