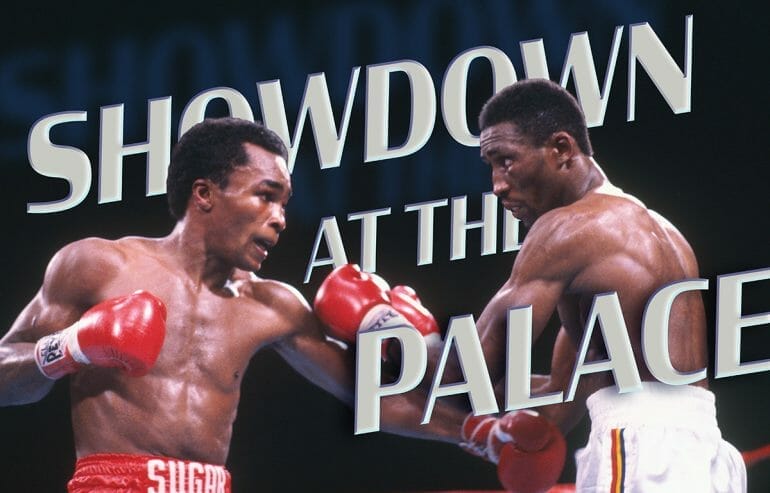 Pat Mullin and Mark Radulich continue with their newest history of boxing podcast series on the Four Kings of Boxing this time it's chapter 6 – The Four Kings of Boxing: Leonard vs Hearns 1.
Sugar Ray Leonard vs. Thomas Hearns, billed as "The Showdown", was a professional boxing match contested on September 16, 1981 for the WBA, WBC, The Ring and lineal welterweight titles.
Sugar Ray Leonard won the WBC welterweight title with a fifteenth-round knockout of Wilfred Benítez in 1979. He lost it to Roberto Durán by a close decision in June 1980 and regained it five months later in the infamous No Más Fight, in which Duran quit in the eighth round. In June 1981, Leonard moved up to the light-middleweight division for one fight, knocking out Ayub Kalule in nine rounds to win the WBA light-middleweight title.
Hearns won the WBA welterweight title in 1980, scoring a second-round knockout of Jose 'Pipino' Cuevas in Detroit, Michigan. He made three successful title defenses, stopping Luis Primera, Randy Shields, and Pablo Baez.
Promoted as "The Showdown" Leonard (30-1 with 21 KO) fought Hearns (32-0 with 30 KO) on September 16, 1981 at Caesar's Palace in Las Vegas, NV to unify the world welterweight championship in a scheduled fifteen-rounder. They fought before a live crowd of 23,618 and a worldwide TV audience of some 300 million.
Check out our previous chapters of The Four Kings of Boxing Podcast.
And if your into the history of heavyweight boxing, we have for you the History of Heavyweight Boxing Podcast.
Support the W2M Network
Grammarly Ad: 24:20
Amazon Music Ad: 56:02
For a 30 Day Free Trial of Amazon Music Unlimited make sure you also complete the sign up process too. And also check out our Grammarly special offer too.
If you want more boxing content, be sure to check out our Boxing Alternative Commentaries.
The Showdown at the Palace! The Four Kings of Boxing: Leonard vs Hearns 1
You can now watch many episodes of Radulich in Broadcasting's various shows in Video format on the W2M Network Youtube Channel
Listen on Your Favorite Podcast Service
Apple Podcasts
Stitcher
iHeartRadio
Spotify
Youtube
To check us out on the player of your choice click here
Subscribe to the W2M Facebook Page for more information on all our podcasts.
Twitter: W2M Network, Mark Radulich.
About Radulich in Broadcasting's Beginnings
Mark Radulich has been an internet personality since 2004 with his Progressive Conservatism blog. He then took that blog to the airwaves and created a podcast for it. It then changed to PC Live. After that, he brought out the 411mania Ground and Pound Radio as well.
Also, Mark would partner up with another 411mania alum, Sean Comer, to create the movie franchise review podcast Long Road to Ruin and then Robert Cooper to create the metal album review podcast, The Metal Hammer of Doom. Robert Winfree then added his own podcast, Everybody Loves a Bad Guy. That's when the Radulich in Broadcasting Network was born. Joining Winfree in having their own podcasts were super fans Jesse Starcher (Source Material). Finally, Winfree and Radulich added a weekly movie review show to the ever-growing lists of podcasts on the Network called Damn You Hollywood.