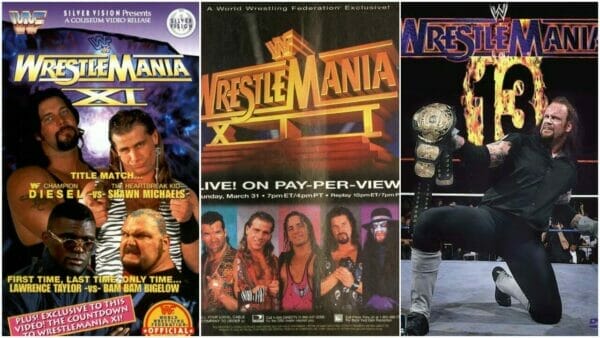 Pat Mullin and Mark Radulich present their continued look at the history of WrestleMania; The Mania of Wrestlemania 11 12 and 13!
On this episode we're chronicling the end of The New Generation and the birth of the Attitude Era! With business down in 1992 because of bad press from the steroid scandal, Vince McMahon began pushing younger talents into the spotlight over the next several years. By mid-1993, Bret "Hit Man" Hart, Shawn Michaels, The Undertaker, Razor Ramon, Diesel, Lex Luger, Yokozuna, Owen Hart, Crush, Tatanka and others all became the stars of what the WWF eventually branded as the "New Generation".
Over the course of WrestleMania 11, 12 and 13 we would see the rise of Kevin "Diesel" Nash as WWF champion as well as HBK Shawn Michaels ascend into the main event scene. Eventually he would live out his "boyhood" and become WWF Champion. By WrestleMania 13 things were starting to change, real life rivalries were mirroring the scripted ones and the "HEAT" was on!
In 1994, WCW signed Hulk Hogan and other former WWF stars to multi-year contracts, and in 1995 launched Monday Nitro on TNT, to go head to head with Raw, starting the Monday Night Wars. This era would also see both companies launch monthly PPV events instead of quarterly or seasonal ones with the advent of In Your House.
By mid-1996, with the introduction of the New World Order (nWo), a stable led by former WWF wrestlers Hulk Hogan, Scott Hall (Razor Ramon), and Kevin Nash (Diesel), Nitro started a near two years of ratings domination. Meanwhile, Shawn Michaels would struggle as a babyface champion, eventually turning into more of a "degenerate" character. We would also see the rise of Stone Cold Steve Austin!
Check out our entire Mania of WrestleMania podcast series.
Support the W2M Network
Grammarly Ad: 37:40
Amazon Music Ad1:16:40
Please go help support the show and the entire W2M Network by taking advantage of our 30 Day Free Trial offer of Amazon Music Unlimited by signing up via our link here. We have a special offer available to sign up for Grammarly as well here.
The End of the New Generation and The Birth of Attitude – The Mania of Wrestlemania 11 12 and 13
You can now watch many episodes of Radulich in Broadcasting's various shows in Video format on the W2M Network Youtube Channel
Listen on Your Favorite Podcast Service
Apple Podcasts
Stitcher
iHeartRadio
Spotify
Youtube
Social Media Links
Subscribe to the W2M Facebook Page for more information on all our podcasts.
Twitter: W2M Network, Mark Radulich, Chris Bailey.
About Radulich in Broadcasting's Beginnings
Mark Radulich has been an internet personality since 2004 with his Progressive Conservatism blog. He then took that blog to the airwaves and created a podcast for it. It then changed to PC Live. After that, he brought out the 411mania Ground and Pound Radio as well.
Also, Mark would partner up with another 411mania alum, Sean Comer, to create the movie franchise review podcast Long Road to Ruin and then Robert Cooper to create the metal album review podcast, The Metal Hammer of Doom. Robert Winfree then added his own podcast, Everybody Loves a Bad Guy. That's when the Radulich in Broadcasting Network was born. Joining Winfree in having their own podcasts were super fan's Jesse Starcher (Source Material). Finally, Winfree and Radulich added a weekly movie review show to the ever-growing lists of podcasts on the Network called Damn You Hollywood.