It's decision day in College Football. The College Football Playoff committee gather in a room for the final time this season. In their hands the choices for the four teams who fight in the CFP semi-finals. Clemson secured their spot with a big win over Miami. Likewise for Oklahoma and Georgia. Ohio State's six point victory over previously undefeated Wisconsin should net them the final spot. However, after what happened last year, it may not be enough, if the committee decides otherwise. Perhaps, it's Alabama that gets the final spot? Also, the decisions on the other big bowl games are made on this day as well. Not to mention, the final Top 25 rankings too. Well, with mere hours from the big moment, this is our final College Football Top 25 rankings of the year as well.
W2Mnet College Football Top 25 (Week 14)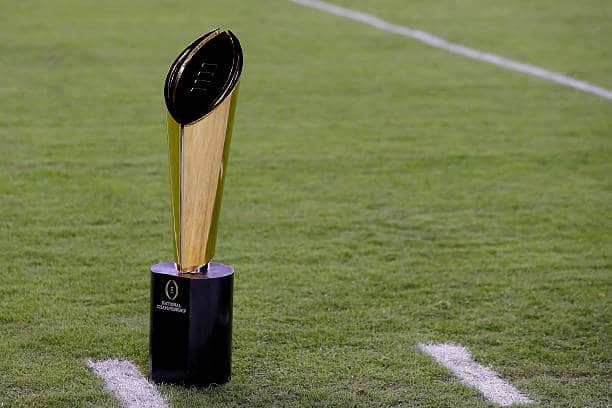 * just a reminder that seven staff members voted on this Top 25*
The "Next Game" portion will be edited in after the bowl games are decided. This is why all of that is blank at the moment of writing. Teams which did not play during "Championship Week" do not have blurbs.
#1 Clemson Tigers (six first place votes)
Record: 12-1 (7-1, ACC Champion)
Last Week: 1
One title defended, one more to go. For the third straight year, the Clemson Tigers are ACC champions. While this is their third three-peat (1965-67, 1986-88), this one is extra special because it means a potential third straight run at a national championship. Kelly Bryant was careful, yet dynamic with the ball in his hands. He completed 23 of his 29 pass attempts for 252 yards and a touchdown when the rushing game was completely controlled despite four rushing touchdowns. While neither team could keep the football secure, Clemson did better in not turning it over, helping propel them to 38-0 lead en route to a 38-3 win. Now comes the hard part, waiting for their next opponent. – Erik Watkins
Next Game:
#2 Oklahoma Sooners (one first place vote)
Record: 12-1 (8-1, Big 12 Champion)
Last Week: 2
Everyone gives Baker Mayfield much of the credit for the Oklahoma Sooners success this season. Rightly so, as he's certainly a Heisman candidate. However, this game wasn't just about the four touchdown performance from Mayfield. The defense deserves a lot of praise for holding the TCU Horned Frogs scoreless for the entire second half and forcing two turnovers as well. The rematch ended much like the first, a big blowout win for OU. Now, the Sooners await their name call for the Top 4 on Sunday. – Sean Garmer
Next Game:
#3 Georgia Bulldogs
Record: 12-1 (7-1, SEC Champion)
Last Week: 8
The Georgia Bulldogs got their revenge against Auburn this week. After getting beaten hard in the regular season, the Bulldogs got the rematch and made the Tigers pay. Georgia becomes the first SEC Eastern Division team to win the SEC Championship since 2008's Florida Gators, which eventually won the National Championship that season. The Bulldogs are most certainly just waiting for their name to be called on Sunday for the Playoffs. – Daniel Anderson
Next Game:
#4 Ohio State Buckeyes
Record: 11-2 (8-1, Big Ten Champion)
Last Week: 7
The Ohio State Buckeyes win the Big Ten for the first time since 2014. But in the process, may have taken their conference out of the CFP for the first time ever, or maybe they make into the playoffs. Regardless of their ultimate fate, Ohio State did what many expected. J.T. Barrett had a pair of first quarter TD passes to go along with 221 yards. While RB JK Dobbins led all performers with 174 yards on the ground as the Buckeyes took down the previously undefeated Badgers. – Harry Broadhurst
Next Game:
#5 Central Florida Knights
Record: 12-0 (8-0, American Conference Champion)
Last Week: 5
Amid reports surrounding their head coach Scott Frost leaving for the Nebraska Cornhuskers, the Central Florida Knights pulled together and won a thriller over the Memphis Tigers. A team they had previously walloped earlier in the season. McKenzie Milton probably had more interceptions (3) then he would have liked, but he certainly put on a show. Throwing for 494 yards and five touchdowns. Not to mention, some key ones in the overtime periods. The defense made the key stop at the end when it UCF completes the perfect season and now awaits to know which New Year's Six bowl they are in. – Sean Garmer
Next Game:

#6 Alabama Crimson Tide
Record: 11-1 (7-1, 2nd in SEC West)
Last Week: 6
The Alabama Crimson Tide hope they can get a little bit of the magic that Ohio State received last year. Look better by not playing in the final weekend. They have an outside shot at possibly get the final spot in the playoff, but thanks to Fresno State's loss, their resume took a big hit. Regardless, they wind up in a New Year's Six game, which for almost anyone is an accomplishment. Perhaps, not so much for a team with the prestige, history and domination Alabama's had. – Sean Garmer
Next Game:
#7 Auburn Tigers
Record: 10-3 (7-1, SEC Runner-Up)
Last Week: 4
The Auburn Tigers had to have their streak end sometime. It just happened to be in the SEC Championship game, instead of the Playoffs. Auburn got beat handily, making them look like a three loss team on the day. Auburn had issues scoring all night, due to Georgia's stifling defense. Stripping a red zone run away and blocking a field goal as well. It just wasn't their night. However, they should still expect a nice bowl to round out the year. – Daniel Anderson
Next Game:

#8 USC Trojans
Record: 11-2 (8-1, Pac-12 Champion)
Last Week: 12
The USC Trojans once again defeated the Stanford Cardinal, this time they are crowned Pac-12 Champions. Sam Darnold threw for 324 yards, with 99 of them coming on the final drive, and two touchdowns. Ronald Jones was huge as well scoring two touchdowns and pitching in 140 yards on the ground too. A back and forth game matching the traditional Pac-12 style. The win sends USC into a New Year's Six contest- Sean Garmer
Next Game:
#9 Wisconsin Badgers
Record: 12-1 (9-0, Big Ten Runner-Up)
Last Week: 3
The Wisconsin Badgers had a dream regular season. All they needed was a win in the Big Ten Championship game, to wrap it up. However, the Buckeyes had other ideas instead. The Badgers lose surely means they are out of CFP contention as well. Alex Hornibrook went 19-40 with a pair of INTs and the Buckeyes defense held standout RB Jonathan Taylor to just 41 yards on 19 carries. Some kind of big Bowl game is next for the Badgers though, just have to wait until later on Sunday to find out. – Harry Broadhurst
Next Game:
#10 Penn State Nittany Lions
Record: 10-2 (7-2, 2nd in Big Ten East)
Last Week: 9
Next Game:
#11 Washington Huskies
Record: 10-2 (7-2, 2nd in Pac-12 North)
Last Week: 14
Next Game:
#12 Miami Hurricanes
Record: 10-2 (6-1, ACC Runner-Up)
Last Week: 10
To put it simply, the Miami Hurricanes weren't ready. Shades of 58-0 happened all over again in Charlotte on Saturday night. However, it looks like the Hurricanes may play one more game on their home turf. For the second straight game, Malik Rosier had a terrible day (14/29, 110 yards, 2 Int), and the defense couldn't get off the field on fourth down. While there is improvement over when these two teams last met, head coach Mark Richt still has some ways to go, to get this team to a championship-caliber level. – Erik Watkins
Next Game:
#13 LSU Tigers
Record: 9-3 (6-2, 3rd in SEC West)
Last Week: 15
Next Game:
#14 Stanford Cardinal
Record: 9-4 (7-2, Pac-12 Runner-Up)
Last Week: 11
The change to K.J. Costello at quarterback has certainly worked wonders for Stanford. Costello once again earned that call, with his two touchdowns, which helped keep Stanford in it. Bryce Love ran for 125 yards and a TD himself, trying to help his Heisman hopes. Stanford had an open and down season, but they won the games that mattered to reach this spot. They should get a good bowl to finish out the year. – Sean Garmer
Next Game:

#15 TCU Horned Frogs
Record: 10-3 (7-2, Big 12 Runner-Up)
Last Week: 13
The one rematch, which did not get better after the first meeting happened to be this one. Once again the vaunted TCU defense was torched. Kenny Hill was nowhere near Kenny Trill, and TCU looked a step behind to Oklahoma. TCU's 17 points all came in the second quarter and that was their entire scoring for the game. TCU should still get a good bowl, but things certainly would have been much different, had they played better here. – Sean Garmer
Next Game:

#16 Oklahoma State Cowboys
Record: 9-3 (6-3, 3rd in Big 12)
Last Week: 18
Next Game:
#17 Notre Dame Fighting Irish
Record: (9-3, Independent)
Last Week: 17
Next Game:
#18 Michigan State Spartans
Record: 9-3 (7-2, 2nd in Big Ten East)
Last Week: 19
Next Game:
#19 Northwestern Wildcats
Record: 9-3 (7-2, 2nd in Big Ten West)
Last Week: 20
Next Game:
#20 Memphis Tigers
Record: 8-2 (5-1, American Conference Runner-up)
Last Week: 16
The Memphis Tigers had one heck of a turnaround after their first loss to UCF. They proved that in this game, by standing toe to toe with their opponents, forcing overtime and competing in scoring. Riley Ferguson threw 471 yards and four touchdowns. Darrell Henderson ran for 109 yards and scored a touchdown, as did the other two runners as well. Sadly, an interception by Ferguson sealed their fate at the end. However, Memphis had a fantastic year and should be rewarded in a higher bowl game. – Sean Garmer
Next Game:
#21 Washington State Cougars
Record: 9-3 (6-3, 3rd in Pac-12 North)
Last Week: 22
Next Game:
#22 Virginia Tech Hokies
Record: 9-3 (5-3, 2nd in ACC Coastal)
Last Week: 23
Next Game:
#23 Mississippi State Bulldogs
Record: 7-3 (3-3, 4th in SEC West)
Last Week: 21
Next Game:
#24 North Carolina State Wolfpack
Record: 8-4 (6-2, 2nd in ACC Atlantic)
Last Week: NR
Next Game:
#25 Boise State Broncos
Record: 10-3 (7-1, Mountain West Champions)
Last Week: NR
Trailing for the entire second half, quarterback Brett Rypien and running back Ryan Wolpin led the Boise State Broncos on fourth quarter drive, and with 4:42 remaining put the team ahead. The Fresno State Bulldogs Marcus McMaryion had played well, but it was the Boise defense forcing a huge interception on the final drive to seal the victory and the Mountain West Championship for Boise. The kings of the Blue Turf rise again and now are set for a nice bowl game. – Sean Garmer
Next Game:
Others Receiving Votes for this week's Top 25: Kansas State (3), Florida Atlantic (3), Army (1),
MAIN PHOTO: