NXT once again plays the role of warm-up act for a WWENXT Takeover Chicago taking place before the Smackdown Live exclusive event WWE Backlash 2017 Considering the crowd they are in front of for this show, it could be an electric night. The Authors of Pain are the only pure WWE Performance Center product on the card as well. Every other wrestler on the show is from the WWE UK show, or a signed indy star. Nevertheless, they all combine to create a pretty eclectic event. This is our NXT Takeover Chicago Preview & Predictions.
W2Mnet NXT Takeover Chicago Preview & Predictions
An Introduction to the Article
As someone that has quite a bit of experience doing these roundtable type articles, I wanted to do this a bit differently than some others. Instead of having numerous people all give thoughts on each match, I felt it better to assign one match to each person. So, one of our staff members will give their thoughts on the match itself and predict a winner. This continues until the end of the article, when everyone gathers to give their overall thoughts on the event. – Sean Garmer
W2Mnet Staff
Sean Garmer, Co-Host of Wrestling 2 the MAX, W2Mnet Editor in-Chief
Paul Leazar, Co-Host of Wrestling 2 the MAX, W2Mnet Wrestling Dept. Head
Patrick Ketza, Host of Wrestling Unwrapped, W2Mnet Wrestling Senior Editor
Cedric Colon, W2Mnet Wrestling Contributor
Special Singles Match
Singles Match: Roderick Strong vs. Eric Young (SAnitY)
The Messiah of the Backbreaker seems primed at the big title pretty soon, if not in Brooklyn. So, you'd think this is an open and shut choice. However, Eric Young is the leader of SAnitY, the one big stable in NXT. Him losing isn't a total given.
Roddy has great matches with everyone and EY gets a bad wrap a lot, but the man can work. I wouldn't be surprised to see one of the other SAnitY members cause a disqualification, which would still get Strong a win. I'll just say he gets the outright victory though here. – Sean Garmer
Winner: Roderick Strong
Other Staff Member Predictions: Paul: No Contest. Cedric: Eric Young. Patrick: Roderick Strong.
WWE UK Championship Match
Singles Match: (Champion) Tyler Bate vs. Pete Dunne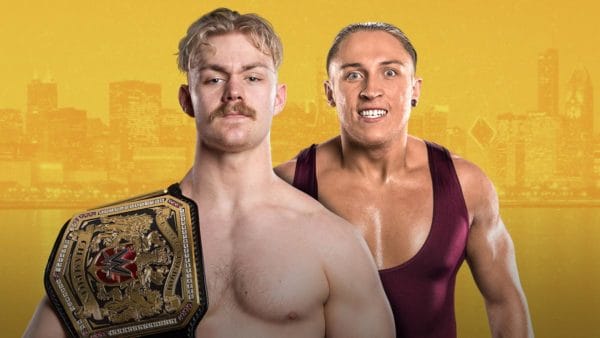 Both Tyler Bate and Pete Dunne are coming of hellacious matches at the UK Special. Dunne earned his spot defeating fellow mustache mountain alum Trent Seven. While Tyler Bate successfully defended his UK Championship against Mark Andrews.
Bate now prepares for a UK Tourney final rematch against Pete Dunne. While certainly promotion for the imminent WWE UK show is on the mind, there's also the practical nature of having a title match where a belt may change hands. Bate is a wonderful face for the show, but kicking it off with a super heel like the Bruiserweight Pete Dunne may be more tempting. So, I'm gonna join my comrades and say that there's gonna be a new champion. – Sean Garmer
Winner AND NEW CHAMPION: Pete Dunne
Other Staff Member Predictions: Everyone else also picked: Pete Dunne.
NXT Tag Team Championship Match
Ladder Match: (Champions) Authors of Pain vs. DIY
How many wrestlers out there would want to face the apocalyptic behemoths known as the Authors of Pain? An even better question, why? #DIY is the team to answer that question. There's one thing no one questions. This is the determination, heart and support Johnny Gargano and Tommaso Ciampa have in their quest to reclaim the NXT Tag titles. However, in Akam and Rezar, NXT has two monsters that run through and demolish anything in their path. Although, I'd love to personally see DIY pick up the belts again. This feels like some more destruction and another successful title defense for the AoP. Maybe there's even some dissension between Gargano and Ciampa too? – Cedric Colon
Winner AND STILL CHAMPIONS: Authors of Pain
Other Staff Member Predictions: Everyone else also picked: Authors of Pain.
NXT Women's Championship Match
Triple Threat Match: (Champion) Asuka vs. Ruby Riot vs. Nikki Cross (SAnitY)
Man, the Berwyn Eagles Club looks different. Even if all four of the original advertised superstars were in the match, nothing would be different. Mainly because all four started in Shimmer, which is an amazing thing. Asuka has been untouchable since her debut. She still has yet to lose in any form. Not even being the third wheel in a triple threat. And, quite frankly, why stop now? Although, I hope I'm wrong.
Ruby Riot needs a minor miracle here if she's going to pull off the win. Even beating Nikki Cross would be a shocker for the relative newcomer to NXT. However, Nikki is the complete wild card. The only reason she lost in San Antonio is because of the Iconic duo taking her out. Now, it's less likely to happen, leaving more options available. However, I'm thinking any chance on Asuka losing comes at the hand of whoever wins the women's tournament – Patrick Ketza
Winner AND STILL CHAMPION: Asuka
Other Staff Member Predictions: Everyone else also picked: Asuka.
MAIN EVENT: NXT Championship Match
Singles Match: (Champion) Bobby Roode vs. Hideo Itami
My goodness, what a main event we have here. Bobby Roode has continued to be an awesome heel champion by doing everything he does best. He wrestles sparingly. Cuts great promos, and he runs down everybody else while trying to stay one step ahead. However, this match isn't really about him. Hideo Itami has had some bad luck with injuries these past two years. And to try and get him back on track, the crew over at NXT decided to bring him back with a bang, with the GTS in his back pocket to boot. While also making him look extremely determined every chance he gets on NXT television to shut up Bobby Roode.
There isn't much of a feud here though. This is all about Hideo trying to prove that he can still hang with the batch of top guys running around NXT. I'm really looking forward to this match, and I can't wait to see what these guys do with this opportunity in front of a hot crowd in Chicago. All that being said, I'd wager that somehow, someway, Bobby Roode walks away once again still the NXT Champion. I just don't see a reason to move the championship, and frankly, I'd be okay with Bobby holding onto it for the rest of the year. – Paul Leazar
Winner AND STILL CHAMPION: Bobby Roode
Other Staff Member Predictions: Everyone else also picked: Bobby Roode.
Farewell For Now
Well, this concludes our NXT Takeover Chicago Preview. Be sure to check back for our WWE Backlash 2017 Preview as well. Not to mention, leave your predictions in the comments below. Also, check out Gary Vaughan, Paul and Sean give their predictions on-air, on the Wrestling 2 the MAX Podcast