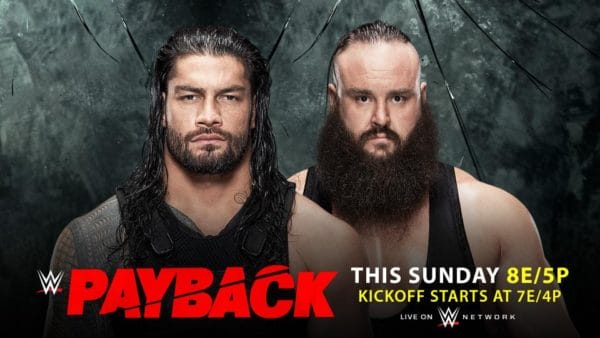 Well, WWE's cycle begins again. The first post- Wrestlemania pay-per-view is upon us. In the form of the RAW exclusive WWE Payback 2017. Many previous storylines are still in play for this show as well. This is even after a Superstar Shakeup, which switched habitats for some of the major players on this PPV. One of those older storylines is happening again due to unfortunate injury to Dash Wilder. This pits Enzo & Cass against Luke Gallows and Karl Anderson against each other on the pre-show. The pre-show also includes a special Miz TV segment with Finn Balor.
While on the main card, the show changers are in two of the biggest matches on the show. Kevin Owens is one of the men newly brought over to Smackdown Live. He faces his old friend Chris Jericho with the United States Championship on the line. While WWE Champion Randy Orton faces his former mentor, now turned nemesis Bray Wyatt in a House of Horrors match. Although the true concept of the match is hidden in secrecy, the finish for the match may not be. Bray Wyatt is one of those recent shakers going to the RAW brand, so perhaps its a reason why this was kept away from the championship.
In other action, Bayley puts the RAW Women's Championship on the line against another new face, in Alexa Bliss. The Hardy Boyz take on Cesaro & Sheamus for the RAW Tag Team Titles. In a straight rematch from Wrestlemania, Neville defends the WWE Cruiserweight Championship against Austin Aries once again. While old foes face off when Seth Rollins and Samoa Joe battle. Then, Roman Reigns goes one on one with Braun Strowman again. This is the W2Mnet WWE Payback 2017 Preview & Predictions article.
W2Mnet WWE Payback 2017 Preview
An Introduction to the Article
As someone that has quite a bit of experience doing these roundtable type articles, I wanted to do this a bit differently than some others. Instead of having numerous people all give thoughts on each match, I felt it better to assign one match to each person. So, one of our staff members will give their thoughts on the match itself and predict a winner. This continues until the end of the article, when everyone gathers to give their overall thoughts on the event. – Sean Garmer
W2Mnet Staff
Sean Garmer, Co-Host of Wrestling 2 the MAX, W2Mnet Editor in-Chief
Paul Leazar, Co-Host of Wrestling 2 the MAX, W2Mnet Wrestling Dept. Head
Patrick Ketza, Host of Wrestling Unwrapped, W2Mnet Wrestling Senior Editor
Harry Broadhurst, Co-Host of Wrestling Unwrapped, W2Mnet Wrestling & Football Contributor
Jeff Sugg, W2Mnet Editor
Angel Gonzalez, W2Mnet Staff Member
Robert Taylor, W2Mnet Wrestling & Games Contributor
Chris Lemchi, W2Mnet Wrestling Contributor
Pre-Show Kickoff Match
Tag Team Match: Enzo & Cass vs. Luke Gallows & Karl Anderson
These two are rather familiar with each other. Last time, Gallows and Anderson got the better of the feud. However, considering where this match is on the card, I could see Enzo & Cass getting the win to hype up the crowd. You've already had the Hardyz clear themselves of Gallows and Anderson. So, it also lines up for a clash of big personalities. Especially, if Enzo & Cass can vanquish The Club. I don't expect this to go very long either. Enzo sneaks in with a roll-up and gets one of the Good Brothers for the fall. – Sean Garmer
Winners: Enzo & Cass
Other Staff Members Predictions: Jeff & Paul: Gallows & Anderson. Harry, Angel, Chris, Patrick: Enzo & Cass.
WWE Cruiserweight Championship Match
Singles Match: (Champion) Neville vs. Austin Aries
Hail to the king? Or the beginning of the reign of A Double? These two had a really good match at Wrestlemania 33 on the pre-show. Now, they get their chance on the main card. If you believe all the talk about wanting to hotshot the Cruiserweight title, this is Aries' chance to win. I'm not so sure you take the belt off the hottest act in the division. – Harry Broadhurst
Winner AND STILL CHAMPION: Neville
Other Staff Members Predictions: Sean, Angel, Paul Robert: Neville. Jeff, Chris, Patrick: Austin Aries.
The Architect vs. The Destroyer
Singles Match: Seth Rollins vs. Samoa Joe
Well, this should be a really great match. The build has been a little choppy, but I've enjoyed the run all the same. However, I do worry about the finish here. Both guys really aren't in a great position to take a fall. Seth just recently got the ball rolling again after his victory at Wrestlemania. He looks to be back on the right track towards the main event scene. Although, Samoa Joe really needs a big win. He's still yet to truly establish himself past "I do Triple H's bidding." While that's all fine, he needs to start looking as impressive as possible in that ring.
I'm leaning more towards a dirty finish here. Somebody winning clean doesn't do a lot for either man. Personally, I'd rather have Joe walk out looking like he just ran Seth through the ringer. That being said, Seth Rollins wins by disqualification after Samoa Joe decides to go nuts on him. The best option, would be the old finish where Joe refuses to let go off the Clutch after he's won the match. Thus causing the referee to reverse the decision. Either way, Seth walks out the "winner." But Joe should look all the better for it. – Paul Leazar
Winner: Seth Rollins (Via DQ)
Other Staff Members Predictions: Sean, Harry Patrick (Via DQ) Seth Rollins. Jeff, Angel, Robert, Chris: Samoa Joe.
WWE United States Championship Match
Singles Match: (Champion) Kevin Owens vs. Chris Jericho
For me, this match should probably be the main event. Mainly because it is the best booked story on the entire card. Owens and Jericho built a great story of betrayal leading into Wrestlemania. Amazingly, they've managed to continue that build into the rematch at Payback. I have personally loved every second of this feud. From their friendship, to the HIGHLY entertaining Festival of Friendship(and the turn). The match at Mania, and even the promos they've crafted while on different shows. It's a shame it has to end, but this is the right time. Jericho is leaving. Owens is going to be a top heel. It's almost like it's too obvious.
Now, I CAN see the WWE having Jericho win this match and going to Smackdown, but only if he signs an extension first and postpones his upcoming tours. I doubt that happens, but it is always a possibility. For some reason, Jericho's backstage news always manages to remain more secretive than other's. Jericho is also in the middle of perhaps his greatest face run he has ever had as well. The man is the GOAT when it comes to character development, made even more evident by the fact that this is the SECOND time Jericho has gotten a damn list over.
Think about it, who else could have done it? The list, "IT," the scarf, "(insert phrase here)…maaaaaaaaaan," all very over quirks from a genius of a man. It's these reasons that make me think there is a slight possibility that Jericho extends his current run and wins it here.
He won't though. Kevin Owens is in the middle of a rebuild right now. The run with Jericho, while entertaining, did a lot of damage to his "prizefighter" character. The Smackdown writing team needs to right that wrong. It started at the end of the Festival of Friendship, continued at Mania, and continues on Sunday night. Kevin Owens is going to score a decisive victory over his former best friend, and put him out of action along with it. Possibly, courtesy of multiple apron powerbombs. This hopefully, helps solidify Owens as the top heel on Smackdown. – Robert Taylor
Winner AND STILL CHAMPION: Kevin Owens
Other Staff Member Predictions: Everyone else also picked: Kevin Owens.
The Big Dog vs. The Monster Among Men
Singles Match: Roman Reigns vs. Braun Strowman
Since Wrestlemania, Braun Strowman has been booked as the absolute monster that he is. When I initially saw him debut as part of the Wyatt Family, my first thought was, "Oh great another slumbering big man." Boy, was I dead wrong. It's amazing how fast Strowman improved his in-ring skills. He's put on great matches with the likes of Big Show, Sami Zayn, Roman, and Kevin Owens.
This match vs Roman Reigns may be his most important match to date. Strowman has been a thorn in Roman's side for months now. Strowman shows up at the worst possible moments for Reigns. He has blindsided Roman on multiple occasions. This includes interfering in Reigns attempt to win the Universal championship from Kevin Owens at the Royal Rumble 2017. Also more recently, to the joy of the audience, Strowman absolutely demolished Reigns on RAW. Hopefully the beatings continue.
At this point, what is their to say about Roman Reigns? You either love him or hate him. He is not a bad wrestler, he just may have the worst booking of all time. Despite the fact, the fans keep rejecting Roman as a babyface, the WWE keeps trying to force this character down our throats. It's just not working. Matter a fact, Strowman now is getting babyface reactions from the crowd because of the beating he gave Reigns a couple of weeks ago. It doesn't make sense for the WWE to go down this path, but here we are.
Honestly, I believe Strowman will win this match. If given the proper booking, this rivalry can be one of the best match-ups we have seen in the WWE in a long time. But for that to happen, this can not be a one way rivalry. It doesn't matter how many times Strowman beats up Roman, if he can't get the 1,2,3. It really means nothing. Additionally, WWE is clearly setting up Brock vs Reigns for WM 34. So timeline wise, it's too early to have Roman win. – Angel Gonzalez
Winner: Braun Strowman
Other Staff Members Predictions: Jeff & Chris: Braun Strowman. Sean, Paul, Angel, Patrick, Harry: Roman Reigns.
RAW Tag Team Championship Match
Tag Team Match: (Champions) The Hardy Boyz vs. Cesaro & Sheamus
The Hardy Boyz return was a major highlight at Wrestlemania. They've brought some much needed adrenaline to RAW's tag division. They are set to defend the titles against former champs, and fellow babyfaces, Sheamus and Cesaro. The Euros have really hit their stride as a tandem and are producing quality bouts nightly, against a variety of opponents. They especially deliver on the bigger stages. So I fully anticipate an exciting match here.
There seems to be very few routes to victory for the Celtic Warrior and the Swiss Superman. If they use their youth and power advantages, it could serve them well. I also believe that they need to kick the aggression up a notch or two. And with the recent interviews, handshakes, and teases I wouldn't be surprised by a post match beatdown/defacto heel turn.
On the other hand, The Hardyz simply need to ride the wave of momentum that has been building and carrying them since Mania. Dare I say, they leave their opponents obsolete and broken? There is a definitive experience edge in the boys from Cameron's corner. Not only in-ring, but in life as well. They can communicate without speaking, they know what the other is thinking at all times, and will always be in the right place at the right time for their brother. – Jeff Sugg
Winners AND STILL CHAMPIONS: The Hardy Boyz
Other Staff Members Predictions: Harry Broadhurst: Cesaro & Sheamus. Everyone else picked: Hardy Boyz.
RAW Women's Championship Match
Singles Match: (Champion) Bayley vs. Alexa Bliss
What a difference a month makes. We go from Alexa and Bayley running their brands as champs, to facing off for Bayley's title. After spending half a year, hot shotting the belt, it feels weird that we have someone holding it steady. Too bad that probably changes here. Unless something weird happens. Alexa may still be the hottest female superstar in the company right now. It'll be interesting to see how they both clash in the ring. But, I think Alexa may be the one to take the title. Allowing Bayley chase it again. – Patrick Ketza
Winner AND NEW Women's Champion: Alexa Bliss.
Other Staff Members Predictions: Angel Gonzalez: Alexa Bliss. Everyone else picked: Bayley.
House of Horrors Match
Singles Match: Bray Wyatt vs. Randy Orton
So many unanswered questions about this match. It went from being for the WWE title, to apparently being non title. WWE also left everyone in the dark on the rules to the match as well. This past week on Raw, Corey Graves did let it slip that the match has to end in the ring. I'm guessing, the match winds up similar to the Taker/Mankind boiler room brawl. Where the first half is pre-taped backstage somewhere or at a warehouse of some kind. Then, the rest takes place live in the ring.
Hopefully, this match can equal the intensity of Taker/Mankind, because this feud has died a slow death ever since Orton burned down Bray's house and then beat him with ease at Mania (EVEN AFTER SPOOKY MIND GAMES!!!)
I'm really not a big of fan it being non title. Mainly because, I think it kills some of heat for the match, as there's no stakes here. Even though Bray now has a better shot of winning since the belt is not on line. I still think Orton wins. Orton's defending and main eventing the very next PPV and Bray doesn't seem to have anything lined up at the moment. So, unless Jinder Mahal makes an appearance and costs Orton the match to add more heat to that program, I got Orton winning this. Plus, not a big of fan of champions losing non-title matches. Especially, if it's not leading to a title program. – Chris Lemchi
Winner: Randy Orton
Other Staff Member Predictions: Patrick Ketza: Randy Orton. Everyone else picked: Bray Wyatt.
Farewell For Now
That's all folks for our W2Mnet WWE Payback 2017 Preview & Predictions article. Be sure to check out Sean and Gary Vaughan giving their predictions on the matches on the latest Wrestling 2 the MAX