W2Mnet WWE Roadblock: End of the Line Preview
WWE presents its final pay-per-view of 2016 on Sunday. It's actually their second time doing WWE Roadblock this year, which is why this one has the "End of the Line" tagline. 2016 has been an up and down year for WWE. Now, it closes with a WWE RAW branded show featuring some interesting matches.
Sami Zayn looks to survive 10 minutes with Braun Strowman to prove to RAW General Manager Mick Foley he deserves that spot. New Day broke the RAW Tag Team Championship record on RAW and want to extend it even further against Cesaro and Sheamus. A team they have defeated quite a few times already. The Cruiserweights are also in action, as part of a Triple Threat match for the WWE Cruiserweight Championship. Rich Swann defends against former champions Brian Kendrick and T.J. Perkins.
Seth Rollins and Chris Jericho continue to battle, as do Roman Reigns and Kevin Owens. Except this time over the WWE Universal Championship. Finally, there's the RAW Women's Championship match. Sasha Banks defends against rival Charlotte in a 30 minute Ironman match. Sasha had one of these against Bayley in NXT. So, the expectation for this one is just as high. It may be many fans most anticipated match of the entire show. Can they pull off yet another great match in their feud? This is one of the many things we have to find out by watching the show. Welcome to the W2Mnet WWE Roadblock: End of the Line Preview. – Sean Garmer
An Introduction to the Article
As someone that has quite a bit of experience doing these roundtable type articles, I wanted to do this a bit differently than some others. Instead of having numerous people all give thoughts on each match, I felt it better to assign one match to each person. So, one of our staff members will make the case for each person winning said match, then give their thoughts on the match itself, and finally predict a winner. This continues until the end of the article, when everyone gathers to give their overall thoughts on the event. – Sean Garmer
W2Mnet Staff
Paul Leazar, Co-Host of Wrestling 2 the MAX, W2Mnet Wrestling Dept. Head
Gary Vaughan, Host of Wrestling 2 the MAX, W2Mnet Football Dept. Head
Patrick Ketza, W2Mnet Wrestling Senior Editor, Host of Wrestling Unwrapped
Noah Mooney, W2Mnet Wrestling, Football, and Games Contributor
Robert Rath, Host of Jobber's Court Podcast, W2Mnet Wrestling Contributor
Rick Beslin, W2Mnet Wrestling Contributor
Aaron Patel, W2Mnet Wrestling and Games Contributor
Don't forget, this show begins with a one hour Pre-show with one match taking place on it involving Rusev and Big Cass.
A Wife's Honor vs. A Friend's Spirit
Pre-Show Kickoff Match: Big Cass vs. Rusev
I personally believe that allowing Cass to have this match serves him well. I also believe they are getting him ready for the spotlight. Enzo was taken out by Rusev, thus allowing Cass to take center stage. At this point, Enzo & Cass shall remain a stable for some time. But, if they were to split the two up (hypothetically) then I believe Cass would receive a greater push. On the other hand, Rusev is most certainly not booked as he once was. Thus his implications shall not influence anything in this feud. – Aaron Patel
Winner: Big Cass
Other Staff Members Picks: Rick Beslin: Rusev. Everyone else: Big Cass
10 Minutes to Survive
Sami Zayn vs. Braun Strowman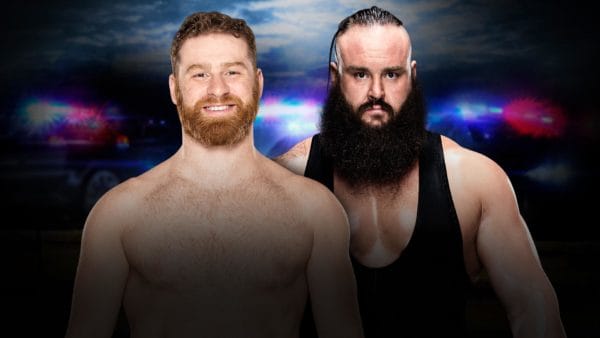 Sami Zayn Wins If…
So all Sami has to do to win, is last 10 minutes with Strowman. This could be a good way to have Sami win the match while protecting Braun. But doing a finish like this really doesn't help Sami because it still shows that he can not actually defeat this monster in a traditional way. Him just being able to survive Braun does not give him the hero win he needs. What Sami needs is the David defeating Goliath feel good moment.
Braun Strowman Wins If…
The narrative is already in place. Sami can not compete with a monster like Braun Strowman. Braun has been built up perfectly. WWE did a great job creating this beast and they should continue to build on his unbeatable persona. I think Sami puts forth a valiant effort and gives Braun his most challenging match yet. However, in the end, Braun defeats Sami right before time runs out. – Rick Beslin
Winner: Braun Strowman
Other Staff Members Picks: Robert & Paul: Braun Strowman. Sean, Gary, Noah, Aaron & Patrick: Sami Zayn Survives the 10 minutes, leading to a DRAW
The Architect vs. The Owner of "The List"
Seth Rollins vs. Chris Jericho
Seth Rollins vs. Chris Jericho on paper is a dream matchup. A match many would look forward to quite honestly. However, due to the match being part of a larger story, and seeing the match many times already this past month, it may wind up underwhelming instead. It seems pretty clear Rollins is coming out on top as well. This makes the intrigue of the match close to non-existent. Chris Jericho does have a slight chance to win, only if Triple H or Kevin Owens interferes without causing a disqualification. Thus leaving Rollins vulnerable to be pinned. Seth Rollins picks up the win with a Pedigree. – Noah Mooney
Winner: Seth Rollins
Other Staff Members Picks: Robert, Gary, Aaron, Patrick: Seth Rollins. Sean, Paul & Rick: Chris Jericho.
WWE Cruiserweight Championship Match
Triple Threat Match: (Champion) Rich Swann vs. T.J. Perkins vs. Brian Kendrick
The Triple Threat Match between T.J. Perkins, Brian Kendrick and Rich Swann has potential to get lost in the shuffle this weekend. Especially, when compared to some of the other matches on this card. There is a story to be told though, as the three men each have a unique journey to the championship. The crowd hasn't been "hot" for any of these matches really, so hopefully we see a different trend this weekend.
T.J. Perkins journey began with his victory in the Cruiserweight Classic, which earned him the honor of being the first cruiserweight champion. Putting the gimmick, which we'd all like to hit reset on aside, TJ Perkins is an outstanding wrestler with arguably the best submission and technical skill in this match. He'll need it to beat the eccentric and charisma filled Rich Swann and the savvy veteran Brian Kendrick.
Brian Kendrick surprised everyone with his victory over Perkins to win the Cruiserweight Championship. His cunning experience are second to none in the division. Expect some underhanded tactics and some cheap heat in an attempt to out think his competition.
Rich Swann has all the momentum coming into this match. He's at least been getting some response from the crowds and his in-ring charisma is outstanding. Look for him to try and use his grit and unique style to defeat his opponents in this triple threat.
The Match Winner
I can see Rich Swann retaining in this match. First, because I think he has an entertainment factor that other two don't have. Secondly, because it would mean numerous title shots over a short period of time. Not that WWE cares about that really. I mean, look at the women's division. In the end though, Rich finds a way to win, maybe after Brian Kendrick tries something underhanded, where TJP catches him, only to be finished off by the Champion. – Robert Rath
Winner AND STILL CHAMPION: Rich Swann
Other Staff Members Picks: Everyone else also picked: Rich Swann
RAW Tag Team Championship Match
(Champions) New Day vs. Cesaro & Sheamus
New Day Wins If…
The New Day just became WWE's longest reigning tag team title holders. Cesaro and Sheamus are looking to make history of their own by becoming first time tag champions as a team. New Day has momentum on their side, along with a ton of experience as team, which cannot be said for Sheamus and Cesaro. Big E, Xavier Woods, and Kofi Kingston have a wealth of chemistry built up from their long tenure as teamates, which has proven to be unstoppable for any tag team opposite them. No matter the combination, the New Day come with a gameplan that gives them a leg up in any match.
Cesaro & Sheamus Win If…
Cesaro and Sheamus have a tough task in front of them, but not one out of their capabilities. Sheamus is a powerhouse that can cancel out anything Big E brings to the table. Cesaro is not only athletic, but he is an explosive package of strength and stamina. Together, Sheamus and Cesaro make up a tag team of ruthless physical punishment. That's exactly why I think we will see new tag team champions crowned. Cesaro and Sheamus are the perfect storm to knock the New Day off their high horses.
Winners AND NEW CHAMPIONS: Cesaro & Sheamus
Other Staff Members Picks: Sean, Gary, Paul & Noah: Cesaro & Sheamus. Rick, Robert, Aaron & Patrick: New Day
RAW Women's Championship Match
30 Minute Ironman Match: (Champion) Sasha Banks vs. Charlotte Flair
Iron man: the end is herrreee (maybe). The Game is ooooverrrr (supposedly). After several months, many matches, and numerous title changes, it's come to this. Sasha and Charlotte in the second ever Women's Iron Man Match in company history. 30 minutes to decide it all for the Women's Championship. Personally, I hope this is the end for them for a while, because it's getting a little ridiculous. Yes, they've had awesome matches against each other. However, five title changes in five months, with a chance for a sixth change in six months is insane.
Charlotte Wins If…
But, it could happen as Charlotte is undefeated on PPV. These two know each other so well, that's it's tough to call. For Charlotte to put away Sasha, I feel she must make use of the rules. Get yourself disqualified for a fall, but come back and win two falls. I feel Charlotte will always try for the easy way out to become four time champion.
Sasha Wins If…
For Sasha, 30 minutes is a tall task. But, she may have the experience factor on her side. She's the only one in the match to have been there before, having faced Bayley last year in a match she ultimately lost. Despite that, Sasha will know how to prepare for a match of this caliber, and knowing is half the battle. I think, in the end, Charlotte picks up the win by not tapping out to the Bank Statement, and escapes with the title.
The Match Winner
I think Charlotte picks up the first fall, then DQ's herself for Sasha's first fall to tie it 1-1. But then Charlotte gets two more to make it 3-1 with the easy advantage. Sasha picks up another to make it 3-2, but Charlotte does not tap out as time expires, winning the match 3-2 to become the four time women's champion. – Patrick Ketza
Winner AND NEW CHAMPION: Charlotte Flair
Other Staff Members Picks Sean & Robert: Charlotte. Paul, Gary, Noah, Rick & Aaron: Sasha.
WWE Universal Championship Match
(Champion) Kevin Owens vs. Roman Reigns
Kevin Owens Chances
Oh boy, the fear is strong here guys. I'm sure this match will be good. Reigns has proven he can work well when he's the second best guy in the ring, and KO has been killing it this year. I really hope Kevin Owens makes it all the way to Wrestlemania with the championship, and I think doing all this could go miles (especially if somehow, some way Finn Balor is good to go by Mania, and you can have that wonderful match go down.) Plus, they have this great story built around the breaking Y2KO, and they'd be selling both guys short if they don't pursue that. Looking across the ring though, we have the golden boy.
Roman Reigns Chances
The man who won the US Championship in an attempt to rebuild him in the midcard, and they decided to launch him right back into the main event picture. The championship could easily find it's way back around Roman Reigns' waist simply because of that. I don't really know where you go with Reigns holding both of your big singles titles on RAW, but I can only shudder at the thought. It just makes sense for KO to come out of this somehow, some way, with that championship still around his waist. – Paul Leazar
Winner AND STILL CHAMPION: Kevin Owens
Other Staff Members Picks Everyone Else Also Picked: Kevin Owens.
Overall Thoughts Part 1
The card looks solid and has the potential to work for the RAW brand. As they need a hell of a PPV to start them into 2017. Hopefully, this is the final match between Sasha Banks and Charlotte. The company needs to utilize the rest of their Women's Division for once. Overall Roadblock has the prospect to be a well worked PPV. – Aaron Patel
Actually, I'm not that excited about this ppv. For me, it's just something I'd like to get through so we can get to the Royal Rumble, my favorite ppv of them all. RAW has not done a good job of hooking me into their main event scene. The Owens and Jericho stuff is entertaining, but that entertainment has not transcended to Owens vs. Reigns nor Jericho vs. Rollins. The cruiserweights still haven't gotten me invested into their storylines either. There will be some good moments on this show. The matches all ought to be good too. However, from a storyline perspective, I just don't find myself that interested in this one. – Rick Beslin
Overall Thoughts Part 2
Roadblock is an event that should live up to its name, which is a Roadblock between the WWE schedule and Wrestlemania season, with the Royal Rumble approaching, Roadblock was thrown in to prevent an eight week split between events. While this may just be a stopgap PPV, it still has the potential to be very good with the stellar card it has. The main event between Kevin Owens and Roman Reigns will be a slugfest. Seth Rollins vs. Chris Jericho is a match with great competitors, but the match may underwhelm, along with Big Cass vs. Rusev. Other than those two matches, every other match should be very entertaining.
Sasha vs. Charlotte is always good, as is New Day vs. Cesaro and Sheamus. Sami Zayn vs. Braun Strowman has been a great story, and the 10 minute time limit match will continue that great story of the Underdog not quitting in a fight over his head. The Cruiserweight title match should be a fun match between three great ring workers. The great card leaves Roadblock with the potential to be more than a stopgap on the way to the road to Wrestlemania. – Noah Mooney
Overall Thoughts Part 3
I think this is an exciting card and a great card leading into Royal Rumble season. I think the storyline progression for most of these matches has been there, which makes me care more about these matches then some in the past. That being said, I'd have to say that the Tag Team Match is probably what I'm least looking forward to because it has been done so many times already. I'm just not stoked to watch it again. Lastly, I am a Roman Reigns fan, but if he wins the Universal Title, even I might vomit in my mouth a little. – Robert Rath
RAW has an opportunity to match or even outdo what Smackdown Live's TLC did recently. Though, it will take some great finishes and some good booking decisions to do that. Every title match on this card has great potential, but what really could put this show over, is the undercard. Zayn and Strowman could be a physical masterpiece with all the right ingredients. Rusev and Cass could impress, if allowed time and opportunity. Then, you have a non-title uppercard match with Jericho and Rollins that should be nothing short of great. In all, I have high hopes that WWE Roadblock: End of the Line should be a success. – Gary Vaughan
Overall Thoughts Part 4
Mercifully, we're finally at the 15th and final PPV of the year. And it looks to be a big one. Can Roman win two belts? Can Charlotte become a four time champion? Will New Day continue their record setting reign? Can Sami even survive against BRAAAUUUUUN? we'll find all of this out on Sunday. Honestly, I'm not feeling as high about this show as I've been for past shows. I think I've just become immune to all of the PPV's already. But, that's not to say this will be bad. There's a lot of good matches here. I'm looking forward to the Cruiserweight title match, as a fan of Rich Swann (who retains, I think), and looking forward to the tag title match, as Cesaro and Sheamus get another chance as well. – Patrick Ketza
I'm sure that the wrestling for this show will be great. All the title matches are sure to deliver, and I think the others will surprise at how good they are gonna be. Yet, I'm apathetic about watching this show. Am I going to? Of course. The wrestling fan in me can't help but not miss the show. I'm sure I'll end up enjoying it too, but I just have so little hype heading into it right now. – Paul Leazar
Farewell For Now
Well, this brings us to the end of the WWE Roadblock: End of the Line Preview. Be sure to hit the play button below on the Wrestling 2 the MAX podcast preview and join us early next month, as we preview New Japan Pro-Wrestling's Wrestle Kingdom 11.