W2Mnet WWE Battleground 2017 Preview & Predictions
Smackdown returns to the Network with it's Battleground pay-per-view. It hasn't been the hottest ride to a big show, but it's been… something. All kidding aside, there are some things on this show that have been built up pretty well. AJ Styles continues to show that he can fit in any role on the show, and the people will eat it up. The Fashion Police will confront their attackers, and I can't wait to see who the big reveal turns out to be. The Punjabi Prison match should prove to be a spectacle at the very least, even if what happens between the ropes turns out to be rather dull. The stuff that matters has some of the crowd interested, even if people aren't turning out droves of people to watch the show live. You couldn't tell that they were building to their second biggest show of the year with how lackadaisical the booking has been on Smackdown. However, things can always heat up here, so let's all just hope for the best on this one. – Paul Leazar
An Introduction To The Article
As someone that has quite a bit of experience doing these roundtable type articles, I wanted to do this a bit differently than some others. Instead of having numerous people all give thoughts on each match, I felt it better to assign one match to each person. So, one of our staff members will give their thoughts on the match itself and predict a winner. – Sean Garmer
W2Mnet Staff
Sean Garmer, Co-Host of Wrestling 2 the MAX, W2Mnet Editor-in-Chief
Paul Leazar, Co-Host of Wrestling 2 the MAX, W2Mnet Wrestling Dept. Head
Harry Broadhurst, Co-Host of Wrestling Unwrapped, W2Mnet Wrestling Contributor
Robert Taylor, W2Mnet Contributor
Pre-Show Kickoff Match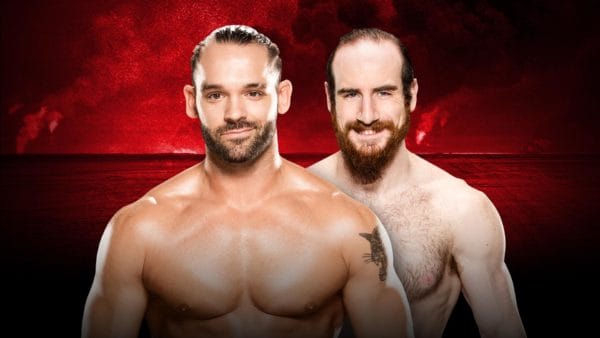 Tye Dillinger vs. Aiden English
Boy, the main roster creative sure has cooled the momentum of Tye Dillinger, hasn't it? It wasn't that long ago that he was debuting on Smackdown to a big pop and looking like he might become something on the main roster with his infectious "10" chants. Unfortunately, we all know how the main roster creative works, so we get Dillinger vs. Aiden English on the pre-show… again. Honestly, this match is just there to get the crowd hyped up, and that's what it will do with a decisive victory for the Perfect 10. Expect lots of chants, and some crying from English as Tye hits the Tye-breaker for the win. – Robert Taylor
Winner: Tye Dillinger
Other Staff Member Predictions: Everybody else also picked: Tye Dillinger
For the Power of Love
Sami Zayn vs. Mike Kanellis w/ Maria Kanellis
The power of love helped Mike Kanellis get a win in his first ever match in WWE. Thus leading to a rematch at this event. I'm sure Maria factors into the finish again, which keeps this feud going at least for another little while. From a match perspective, it really depends on how much time they get to work. This has the potential to either be very short, or go 10 minutes. Sami Zayn is certainly a guy that could bring Mike back to his ROH days where he showed he has in-ring skills. However, this is probably on the shorter side in all reality, with Zayn losing again. – Sean Garmer
Winner: Mike Kanellis
Other Staff Member Predictions: Everybody else also picked: Mike Kanellis
Grudge Match
Shinsuke Nakamura vs. Baron Corbin
I feel like we already know how this one plays out. Baron's got the briefcase, so that means he keeps losing for a until WWE decides to have him cash in. In addition, Shinsuke has been downright unstoppable since he showed up on the main roster. Smackdown also continues to tease a match with him and AJ Styles down the line.
And as much as we're all waiting for it, I think the WWE wants to keep on building Shinsuke up before we reach that fateful day. There's no problem with that either. Build Shinsuke up until he's at that same level as John Cena and AJ, and let the magic roll. At any rate, I look for Shinsuke to get the win here after a lengthy, if maybe somewhat dull, battle. – Paul Leazar
Winner: Shinsuke Nakamura
Other Staff Member Predictions: Harry: Baron Corbin. Sean: Shinsuke Nakamura.
Flag Match
John Cena vs. Rusev
Poor handsome Rusev. This is his first PPV match back from a shoulder injury. And, while it's great to see him back in the ring. It's one step forward and two steps back with the character. Instead of moving forward and taking advantage of his insane natural charisma, WWE puts him right back where he started as a Bulgarian flag waving anti American.
Not to mention, he has a flag match against the super babyface on Smackdown in John Cena. A man who is also making his PPV return. Rusev takes over a gimmick that Owens was doing better and takes on the biggest star in the company in the process. Poor handsome Rusev. – Harry Broadhurst
Winner: John Cena
Other Staff Member Predictions: Everybody else also picked: John Cena.
Fatal Five Way to Determine the #1 Contender at Summerslam!
It can't just be me that's getting tired of all of the multi-women matches on Smackdown's pay-per-views right? I get what they're going for, and it's appreciated that everybody absolutely matters over the Smackdown side of things, but we're missing chances to really hone in on a story, and maybe make some of these ladies really matter. I find it difficult to imagine that Charlotte misses out on the title match at Summerslam, so I'll play it safe and pick her to get the victory. However, I wouldn't count out whatever the heck Tamina and Lana have going on. Tamina beating somebody up, and tossing Lana on top of the victim to get her the win would be interesting. I love Becky, but she's sort of become an afterthought since the Superstar Shakeup. Becky getting the win over Charlotte on Smackdown was nice, yet is that really enough to make you think she's got a shot at winning this? Not for this guy. Charlotte ends up getting the W here. – Paul Leazar
Winner: Charlotte Flair
Other Staff Member Predictions: Everybody else also picked: Charlotte Flair
WWE Smackdown Live Tag Team Title Match!
The finish on the last PPV was the right call for these two teams. They needed a way to keep it going. Mainly because these are the only two teams Smackdown truly has. The build has been kept up well, but this is just another step in a feud that likely hits a fork at Summerslam. Expect another thrilling match, but Usos find another way to win. – Sean Garmer
Winner: The Usos
Other Staff Member Predictions: Paul & Robert: The Usos, Harry: The New Day
WWE United States Title Match!
I'm sure this is the match most of us will be tuning in for. We got jibed last time around with a silly finish, so hopefully, we get to see these guys have the match they deserve to have. Obviously, AJ wins here as he just won the thing. Plus, there are rumors about Kevin Owens getting a gimmick overhaul, so why give him back the belt now? I'm also incredibly happy to see the return of the US Open Challenge with AJ at the helm. Hopefully, the Cena thing was just a one off, and it's something they decide to stick with during AJ's run with the title. – Paul Leazar
Winner: AJ Styles
Other Staff Member Predictions: Everybody else also picked: AJ Styles
Punjabi Prison Match for the WWE World Heavyweight Title Match!
Due to the sheer size of the structure, the Punjabi Prison match probably main events. It certainly is one of the major draws of this show as well. This isn't a stretch to say, but Jinder and Orton could have the best match in this stipulation's history. Although, I'd say what the Singh Brothers do may tip the scales there too. If they are bumping around like crazy, it could turn a drab contest into a fun one.
You have to imagine we get some big spots here too. Maybe even a RKO off the top. The match finish could go either way, as perhaps it isn't the all conquering Cena coming in to vanquish Mahal. Orton could take the belt and you build him to Summerslam. I'll go with Mahal keeping it one more month, just because having someone else chasing into the biggest event of the summer is better for Smackdown. – Sean Garmer
Winner: Jinder Mahal
Other Staff Member Predictions: Everybody else also picked: Jinder Mahal
Farewell For Now
Well, this concludes our WWE Battleground 2017 Preview. Be sure to continue on W2Mnet for all of our other great content. Not to mention, leave your predictions in the comments below. Also, check out Gary Vaughan, Paul and Sean give their predictions on-air, on the Wrestling 2 the MAX Podcast below.