WWE Elimination Chamber 2018 Preview & Predictions
An Introduction to the Article
As someone that has quite a bit of experience doing these roundtable type articles, I wanted to do this a bit differently than some others. Instead of having numerous people all give thoughts on each match, I felt it better to assign one match to each person. So, one of our staff members will give their thoughts on the match itself and predict a winner. This continues until the end of the article when everyone gathers to give their overall thoughts on the event. – Sean Garmer
W2Mnet Staff
Sean Garmer, Co-Host of Wrestling 2 the MAX, Editor-in-Chief of W2Mnet.com
Paul Leazar, Co-Host of Wrestling 2 the MAX, W2Mnet Wrestling Dept. Head
Harry Broadhurst, Co-Host of Wrestling Unwrapped, Host of Wrestling 2 the MAX Smackdown and 205 Live Reviews, W2Mnet Wrestling & Football Contributor
Elizabeth Pugliese, Co-Host of Wrestling 2 the MAX Smackdown and 205 Live Reviews, W2Mnet Wrestling Contributor
Cedric Colon, W2Mnet Wrestling Contributor
Another reason to watch this event is because at some point on this show, Ronda Rousey signs her WWE contract.
Balor Club vs. Miztourage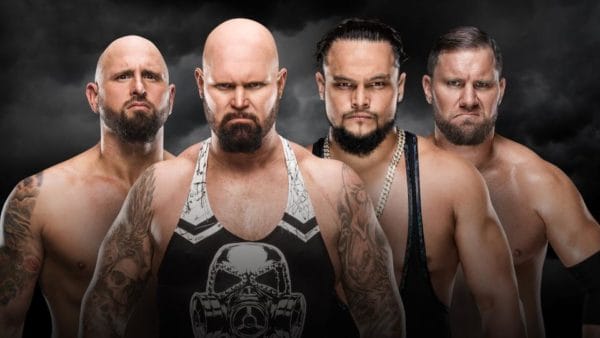 Luke Gallows & Karl Anderson vs. Bo Dallas & Curtis Axel (Miztourage)
Let me start by saying, it's hard to believe that at one point Luke Gallows and Karl Anderson were a force to be reckoned with (pre-WWE) in any tag team division. Every now and then we get a glimpse of that. Now they are just fillers in a match that advances no storyline. Nothing against The Miztourage. Dallas and Axel are two superstars that with the right build can be legitimate tag-team title contenders. And they play the part of being The Miz's proteges very well. They'll do everything they can to make the Miz proud. But in the end, it'll be a Magic Killer that kills the hopes of a Miztourage win. – Cedric Colon
Winners: Anderson and Gallows
Singles Match
"Woken" Matt Hardy vs. Bray Wyatt
For some reason, WWE decided to give this match away very early at RAW 25. It ended way too quickly to really mean anything. But, it was still a win for Bray Wyatt. I'd say that "Woken" Matt Hardy wins this one to even the win count in a feud that probably culminates at Wrestlemania with a certain Brother Nero and perhaps more family making an appearance there. – Sean Garmer
RAW Tag Team Championship Match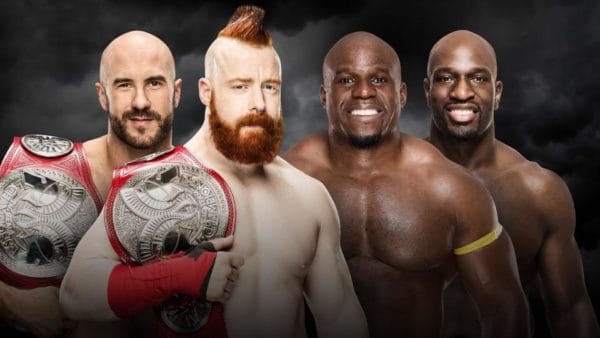 (Champions) Cesaro & Sheamus (The Bar) vs. Apollo & Titus O' Neil (Titus Worldwide)
Well, I would like to say they are at least trying with Titus Worldwide. However, we haven't gotten much of anything from this "feud" other than Titus & Apollo beating the champs three times on RAW over the past two months. Woohoo. This is basically throw away at this point. But, I hope they at least get some time to change my mind. I'd love to be wrong about this. At any rate, I'm sure The Bar retains. There's just no reason to do a title change. – Paul Leazar
Winners AND STILL CHAMPIONS: The Bar
Getting a Chance
If Nia Jax wins, she gets a Wrestlemania 34 titleshot: Asuka vs. Nia Jax
This match is very important to both superstars' careers moving forward. Thus, making it very difficult to pick who wins. In Nia Jax we have the combination of strength and agility. She's a destructive force that can run over any woman superstar on the roster. But, unfortunately, when it comes to significant matches, she hasn't been successful. Some of those losses even questionable in my humble opinion. I compare it to Strowman's losses. But I digress. I believe she deserves the opportunity to not just challenge but win the RAW Women's championship at some point.
In comes Asuka. During her tenure in NXT she was the most dominant superstar, male or female, the brand has ever seen. That dominance has dwindled a bit since being called up to the RAW main roster. So this is definitely an opportunity for her to prove she is the lady to beat, win, go to WM34 and take her rightful place as Empress of RAW. A legitimate loss for her would take away from her aura of being unbeatable and that's not something she can afford going into a big title match. But a loss for Nia would make her more of a jobber and less of an actual contender. Although I believe there is a timeline where Nia wins by DQ, I feel Asuka walking into WM34 undefeated means more. – Cedric Colón
RAW Women's Championship Match
Elimination Chamber: (Champion) Alexa Bliss vs. Bayley vs. Sasha Banks vs. Sonya Deville vs. Mandy Rose vs. Mickie James
Another monumental moment for the Women as they participate in the first-ever Women's Elimination Chamber. Equality! Well, Alexa Bliss doesn't really think so. The odds are against her. Given than Rowdy Ronda is going to start soon I can see the WWE trying to give some of the other women something to do before they are forgotten about. Sasha Banks takes the win here and then loses it again before Mania. Should be a very good match though. At least I am hoping the women really bring it. – Elizabeth Pugliese
#1 Contender's Match for the WWE Universal Championship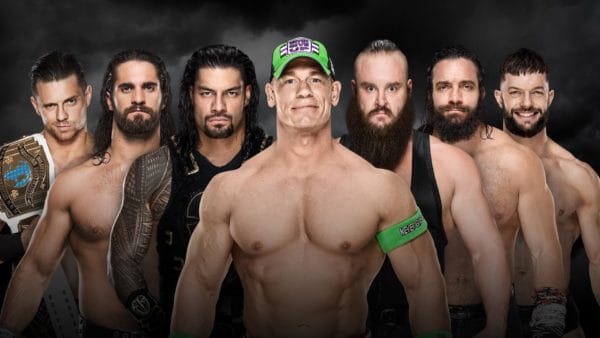 Elimination Chamber Match: The Miz vs. Seth Rollins vs. Roman Reigns vs. John Cena vs. Braun Strowman vs. Elias vs. Finn Balor
For the first time ever, seven men will step inside the Chamber, as a triple threat of sorts will kick things off on Sunday night. Despite there being seven people in the match, only three of them are viable candidates to win in my opinion. Roman Reigns, Braun Strowman and Seth Rollins make the most sense to come out of this match. Seth was set up nicely by going on a tear during the go home Raw, Braun may be the most over guy in the company currently and Roman has seemingly been slated for this spot ever since he defeated Undertaker at last year's WrestleMania.
To me, it's a "too set in their ways" to change now. So I'm sadly going to go with the most likely of the three situations and have Reigns walk out of the Chamber with the win and the match against Lesnar at WrestleMania for the WWE Universal title. – Harry Broadhurst
Well, this concludes the WWE Elimination Chamber 2018 Preview. Leave your predictions in the comments below. Also, check out Gary Vaughan, Sean and Paul giving their predictions on-air, on the Wrestling 2 the MAX Podcast.