WWE Money in the Bank 2017 Preview & Predictions
Pre-Show Kickoff Match
Tag Team Match: Hype Bros vs. Shining Stars
Hype Bros just got back together last week, after Zack Ryder returned. It's possible they could have Ryder turn on Mojo. Especially because it gives Ryder a fresh perspective. Plus, the midcard could use another heel. However, I'll just say that the team reunites and runs through Shining Stars to say they are ready to take the Tag Titles. – Sean Garmer
Winners: Hype Bros
Other Staff Member Predictions: Everyone else also picked: Hype Bros.
Smackdown Tag Team Championship Match
(Champions) The Usos vs. New Day
It's a New Day? Or are we still on some day one-ish? This is the premier match that SmackDown can give us in the tag division right now. Although, I may like Fandango and Tyler Breeze more, New Day is clearly the biggest challenge to the Usos title reign thus far.
That being said, I don't think this is the right time to change the titles. The New Day wins this match. However, they win by disqualification in order to keep the belts on Jimmy and Jey. Thus, moving us forward to some kind of stipulated rematch between these teams at Summerslam. – Harry Broadhurst
Winners: New Day via DQ
Other Staff Member Predictions: Everyone Else Picked: The Usos.
Smackdown Women's Championship Match
(Champion) Naomi vs. Lana
Naomi defending her title against Lana seems like a last second thrown together match. Simply here to debut Lana and get the Smackdown Women's championship on the card. As such, I expect the match to be treated poorly, with all of the attention going towards the women's MITB match itself.
Still, depending on how much Lana has improved in her time away, this could be decently surprising. Naomi's reign as champion has felt very meh. I mean, I don't hate it, but I don't love it either. It just seems like a "thanks for your service" type of reign. Still, she's very athletic in the ring.
Albeit a bit sloppy. Known more for her ring entrance than anything else. And I'm not exactly sure that's a good thing. Lana makes her long-awaited Smackdown in-ring debut after being drafted to Smackdown not too long ago. Her new gimmick seems a far cry from her previous one. Seemingly inheriting the Emmalina gimmick meant for Emma.
Although, it's too early to know how the gimmick pans out. Especially if her in-ring skills don't measure up to at least passable.
I'm not sure what to think of this match. On one hand, I can see the company throwing the title onto Lana. Since she is arguably the most popular female on the Smackdown roster. Well, judging by the crowd's reactions to her.
She could quite possibly be the new Eva Marie (can't wrestle, but still gets reactions). Looking at it the other way, Naomi is the more accomplished in-ring performer. She shouldn't lose to a debuting former manager. Not only does it make her look bad. The loss tarnishes the title as well.
Considering who I have winning the Women's MITB, I'm picking Naomi to retain here. It just seems like the smarter pick. – Robert Taylor
Winner: Naomi
Other Staff Member Predictions: Sean & Paul: Lana, Everybody Else Also Picked: Naomi
Women's Money in the Bank Ladder Match
Ladder Match: Charlotte Flair, Becky Lynch, Natalya, Tamina, Carmella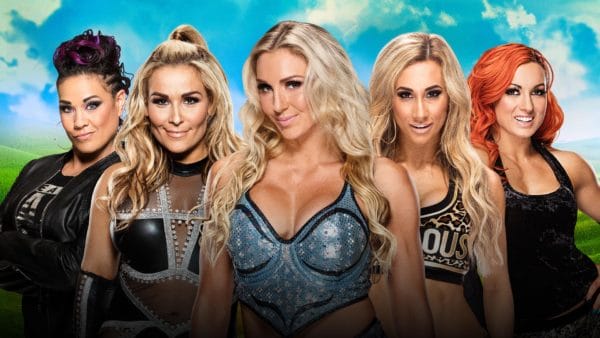 This match has the potential to be really great, or just an absolute train wreck. I also think they've done a pretty solid of job of keeping this match open because I don't think there has been somebody who looks a cut above.
However, with the way WWE likes to do these matches that are a "first" for the women usually go Charlotte's way. I'm sure the match will start out with The Welcoming Committee working together until they've beat on Becky and Charlotte enough to turn on each other.
Also, it'll probably be worth keeping an eye on Ellsworth at ringside too.
There was a lot of talk about Carmella getting the push to Naomi down the road, but I think it'd be so much more interesting to give the championship to Lana, and have the whole division working to get the belt off of her for the same reasons people came after Charlotte for just demanding a title match upon entering Smackdown.
If Lana does win the championship, there isn't a ton of upside of giving Carmella the briefcase. I'll pick Charlotte to win, but this briefcase could end up in anybody's hands at this point. – Paul Leazar
Winner: Charlotte Flair.
Other Staff Member Predictions: Harry: Becky Lynch, Glenn: Natayla, Everybody Else Picked: Carmella
WWE Heavyweight Championship Match
(Champion) Jinder Mahal w/ The Singh Brothers vs. Randy Orton
John Cena's return looms large on this match. I also think that the "he's a free agent" thing just means Cena will be able to be on both shows, or it's just to create buzz and he goes back to Smackdown.
There's a chance their second match is a little better, but expect The Singh Brothers involved heavily here. Not to mention, factor into the finish as well. This leaves Jinder open for when Cena returns and gets to vanquish the evil foreigner. Jinder has improved on the mic each week, but the feud with Randy Orton has been…just OK. Let's hope it ends here. Plus, WWE can continue their gimmick of 2017. "Person loses in their hometown."- Sean Garmer
Winner: Jinder Mahal
Other Staff Member Predictions: Everybody Else Also Picked: Jinder Mahal
Men's Money in the Bank Ladder Match
Ladder Match: Kevin Owens, Shinsuke Nakamura, AJ Styles, Sami Zayn, Baron Corbin, Dolph Ziggler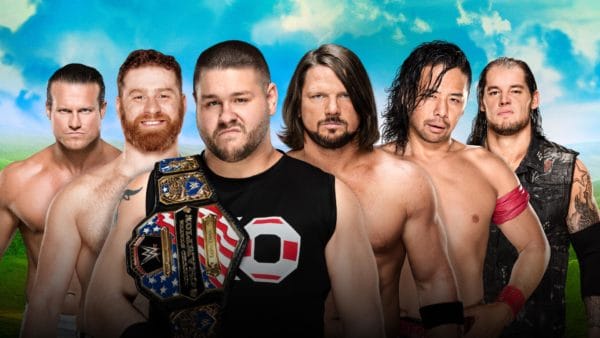 A human demolition derby match where your body can be broken, your tendons torn, and your muscles may be mutilated. All of these sacrifices are done for the goal of a single opportunity of a match for the world title. Simply at any time, any place for the next calendar year.
All of the men in this match, are in prime position to elevate their careers. Should they win and successfully cash in their opportunity. This match is hard and fast, and be full of memorable visuals. I have big expectations and you can be sure that they will be blown out of the water. – Glenn Smith
Winner: Baron Corbin
Other Staff Member Predictions: Everybody Else Also Picked: Baron Corbin