WWE only occasionally puts on storylines that have you gripped to your seat and make you want to see what's going to happen next. However, that's not how it's always been. In the Attitude Era, WWE put on storylines that have you dying to see the next episode of RAW or Smackdown to see what twist would happen next.
WWE Should Focus More on Great Storytelling, Not Wrestling
One thing we don't miss in the Attitude era was the quality of the wrestling WWE put out every Monday. While the stars in the match kept you entertained, the actual wrestling didn't. If you compare the Attitude era's best in ring competitors, Triple H or The Rock, to today's best in ring competitors, AJ Styles or Shinsuke Nakamura, it's night and day. The styles and techniques are so completely different from then, to now. No doubt about it, you could show a non-wrestling fan these wrestlers in their prime, and that person could tell you that the stars of today put on better matches.
The Attitude Era vs. Today
Wrestling fans refer to the Attitude era as the best era in WWE history. That's because the "anything can happen" mentality was the key feature. Remember the times where Austin stunned McMahon, and DX invaded WCW? Stuff like that won't happen now because WWE has to impress sponsors. They wouldn't tell Impact Wrestling that they're owl sucks or anything even close to being that risky. 
The best storylines WWE has put on in this "new era" have been organic, like the Daniel Bryan triumph at WrestleMania 30. The outcome, wasn't the original idea. However, the fans made that happen by hijacking shows. Look at what we got out of it: a storyline that fans never forget. In the very recent Randy Orton vs. Bray Wyatt story, WWE pulled out something magical and unexpected when Randy Orton burnt down Bray Wyatt's compound with the remains of Sister Abigail buried underneath. It gave a flashback to the Attitude era, and it felt like something we would have seen then, rather than in 2017. Yes, the match sucked at Mania, but for the weeks leading up to that match, everybody became enthralled in what was happening.
Where the Problem Lies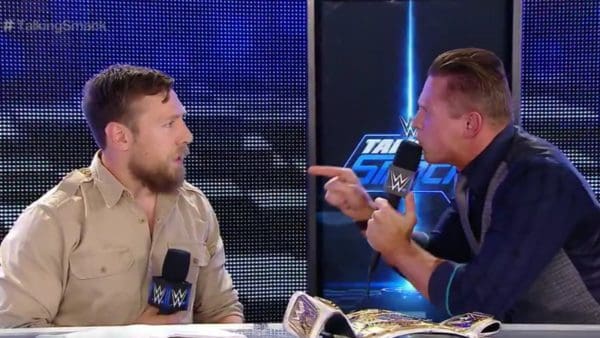 One of the things hurting current storylines is the fact that all the promos are scripted down to the comma. So, we won't be getting pipe bombs anytime soon. This creates a negative impact on storylines. Although there are some exceptions, like The Miz's feud with Daniel Bryan that had electric promos on Talking Smack. The feud, if you can call it that, is a well-remembered highlight of what Smackdown can do post-brand split. During the Styles/Cena feud, they spat out incredible promos on a weekly basis because they were not as scripted, or at least felt more organic. Imagine if The Rock had these obstacles in his way. The greatest talker in WWE history wouldn't have realized his potential.
For me, the match quality in WWE still hasn't reached the heights of indie companies like PWG, or that of New Japan Pro-Wrestling. But, it is getting better. Just look at now vs the Attitude Era. The difference is incredible. With WWE changing their views on signing independent talent, more of the "indie" styles are coming to WWE. Through acquisitions such as AJ Styles and Shinsuke Nakamura, WWE is also bringing that Japanese strong style into the fold. With a few big Japanese names and indie stars coming out of contract in the next year or so, if WWE realizes the opportunity in front of them, they can continue to add to their extremely talented roster.
A Dangerous Evolution?
WWE has changed with the times. Now is the time of athletic, hard-hitting, incredible wrestling. Just like the 1980's was the time of the big men, and selling was extremely important. The 1990's was the time of brawling, and moves that make the crowd pop. Today, it's harder to get a reaction out of the crowd. So, these athletes perform more high-risk moves than ever before, and that's not necessarily a good thing. As we have seen, with more high-risk moves comes more injuries.
Look at recent examples like Katsuyori Shibata. He sustained a likely career-ending injury with a move unnecessary for the match. Nevertheless, he performed it to excite the crowd. High flyers like Will Ospreay, Ricochet and the young up and comer Lio Rush have ushered in the era of "flippy sh*t," where the crowd expects that these men perform moves that could all go wrong if they're an inch off. That's not sustainable for these men for their entire careers.
Imagine if one of these men came along in the 80's or 90's. He would be told he's not the right fit for WWE. But today, we embrace them with open arms. With Ospreay, Ricochet and Rush being so young, the style they use is becoming a major style used by wrestlers. Over time, it could evolve to become a style that is very dangerous, and someone could get seriously hurt. All bodies have a limit and at some point that style is going to stagnate, because there's only so far a human can rotate in the air.
For The Future
WWE is setting their sights on wrestlers that are great in the ring. The future of WWE from an in-ring standpoint, looks vibrant. However, does that make up for the bad, and at some times horrible, booking and storytelling that the WWE is sorely lacking in?
No, it doesn't. WWE is the place to go in the end. It's the biggest promotion in the world. It's not their job to put on 5-star matches every night. WWE needs to focus on telling a story every week on RAW and Smackdown. Honestly, what's a weekly show without a good story? Just a bunch matches put on TV every week? So, if the biggest wrestling company in the world is just putting on mediocre matches with no story, what's the point in watching. There are so many great television shows out there, it's sad that WWE cannot take inspiration from them.