Alt 5 Matches January 2017
Honorable Mentions: Kenny Omega vs. Kazuchika Okada @ Wrestle Kingdom 11: While I thought this match was great, I have a feeling that there are so many others who will include this match on their list. So, as a way to separate my list from others that you may see, it WILL NOT be on my list. If you want to complain about me, and my poor judgment, send all complaints to BiteMe@FakeMail.com
Also, these matches are in order of which I have enjoyed the most. It will not just be about match quality, but emotions, resiliency, and ingenuity.
Number 5…
So to start this Fav Five, if you will, we go to a match that involves "The Grandson of a Plumber", and a man that can only be described as a Technical Wizard. Cody (Still Rhodes to me D*****) vs. Zack Sabre Jr. for the What Culture Pro Wrestling Internet Championship at Kirbymania. This match took place January 5, 2017. The biggest reason this match makes the list relies upon the fact that Cody flew out to the UK after wrestling against Juice Robinson at WrestleKingdom 11 in Japan. The man was running on a short amount of sleep, dealt with some international travel hassles, and still took Zack Sabre Jr. to his personal limits. Say whatever you want about Cody, but you CANNOT deny the level of dedication this man has to promoters, to fans, and to his peers.
Number 4…
The next match-up features the final encounter between a gentleman and a scoundrel. I am talking about the "I Forfeit Match" between Ariya Daivari and Jack Gallagher on the January 17th edition of 205 Live. This match managed to be a great hybrid of the technical side of professional wrestling, and the knock down, drag out brawl that often finds itself associated with an I Quit style match.
To me, the psychology of this match was rather beautiful. Every move done was a part of the slow, gradual buildup leading to the inevitable conclusion to this bout. You can feel the level of frustration Daivari felt every time he took to the microphone and told Gallagher that he needs to quit. It added an excellent element to the story to between the two of them. Plus, we see the absolute ingenious usage of the umbrella to perform what I can only imagine to be the most painful version of the Crossface Chickenwing. This match goes to show why storytelling in professional wrestling is so important, as it proved incredibly vital to the conclusion of this match.
Number 3…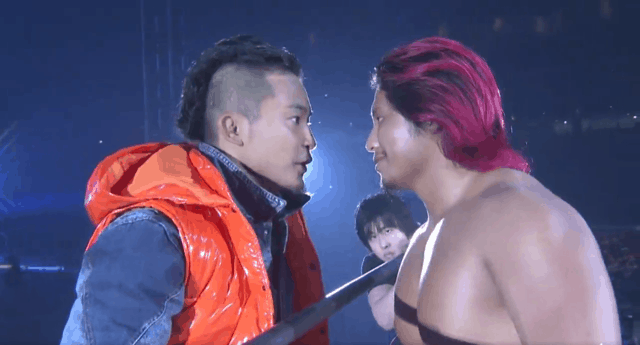 My third match on this selection of five comes to us from the Land of The Rising Sun. We return to Wrestle Kingdom 11, a show that contains some of the best wrestling we'll see all year. This match featured a man who was making a return from an international wrestling excursion tour, Hiromu Takahashi, challenge the junior heavyweight ace, and the reigning IWGP Junior Heavyweight Champion, KUSHIDA.
This one was a  showstealer if I've ever seen one. It spotlights some of the most wince and cringe inducing action that I have ever seen. Every time KUSHIDA put his signature Hoverboard Lock on Takahashi, I thought he was going to break his arm. The scientific levels of picking a body part, and sticking to it was a thing of beauty. The subsequent outside action that unfurled added an element that left you wondering if they were going to be able to walk away after it was over. Not because of the physicality of the match, but because they were expending every single amount of energy left within their bodies. When wrestlers give it their all, it's a thing of beauty, and it's what earned this match my third spot.
Number 2…
As we approach the end of this list, I cannot help but add this match because the end result caught me off-guard, and by no means is this a bad thing. In fact, it's a great thing! This match, like the previous match, came from WrestleKingdom 11. It featured "The Violent Artist", Kyle O'Reilly, defending his Ring of Honor World Title against the man who is a Dirty, Sexy, Sneaky Thang, Adam Cole BAYBAY!
Recently, the ROH title has been defended internationally with title defenses taking place in the United Kingdom and Japan respectively. The champion has retained on each occasion, and then all of the sudden at Wrestle Kingdom, the champion lost. The shock value to me was so great! It goes to show that anything can and will happen in this crazy world of professional wrestling. The match itself proved to be quite sound with the finale of the match seeing Adam Cole deliver 3 Last Shots to Kyle. The fallout continues to be felt in Ring Of Honor to this very day.
Number 1…
https://www.youtube.com/watch?v=UjveUumdvsI
My final choice features a match I have a personal attachment to because I had the privilege of conducting a bit of an interview with one of the participants. This one was a part of A Hero's Farewell from EVOLVE 76 between "A Man Who Ain't Nuttin To F*** With", and a man who is simply LIMITLESS. The match in question is Chris Hero vs Keith Lee. This match reigns supreme on my list because whenever things go wrong in a match that is out of the control of the wrestlers, and they're able to adapt, and pull off what these guys did just shows the level of dedication they have to the fans to always perform to your peak potential, and to give them something that they will remember. Now, without further ado…
An Interview w/ Keith Lee
GS: So what exactly went through your mind when you found out that you were the first opponent on the Chris Hero Hero's Farewell Weekend for Evolve?

Lee: Opportunity. A chance to give an extremely competitive introduction to who Keith Lee is and what he's capable of.

GS: Did you have more to prove to the Evolve Fans Or WWN Executives Or To Yourself in that match?

Lee: I don't believe I have anything to prove to anyone necessarily. If there is, I do so every time I step foot through ropes to do this thing I love.

GS: Now out of idle curiosity what's the translation of Japanese Characters on the back of your trunks for that match?

Lee: It's another name I sometimes go by, not in the wrestling world lol. It says Genzou means Phantom in English. Many people say they can't believe some of the things I do in the ring…or outside the ring for that matter. One of the definitions of phantoms is "a figment of imagination" or "illusion." So it is something I adopted in honor of those friends.

GS: To the fans that until that match had never seen you wrestle what do you think went through their minds once you stepped out of the curtain?

Lee: The general consensus when people first see me is always, "That's a big dude." So I think that is a safe assumption. (Authors note: I said those exact words when I first saw Keith Lee)

GS: What was going through your mind once the top rope broke? And if I may be so bold to ask how much did that affect your personal game plan you had until that point?

Lee: First, I didn't want him to sustain any injury he wouldn't recover from. But yes it definitely altered my game plan a ton. Standing up trading shots with that guy is not smartest idea for anyone so I intended to use my more hybrid style to throw him off a bit. Immediately took that game plan away lol.

*During this match the middle rope also gave whilst Lee was about to do a move onto a prone Hero*

GS: So when the middle rope broke what were you thinking the second you felt rope was starting to give out?

Lee: It was a lightning quick moment to be honest. But truthfully, a very sarcastic "I knew this was a dumb idea" followed by an equally sarcastic "oh joy" both happened in mid-air.

GS: What exactly did it mean to you to have Chris Hero say that you need to find that "Killer Instinct"? And how are you planning on finding that "Killer Instinct" that lies within you?

Lee: Pretty words are nice and all. But I'm not happy with it at all. And that loss will fuel my 2017.

GS: What was your biggest takeaway from that match?

Lee: Honestly…the way I was welcomed into the EVOLVE family was my biggest takeaway. They see something in me band will allow me to reach and stretch into opportunities. I intend to take full advantage of that.

GS: And lastly were there any other parting words he gave you to ponder when you stepped back through that curtain that the fans might not have been privy to?

Lee: Hero believes I can takeover where he left off. Those are some ENORMOUS shoes to fill. But I will give it my all. Also…he thinks I should be in the G1. That in and of itself is a friggin honor. I think there is just mutual respect there. He's rooting for me, just as I am rooting for him.
First and foremost, I want to thank Keith Lee for allowing me to bask in his glory for a little while, as well as agreeing to the interview. I want to highly encourage all that read this to try and checkout at least one of these matches. Don't do it because I have these opinions about these matches. Do it for yourself and to always embrace an alternative. Check back in March for my next Alt Five folks!
Until then, Adios Compadres.