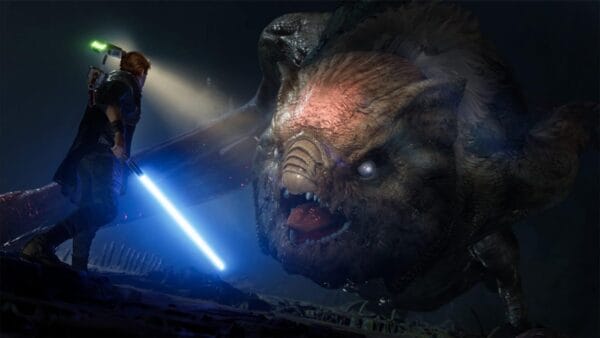 Previously on Chapter Select, Jens challenged Randy to complete Star Wars Jedi: Fallen Order on Jedi Master difficulty within a fortnight. That time is now up for our intrepid hero. Will Randy emerge from his ordeal with his head held high and an appetite for more? You'll have to listen to find out.
In the episode's B plot, Jens harbors the delusion that the show's newfound sponsors imbue it with legitimacy, causing him to go overboard with the ads.
Marketing segments can be found at the following time codes:
15:32 to 16:30 – This is the Grammarly ad. Find out how to write more engaging sentences than this by going here.
50:45 to 52:51 – During this segment, Jens and Randy talk about why they like Amazon Music Unlimited. Learn more here.
Support the W2M Network
Receive a 30 Day free trial of Amazon Music on us. Also, you can get a special offer from Grammarly too!
Chapter 16: Star Wars Jedi: Fallen Order (Part 2)
About Chapter Select
Every two weeks, Jens Dietrich and Randy Isbelle get together and discuss a video game that they are both playing. Think of it as a book club for video games. The two will break down the game in every aspect, from gameplay to story, side characters to bosses, music to the atmosphere, and more.
Listener Questions and Reviews
If you'd like to get in touch with one of our hosts you can email us at w2mnetwork@gmail.com or find us on social media. You can also like the W2M Network Facebook Page and review us on Podchaser or any of your favorite podcast listening apps.
Follow on Twitter: W2M Network, Randy, Jens, Chapter Select
Listen to the show on your favorite podcasting app
Apple Podcasts
Spotify
I-Heart Radio
Youtube
Randy Isbelle
Randy Isbelle is a fan of platformers and sports games mostly but enjoys games from almost every genre. He's also a lifelong New York Jets fan as well. Randy has a history of writing reviews for various websites and has a collection of over 2,000 video games. The dude knows his stuff. When he's not writing or playing games, he's spending time with his two children.
Jens Dietrich
Jens is co-host and editor of the podcast Chapter Select and an occasional contributor to Video Games 2 the MAX. While he grew up on 90s PC adventure games and flight simulators, nowadays his preferences have shifted towards Soulslikes, JRPGs, and weird kusoge.