The biggest event in sports and it only happens every for years the World Cup is almost upon us. Although all of us here are still hurting a little inside that the United States Men's National Team didn't make it, they did get a bit of good news this morning with the announcement that the United North American bid won the right to host the 2026 World Cup, which currently, is the first World Cup that will also include 48 teams.
However, this preview article focuses on the 2018 edition. The following are the thoughts of the W2Mnet Soccer staff on what might happen in this summer's grand event.
Making Predictions on the W2Mnet FIFA 2018 World Cup Preview
Group A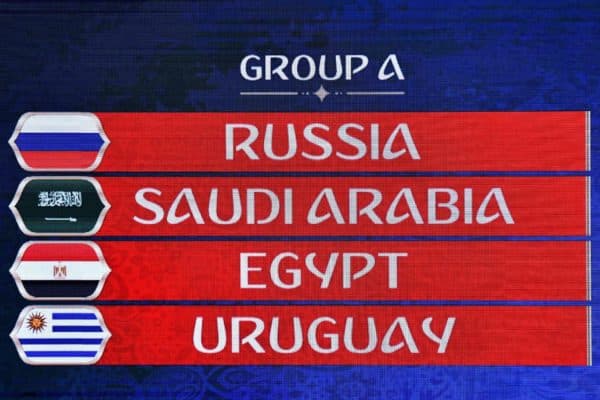 Russia has a lot of pressure on them. The pressure doesn't just come from President Vladimir Putin, but the pressure comes from the soccer community. Many players on the Russian National Team are using this tournament as a showcase.
Only two players on the Russian team play outside of their home country. Denis Cheryshev features for Villarreal in Spain while backup goalkeeper Vladimir Gabulov dresses for Club Brugge in Belgium. Fedor Smolov's success will be vital in this tournament. Russia's top striker on the roster, features for Krasnodar. In three seasons with Krasnodar, he has been the top goal scorer of the Russian league twice.
Egypt is another dark horse in the tournament. Riding on the back of Mohamed Salah, the famous Liverpool striker. Egypt has made their first World Cup return since 1990. The Pharaohs have some hope in the group stage, with Salah recovering on schedule with a shoulder injury.
Meanwhile, Uruguay and Saudi Arabia are my team's left out of advancing. Uruguay has plenty of history, but it's hard to bet against the wave of emotion that both Russia and Egypt are carrying.
The emotion sets are different. Russia's emotion is battling on their own home soil while Egypt gives fans something they've been longing for in satisfaction. – Rachael McKriger
Group A Predictions
Winner: Russia, 2nd: Egypt, 3rd: Uruguay, 4th: Saudi Arabia
I want the record to state that these predictions are based on a healthy Mohamed Salah. If he was close to one hundred percent, I'd consider Egypt to win this group. They got a relative friendly draw with the lowest seeded team in the tournament according to the FIFA rankings (host team Russia) and a Saudi Arabia team that I am not expecting much from. Despite all that, I do feel this is still Uruguay's region to lose, with Egypt coming out as the B squad. – Harry Broadhurst
Group A Predictions
Winner: Uruguay, 2nd: Egypt, 3rd: Russia, 4th: Saudi Arabia
Uruguay is coming into this World Cup with a string of misses and near misses, having only advanced past the Round of 16 once since 1970 (2010). However, with attackers like Luis Suarez and Edinson Cavani, they have the firepower to see them through comfortably.
With Russia, they look to continue the trend of almost every host nation advancing past the first round (South Africa is the lone exception), and they got a lucky break with Egypt missing Mo Salah for at least the first group match. It won't be too much of a fight for second, but expect some low scoring matches as the other three teams will find goals a bit hard to come by. – Erik Watkins
Group A Predictions
Winner: Uruguay, 2nd: Russia, 3rd: Egypt, 4th: Saudi Arabia
Russia looks to continue the good fortune of host countries in the World Cup. Saudi Arabia faces the odds with players primarily from the home country, and a coach in Juan Antonio Pizzi that's had only around six months with the squad. Even greater odds are those of Egypt without their leader Mohamed Salah at least for one game, and possibly even two. While the two-time World Cup champions have a lethal attack and solid defense to back them up as well. Not to mention, the most experienced manager in the entire tournament leading them in Oscar Tabarez.
The only thing keeping Uruguay from topping this group with the full 9 points is themselves. La Celeste are experienced where it matters most, but sometimes suffer from staying in first gear if they don't get motivated or dominate their opponents. That being said, this group is primed for Uruguay to do their business and fulfill bigger dreams that lie ahead.
This leaves the host country and one would think Egypt fighting for second place. Even with Salah, The Pharaohs play a conservative style that keeps them organized and holding together defensively. This may be enough to frustrate Russia and get them a special point they need to bring their talisman back for their easiest game in the group. Even though it seems a bit magical, this is a story the World Cup is made for. – Sean Garmer
Group A Predictions
Winner: Uruguay (9), 2nd: Egypt (4) (Greater Goal Difference), 3rd: Russia (4), 4th: Saudia Arabia (0)
Group B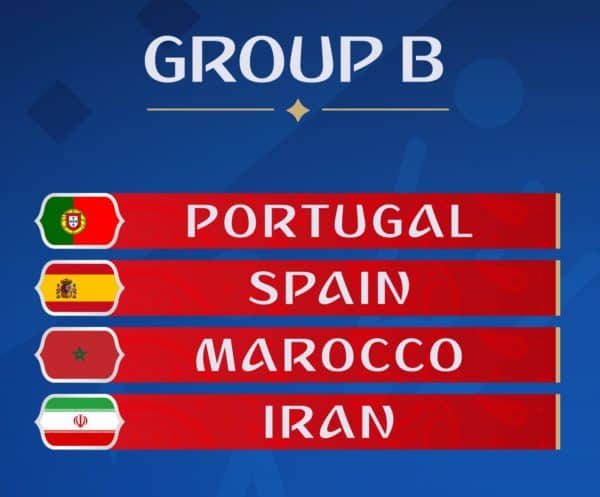 Spain is the team to beat at this World Cup. The entire roster Spain has going to the World Cup is made up of superstars. David de Gea was a monster in goal for Manchester United while Andrés Iniesta recently wrapped up a memorable career with FC Barcelona.
Spain's dark horse player is Thiago. While a popular player with Bayern Munich, Thiago only has two goals in 29 appearances for Spain. He could very well be the breakthrough player of the World Cup.
Meanwhile, Morocco is my first upset pick in this tournament (if you don't count the Russians advancing on home soil an upset — like I do). Morocco is playing with passion in this tournament. Even though they didn't win the 2026 World Cup vote. Maybe now they are playing for vengeance and revenge instead? Too bad Morocco and the United States aren't in a World Cup group together, alas. – Rachael McKriger
Group B Predictions:
Winner: Spain, 2nd: Morocco, 3rd: Portugal, 4th: Iran
Man, talk about your proverbial two dog race. First you have Spain; led by Iniesta, David Silva and Diego Costa. And then there's the defending European champions Portugal, led by arguably 1B in the world in Cristiano Ronaldo.
Sure, Morocco and Iran are in this group as well. But let's be frank here. It's a race to avoid the basement for those two. I like Spain here to rebound from a disappointing 2014 WC. We'll say a goal difference win over Portugal. – Harry Broadhurst
Winner: Spain, 2nd: Portugal, 3rd: Iran 4th: Morocco
When it comes to footballing talent for Morocco, even their amazing defensive effort won't help propel them to the knockout round. Portugal and their aging stars could make things interesting and create a goal difference tiebreaker, but in the end, the Iberian Derby will decide the top two teams, and Spain has the major edge in that one. – Erik Watkins
Group B Predictions
Winner: Spain, 2nd: Portugal, 3rd: Morocco, 4th: Iran
Even with the ridiculous news of Julen Lopetegui being sacked just days away from their first group game, Spain's squad is experienced enough to get past that and play to their full potential. The current holders of the European Championship, Portugal, are two years older, but still have one of the greatest players in the world on their squad. Iran look to spring an upset after an impressive qualifying campaign, and an experienced coach in Carlos Queiroz leading the way. Morocco may feel hard done by considering the 2026 World Cup hosting decision, but their team is better than people expect, and could make things difficult for everyone involved.
Unlike four years ago, Spain's mixture of veteran talent and raw fury is much more balanced. Andres Iniesta and Sergio Ramos combine with Isco and Marco Asensio. If Diego Costa and Iago Aspas can score some goals, Spain should fly through the group. Certainly, new coach, Fernando Hierro still has to connect the correct pieces together. However, the embarrassment of 2014 looms large, and these players should be more locked-in this go around.
Although in the end Portugal proved they could win without Cristiano Ronaldo in the 2016 EURO's, they will need a big performance from him to pass through this group. It is hard to imagine an older Pepe and Bruno Alves can hope lightning strikes twice. The World Cup doesn't have a best third allowing teams to squeak into the knockout phase. Portugal have to get at least three points somewhere. And their opponents in the group may make this a difficult task.
Both Iran and Morocco come in unbeaten in their World Cup qualifying sections. Both teams also bring along with them some strong and feisty defenses. However, the Islamic Republic has some actual dependable attacking talent. Alireza Jahanbakhsh was the leading scorer in the Dutch Eredivisie last season. While Sardar Azmoun brings a bit of creative magic that can surprise opposing defenders. Experience, defensive solidity, and an impressive attack are key ingredients in tournaments. Also, there's gotta be upsets somewhere, and I feel like this is the place for it. – Sean Garmer
Group B Predictions
Winner: Spain (7), 2nd: Iran (6), 3rd: Portugal (4), 4th: Morocco (0)
Group C
Sorry, Australia, but you're not quite there yet.
Meanwhile, France is there — and the country is looking forward to a strong World Cup run. However, a 1-1 draw against the United States youngsters has some fans potentially questioning France's World Cup hopes. Despite it being a friendly, it was a World Cup tune-up — and France played their stars and starters.
However, going back and looking at the roster, the talent is there. A soccer fan would look at France's roster and immediately their jaw would drop. It's hard not to be curious about France with players like Paul Pogba, Olivier Giroud, Antoine Griezmann and Djibril Sidibé named.
Choosing between Denmark and Peru wasn't necessarily easy, but what convinced me was the pair of centerbacks that Denmark possesses.
Jannik Vestergaard and Andreas Christensen are the two "Great Danes." Both players have 16 appearances for Denmark but could look to add to that total in Russia.
It would be foolish for Denmark manager Åge Hareide to look at both players and not start them together. The two have experience together for club and country. Both players featured for Borussia Mönchengladbach for a season before Christensen returned to Chelsea. – Rachael McKriger
Group C Predictions
Winner: France, 2nd: Denmark, 3rd: Peru 4th: Australia
I'd say the most difficult of the three so far, but honestly…that's not saying a lot. There's a couple teams here that could surprise. Peru has gone on a run before. Australia will have a nation of 'Socceroos' behind them. But I think the money in the group has to be on former champions France (assuming none of their players 'Zidane' anyone) and Denmark.
I think France escapes here with a win. Peru and Denmark battle it out for the two and I give only the slightest of edges to Denmark here. – Harry Broadhurst
Group C Predictions:
Winner: France, 2nd: Denmark 3rd: Peru 4th: Australia
France is loaded. Seriously. Even though they came back to draw 1-1 with the USA's wunderkinder, there's an embarrassment of riches up and down the pitch. The one wild card is Hugo Lloris, who's been known to make some major blunders at key times. For Peru, Paolo Guerrero's return will provide both a big emotional boost as well as an increase in quality on the pitch.
The Great Danes have a bit of a spark in Christian Eriksen, but outscoring opponents 3-0 in their latest four friendlies combined is a sign that scoring will be hard to come by. When it comes to Australia, new coach, old star, and a tremendous amount of issues. Expect them to be one of the couple whipping boys in this year's tournament, as they'll be lucky to even get a point. – Erik Watkins
Group C Predictions
Winner: France, 2nd: Peru (goal difference), 3rd: Denmark, 4th: Australia
Les Blues have one of the most talented teams in the entire field. They left players off the squad that could fill spots on other rosters. Not to mention, they could almost put out a completely different Starting XI and still compete in a difficult group. Denmark has a talisman that can both dish assists and unlocks defenses in Christian Eriksen. While Peru has waited 36 years for this moment, and plan to make it count. Sadly, the Socceroos have a mountain of odds stacked against them internally that could make it difficult for them to compete against their other three foes.
France boasts a bevy of scoring superstars at their disposal. Kylian Mbappe, Antoine Griezmann, Olivier Giroud. However, how far this squad goes is reliant on their two major players in the middle of the park. The under-performing and highly questioned Paul Pogba and the rock of Leicester City's title-winning team, N'Golo Kante. If these two can be the maestro and shield we've seen them show, France is going far. The defense also has some questions on the outside that need to resolve themselves quickly, and Hugo Lloris can be a problem. All that being said, I fully expect the former World Cup champions to the top the group.
However, I don't think it is going to be in a resounding way. This is because Denmark and Peru both can pose a major threat. In fact, if there's a winner in the game between these two squads, France may need to be very careful in how they proceed. Especially considering there's a chance everyone takes their three points from Australia. Personally, I hate saying that, but Australia has a new coach and is relying on the 38-year-old Tim Cahill to pull out way too much magic.
Getting back to the difficult matter at hand is picking between the South American playoff qualifiers and the European playoff qualifiers. Peru received a major lift recently by getting the big news that their all-time leading scorer Paolo Guerrero is playing in Russia. Pair him with Jefferson Farfan, a terrific defense, and a coach that has them organized and playing with the joy of memories long ago. Denmark also has solid players in various positions and a goalkeeper with championship pedigree. For me, it really comes down to that first game, and I'm actually predicting a winner there. – Sean Garmer
Group C Predictions
Winner: France (7), 2nd: Peru (6), 3rd: Denmark (4), 4th: Australia (0)
Group D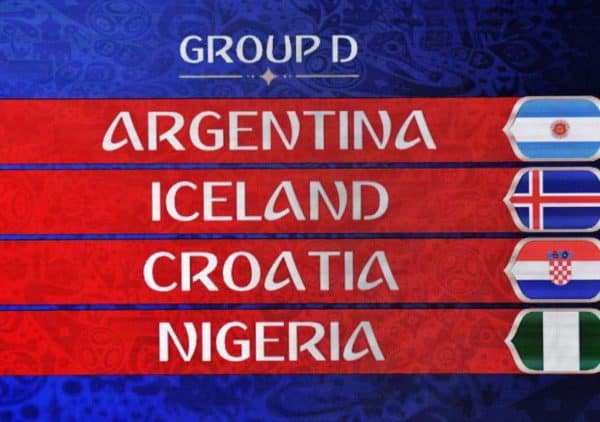 It's so hard to bet against Iceland. The "Cinderella" team of the World Cup is finally going to the ball. Iceland is the smallest nation to qualify for the World Cup — and this year is the first time doing so. U.S. Men's National Team dual national Aron Jóhannsson must be kicking himself in the face right now.
Iceland is coached by Heimir Hallgrímsson, a part-time dentist. If that doesn't say anything about Iceland's team, I don't know what will. What makes Hallgrímsson such an interesting coach is his experience with both sides of the game; Hallgrímsson has also coached women's teams as well. Iceland has an incredible mix of players on their roster. Some of Iceland's selections play in Russia, Norway, Iceland, Turkey, England and even Bulgaria.
However, can Iceland make it out of the group? This is the team that the entire world is rooting for. Teams that didn't make the World Cup have their fans flocking to Iceland's team. Everyone loves a good Cinderella story — and Iceland has it.
But do they have it to win against Argentina? Most fans would balk at the question due to one name: Lionel Messi. However, Argentina might not be as powerful as they look. This is one of the most uncertain groups in the entire World Cup. – Rachael McKriger
Group D Predictions:
Winner: Argentina, 2nd: Iceland, 3rd: Nigeria 4th: Croatia
Like there is any other choice to win this group, I'm obviously going with Argentina. I mentioned earlier how Ronaldo is 1B in the world. That's because 1A is Lionel Messi. Not only will Messi want to avenge coming so close last year (losing to Germany in the final). But he's going to want to prove that he's still at the elite level in the world scene. The team I think is going to surprise here is an Iceland team making its' first appearance in a World Cup and coming off an appearance in the knockout stage in Euro 2016. – Harry Broadhurst
Group D Predictions:
Winner: Argentina, 2nd: Iceland, 3rd: Croatia, 4th: Nigeria
The Super Eagles are great when it comes to their domestic players, but their best international team is…sketchy. Their best chance for anything is against Croatia, who showed their vulnerabilities late in their friendly against Brazil. As far as the top two, Argentina wants redemption for losing to Germany four years ago. Messi wants to put himself back on top as the best of this generation in what could be his last shot.
But another team of aging stars could meet their match in Iceland. They're a small country, they're underdogs, but they have a system. They produce some amazing talent all throughout their ranks. It served them in EURO 2016 and it will serve them just as well here. – Erik Watkins
Group D Predictions
Winner: Argentina, 2nd: Iceland, 3rd: Croatia, 4th: Nigeria
When your squad is coming off a 2014 World Cup finals loss, still contains some of those players four years on, and oh yeah, has Lionel Messi, they are alCinderellatender. Unity is still the name of the game for Iceland. However, injury concerns to some of the team's best players could derail another tournament cinderella run. While scandal and media pressure could undue Croatia from within. Even though the squad boasts some of the most impressive talent available. And could Nigeria finally live up to the billing of being Africa's hope? Goalkeeping concerns may keep that from happening once again. The fact is, this may be the toughest group in the entire tournament to call. No game is an absolute certainty.
The Diego Maradona comparisons are totally unfair for a man that's been the world's best player for quite a long time. The fact remains that a way to judge all-time greats is in international championships. Something Messi has barely missed out on numerous times at this point. At 31, it's not a totally done deal he doesn't return for the 2022 edition, but he's already retired before. He could quite possibly do it again. More than ever, Argentina showed in qualifying they are still heavily reliant on their superstar. The triad of coaching changes didn't help that cause either.
The major players must finally step-up and help Messi, or Albiceleste could be in trouble. Angel Di Maria, Sergio Aguero, Gonzalo Higuaín need to contribute goals and assists. The late injury to Sergio Romero gives Argentina some major back five concerns, which puts even more pressure on those up front. I'll never count out Messi, but this group could require some super special magic to escape without a blemish. One that I just don't see happening.
This is because I fully believe we could see each team taking a smattering of points, making victory in one game supremely vital for qualification. Croatia on paper are the squad everyone is looking at to keep pace with Argentina. And who could blame them? The same squad defeated Spain at the 2016 EURO's. Luka Modric, Ivan Perisic, Ivan Rakitic, Mario Mandzukic are just some of the names in attack. The issue is once again can the defense hold serve just enough.
Even with their European Championship heroics, Iceland are still very much underdogs. Injuries haven't helped make repeating the impressive feat from two years ago any easier. However, the closeness of the squad and their traveling fan base are major motivators.
For me, the team to watch out for is Nigeria. Although not as supremely talented as other teams on paper, they finally have a good mix of experience and young players that they could make some noise. If Victor Moses, Alex Iwobi, Kelechi Iheanacho and others come together and provide a formidable counter attack this squad could be lethal. While also at the same time relieving John Obi Mikel and the back four from constantly being peppered at with incoming shots. Much like Argentina, the Super Eagles largest question mark is the use of a young goalkeeper with little experience. That being said, I'm putting my trust in the men in front of them when making the big final decision. – Sean Garmer
Group D Predictions
Winner: Argentina (5) (greater goal difference), 2nd: Nigeria (5), 3rd: Iceland (3), 4th: Croatia (2)
Group E
It's hard to bet against Switzerland because Borussia Mönchengladbach is my favorite team in the German Bundesliga. However, my apologies to Yann Sommer, Nico Elvedi, Denis Zakaria and Josip Drmić. I don't believe that Switzerland, coached by Vladimir Petković, has enough to take down Brazil or Costa Rica.
Brazil is a certainty to win the group. This isn't the same 2014 team that was terrified of Germany. Instead, this is a confident Brazilian side. Neymar isn't the only star player on this roster. Tite has assembled a roster that includes Thiago Silva, Douglas Costa, Gabriel Jesus, Philippe Coutinho and Roberto Firmino.
Brazil is out for revenge from the 2014 World Cup disaster they faced against Germany. After being embarrassed on their own home soil, in front of arguably the most dedicated soccer fans in the world, Brazil has their eye on the trophy. It's hard to take games one-by-one when an entire nation of 207.7 million people are staring at the World Cup trophy.
Costa Rica doesn't nearly have that many people in their country. Instead, the Central American country boasts a population of 4.857 dedicated soccer fans ready to cheer on Los Ticos. Many of those fans remember Costa Rica's "Cinderella" run in 2014. Where Costa Rica made it all the way to the quarterfinals — the final eight — but eventually lost to the Netherlands on penalty kicks.
With a roster that includes Keylor Navas, one of the best goalkeepers in the world that features for Real Madrid as their starter, and also Bryan Ruiz, Kendall Waston and Marco Ureña, Costa Rica are a team to watch. – Rachael McKriger
Group E Predictions:
Winner: Brazil, 2nd: Costa Rica, 3rd: Switzerland, 4th: Serbia
There is admittedly some personal bias here. When I first got into world football, the first team to really capture my attention was Brazil. They bring yet another loaded side here to Russia for this tournament with names like Jesus, Neymar, Coutinho, Marcelo, Willan and Firmino. They land in a reasonably even group below them with Switzerland as the draw from the two, a Costa Rica side that is the third ranked team from the three pot and Serbia, who was the top team in the fourth. – Harry Broadhurst
Group E Predictions
Winner: Brazil, 2nd: Costa Rica, 3rd: Switzerland, 4th: Serbia
Neymar is back, and the Seleccao are a threat. To put it bluntly, anything less than nine points in this group will be a bit of a shock. For Switzerland, it's another appearance of a one-man team in Shaqiri. He can score, but who else? For this reason, I think Serbia with their modern center backs who can attack on top of their English talent in the spine of the team, they can do just enough to break through. Los Ticos are simply outmatched in this group, even with the likes of Keylor Navas. They'll get points, but this team looks more like the 2006 version than the 2014 version. – Erik Watkins
Group E Predictions
Winner: Brazil, 2nd: Serbia (goal difference), 3rd: Switzerland, 4th: Costa Rica
The five-time World Champions are four years on from one of the most humiliating defeats in history. Now, an older and more experienced Neymar, a team full of young stars, a goalkeeper approaching stardom in Allisson, and a coach in Tite who's put the flair back in el "jogo bonito" have arrived. Earning them the title of ultimate favorites. Switzerland and Serbia are two squads prioritizing defense first. While Costa Rica may find it difficult to repeat the magic of 2014 again.
Seriously, Brazil are not a team you want to see in this World Cup. They were the first playing squad to qualify for the 2018 World Cup. They finished a whole 10 points ahead of the next squad in CONMEBOL. No easy feat at all. Coutinho, Willian, Gabriel Jesus are all around to help Neymar create and put in goals. Plus, Paulinho and Casemiro can stifle anything the other three squads may muster going forward.
The other three squads are built on being organized and defensive. Switzerland especially is absolutely fine with just sitting back, parking the bus, and pouncing on opportunities. They have some attacking talent in Xhedran Shaqiri and a lot of the attack actually comes from their defensive backs. This is because they are woeful in the center forward spot, which is why they end up playing more defensively.
Serbia on the other hand have Alexsandar Mitrovic who is a proven goal-scorer both for club and country. While also having one of the best defensive midfielders in the world in Nemanja Matic as well. If he can combine with Sergej Milinkovic-Savic they can create problems for other squads defensively. Their biggest issue is their aging defense, which could cause them to leak one too many goals. Thus, making it difficult for them to keep up the pace on the other end to stay in games.
The biggest question mark in the group is Costa Rica. Can Keylor Navas do enough to give them chances to stay in it? Or will teams have figured out their system this go around. Especially since a lot of their attacking talent is coming off major injury. This almost feels like the 2006 World Cup situation for the United States. They did so well in the previous World Cup that no one is taking them for granted anymore. Especially, because this group almost seems taylor-made to combat Los Ticos. So, in second place, I'm gonna go with the squad that I feel can do just enough to take away some valuable points and sneak into the next round. – Sean Garmer
Group E Predictions
Winner: Brazil (9), 2nd: Switzerland (4), 3rd: Costa Rica (2), 4th: Serbia (1)
Group F
Is this the Group of Death?
It would certainly seem that way. Germany, the defending World Cup champions, are in a highly-talented group that includes Mexico, Sweden and South Korea.
Excuse me, I meant to write Zlatan Ibrahimović-less Sweden. But will that hurt Sweden too much? Probably not. Against popular opinion, I am writing that maybe Zlatan not being at the World Cup will push Sweden more. Clearly, Swedish media knows how the new star player for the LA Galaxy is, Zlatan is full of confidence all the time. He has even made remarks of how a World Cup isn't truly a World Cup without him.
But, either way, Sweden has a tough task ahead. Germany has a majorly talented roster. Germany's roster is so talented that Joachim Löw has left Leroy Sané at home. Many German fans shook their heads at the controversial head coach's decision. However, no coach is more controversial in this group than Juan Carlos Osorio.
The Mexican National Team manager — or el profesor, as many El Tri fans call him has had his fair share of suspensions. However, he is back and ready to lead his team — a team that includes Javier "Chicharito" Hernández, Carlos Vela and both of the dos Santos brothers — into a tough group. For sure, this means the fight for first and second place will be deadly.
However, I have to rule out South Korea from much consideration in that battle. While the nation hosted a lovely Winter Olympic Games in February, it's hard to see them competing with Germany and Mexico for the knockout round placement.
Also, not adding Kim Kee-Hee from the Seattle Sounders has made South Korea lose my interest. – Rachael McKriger
South Korea is screwed. I think we can all agree on that. Defending champions Germany, Mexico and a Sweden team making its return to the World Cup stage. I don't think anyone has enough to stop Germany here. The defending champions are still loaded and have two Golden Boot candidates in Ozil and Thomas Muller. Mexico recovered from a disappointing 2014 W.C. performance to take care of business in CONCACAF qualifying. Those are my predictions here as well. – Harry Broadhurst
Winner: Germany, 2nd: Mexico, 3rd: Sweden, 4th: South Korea
Die Mannschaft isn't quite the powerful team that are the defending champions, but even what amounts to their second team winning the Confederations Cup. They didn't have the best qualifying group, but still only conceding four goals in 10 matches is a testament to beating the teams you have to.
Their biggest opponent in the group? El Tri. For the epic streak of Juan Carlos Osorio's tinkering (almost FIFTY consecutive matches without the same starting eleven) and the curse of el quinto partido hanging over them since 1994, there's a lot of potential downside. However, the absence of Zlatan Ibrahimovic and the presence of a weak Korea Republic team creates enough to where Mexico gets one more chance to break the streak.
Although Sweden did knock Italy out via a playoff, they're in just as much of a scoring issue as Korea Republic, which means those two teams will be fighting to avoid a last-place finish. – Erik Watkins
Group F Predictions
Winner: Germany, 2nd: Mexico, 3rd: Sweden, 4th: Korea Republic
The defending champions may not have as strong a team as they did in 2014, but they are still Germany. A team that should never be underestimated. Mexico are usually a lock to get out of the group stage. However, this go around is a bit tricky because their coach has a bad habit of trying to do too much on the team sheet. Sweden got through an impressive group and defeated four-time World Champions Italy to get here. Are they good enough to advance further? South Korea have one superstar in Son Heung-Min, but this group is a lot to put on one player.
Let's face it, even with some of their attacking and creative players coming in out of form, the goals will come from somewhere for the Germans. They sure did in qualifying, where they were undefeated. The biggest concern is goalkeeper Manuel Neuer who was quickly named captain once he regained fitness, despite not having the best of season at his club. However, coach Joachim Low has a suitable number two behind him if he shows any signs of faltering. Honestly, the only way Germany don't reach the knockout phase is a 2014 Spain or 2010 France level implosion from within.
It's hard to believe Juan Carlos Osorio when he says that he's done with squad rotations. Habits are difficult to break. Although rumors are that "The Genius" is totally prepared for the Germany game to be total cannon fodder if things get out of hand quickly. Choosing to focus on Sweden and South Korea to get at least four points and go through. It isn't the worst of strategies, but unlike other tournaments, Mexico is facing squad issues.
They are short reliable defenders, and the players upfront are in woeful form coming into the tournament. Not to mention, some other injury concerns in midfield could rear their ugly head too. So, it isn't a total given that Mexico are comfortably in second place.
Especially, since Mexico and Sweden meet in the final group stage game. But Sweden may have players coming in on even worse form than Mexico and they don't boast notable attack names like Mexico does. Where a moment of pure luck on a set piece from Chicharito or Oribe Peralta can be all Mexico needs to open things up. But this Swedish team has already faced big competition in getting here, so why not do so in this group too?
The biggest anomaly is South Korea. They didn't have the best qualifying campaign and barely made it to the tournament. Although they do have one major star, this is truly a one-man team. If everyone focuses on stopping Heung-Min, they don't have the players around him to overcome that. Plus, their defense is pretty bad. Leaving them open to get scored on a lot. However, if they pull a surprise on either Mexico or Sweden, they could really turn this group on its head. But that's probably not going to happen. – Sean Garmer
Group F Predictions
Winner: Germany (9), 2nd: Mexico (4) (greater goal difference), 3rd: Sweden (4), 4th: South Korea (0)
Group G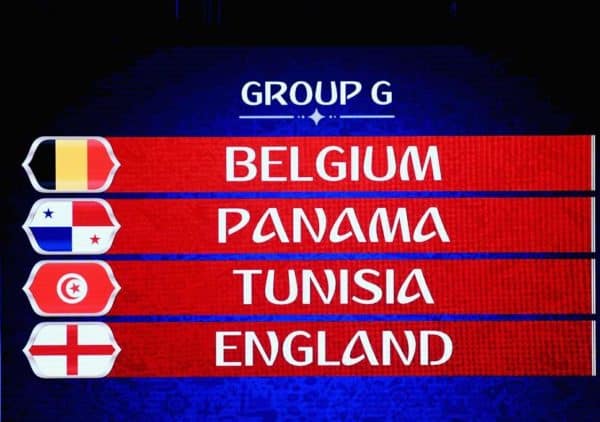 Being a fan of the U.S. Men's National Team, I should be angry at Panama. Looking back to that dreadful October 10th day, I was angry at Panama and Honduras for scoring goals against Costa Rica and Mexico, respectively.
However, I was more upset at the U.S. Men's National Team for not even securing a draw. Either way, in a mixture of emotions, I vowed to not cheer for any CONCACAF teams in the World Cup.
I have to amend that now, because I not only have Mexico and Costa Rica advancing out of their groups, I have also added Panama to that mix — and I'm rooting for all three teams.
Call me crazy, it's been done before. But, have we not seen what upsets can do this year in sports? Look at Loyola during March Madness or the Washington Capitals hoisting their first-ever Stanley Cup! Upsets in sports do happen.
Take a minute… It's okay.
Go ahead, read it over one more time. You didn't blur your lines together. No, instead you actually read that correctly.
Sean Garmer and Erik Watkins owe me a heck of a nice dinner if Panama advances to the knockout round. You thought I was done with upsets? Never! You've never seen my hot mess of a March Madness bracket? Well, I am the queen of picking upsets.
Panama over England could be another one for the book. – Rachael McKriger
Group G Predictions
Winner: Belgium, 2nd: Panama, 3rd: England 4th: Tunisia
Another personal bias pick is going to come into play here. While I enjoyed Brazil as an overall team when I first got into the world stage, my favorite individual player to watch was one Steven Gerrard. That made me both an England national follower as well as a Liverpool fan (which I am to this day). England has a tough road here. Three teams will fight for the two spots as Belgium is a major force with their roster of players. Panama could also surprise as well. Tunisia is the team in the group that I think will be the punching bag and where teams get their goals for the differential that may decide this group. – Harry Broadhurst
Winner: England, 2nd: Belgium, 3rd: Panama, 4th: Tunisia
The Three Lions are on something of a tear. Yes, they also didn't have the best of qualifying competition, but eight wins and 26 points from 10 matches means that you do your job in this case. In a team stacked with Premier League talent, they'll do well to get six points against Panama and Tunisia. However, so will Belgium. Yes, even without Vincent Kompany. The England-Belgium match on the 28th will decide the group winners, and even with how the knockout bracket will shape up, England will still want to be on top.
Panama is far too old to make any real noise, and they'll also resemble Costa Rica in 2006, making it a bit of a bad run for CONCACAF. As far as Tunisia, their entire roster only has about 35 international goals between them, meaning relying too heavily on defense again, leaving them open to be shredded. – Erik Watkins
Group G Predictions
Winner: England (goal difference), 2nd: Belgium, 3rd: Panama, 4th: Tunisia
Anything but Belgium and England advancing in some fashion out of this group would be one of the biggest shocks ever. Belgium possess one of the sickest squads available, and manager Roberto Martinez left some better players at home too. Kevin De Bruyne, Romelu Lukaku, Eden Hazard (although he picked-up a concerning knock in the last friendly,) Dries Mertens just to name some of their stars. Their defense is one of the best, and their goalkeeper is right up there too in Thibaut Courtois. The problem is they have failed to live up to their potential in the last two tournaments. The third time has to be the charm right?
England have acquired a litany of U-21 and below championships in the past year. So much so, that there is a lot of buzz about this younger, more unified group surprising in the knockout phase. One of the most prolific strikers Harry Kane and the speedy Raheem Sterling lead the line. And they have some impressive help on the wings in Danny Rose and Kieran Trippier. However, some questions lie in the center of the park of who do they put next to John Stones Not to mention, the goalkeeping isn't completely solid. Perhaps the biggest issue may be the midfield, something that could be trouble in the latter stages of the tournament.
However, as far as the group stage is concerned, this shouldn't be a problem. Tunisia are missing several of their major players. Although their organization and defensive astuteness could pose a problem, once unlocked it won't be too much of an issue. Panama are entering their first World Cup with their spine being on the really old side. Not to mention, we've seen their attackers disappear completely in CONCACAF play. If Blas Perez isn't getting lucky on the offside trap, Panama may have long days ahead. Goalkeeper Jaime Penedo would literally have to stand on his head against either England or Belgium for Panama to sniff getting through, which is highly unlikely considering how much will be coming at him. – Sean Garmer
Group G Predictions
Winner: Belgium (9), 2nd: England (6), 3rd: Panama (3), 4th: Tunisia (0)
Group H
Robert Lewandowski is basically the only notable player for Poland. If he wasn't on the team, there's a good percentage that Poland wouldn't have even made the World Cup. That's why not many people are seeing the Polish Men's National Team as a "Cinderella" team. Poland's last appearance in the World Cup was in 2006. However, the 12-year gap between now and then isn't completely newsworthy because Poland doesn't have the underdog mentality. That's why Poland won't move on in the group stage.
Instead, Colombia, with a talented roster and head coach in José Pékerman, will move on. Lewandowski's Bayern Munich teammate — who will likely take over Lewandowski's spot as the Polish forward has expressed leaving the club this summer — James Rodríguez is Colombia's best player.
However, don't overlook players like Radamel Falcao, Carlos Bacca and Juan Fernando Quintero. Colombia has an extremely young team; out of the 23 players on the roster, eight players have fewer than 10 appearances.
Meanwhile, Japan has a veteran squad filled with depth. Out of 23 players, 12 players have more than 30 appearances. Japan does boast some notable players, including Makoto Hasebe from Eintracht Frankfurt, Shinji Kagawa from Borussia Dortmund and Keisuke Honda from Pachuca. Japan only has eight players that feature for club within the country. – Rachael McKriger
Group H Predictions
Winner: Colombia, 2nd: Japan, 3rd: Senegal 4th: Poland
The winner of this group seems blatantly obvious to me. With the defending 'Golden Boot' winner James Rodriguez, Colombia is by far the class of the four here. That leaves three options for the other spot. Senegal (in their first World Cup since advancing to the quarters in 2002.) Japan (in their sixth straight World Cup but yet to make it past the first round of knockouts in that time.) Poland (back after missing the last two World Cup's, but currently ranked number six in the world according to FIFA.) The world rankings say Poland is the favorite, but previous World Cup performance tells me that Japan has consistently been a factor in the group stage. Therefore, I'm going to go with my gut on this one. – Harry Broadhurst
Group H Predictions:
Winner: Colombia, 2nd: Japan, 3rd: Poland, 4th: Senegal
For as good as the African teams did on home soil eight years ago, they'll be just as bad this year. Teams like Senegal have great domestic talent, but when they bring players based abroad, the issues abound. With Poland, it's a team of Robert Lewandowski and 10 other players. As I always say, YOU NEED TWO STRIKERS! That's not happening.
This sets up quite well for Los Cafeteros and the Samurai Blue. James Rodriguez came on to the scene in Brazil, and it turned into a good run with both Real Madrid and now Bayern Munich. With another anchor in Radamel Falcao up front, they have enough to keep them in games and at least earn draws in the Group of Life.
Similarly for Japan, they not only have a lot of their players plying their trade in Germany, but they have three good scoring options: Shinji Okazaki (50 career international goals), Keisuke Honda (36), and Shinji Kagawa (29). This should be enough to get at least four points against Poland and Senegal, leaving their match against Colombia to decide the order of the top two. – Erik Watkins
Group H Predictions
Winner: Colombia
2nd: Japan
3rd: Poland
4th: Senegal
The Group of Life if there ever was one. Although a late coaching change may have diminished Japan's hopes of really making this a topsy turvy group. Unlike Spain, they don't have the world class talent that can overcome something like that. They do have some major experience that Erik outlined above me, so I won't repeat it again. But it's probably not going to be enough. As someone that loves Anime, Sushi, Pocky, and Japanese RPG video games (among many other Japanese things), it breaks my heart to say this, but they may wind up with 0 points after three games.
However, this is a tournament, and upsets do happen. Especially in a group that could become very wide open, very quickly. This is because Colombia, Poland, and Senegal aren't really that much better than each other.
Colombia was the absolute big surprise of 2014, with James winning the Golden Boot as the leading goal scorer. They also bring a tremendous addition along for 2018, Radamel Falcao who missed the 2014 cup because of a nasty injury in the lead up. Despite that, Los Cafeteros overcame the setback and impressed. Much of the core of that squad is back with Juan Cuadrado along too. Not to mention, a young budding center back duo in Davison Sanchez and Yerry Mina too. David Ospina is very dependable in goal, and let's not forget their very experienced manager Jose Pekerman on the touchline too. It isn't farfetched to expect a similar run for Colombia to the quarterfinals once again.
Poland had a very easy group, aside from Denmark, but this allowed their big star Lewandowski to lead the way with 16 goals in qualifying. Poland's success or lack thereof is highly dependent on him. But he needs help in getting service and a lot of their midfield is coming back from some big injuries. Can they all mesh in time for another quarter final run like in EURO 2016? It is quite possible because it won't take much for things to go their way.
However, there's one outlier here and that's Senegal. They have some terrific pieces in key places on the pitch. Sadio Mane is their talisman and goalscorer. While Kalidou Koulibaly is their rock in center defense. The key to Senegal getting through is not only the players geling, but their manager figuring out how to get the best out of his team. Aliou Cisse is still figuring things out and there's a fear he won't until it is too late. All that said, they did top a very difficult group in African qualifying and have stand out players that can withstand some coaching ineptitude.
For me, this is similar to my predictions for Group C. Poland and Senegal battle it out for the second spot. The team I have advancing does so because they get the win in the match between them- Sean Garmer
Group H Predictions:
Winner: Colombia (9)
2nd: Senegal (6)
3rd: Poland (3)
4th: Japan (0)
Knockout Round
To save you from having to read even more text, screenshots are posted for each person's knockout round bracket.
Rachael McKriger
Harry Broadhurst
Erik Watkins
Sean Garmer
MAIN PHOTO: