The Mexican Men's National Team not only has a history of torturing the United States Men's National Team. They defeated the U.S. in the first ever CONCACAF Confederations Cup Playoff in 2015, to earn their spot here. They are also pretty great in short tournaments as well. Not only do they top their own confederation, they regularly participate in CONMEBOL's Copa America and perform well against South American competition there too. Mexico also comes into this tournament, as the only previous winner of the Confederations Cup.
FIFA Confederations Cup 2017 Preview: Mexico
Introduction to the Article
The crew from Soccer 2 the MAX, Rachael McKriger, Erik Watkins and Sean Garmer divided the eight teams among themselves and have done previews for each squad ahead of the FIFA Confederations Cup 2017 tournament. They give a little about of information on their history in the tournament. Their recent form, the manager and the squad. After that, they give a Player to Watch, a X-Factor, and discuss what could happen. Finally, they give their prediction on the team's final place in the tournament. Hopefully, you enjoy our team preview articles.
FIFA Confederations Cup History
Mexico has a great history in the Confederations Cup. Making the tournament six times out of a possible nine. Three times they've made it past the group stage. In 1995, they placed second in their group and defeated Nigeria on penalties to claim third place. In 2005, penalties went against them. They actually topped their group this time, besting Brazil. However, in the Semi-Finals they lost out to Argentina on penalties. In the third place game, they lost 4-3 to hosts Germany. Their best run came in 1999, when the tournament was hosted on their home soil. Mexico topped their group. Defeated the United States in extra time 1-0. Then, they would go on to defeat an incredible Brazil squad 4-3 to win the tournament.
After not qualifying in 2009. Mexico returned to the tournament in 2013. However, their fortunes weren't very good. Placed in a "Group of Death" with Brazil, Italy and Japan. Mexico lost it's first two games to Brazil and Italy respectively. So, they were already eliminated before they even played Japan. Mexico finished the tournament with three points, earning them sixth place.
Recent Form
Since their horrible 7-0 loss to Chile in the Quarterfinals of Copa America Centenario, Mexico has only lost once in 13 matches. Their lone loss came in a Friendly against Croatia on May 27. In the other 12 matches, Mexico has Friendly wins against New Zealand, Panama, Iceland and Ireland. Mexico is unbeaten in that span, in World Cup 2018 qualifying with five wins (El Salvador, United States, Costa Rica, Trinidad & Tobago and Honduras) and three draws (Honduras, Panama, United States). Needless to say, they come into the tournament in pretty good form.
The Manager: Juan Carlos Osorio
Mexico is led by head coach Juan Carlos Osorio, who's been in charge since 2015. Osorio had a playing career shortened by a major injury that forced him to retire in 1987 at the age of 26. Since then, he went into coaching. Osorio would coach in three different countries. Most notably in his native Colombia where he led Millonarios to a fourth place finish in the Mustang Cup.
He also had a rather decent coaching career in the United States coaching two different Major League Soccer squads to playoff success. He took the Chicago Fire to a Conference Final. The year after that, he led the New York Redbulls to their first ever MLS Cup Final. However, they lost to the Columbus Crew. Making matters worse, the team was terrible the next season finishing with a 2-16-4 record. Luckily, he redeemed himself going back to Colombia and leading Once Caldas to a league championship in 2010. He also coached Atletico Nacional and Sao Paulo in Brazil, before coming to the Mexican national team.
Confederations Cup 2017 Team Roster
Goalkeepers: 1 Rodolfo Cota, 12 Alfredo Talavera, 13 Guillermo Ochoa.
Defenders: 2 Néstor Araujo, 3 Carlos Salcedo, 4 Rafael Márquez (captain), 5 Diego Reyes, 7 Miguel Layún, 15 Héctor Moreno, 21 Luis Reyes, 23 Oswaldo Alanís.
Midfielders: 6 Jonathan dos Santos, 8 Marco Fabián, 10 Giovani dos Santos, 16 Héctor Herrera, 18 Andrés Guardado, 20 Javier Aquino.
Forward: 9 Raúl Jiménez, 11 Carlos Vela, 14 Javier Hernández, 17 Jürgen Damm, 19 Oribe Peralta, 22 Hirving Lozano.
Player to Watch: Carlos Vela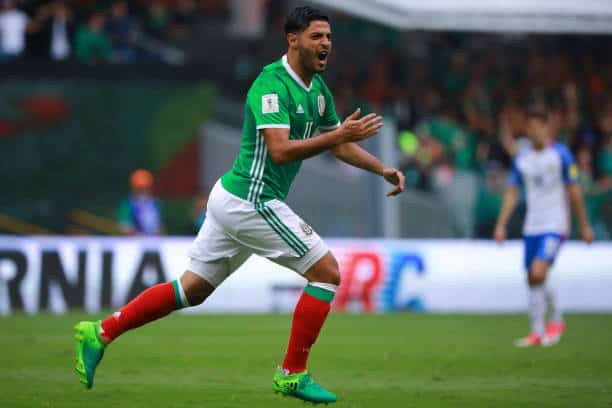 The former Arsenal man and current Real Sociedad stand out made his full return to the national team in 2015 and since that time he has scored six goals in 17 appearances. Including the goal that forced the 1-1 draw on June 11 against the United States. This is also Vela's first major international competition with the national team outside of CONCACAF, since the 2010 World Cup. So, perhaps there's a little more motivation for him to get it done on the grand stage. Vela is a dynamic forward who can not only score goals, but is also absolutely dangerous on the wings in creating opportunities for other players as well. He also shows this at Real Sociedad where he had 10 goals and five assists in 37 appearances this season.
X-Factor: Rafael Marquez
What hasn't been said about Mr. Mexico Rafa Marquez. At the age of 38 he is still one of the most reliable and best players for the national team. He played in 242 games at Barcelona, he has won so many accolades, but what's important about Marquez is that he's the heartbeat of the national team. He's not only the tough defender, but he has the ability to make some exquisite passes from the back or can even play defensive midfield. Not to mention, he can be lethal on corners for headers. Plus, with Mexico he's actually been critical in taking free kicks as well. Marquez has always been a thorn in the side of rival United States, most recently scoring the game winner in their 2016 World Cup qualifier. Marquez looks to lead Mexico to another standout performance in the Confederations Cup.
Final Thoughts
Mexico should have a strong tournament. They are in Group A playing European champions Portugal first on June 18. Then, it's a familiar opponent in New Zealand on June 21. Finally, their group stage run ends against hosts Russia on June 24. For me, Mexico tops the group and makes it to the elimination rounds. In fact, I feel they have a strong enough team that they win the whole thing.
Rachael's Prediction: First in Group A, Winner of FIFA Confederations Cup 2017
Sean's Prediction: Second in Group A, Lose in Semi-Final. Erik's Prediction: Second in Group A, Lose in the Final.
Be sure to check out all of our Group A previews, by selecting the name of that national team in the Final Thoughts section of each post.
MAIN PHOTO:
MANAGER PHOTO:
TEAM PHOTO:
PLAYER TO WATCH PHOTO:
X-FACTOR PHOTO: