The host nation of FIFA Confederations Cup 2017 and the 2018 FIFA World Cup, Russia, has been in the spotlight for some time now.
It's not just the football community in the spotlight for the Russians; there's also political issues and significant power-heads making their names known in Russian and American media. However, when it comes to football, the Russians can be thankful for any type of media coverage.
FIFA Confederations Cup 2017 Preview: Russia
Introduction to the Article
The crew from Soccer 2 the MAX, Rachael McKriger, Erik Watkins and Sean Garmer divided the eight teams among themselves and have done previews for each squad ahead of the FIFA Confederations Cup 2017 tournament. They give a little about of information on their history in the tournament. Their recent form, the manager and the squad. After that, they give a Player to Watch, a X-Factor, and discuss what could happen. Finally, they give their prediction on the team's final place in the tournament. Hopefully, you enjoy our team preview articles.
FIFA Confederations Cup History
The Confederations Cup is new territory for the Russians. From the time span of 1992-2013, the Russians never qualified for the tournament. Since they host for 2017, the national team received an automatic qualification spot. Russia in general has not fared well in major tournaments. They have not progressed past the group stage in their three previous World Cup appearances. They did come close in EURO 2008, advancing all the way to the Semi-Finals. Only to lose 3-0 to eventual champions Spain. In last year's EURO 2016, they finished bottom of their group.
Recent Form
Since the end of EURO 2016, the Russians have only appeared in friendlies. This is due to gaining automatic qualification to the FIFA World Cup 2018. So, they don't participate in the qualification process. They are 3-3-3 in that span, with wins over Ghana and Romania in 2016.
Their most recent win came against Hungary in one of their two warm-up games for the Confederations Cup. Russia's losses include a 4-3 stunner against Costa Rica and a disappointing result against Qatar 2-1. In 2017, they've only lost once to Ivory Coast. The other games featured the aforementioned win, a competitive 3-3 against Belgium. They also drew 1-1 in their final warm-up game against Chile on June 9.
The Manager: Stanislav Cherchesov
Stanislav Cherchesov took over August 11, 2016 and replaced Leonid Slutsky, after the aforementioned bad results in EURO 2016. Cherchesov played Goalkeeper from 1981-2002 for a variety of teams around Russia, including four separate stints at Spartak Moscow. In two of those stays, he won the Soviet, (later renamed the Russian League), championship four times. He made a combined 134 appearances for Spartak in that span too. He also had a long stay at a now defunct team in Austria (Tirol Innsbruck) as well. Making 182 appearances there from 1996-2002.
Cherchesov has also managed various teams in Russia, but his greatest success came with Legia Warsaw in Poland. Leading the team to winning the double (the league and cup) in 2016. He then left Legia Warsaw to become the new Russia manager.
Confederations Cup 2017 Team Roster
The Russians called up a total of 30 players during their matches against the Ivory Coast and Belgium. Goalkeeper Igor Akinfeev, who holds 96 caps to his name, served as the captain. The defense is experienced, with only two 23-year-olds, and the rest 27 and 28-year-olds. Obviously, they narrowed it down to 23 for the tournament.
Goalkeepers: 1 Igor Akinfeev (captain), 12 Vladimir Gabulov, 16  Guilherme Marinato
Defenders: 2  Igor Smolnikov, 3 Roman Shishkin, 5 Viktor Vasin, 6 Georgi Dzhikiya, 13 Fyodor Kudryashov, 14 Ilya Kutepov, 18 Yuri Zhirkov, 23 Dmitri Kombarov
Midfielders: 4 Yury Gazinsky, 8 Denis Glushakov, 10 Ruslan Kambolov, 15 Aleksei Miranchuk, 17 Aleksandr Golovin, 19 Aleksandr Samedov, 21 Aleksandr Yerokhin, 22 Dmitri Tarasov
Forwards: 7 Dmitri Poloz, 9 Fyodor Smolov, 11 Aleksandr Bukharov, 20 Maksim Kanunnikov
* Georgi Dzhikiya is the only player listed on the roster to have never made an appearance for the Russians. The defender is only 23-years old and features for Spartak Moscow. *
Player to Watch: Igor Akinfeev
The main player to watch for Russia is Igor Akinfeev, the captain, and starting goalkeeper. With the Russians playing a more defensive game, Akinfeev needs to be his best to stop strikers like Lars Stindl of Germany and Cristiano Ronaldo of Portugal. Akinfeev has so much history with the Russian national team since making his debut at the age of 18 in 2004, and being supremely instrumental in Russia's run to the Semi-Finals at EURO 2008.
Not to mention, he's spent his whole career at CSKA Moscow making 369 appearances and leading that team to numerous Russian Premier League titles. He is the rock the team is built around. The man with over 200 career clean sheets looks to do the same for the hosts.
X-Factor: Fyodor (Fedor) Smolov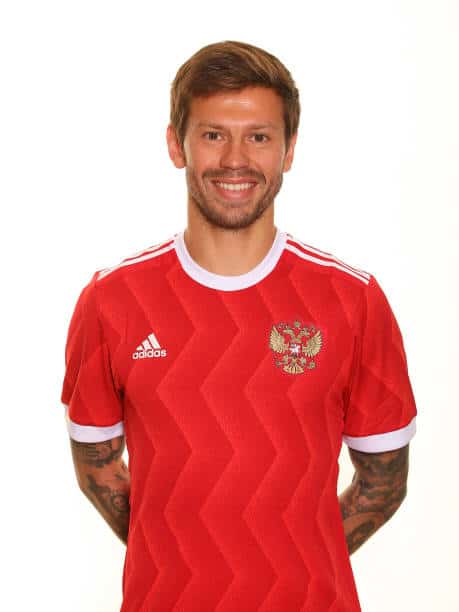 Another player to watch is striker Fyodor Smolov, as he leads the attack game for Russia. Smolov is 27-years-old, and has 21 caps for the Russians. He's tallied seven goals. The former Russian Premier League top scorer (Krasnodar), recently scored one of the goals in the 3-0 win against Hungary on June 5. Not to mention, netting 38 goals in two seasons at Krasnodar, including 18 this season. So, Smolov comes into the tournament very much in fine form.
What Could Happen
If the Russians want to have a successful Confederations Cup, experience is needed. The Russians have a young team, but that's also not necessarily a bad thing. Fresh legs are common among younger players, and on the defense, that will be a key factor. It's clear to see that the Russians, looking at their competition, will be playing a more defensive style.
Final Thoughts
It's clear that the competition is a great problem for the Russians at the Confederations Cup. Russia faces a tough group. Starting with New Zealand on June 17. Portugal on June 21. Finally, Mexico on June 24. With the type of strikers that Portugal and Mexico have, Akinfeev has his hands full. I believe that it will be a tight race between New Zealand and Russia for a third-place slot. However, three points against New Zealand may be all they get.
However, in the end, I don't believe the Russians have what it takes to make it past the first elimination round. Either way, it will be an interesting tournament for Russia on their home soil. At least it gives them practice for hosting the 2018 World Cup one year from now.
Rachael's Prediction: Third Place in Group A
Sean's Prediction: Third Place in Group A. Erik's Predicition: Third Place in Group A.
Be sure to check out all of our Group A previews, by selecting the name of that national team in the Final Thoughts section of each post.
HEADLINE PHOTO:
TEAM MANAGER PHOTO:
TEAM PHOTO:
PLAYER TO WATCH PHOTO:
X-FACTOR PHOTO: