The FIFA Confederations Cup 2017 marks the fourth ever appearance for the All Whites of New Zealand. But, with Australia's move to the Asian Football Confederation in 2005, there's been a lack of suitable competition on the way there. Can a bunch of amateurs prove they belong on one of the world's biggest stages?
FIFA Confederations Cup 2017 Preview: New Zealand
Introduction to the Article
The crew from Soccer 2 the MAX, Rachael McKriger, Erik Watkins and Sean Garmer divided the eight teams among themselves and have done previews for each squad ahead of the FIFA Confederations Cup 2017 tournament. They give a little about of information on their history in the tournament. Their recent form, the manager and the squad. After that, they give a Player to Watch, a X-Factor, and discuss what could happen. Finally, they give their prediction on the team's final place in the tournament. Hopefully, you enjoy our team preview articles.
FIFA Confederations Cup History
History is not kind to New Zealand at the Confederations Cup. They've appeared three previous times (1999, 2003, 2009), but have yet to finish off the bottom of the group. In fact, a scoreless draw in their final 2009 match against Iraq ended an eight-match losing streak in the tournament. Scoring wise, the All Whites have conceded 24 goals, while only scoring twice. With no goals in the last 423 minutes of Confederations Cup play.
Recent Form
New Zealand is a hard team to judge, because it doesn't play very often. After the OFC Nations Cup in June 2016, the All Whites have played a total of eight matches. They are 3-3-2 in that span. This includes a win and a draw against New Caledonia and two wins against Fiji in World Cup 2018 qualifying. While in friendlies they have not fared very well. Losing to Mexico and drawing with the United States. In preparation for this tournament, they faced Belarus and Northern Ireland in Friendlies, losing to both squads 1-0.
The Manager: Anthony Hudson
Anthony Hudson is English and actually the son of former Arsenal player and England International, Alan Hudson. Hudson took the helm of the New Zealand Senior national team in August 2014, after coaching the New Zealand U-23 squad. Hudson has won 47.1% of his matches in charge of the senior squad (8W-5D-4L). While not appearing at the top flight, Hudson did spend time in West Ham United's youth squad. His playing career spanned through three countries (England, the Netherlands, and the United States). Although, he actually only made appearances for one of those teams. Playing 10 games for a United States USL team, the Wilmington Hammerheads, as a midfielder. He'd later go on to be an assistant coach for Wilmington as well.
He became the youngest manager in the U.S. in 2008, when he took charge of the Real Maryland Monarchs. He guided the club from last place to the playoffs, but only lasted two seasons after another last place finish. Hudson also spent time as coach of the Bahrain U-23 and senior squads too.
Confederations Cup 2017 Team Roster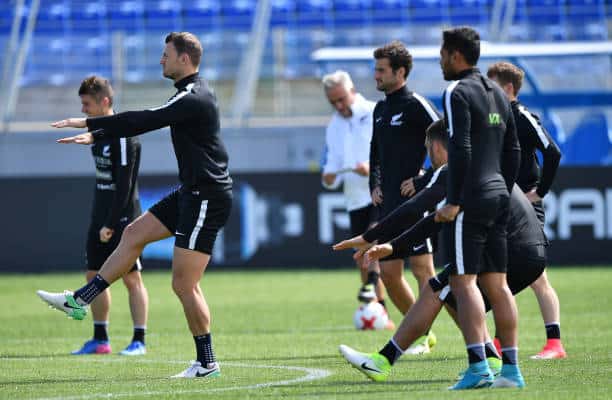 Goalkeepers – 12 Glen Moss, 1 Stefan Marinovic, 23 Tamati Williams
Defenders – 20 Tommy Smith, 5 Michael Boxall, 22 Andrew Durante, 4 Themi Tzimopoulos, 18 Kip Colvey, 3 Deklan Wynne, 2 Sam Brotherton, 21 Storm Roux, 17 Thomas Doyle, 16 Dane Ingham
Midfielders – 8 Michael McGlinchey, 11 Marco Rojas, 6 Bill Tuiloma, 14 Ryan Thomas, 15 Clayton Lewis, 19 Alex Rufer
Forwards – 10 Shane Smeltz, 9 Chris Wood, 7 Kosta Barbarouses, 13 Monty Patterson
Player to Watch: Kip Colvey
American fans may recognize Kip Colvey, as he is currently on loan from the San Jose Earthquakes to Reno 1868 FC. In a defensive-heavy roster, fans should expect him to make an appearance in a 5-4-1 formation. However, if the All Whites dare try a 4-4-2, Colvey will probably be left on the bench.
X-Factor
Hudson has been publicly critical of New Zealand Football for not arranging matches, at one point dropping the team to 161st in the FIFA rankings. Although they did participate in two warm-up matches prior to the tournament, their lack of experience as a whole. Not to mention, playing with each other could be a big reason why this team performs poorly.
What Could Happen
New Zealand could shock the world like the U.S. did in 2009 and advance out of the group. However, if recent form shows anything, they could go right back to the bottom of the tournament as minnows. It's been a year of surprises in soccer, but this may be too big of a shock.
Final Thoughts
New Zealand finished 8th in 1999. They finished 8th in 2003. They finished 8th again in 2009. See the pattern? They're up against hosts Russia, in the lone game on Saturday June 17. The only game they probably have a chance of getting anything. Then, face Mexico on June 21. Finally, NZ end things against Portugal on June 24. It's shaping up to be another long couple weeks for the All Whites in Russia.
Erik's Prediction: Last Place in Group A
Sean's Prediction: Last Place in Group A. Rachael's Prediction: Last Place in Group A.
Be sure to check out all of our Group A previews, by selecting the name of that national team in the Final Thoughts section of each post.
MAIN PHOTO:
TEAM MANAGER PHOTO:
TEAM PHOTO:
PLAYER TO WATCH PHOTO: