Lucha Underground S03E05 "The Prince and The Monster" Review
Location: Boyle Heights, California inside The Temple
Lucha Underground Review 10.05.16
We open with the usual swank video package that recaps the previous events of the season. It goes over the history of Dario's Dial of Doom, Vampiro telling Prince Puma he needs to beat Mil Muertes, Catrina killing Sinestro de la Muerte and giving his soul to Mil, and the start of the best of five series between Cage and Texano for an "Ultimate" Opportunity.
Dario comes out next to his Dial of Doom. Dario explains the concept once again, gives it a spin, and it lands on… Prince Puma! DIOS MIO! Dario then tells us all it won't be problem, because Puma will just be another causality that falls at the hands of his brother. He then tosses the mic at the camera.
One on One!
Ivelisse vs. Mariposa w/ Marty The Moth Martinez
Winner: Ivelisse via Sunset Flip Powerbomb
What really bugs me most about this is that this is the first time we've seen Ivelisse since she's laid down the challenge against Catrina for Ultima Lucha Tres. We get some grappling to open, and then Ivelisse starts breaking out the lucha libre. Marty trips Ivelisse up, and Mariposa takes advantage. Maripose locks in a pretty sick Condo Clutch after a lifeless pinfall attempt.
Marty gets involved by attempting to kiss Ivelisse, but he gets slapped for his trouble. He also wants her to tell him that she loves him. Welp, clearly we're building something up here. Still, that's not an excuse for how lifeless and sloppy this match has been. Maripose gets caught going for the Air Raid Crash aka The Butterfly Effect one time many, which eventually does her in. Jeepers mister, that was… boring. Post-match, Marty beats Ivelisse down, and Mariposa eventually joins in. * and ½ *
We cut to Dario's office. He's on the phone, assuaging some fears from somebody when a knock comes to his door. Johnny Mundo comes in, and complains about Prince Puma getting the title match tonight. Dario says it was fate that Puma got the title shot, and Mundo isn't a fan of that. Mundo changes tactics, and wants a Gift of the Gods Title shot, as Sexy Star lost the atomicos match last week. Dario says he's right, but Jack Evans was the one who pinned her, so he gets the title shot! Dario, you wonderful dick you!
We get a video package where we are told to "Follow The White Rabbit", and that they will be coming soon.
Match 2 in the Best of 5 Series
Cage vs. Texano
Winner: Cage via Luchadore Destroyer (F-5)
These guys pull a complete 180 from their last match with this one. Texano comes charging forward at the bell because he knows he's down one to nothing. The two exchange some huge hits, and have a good brawl on the outside. I go back and forth about how I want this one to go. Best of anything series usually make it down to the last match, but you did that Drago and Aerostar in the first one. I'd kind of like to see Cage sweep the thing, but I think Texano needs at least one win so he doesn't look like a joke. Texano hits an awesome Ushigoroshi that gets him a near fall. Cage one ups him with a sit-out Alabama Slam for his own near fall! Cage catches Texano on the apron, suplexes him into the ring, and puts him away from there. Terrific match-up there. ***
Sami Callihan shows up backstage to get his ticket from his girlfriend, Ivelisse. He wants to jump to her defense after Ivelisse tells him she got beat down after she won. Ivelisse wants to keep her personal and professional life separate. "Jeremiah", as Ivelisse calls him, wants to crack some heads too, but Ivelisse won't budge. She wants to go home, he takes a drink from a flask, and Ivelisse resigns herself to driving home.
Lucha Underground Title Main Event!
Matanza Cueto w/ Dario Cueto defends against Prince Puma
Winner and STILL Lucha Underground Champion: Matanza Cueto via Wrath of the Gods
Puma gets ahead quick using his quickness before it spills to the outside, where Matanza takes advantage. He damn near slaughters the Prince by tossing him around into the guardrails a couple of times. Vampiro does a dynamite job of hyping up his own thing with Puma. He talks often about how Puma needs to evolve his game past what he usually does, and how taking this match against Matanza was a mistake without getting his ducks in a row first with Mil. Matanza continues to dominate, but Puma shows some signs of life after Matanza misses a splash in the corner.
Puma hits a beautiful northern lights suplex, and then dead lifts him right back up afterward with a fisherman suplex for a near fall! Matanza swings the match in his favor, but Puma reverses out of Wrath of the Gods, and nails a DDT! He clocks him with a kick, a big knee, and a spin kick to topple him near the turnbuckle. 630 SPLASH! BUT HERE COMES MIL MUERTES, WHO RUNS HIM RIGHT THE HELL OVER WITH A SPEAR!!! Dario screams at the referee to not call for the DQ, Mil hits the Flatliner, and Matanza polishes Puma off from there. Incredible main event, with all the right build for Puma & Mil. *** and ¾ *
Killshot is pumping some iron backstage, when Joey Ryan shows up with an envelope. Joey says some guy outside The Temple gave it to him, and when Killshot digs for more information, Joey has none ("What am I? A detective?"). Killshot opens the envelope to reveal…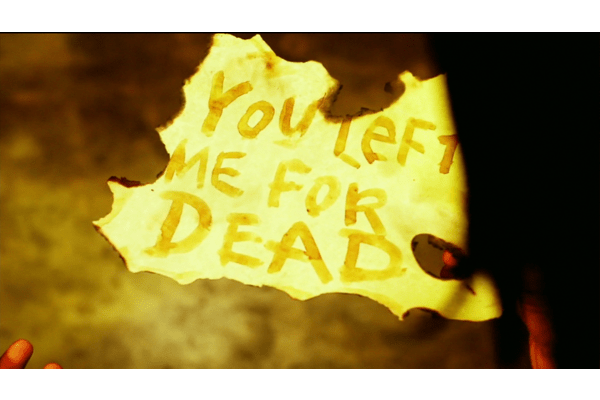 Safe to say that Killshot's doomed.
Overall Rating: 7 out of 10 Outside of a lackluster opening match, this episode was awesome. The main event, and Cage/Texano deliver in spades. The backstage segments create a whole ton of intrigue, especially the Killshot deal, who I'm super invested in since the Weapons of Mass Destruction match. It's so nice to see Lucha Underground delivering again after a couple of rough weeks.