Mae Young Classic Preview Part 1: Dakota Kai to Kairi Sane
Kay Lee Ray
This fiery redhead from Glasgow always excites when she's in the ring. Her high-flying ways have wow'd fans all over the world. While small in stature, KLR stands at 10 feet 9 inches in personality and flashiness. Yet, she can adapt to any style when called upon. While best known as a high flyer, don't be surprised if she breaks out some ground work, and finishes her opponents off with a gory bomb. Just… hide the honey jack.
Kairi Sane
The undisputed favorite for the tournament, and with good reason. After dominating in Japan, she sets her sights on America. What better way to prove a point than by winning the biggest tournament ever? With pure all-around ability, and one of the best elbow drops in the business, expect to see Kairi in Las Vegas and on TV very quickly.
Shayna Baszler
A relative newcomer to wrestling after a career in MMA, Baszler has adapted to wrestling insanely quickly. Originally, she was a member of MMA's Four Horsewomen. Now, she has adapted to become a champion around the world by racking up the AIW women's championship, and the shield in NHPW's Global Conflict tournament. The Submission Magician will look the pound her opponents into submission, and make everyone bow down to the Queen of Spades.
Dakota Kai
Possibly a dark horse pick. When WWE made a huge splash by making 4 huge female signings late last year, I said I thought Evie was the most well-rounded, and I hold to that, still. She's held titles on 3 different continents (PWWA in Australia, Shimmer Tag Title in America, Stardom Trios Title in Japan), so she holds a pedigree as a champion. She can absolutely go far with the right pairings.
Tessa Blanchard
Talk about having an insane upbringing. If the last name sounds familiar, it should. Daughter of Tully Blanchard, and Stepdaughter of Magnum TA, Tessa has fought as hard as she could to step out of the light, and forge her own path. Currently, she holds the Shimmer tag team champions (with Vanessa Kraven, as of writing). Tessa continues to prove herself against both men and women in companies like Beyond and Wrestlecircus.
Abbey Laith
The former Kimber Lee has made a name for herself over the past year and a half. From taking an insane beating from Chris Dickinson in Beyond, to winning the Grand Championship in Chikara, Abbey has done a little of everything. The former SHIMMER Tag Team champion's name change makes me think there's big things ahead of her in this tournament, and her time in the WWE. Don't be surprised if she finds herself in Las Vegas in September.
Mercedes Martinez
It feels like every tournament needs to have that one grizzled veteran looking for one more go at the big one. Thing is… after a 2 year hiatus, Mercedes may be better than she ever has. The current WSU and SHIMMER Champion came back from her break having not lost a step. She's gone everywhere else she could, and has won everywhere she could, including Australia, Canada, and multiple other countries. While age may not be on her side, it hasn't stopped Mercedes from still being one of the best in the business right now.
Mia Yim
You have to think big things are in store for Mia. After conquering Impact Wrestling and winning their championship, the War Queen sets her sights on a new target. Yim throws some of the best strikes today, which will certainly help her along the way. The former Shine champion will look to "put a nail in it" when it comes to her opponents.
Serena Deeb
SURPRISE! She had been rumored to be making an appearance, but to actually see her was a surprise to many. The former WWE Diva and Shimmer star comes back to the ring possibly a little rusty, having not wrestled in quite some time. However, she has the WWE experience, and a name to bring legitimacy to the tournament. Maybe not a favorite to win, but to some, a sentimental pick, no doubt.
Nicole Savoy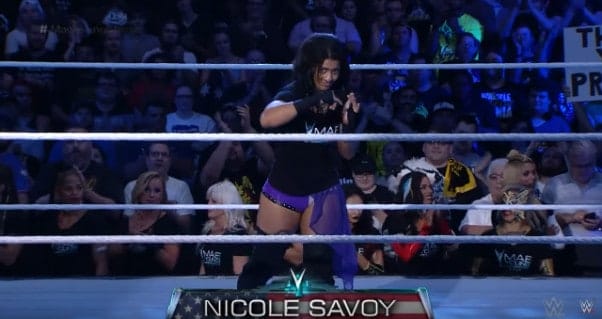 When the tournament was first rumored early last year, many thought this was tailor-made for Nicole Savoy. The AWS women's champion has become a rising star over the past 2 years. The one drawback is her coming back from ACL injury, (Shimmer 92-95 the weekend prior to tapings was her return), and how that will affect her. She's young, brash, and REALLY damn good in her short time in the ring. Do NOT sleep on the Queen of Suplexes. She was the first ever Heart of Shimmer champion for a reason.
Jazzy Gabert
Being one of the biggest and strongest competitors in the tournament, you could say that Gabert is the Alpha Female. With tours in Japan and the US, along with a 1-0 MMA record, Gabert brings an unmatched intensity to the tournament. She also brings unmatched strength, being able to go toe to toe with the guys, and more than hold her own. Expect her to represent her country proudly in her showing for the Mae Young Classic.
Ayesha Raymond
England's only representative comes in the form of big, tough, badass Ayesha Raymond. Known for her strength, similar to Jazzy Gabert, Raymond has towered over a majority of her opponents all over England. And, she's familiar with several others in the WWE, including Nikki Cross, Kay Lee Ray, and others. Raymond will have to use her power to her advantage as she moves on further into the tournament if she wants to win in the end.
Bianca Belair
The Knoxville, Tennessee native comes in with something to prove, as she's still relatively new to the WWE. A former powerlifter, strength is on her side, while her size isn't, at only 5 foot 7. Having only signed to the WWE in April 2016, Belair doesn't have the experience many others in the tournament have. But, that could play to her advantage, going in with reckless abandon. It'll be interesting to see how the young star adapts against opponents of a higher caliber.

Marti Belle
Don't let the arrogance fool you. This veteran has experience on her side, and isn't afraid to take advantage of a situation that plays to her favor. That hairspray isn't just for her looks, as much as she focuses on them. Belle can grapple and fight with the best of them, and can get down and dirty in the trenches if the need arises.

Piper Niven
Don't let her size and the baby face fool you. Piper honed her skills in Shimmer and Stardom, where she is the Artist of Stardom Champion as of writing. She can wrestle with almost anyone, young or experienced. While her size may come into question (it already has), she can more than hold her own in a tournament like this.

Princesa Sugehit
An over 20 year veteran, Sugehit is one of the most experienced wrestlers in the field. A legend in Mexico, winning titles in CMLL and Lucha Libre Feminil, Sugehit also holds an undefeated record in Luchas de Apuestas matches. Sugehit is used to high pressure situations, and overcoming them with the Frankensteiner and Sugehit Driver. Look for her to go far in the tournament.