New Japan Pro-Wrestling: W2Mnet NJPW Wrestle Kingdom 11 Preview
A professional wrestling staple since 1992, the New Japan Pro-Wrestling January 4 Tokyo Dome Show is its biggest event of the year. Although it occurs at the start of the New Year, it is more of a bookend for New Japan's storylines from the previous year. An event that began as a joint Supershow between NJPW and World Championship Wrestling called Super Warriors in Tokyo Dome, has grown to become probably the second biggest show in all of wrestling behind WWE's Wrestlemania. NJPW as a company may have had a tumultuous life span, but its one constant for 25 years has been January 4's Dome Show.
New Japan didn't officially adopt the moniker Wrestle Kingdom until 2007, before that it went through several name changes, with the most used being that of Wrestling World. Since then, NJPW stuck with Wrestle Kingdom and gave it a roman numeral or number next to the name. Being its biggest event, Wrestle Kingdom is usually also NJPW's longest show of the year as far as running time. Many times going over four or five hours, but this is so that the wrestlers and matches have time to tell tremendous stories that wind up as some of the most talked about encounters of the entire year.
NJPW looks to try to top the fantastic Wrestle Kingdom 10 with perhaps its deepest card in a long time. Usually there's three top quality matches on paper, this show has four potential Match of the Year candidate bouts. Then, the undercard fills out the show with three more title matches. The debut of an American Nightmare, the RAMBO, and even a special match to celebrate the Tiger Mask W anime.
However, as mentioned previously, what people will be talking about after the show is the top four matches. Junior Division ACE KUSHIDA takes on the returning Hiromu Takahashi. While old friends battle once again, this time for the NEVER Openweight Championship as Katsuyori Shibata defends against Hirooki Goto. The 2016 NJPW MVP Tetsuya Naito and the longtime former Heavyweight ACE Hiroshi Tanahashi for the IWGP Intercontinental Championship. Finally, a main event that promises an epic confrontation. Current ACE Kazuchika Okada puts the IWGP Heavyweight Championship on the line against NJPW G1 Climax 26 winner Kenny Omega.
You can watch the show live on NJPW World, New Japan's streaming service for about $9 USD starting at 3 AM ET, or watch later on-demand. Either way, this is certainly an event you don't want to miss. – Sean Garmer
An Introduction to the Article
As someone that has quite a bit of experience doing these roundtable type articles, I wanted to do this a bit differently than some others. Instead of everyone participating all give thoughts on each match, I felt it better to assign a few matches to each person. Since this is a huge show, each staff member received multiple matches. Then, each of them make a case for each wrestler winning said match. Then, give their thoughts on the match itself, and finally predict a winner. This continues until the end of the article, when everyone gathers to give their overall thoughts on the event. – Sean Garmer
W2Mnet Staff
Sean Garmer, Editor-in-Chief, Co-Host of Wrestling 2 the MAX, has watched New Japan regularly since 2015
Paul Leazar, W2Mnet Wrestling Dept. Head, Co-Host of Wrestling 2 the MAX, has watched New Japan regularly since 2008
Angel Gonzalez, W2Mnet Wrestling & Games Contributor, has watched New Japan regularly since 2014
Jeff Sugg, W2Mnet Wrestling & Football Contributor, has watched New Japan regularly since 1991
Tom Reese, W2Mnet Wrestling Contributor, has watched New Japan regularly since 1984
Glenn Smith, W2Mnet Wrestling Contributor, has watched New Japan regularly since 2015
Match 0: 2016 New Japan RAMBO
Man, how do you predict something like this. It's usually just some pre-show fun with some surprise entrants from wrestling's past. For example, we know former IWGP Heavyweight Champion, Scott Norton, will be participating this year along with the already announced Yuji Nagata, Hiroyoshi Tenzan, Manubu Nakanishi, Jushin Thunder Liger, Tiger Mask IV, and Ryusuke Taguchi. It's also done Royal Rumble style. I'll say Tenzan gets the win, but you can never really predict this match, or who will win, as it's a wide open field. – Paul Leazar
Winner: Hiroyoshi Tenzan
This is a pre-show match that has become a tradition for Wrestle Kingdom. It's basically a Royal Rumble style match designed to get everyone on the show and to bring out some old timers for nostalgia. Match quality is not important here. It's just meant to be fun and entertaining. As for who will win is anyone's guess. Last year, it was a surprise with Jado winning. Minoru Suzuki seems to a popular pick although I wouldn't expect to see him until New Year's Dash on the 5th. – Tom Reese
Winner: Minoru Suzuki
I quite enjoy the RAMBO each time New Japan has done the match. It's such a fun thing to have on the pre-show. While WWE does a similar thing at their Wrestlemania show as well, this isn't as serious. People in the match can either pin, submit, or throw their opponent over-the-top to eliminate them. They have a nice list of NJPW old guard already confirmed for the match. Then, throw-in a random assortment of men from potential Suzuki-Gun members, to a returning Michael Elgin and some old favorites like the Great Kabuki.
The RAMBO has a special charm to it, which gives the early proceedings of such a magnanimous event a bit of little hearted respite for viewers. Especially those on the east coast, who are up at 2 AM ET preparing for a five hour extravaganza. Michael Elgin returned to wrestling just recently after an orbital bone fracture. If he's in this match, he's going to win. Don't think you bring him back just to lose here. – Sean Garmer
Winner: Michael Elgin
Other Staff members predictions: Jeff and Angel: Yuji Nagata
Match 1: In Celebration of the Tiger Mask W Anime
Tiger Mask W (Possibly Kota Ibushi) vs. Tiger The Dark (Possibly ACH)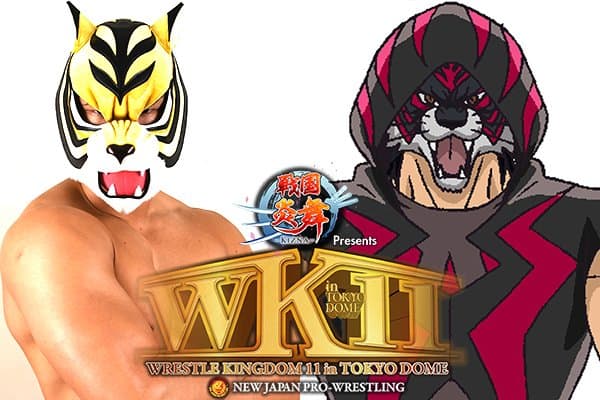 This is a fun match set up to market and promote the Tiger Mask W anime. In the show, Tiger Mask W and Tiger the Dark both trained under Daisuke, Tiger the Dark's father. After his demise at the hands of Yellow Jacket and the Tiger Den group, they both swore to get revenge. While Tiger Mask W trained underground, Tiger The Dark joined the Tiger Den group to defeat them from within. Years later these two close friends will be across from each other in a NJPW ring. What will happen? Will Tiger the Dark do whatever it takes to maintain his cover? Will our hero Tiger Mask W, defeat him to save Tiger the Dark from himself?
There is no confirmation on who will be donning the masks? Rumors say Tiger Mask W character will be played by Kota Ibushi. The rumors stem from Tiger Mask W's first match at the King of Pro-Wrestling 2016 event. He was a doing bunch of Kota Ibushi's moves such as the Golden Triangle Moonsault and the Golden Star Powerbomb. It is also rumored Ring of Honor Alumni ACH will be playing the Tiger the Dark role. If that is the case, this should be a high flying breathtaking match. I don't see Tiger Mask W losing this match. He is the star of the show and they are going to make him look like a million bucks. – Angel Gonzalez
Winner: Tiger Mask W
In anime standards, Tiger Mask W was one of the best of the season. Perhaps it didn't quite match the buzz of the first Tiger Mask anime, but it was great to see wrestling represented in this form once again. Especially, featuring big New Japan wrestlers like Kazuchika Okada, Hiroshi Tanahashi, and even Yuji Nagata playing the role of New Japan President. Considering who's rumored to be the under the masks for this match, we should expected a fun and briskly paced affair with each combatant hitting some wonderful high flying moves. This the one match where the opposing side winning is not in doubt, not even in the slightest. So, there's no need to present that side of the argument. Tiger Mask W is winning this and the world awaits to see if he gets involved at all during the rest of the show. – Sean Garmer
Winner: Tiger Mask
Other Staff Member predictions: Everyone else also picked Tiger Mask W
IWGP Junior Tag Team Championship Match
(Champions) Young Bucks (Bullet Club) vs. Roppongi Vice (CHAOS)
These two teams know each other very well. Roppongi Vice defeated the Young Bucks for the IWGP Junior Heavyweight Tag Team belts at Invasion Attack 2015. A month later the Young Bucks regained the titles on Wrestling Dontaku 2015. In 2016, Roppongi Vice was one of the three other teams the Young Bucks defeated to gain the IWGP Junior Heavyweight Tag Team for the record 5th time in a a four-way elimination match at Dominion 6.19.
What if Roppongi Vice wins
Since that heart breaking lost, NJPW has teased the break up of Roppongi Vice. I personally thought they would have been broken up by now. I was surprised when Roppongi Vice won 2016 Super Jr. Tag Tournament. This guaranteed them a shot at the IWGP Junior Heavyweight Tag Team Championship at Wrestle Kingdom 11. If they win, it's because Beretta and Rocky Romero are finally back on the same page. The Young Bucks are a tough team to beat, but Roppongi Vice finally deserve a win. Although they are two time champions, they have only held the belts for a total of 51 days, third lowest in NJPW history. This match is make or break for them. If they lose, it could very well be the end of Roppongi Vice, as we know it.
What if Young Bucks wins
What will happen If the Young Bucks win? Nothing really. They are already established as the number one tag team in the world. They are also the PWG and ROH World Tag Team Champions. So winning this match will just be another day at the office for the Young Bucks.
The Match Winner
I believe Roppongi Vice will win. In my opinion they have the more interesting storyline going in. Not only that but they have a lot more to lose in the match. I fully expect Rocky Romero to get the win for the team thus redeeming himself to his tag partner. – Angel Gonzalez
Winner AND NEW CHAMPIONS: Roppongi Vice
The Young Bucks are a staple of WK's of late, and with a fresh NJ/ROH contract in their hands, they get a showcase bout against RPG Vice. The Jackson's ability to thrive in the chaos, bad pun intended, and offensive arsenal make them a tough out. Especially, on such a big stage. If Romero and Beretta have not put aside their differences of late, they have little chance. Or has it all been a ruse to throw the Bucks off their game? – Jeff Sugg
Winners AND STILL CHAMPIONS: Young Bucks
Other Staff Member Predictions: Paul: Young Bucks. Sean, Glenn & Tom: RPG Vice
Match 3: NEVER Openweight Six Man Tag Team Championship Match
Four Way Gauntlet Match: (Champions) Satoshi Kojima, David Finlay Jr., Ricochet vs Team LIJ: SANADA, BUSHI, EVIL vs. Team CHAOS: Will Ospreay, YOSHI-HASHI, Jado vs. Team Bullet Club: Yujiro, Bad Luck Fale & Hangman Page
The removal of Tomohiro Ishii makes the NEVER gauntlet feel more predictable, but each team offers an interesting direction for the straps towards a New Beginning. EVIL, SANADA, BUSHI seem to be the clear favorites in the bout. Los Ingobernables de Japon are the hottest act, and are over in Tokyo. They also offer the most diverse attacks of any team in the bout. The Bullet Club's Fale, Yujiro, and Hangman Page seemingly offer the biggest threat to L.I.J. Fale is always a serious threat, and the Hangman seems to be ready to make some midcard noise. Along with the shine of Yujiro, they could prove a formidable threat.
What about the champs? Satoshi Kojima is no stranger to the big stage, where as this is likely the biggest match of David Finlay's life. Ricochet is a favorite and the most athletic man in the match. The champs offer a unique puzzle to solve for their opponents. Chaos' entry to the bout has the veteran savvy of Jado, the exuberance and athleticism of Will Ospreay, and the cunning of YOSHI-HASHI. It's always difficult to discount YH coming off the biggest year of his career. – Jeff Sugg
Winners AND NEW CHAMPIONS: SANADA, BUSHI, EVIL
Jeff is totally right about the removal of Ishii giving us an easier prediction for this match. It seems rather fitting for L.I.J. to get something out of the biggest show of the year. After all, they sell some serious merchandise. Let's be honest, it is quite surprising that Kojima, Finlay & Ricochet have held the belts this long, considering they started out as mere props that changed hands quite often. If you look at the roots of the belt, almost anyone has a chance to win this match. New Japan also hasn't really given us the rules for this either.
The term Gauntlet Match usually infers that this is more like three matches in one. Sometimes we've seen matches like this, where the champions actually defend their belts in each match. There's also the possibility that the champions are left for last. I'll go with the former here and say that it comes down to the champs and Team L.I.J. The numbers game disintegrates the individuals one by one and it comes down to Kojima and SANADA. SANADA gets the tap out and the win. – Sean Garmer
Winners AND NEW CHAMPIONS: SANADA, BUSHI, EVIL
Other Staff Member Predictions: Glenn: Bullet Club. Angel, Tom, Paul: Team L.I.J.
Match 4: Special Singles Match
"The American Nightmare" Cody Rhodes (Bullet Club) vs. Juice Robinson
Now this is a match worth keeping an eye on for a couple of reasons:
1. The New Japan debut of The American Nightmare Cody Rhodes.
2. Juice Robinson wrestles the son of the man that helped mentor him in NXT.
Both men should be motivated here, as this match could establish where The Grandson of A Plumber stands in The Bullet Club. Juice also gets a chance to prove to New Japan brass why they should take a chance on him. However, this match is meant to get Cody momentum. Not to mention, to boost him along the path of being a potential title challenger for the IC, NEVER, or even the IWGP Heavyweight Title. – Glenn Smith
Winner: Cody Rhodes
This could be that sneaky good match on the undercard. I know a lot of people have been down on Cody joining New Japan, and being put in the Bullet Club. However, I think he could do really well with New Japan, even if it's only on a part-time basis. We've all seen how well Juice has taken to the style, and has been a terrific addition to the Young Lion ranks. Juice getting the victory here would be a huge surprise, but it would only be to add some shock value to the proceedings. However, I think Cody wins here. You have to establish him, and a win does that. Although, that doesn't mean this match can't be Juice's coming out party. – Paul Leazar
Winner: Cody Rhodes
Other Staff Member Predictions: Everyone else picked: Cody Rhodes
Match 5: ROH World Championship Match
(Champion) Kyle O' Reilly vs. Adam Cole (Bullet Club)
Well, this match has become much more interesting in light of a lot of news that's been going around about the contracts in Ring of Honor. Kyle's contract finished up on the 31st, and he's working without one now. Adam Cole's will be up in April, and he may or may not be WWE bound. Who knows how this will go? Does ROH play this safe and move the title back to somebody who they know they have for sure? Or do they leave it on the guy they spent all of 2016 building up into their next big star? I'd wager they let Kyle win here. If he signs with anybody, it'll be New Japan, and I'd wager they'd want him to look good here. – Paul Leazar
Winner and STILL CHAMPION: Kyle O' Reilly
This will be the second time in history that the ROH World Championship will be defended at the Tokyo Dome. Kyle O' Reilly gets his first title defense against Adam Cole in biggest match of their careers, based on size of the arena. I think Kyle retains. Since the match is overseas, I personally can't see ROH letting their World Title be lost in a match that isn't on an ROH show. Although, it isn't unprecedented for an ROH title to change hands on a Non-ROH show. Case in point, Roderick Strong losing his ROH Television Title to Tomohiro Ishii at the 2016 Honor Rising show. So, the ending is really in doubt here. – Glenn Smith
Winner AND STILL CHAMPION: Kyle O' Reilly
Other Staff Member Predictions: Sean and Tom: Adam Cole. Jeff & Angel: Kyle O' Reilly.
Match 6: IWGP Tag Team Championship Match
Three Way Match: (Champions) Guerrillas of Destiny (Tama Tonga & Tonga Roa) (Bullet Club) vs. (2016 World Tag League Winners) Tomoaki Honma & Togi Makabe (Great Bash Heel) vs. Tomohiro Ishii & Toru Yano (CHAOS)
The defending IWGP Heavyweight Tag Team Champions, the Guerrillas of Destiny look to rebound from their loss in the World Tag League final and set themselves up for a bigger, better 2017. But the popular, two time tag league champions, Togi Makabe and Tomoaki Honma have all the momentum and are the crowd favorites heading into the bout.
The late addition of Toru Yano and Ishii seems to be a real monkey wrench, though. Ishii is always a serious threat and contender to any title, at any time, and with any partner. Yano and his antics are just returning to the New Japan ring and could serve as the curve ball that Gedo enjoys throwing as NJ heads to its New Beginning. – Jeff Sugg
Winners AND NEW CHAMPIONS: Great Bash Heel
Team G.O.D improved as 2016 progressed. They left a lasting impression at the end of the Tag League Finals with a great match against GBH in a losing effort. For a little while, we thought both teams would try their best to outdo that match at Wrestle Kingdom. However, Gedo through a wrench in the plans and added a bit of salt and pepper to the match. In the form of Ishii and Yano. Ishii provides a great wrestler and someone that is going to sell like crazy. While Yano brings some comedy that can make this match fun and keep the crowd engaged in a match that could either go on before or after intermission. For a great while, the champion doesn't walk out of WK with the belts. I don't think Ishii and Yano get added, if they aren't winning. Let's go with Team CHAOS. – Sean Garmer
Winners AND NEW CHAMPIONS: Tomohiro Ishii & Toru Yano
Other Staff Members Predictions Tom: GBH Paul, Angel, Glenn: G.O.D.
Match 7: IWGP Junior Heavyweight Championship Match
(Champion) KUSHIDA vs. Hiromu Takahashi (Los Ingobernables de Japon)
The IWGP Junior Heavyweight Championship. One of the most respected straps in all the world of wrestling is set up for a huge showcase on Japan's biggest stage. The returning, dynamic Hiromu Takahashi looks to wrest the title from the grips of KUSHIDA. There is a great chance that these two names are on the lips of everyone at the conclusion of Wrestle Kingdom, which is something that KUSHIDA craves. KUSHIDA's grappling ability and wrestling know how can prove to be an effective deterrent to the chaotic style offered by Takahashi. But Hiromu promises to be the toughest puzzle of KUSHIDA's reign. And with the momentum of L.I.J, Takahashi might just be unsolvable. – Jeff Sugg
Winner AND NEW CHAMPION: Hiromu Takahashi
Takahashi returned to NJPW a couple of months ago after making a name for himself as Kamaitachi in Mexico's CMLL promotion. A talented and fearless worker. He joined ranks with Tetsuya Naito and L.I.J. That puts him with elite company as L.I.J is probably the hottest group in the entire business. KUSHIDA has established himself as the ACE of the junior heavyweight division and multiple time IWGP Jr Heavyweight champion.
These two will undoubtedly pull out all the stops and put on a great performance. However, they have the huge task of being junior heavyweights in the Dome. Historically, the junior heavyweight matches, no matter how good they are, don't translate well at the Tokyo Dome. The size of the building makes it hard for crowd noise to come across well on TV. So unless the crowd is super into the match it may come across a little flat. I do predict a fantastic performance by both.
Especially Takahashi as this will be the biggest match of his career and he'll undoubtedly pull out some insane spots. The result is a tough guess. This is probably just the first match in a long program. That would indicate Takahashi winning to set up a rematch. However, I'm going with KUSHIDA here, but the story of the match will be the performance of Takahashi. – Tom Reese
Winner AND STILL CHAMPION: KUSHIDA
Other Staff Members Predictions Sean: KUSHIDA Paul, Glenn, Angel: Takahashi
Match 8: NEVER Openweight Championship Match
(Champion) Katsuyori Shibata vs. Hirooki Goto
Well, folks welcome to the NEVER Openweight Title preview or as I call it The legalized murder Championship, where super Strong Style takes center stage and where chops and the hardest of strikes lead the symphony of suffering.
Now the backstory of this match is that you have two dudes who were buddies in high school, both a part of the wrestling team for said high school as well. Just two years ago were the winners of The World Tag League and then would go on to win the Tag Titles at Wrestle Kingdom 9. Since they lost those titles, Shibata would win the NEVER title three times and Goto won the Intercontinental title and would be the runner up of the G1 Climax 26 tournament.
Get ready to feel pain coming through your screen watching this match. Where the sounds of strikes and the crashes on the mat will put these words into lyrics of The Sounds of Violence as one Mauro Ranallo would put it.
Here are three scenarios for this match.
Scenario one: Shibata Wins. Mainly, because most New Japan fans know that Goto just can't seem to win, when it counts. He's a bridesmaid and never the bride. He has won things recently, but Shibata is always 1 PK away from knocking you the F*** Out and getting the pin
Scenario Two: Goto miraculosly wins. Especially, given that they've known each other for such a long time. He knows how to exploit the few flaws that exist in Shibata's style and arsenal
Scenario Three: Referee Stoppage. THROW IN THE DAMN TOWEL. BAH GAWD THAT MAN HAS A FAMILY. – Glenn Smith
Winner AND STILL CHAMPION: Katsuyori Shibata
Man, Shibata closed out 2016 strong. While Goto struggled throughout most of 2017. These guys have a lot of history as a tag team, and had some wars for the ages against each other as well. This title match is happening sort of out of the blue, as Goto hadn't really done all that much to earn the title shot. However, he could fit well as the resident "tough guy" champion, while New Japan moves Shibata up to feud with Naito for the Intercontinental Title. Perhaps, even contend for the Heavyweight Title. I'm gonna play this prediction safe, and say Shibata retains, only to drop it some time in February or March so Shibata gets the big win on the big stage. – Paul Leazar
Winner AND STILL CHAMPION: Katsuyori Shibata
Other Staff Members Predictions: Sean and Tom: Shibata. Angel & Jeff: Goto.
Match 9: IWGP Intercontinental Championship Match
(Champion) Tetsuya Naito (Los Ingobernables de Japon) vs. Hiroshi Tanahashi
This is for Naito's IC title. It seems kind of surreal seeing Tanahashi not in the main event spot at the Tokyo Dome as he's main evented each year since 2011. You could say he's Mr. Tokyo Dome. His time as the top guy is winding down. But when it comes to big matches on big shows Hiroshi Tanahashi is the best of this generation. Naito looks to build on his success from 2016 where he briefly held the IWGP title and led the hottest act in wrestling, Los Ingobernables de Japon. After years of being rejected by fans as a top act, he's now a true superstar. L.I.J merchandise has become a hot item in Japan greatly outselling Bullet Club sales.
This is a huge match for Naito. He holds a big win over Tanahashi in the Finals of G1 in 2013. A win that was supposed to put him in the main event spot at the Tokyo Dome in 2014 against Kazuchika Okada for the IWGP title. The fans however vehemently rejected that idea and a fan vote was held to determine the main event. Hiroshi Tanahashi vs. Shinsuke Nakamura won the vote and was the main event. Naito and Okada went out and put on a classic match.
Now, in 2017 with a new gimmick, Tetsuya Naito is one of the biggest stars in wrestling. Tanahashi is coming off a year in which he missed significant time due to a bad shoulder injury. But he somehow managed to put on great performances during last year's G1, even though he's clearly not 100%. I predict a Naito victory here in a strong match with Tanahashi working his magic one more time to put Naito over. – Tom Reese
Winner AND STILL CHAMPION: Tetsuya Naito
It has been amazing watching Hiroshi Tanahashi just putting on this incredible series of great matches year after year. Sure, he has his periods where he takes it easy or last year, he suffered an injury that kept him out for a bit. However, when Tanahashi is called upon, he delivers time and time again. The man is driven to put on a tremendous performance. He's not the ACE for nothing. Tetsuya Naito's 2016 was a great continuation of his new character and the expansion of L.I.J. led to some interesting things for the company.
Naito delievered in almost everything he touched last year. Whether it was selling loads of merchandise, or continually putting on a show in tag team matches with his comrades. It really has been nice to see his ascension to the top of NJPW happen before our eyes. After years of just toiling in the mid-card, before and after his failed push.
These two have history and it will be interesting to see how much of that history comes up in this match itself. Tanahashi is known for call back spots in matches and I'd expect this to be no different. Both men also wrestle a similar style of working on a leg and trying to wear down their opponent in big matches. Will either man change their style to attempt to gain an advantage? Or is this going to be a battle of who withstands the pain the longest?
Let's be honest, New Japan likes to change things up in February with their titles, so what happens here may not be a good indicator of the future. It is quite possible Tanahashi could win and setup a rematch down the line, or Naito just flat out retains and he moves on to someone else. Either way expect this match to be something we are fawning over when the show ends. – Sean Garmer
Winner and STILL CHAMPION: Tetsuya Naito
Other Staff Members Predictions: Glenn: Tanahashi. Angel, Jeff, Paul: Naito.
Match 10: IWGP Heavyweight Championship Match
(Champion) Kazuchika Okada w/ Gedo (CHAOS) vs. Kenny Omega (Bullet Club)
2016 was a big year for Kenny Omega. He overthrew AJ Styles as the Bullet Club leader. He gained both the IWGP Intercontinental and the NEVER 6-Man Tag Team championships. Most important of all he was the first Westerner and second Gaijin to win the G1 Climax. This guaranteed him a shot at Okada for the title at Wrestle Kingdom 11. Along the way, Omega has had stellar matches with Hiroshi Tanahashi, Tetsuya Naito, Hirooki Goto, and Michael Elgin just to name a few.
This will be the third Wrestle Kingdom that Kazuchika Okada is the main headliner. He has taken the baton from Tanahashi as the face of NJPW. 2016 has been a up and down year for Okada. Although he successfully defended his belt against Tanahashi at Wrestle Kingdom 10, he lost the title to Naito at Invasion Attack 2016. Since regaining the belt from the Ingobernables de Japon leader on June 19th, Okada has been unstoppable. Since Kenny Omega's G1 win, he has been a thorn on Okada's side. At Wrestle Kingdom 11, Okada seeks to finally remove that thorn.
What if Kenny Omega
If Kenny Omega wins, this will solidify his role as a top player in NJPW. Since Wrestle Kingdom 9, NJPW has been slowly expanding their presence in North America. They partnered with AXS TV to show their episodes with commentary from JR. They have increased the amount of shows with English commentary. Omega as the top dog in NJPW seems like the logical next step to get more western eyes on the product. He has proved himself to be a credible foil to the top baby faces of the company.
What if Okada wins
The Rainmaker has a lot to prove in this match. Kenny Omega appears to be in his head. Omega has gotten the better of him on many occasions since the G1. One thing I have learned since I started watching NJPW in 2014, is never count out Okada. He lives for big situations like this. There is a reason why NJPW has anointed him as the chosen one. Okada will be ready to take on Omega.
The Match Winner
The IWGP Heavyweight title has not changed hands at Wrestle Kingdom since Wrestle Kingdom V in 2011. But Kenny Omega has been doing the unthinkable as of late. This will be the show where the Leader of the Bullet Club will be standing tall over the body of the Chaos leader. I fully expect to see the wonderful Bullet Club Banner waiving tall in the Tokyo Dome – Angel Gonzalez
Winner AND NEW CHAMPION: Kenny Omega
This show is really loaded with many potentially great matches but in all honesty this is the only match that has created all the buzz. In recent years, I doubt there's been a match that has more pressure on the performers going in than this one. Okada has been established as the new face of the company after getting that elusive Dome victory over Tanahashi last year. This will be the fifth straight year he's in the IWGP title match at the Tokyo Dome. But the first, where he's not in the shadow of perennial ACE Tanahashi. The pressure is always on him and he's become one of the very best big show performers in the business.
Kenny Omega is an incredible story of believing in yourself and never giving up. Omega, a Canadian born wrestler, has taken the long road to the top spot at the Tokyo Dome. He spent time in the WWE developmental system that saw his career going nowhere fast. Believing he was better than most, he left WWE to make it on his own terms. He worked his way through the indies and eventually making a name in Japan with All Japan and the DDT promotions. But it was all as a junior heavyweight.
He was a very creative and talented worker but he was still a junior heavyweight. He won the IWGP Jr Heavyweight title, but was always making noise about wanting to work with the heavyweights and be a main eventer. This was met with mixed reactions. Tepid at best. At this point, he was part of the ever popular Bullet Club. But his comedic and goofy persona made it hard for people to take him seriously. But he continued to do it his way and never gave up.
Last year while the wrestling world was riding the high of a great Tokyo Dome show, word came that top stars AJ Styles and Shinsuke Nakamura were leaving NJPW for the WWE. Thus leaving a huge void at the top of the card. An opportunity was there and the company put the ball in the hands of Kenny Omega.
While he would continue to do his goofy routine in meaningless tag matches, he would go on to capture everyone's undivided attention with his performances in the big matches. He had big performances with Hiroshi Tanahashi and Michael Elgin in the first half of 2016. Then came the annual G1 and a star was born. He would have good to great matches throughout the G1 tournament. But on the final weekend he had arguably the greatest back to back performances ever in the B Block final against Tetsuya Naito and G1 Final against Hirooki Goto.
The Naito match being an all time classic. Omega became the first non Asian to win the tournament. At first the idea of putting a gaijin in the main event spot at the Tokyo Dome seemed risky. However, it's created an unprecedented buzz. Word is that there will be more foreign fans in attendance than ever before. Also, the ticket sales several days out have passed last year's total figure.
So this means well over 30,000 will be there for the show. Once again the pressure will be on for two guys who always rise to the occasion. I look for a completely insane atmosphere and an off the charts performance from both guys. This match can't be anything less than classic. I'm going with Kenny Omega to win the IWGP title. – Tom Reese
Winner AND NEW CHAMPION: Kenny Omega
Other Staff Members Predictions: Paul & Jeff: Okada. Sean & Glenn: Omega.
Overall Thoughts Part 1
If there's anything you can call this year's Wrestle Kingdom event, it's deep. You could have several terrific matches before you even get to the final four. On paper, this has the potential to outdo the greatness of both WK 9 and WK 10. New Japan has delivered so much in recent years, it is hard to imagine that each man is not going to go out there and try to put on a fantastic masterpiece.
New Japan has been consistent, captivating, and competitive in being at the forefront of great matches for a long while now. I expect to be calling this a "Show of the Year" contender when I'm done watching it live. I'm just excited to see how many Match of the Year contenders will come out of this event. Wrestle Kingdom has a tremendous reputation. I know these wrestlers can can top themselves again. – Sean Garmer
From top to bottom this looks to be one of the best Wrestle Kingdom's of all time. On paper, I honestly cannot find a bad match on the event. There are a lot of things I am looking forward to at Wrestle Kingdom 11. I get to see the debut of the American Nightmare Cody Rhodes in NJPW. I am excited to see what he does in NJPW. Plus, now that he is with the Bullet Club, we are finally going to see his heel persona again. Additionally, I am excited to see the Shibata vs Goto fight. This will likely be the hardest hitting match on the card. For me, the best thing of the night will be seeing Kenny Omega hopefully beating Okada for the heavyweight belt. – Angel Gonzalez
Overall Thoughts Part 2
I can't wait to watch this show. The four main events are sure to be barn burners, and the undercard might be one of the strongest New Japan has put together in a while. Wrestle Kingdom has been one of my favorite shows of the year to watch for a long time now, and this year looks like it's another can't miss installment. – Paul Leazar
This is a stacked show. Every match on the main show will be at a minimum very good. And some will be great. I've really noticed the buzz in the past week as so many Americans have descended upon Tokyo for this show. Everyone's game face will be on because it's well known that Kenny Omega has one goal and that's to put on the greatest performance ever. Looking forward to Wrestle Kingdom very much. For the NJPW fans such as myself this is better than Wrestlemania. – Tom Reese
Overall Thoughts Part 3
WK 11 is shaping up to be another entry into the long list of classic cards in New Japan's history. There is a litany of intriguing stylistic matchups, and to top it off there are as many intriguing stories looking to be finished or continued. From Ibushi and ACH under masks to the first 2 on 2 match for the Jr. Tag Titles in years, the Juniors have prime real estate on the card. Will RPG Vice find gold? Will they implode?
The debut of "the American Nightmare" promises excitement. How will Tokyo react to Cody? Does he prepare for Shibata, Goto, Ishii, and the best that New Japan has to offer? Or is this a pit stop on his world tour? How will the ROH title rematch play out? Is Cole poised for big things in Japan or is he on his way out of town? Is O'Reilly poised for genuine relevance in the NJ heavyweight divisions? Where does the ROH World Title fit on the Japanese radar?
This year's multi-person matches show us a clear mark of delineation for where the NJ titles rank. The newest titles, the NEVER Openweight 6 man titles are on the line in a four team gauntlet that appears to be set up for a L.I.J coronation ceremony. What does Yano's return to New Japan mean? Does the promotion of Ishii from NEVER gauntlet to IWGP Heavy Tag mean that Chaos will add a team to the title picture? Or is Ishii and Yano just filler in a cold, GoD/GBH rivalry?
Then, the big four. Can L.I.J cement themselves atop New Japan's gang landscape with victories in the IWGP Junior and Intercontinental title matches? Is Shibata victorious against his former partner or does Goto finally get a legit title reign? And then the big one. Can Kenny Omega, and all of his momentum derail the Ace, the champion, Kazuchika Okada? Or does Okada close the show in the Tokyo Dome with rain? – Jeff Sugg
Farewell For Now
We hope you enjoyed our New Japan Wrestle Kingdom 11 Preview. We will have a review shortly after the show ends in both written and W2M Podcast form for you to consume. Speaking of podcasts, you can listen to Sean, Paul and Gary Vaughan do an audio preview of Wrestle Kingdom 11 right here… You can also listen to them on I-Tunes, Stitcher, Google Play, Youtube and more, if you'd like to listen in more convenient formats.