A show that's once again headlined by the main three titles, also has a few nice matches in the undercard too. Can Aleister Black continue his roll against Hideo Itami? Andrade Almas faces a tough test against Johnny Gargano. However, expect Zelina Vega to be crucial in that one. While Authors of Pain defend their tag titles against SAnitY. Asuka goes another round with Asuka. Bobby Roode also tangles with Drew McIntyre too. This is the W2Mnet NXT Takeover Brooklyn 3 Preview & Predictions.
NXT Takeover Brooklyn 3 Preview & Predictions
An Introduction to the Article
As someone that has quite a bit of experience doing these roundtable type articles, I wanted to do this a bit differently than some others. Instead of having numerous people all give thoughts on each match, I felt it better to assign one match to each person. So, one of our staff members will give their thoughts on the match itself and predict a winner. This continues until the end of the article, when everyone gathers to give their overall thoughts on the event. – Sean Garmer
W2Mnet Staff
Sean Garmer, Co-Host of Wrestling 2 the MAX, W2Mnet Editor in-Chief
Paul Leazar, Co-Host of Wrestling 2 the MAX, W2Mnet Wrestling Dept. Head
Harry Broadhurst, Co-Host of Wrestling Unwrapped, W2Mnet Wrestling & Football Contributor
Glenn Smith, W2Mnet Wrestling Contributor
Johnny Wrestling Meets El Idolo
Johnny Gargano vs. Andrade "Cien" Almas w/ Zelina Vega
I don't know how you can't be excited for this match. Pretty much any time Andrade "Cien" Almas gets one of these openers, or second on the card matches, he delivers. Plug-in a Johnny Gargano, who always brings it as well, this is set for a dynamite match. Both guys can fly, or get techinical, or even hit hard. Plus, you have the great heel and face dynamic between the two, which creates someone easy for the fans to get behind. While Almas probably uses Zelina to get an upper hand a few times. In the end, I feel like Gargano overcomes and gets the win. Although, it could easily go the other way too. – Sean Garmer
Winner: Johnny Gargano
Other Staff Member Predictions: Glenn: Johnny Gargano. Harry & Paul: Andrade "Cien" Almas
Aleister's Next Test
Aleister Black vs. Hideo Itami
I can honestly say this is a match-up I've eagerly anticipated since it was announced. Especially, one that became more real once Aleister Black signed with NXT. This match promises a thoroughly hard hitting affair. Where the predominant sound echoing throughout the arena will be kicks connecting to various parts of the human anatomy. The match should go Black's way. Thus, giving him more momentum to his inevitable coronation, as champion of NXT. – Glenn Smith
Winner: Aleister Black
Other Staff Member Predictions: Everyone else picked: Aleister Black.
NXT Tag Team Championship Match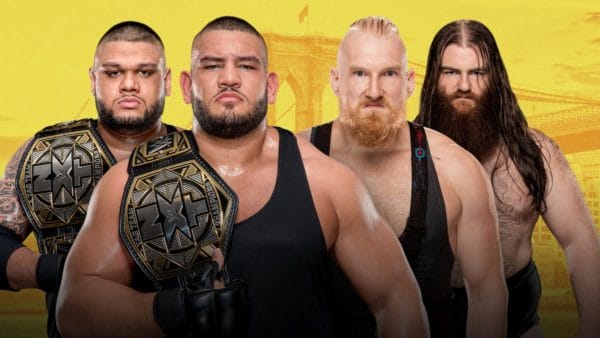 (Champions) Authors of Pain w/ Paul Ellering vs. SAnitY (Alexander Wolfe & Killian Dain) w/ Eric Young & Nikki Cross
Authors of Pain have been on quite the tear, just dismantling what's left of the NXT Tag Team division. SAnity is almost here more by necessity, than say because they are the next in line. So, this could create an issue for the crowd in Brooklyn. Especially, since it's the Wolfe and Dain pairing, and Eric Young is left at ringside. So, they may have to earn their attention by performance, which may be a steep hill to climb in this one. Authors of Pain have shown with the right team, they can be more than just monsters. Killian Dain is a wonderful talent, and Alexander Wolfe has improved alot too. I don't know that they combine to continue the string of NXT Title classic matches. But it could still be a very good match on this card. – Sean Garmer
NXT Women's Championship Match
(Champion) Asuka vs. Ember Moon
What a match these two had the first time around, and I think they could easily top it here at what has come to be NXT's signature event. The crowd's are at near frantic energy level, and the history for women's matches at this show are wonderful. They're just about as evenly matched as any two women in NXT right now, but when does Asuka lose? That's been the question for a while now.
Either show on the main roster could really use Asuka to shake up the division, and while Ember Moon might not be completely ready to takeover the division, I feel like this is the moment to do the change. Asuka has done more than her fair share of keeping the division afloat while the rest either catch up, or make their act some more. The time has come to make a new star for the division, and Ember Moon winning her does that for sure. Plus, they could still rematch come Survivor Series if Asuka is still around. Either way, Ember Moon wins, and what a moment it should prove to be. – Paul Leazar
NXT Championship Match
(Champion) Booby Roode vs. Drew McIntyre
I am genuinely torn on this match. I have always liked Drew McIntyre (or Galloway) and the argument could be made that Bobby Roode has had the best character development since he began in NXT. There is also the unresolved issues that Roode has with Roderick Strong to consider. I don't feel like McIntyre needs the NXT title. I do feel like that belt could legitimize Strong to the casual NXT viewer. It is with that thought in mind that I am going to pick Bobby Roode to retain. – Harry Broadhurst
Well, this concludes our NXT Takeover Brooklyn 3 Preview. Leave your predictions in the comments below. Also, check out Gary Vaughan, Paul and Sean give their predictions on-air, on the Wrestling 2 the MAX Podcast