ROH Death Before Dishonor XIV Review
Location: Las Vegas, Nevada inside Sam's Town Hotel & Gambling Hall
Swank opening video package hyping up the Lethal/Cole match narrated by Nigel. HYPE LEVEL = 10,000%!
ROH Television Championship #1 Contender's Match
Match 1: 4 Corner Survival Match: Kamaitachi vs. Jay White vs. Donovan Dijak vs. Lio Rush
Winner And #1 Contender: Donovan Dijak (After Feast Your Eyes on Lio Rush)
Kamaitachi and Jay White are still feuding from Best In The World, where Kamaitachi attacked Jay White, who was watching the show from the front row. Both Donavan Dijak and Lio Rush are former Top Prospect Tournament Winners. The heels start the match by teaming up on the faces, but the faces turn the tables to take them out, and White and Rush get us started in the ring. All four guys pretty much hit the fast paced match freeway from there. Each man gets their big moves in with plenty of time to shine throughout the match.
Jay White has a part in the match, where he runs everybody over to a loud ovation. Lio Rush's jaw dropping speed based offense got a long spotlight that the live crowd loved. He hits an especially nasty Reverse Rana on Dijak on the outside. Kamaitachi gets to play spoiler for Jay White with his sky high Senton Splash on the outside. Ultimately, it would be Donovan Dijak who comes away with the win. Dijak and Rush were made to fight each other. Their chemistry is off the charts as displayed here and on ROH TV. More of them please! *** and ¼ *
The Battle of Real Men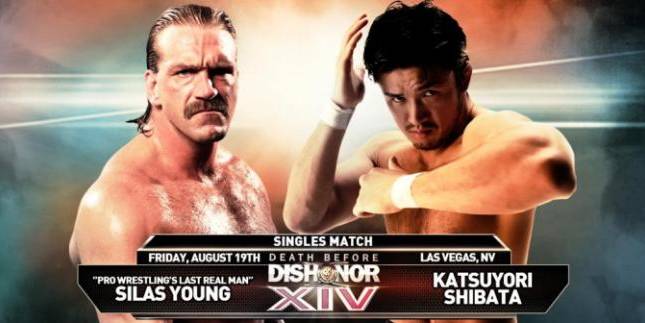 Match 2: Katsuyori Shibata vs. "The Last Real Man" Silas Young
Winner: Katsuyori Shibata (After Sleeper Hold and Penalty Kick Combo)
This is Katsuyori Shibata's first match in the United States of America and I think Silas Young is the perfect first opponent for him. Commentary rightly mentions the last time Kevin Kelly saw Shibata, he damn near caved his own head in with a headbutt on Katsuhiko Nakajima. Honestly, that really sums up all you need to know about Shibata if you've never seen him before. The story of the match plays out with Silas going for some hard strikes. Shibata then either shakes them off, or just begs for more because Silas's strikes ain't shit.
A particular noteworthy one sees Silas hit a chop, only for Shibata to simply walk away from him like he got hit by a light breeze on a nice summer's day. At one point, Silas spits on Shibata, and Shibata just goes absolutely medieval on him with a long series of devastating strikes. Silas gets his shots in, but the finish was never in doubt. *** and 1/2 *
Post match: The two slap the bejesus out of each other, and shake hands. Real men folks.
CHAOS vs. Bullet Club
Match 3: Six Man Tag Team Match: Yujiro Takahashi, Tama Tonga and Tonga Loa (Bullet Club) vs. Barreta, Rocky Romero and Toru Yano (CHAOS)
Winners: CHAOS (After Yano Hits a Low Blow on Yujiro)
Well, I'm not expecting the world here, but this could still be a fun match. Caprice Coleman of The Cabinet is ringside for commentary to scout Tonga Loa and Tama Tonga, as ANX will face them on the next night of TV tapings. I'm not a large Toru Yano fan, but he can be fun at times. He gets to show it early on, as Tama Tonga and Tonga Loa frighten the piss out of him, and he flees in terror. Everybody else gets to do their "greatest hits," but the focus of the match is squarely placed on the comedy of Yano.
Down the finishing stretch, Yano has some trouble trying to get the turnbuckle pads off. They're different here in the states then what they use over in Japan. Both teams work the turnbuckle pad to mixed results. Finally, Yano pushes Yujiro Takahashi towards the referee, who goes running away as to not get hit. The distraction causes the referee to miss the low blow that would earn CHAOS the victory.
Post match: Bullet Club does the beatdown on CHAOS. Hangman Page comes running into the ring with the noose! He's got Yano in it, but here comes Jay Briscoe to send the rest of Bullet Club running. Then we go right into out next match. **
Anything Goes Match
Match 4: Hangman Page vs. Jay Briscoe
Winner: Hangman Page (After Two Rite of Passages)
Lots of history in this one dating back to when Adam Page was rolling with BJ Whitmer. It was rekindled recently by Page attacking Briscoe in both New Japan and Ring of Honor. Page and Yujiro unsuccessfully challenged The Briscoes for the IWGP Tag Team Titles, but now it's one on one with no rules. The match kicks off after the brawl settles down and both men go outside for chairs.
They come back in swinging for the fences in a home run derby style chair duel. I don't even know where to go after that folks. These guys went out there and absolutely murdered each other from bell to bell. They use the noose very well throughout the match, with the best spot being where Jay ties Hangman to a chair he has wedged into the ropes, and just constantly runs his own body into Page's to bang his head into the chair three times.
Both guys work their big moves into the match well. Jay wraps a chair around Adam's neck for his "SIT SIT SIT" Neckbreaker to make for a brutal effect. Page goes for his running Shooting Star Press off of the apron, only for Jay to nail him with a Superkick, which might have cost Page a few brain cells. In the end, Page uses the first Rite of Passage to drive Jay through a table. This leaves both guys looking like they somehow walked away from a car wreck. A second one follows shortly after Hangman uses the noose to choke Jay out. Just go watch this match folks. It's a freakin' doozy. ****
The Rainmaker vs. The Peacock
Match 5: Kazuchika Okada vs. Dalton Castle w/ The Boys
Winner: Kazuchika Okada (After Rainmaker Lariat)
Next on tap, is this intriguing match between the IWGP Heavyweight Champion, Kazuchika Okada, who is arguably one of the very best wrestlers in the world. He's coming off a G1 Climax 26 performance with the highest of highs (TWO ***** star matches) and the lowest of lows (he slept on the middle of the tournament hard.) Dalton Castle's insane amounts of charisma matches Okada's, and his wrestling ability more than backs it all up. The great thing about this match is how much Okada really lets Dalton work him over. He sells terrifically for Castle, and while they never really made me believe that Dalton was going to walk out with the win, the match was quite good.
The biggest hope spot for Dalton comes after Okada pulls the Boys into the ring, and makes them watch as he hits a big elbow from the top rope. This leads to a Rainmaker pose with the Boys, to which Dalton replies with the Bang-a-rang for the two count. The charismatic duo would battle some more after that, until Okada finally gets the victory. *** and ½*
ROH World Television Championship Match:
Match 6: (Champion) Bobby Fish defends against Mark Briscoe
Winner and STILL ROH Television Champion: Bobby Fish (After a Falcon Arrow)
We get a great video package buildup for this one. The focus is on how much Bobby Fish has rubbed Mark Briscoe's nose in it for being Jay Briscoe's little brother, which has pissed Mark off to no end. Both Bobby and Mark share the accolade of being ROH's most consistent workers. The pair worked a really smart match. Mark shows off his heart and high impact move set with big move after big move. Meanwhile, Bobby plays defense, and works Mark over when those big moves went sideways.
Mark would injure his hip after hitting the Cactus Jack elbow on the outside mid-match. The injury plays a huge role, and Mark sells it very effectively throughout the match. Both men would also pay homage to Roderick Strong by using some of his moves down the stretch. The end comes after Bobby reverses out of a top rope hurricanrana. Bobby then kicks Mark's leg out from under him, explosion suplexes him into the corner, and nails him with a falcon arrow to retain. A little short for my taste, but still a fine match. ***
ROH World Tag Team Championship Match
Match 7: (Champions) The Addiction defend against EVIL and Tetsuya Naito (Los Ingobernables de Japon) vs. Michael Elgin and Hiroshi Tanahashi
Winners and STILL ROH World Tag Team Champions: The Addiction (After a Jacknife Cover by Daniels on Tanahashi and EVIL)
Not a whole bunch of story here other than The Addiction defending the straps after they have seemingly defeated everybody in ROH worth mentioning. Tetsuya Naito and Michael Elgin do have a bubbling feud over the IWGP Intercontinental Championship in New Japan Pro-Wrestling. Naito, EVIL, and the rest of Los Ingobernables de Japon have become the big draw for New Japan, while Elgin (who currently holds the IWGP Intercontinental Title) has gotten over there so quickly, it's mind boggling. Hiroshi Tanahashi pretty much continues to be the franchise player for New Japan, despite not being the ace of the promotion anymore.
Matt Taven joins the commentary table for this one to continue his bragging about the coming of a new Kingdom. Naito gets a huge pop from the crowd when he comes out, and throughout the match. His "Tranquilo" levels were off the charts to start us off, much to the crowds joy. Elgin really comes out of this looking like a star though. His big moves where he gets to toss both members of the opposing teams are just so impressive. He even busts out the big tope con hilo for a huge pop as well.
The finish comes after Kamaitachi botches up some interference that almost costs The Addiction the belts. However, Christopher Daniels gets a crafty blind tag on Tanahashi, who connects with the High Fly Flow on EVIL. Daniels follows up with a jackknife cover on both Tanahashi and EVIL to retain the belts. The match was really fun overall, with everybody getting some time to shine. *** and ¼*
MAIN EVENT: ROH World Championship Match
(Champion) Jay Lethal defends vs. Adam Cole (BAYBAY)
Winner and NEW ROH World Champion: Adam Cole (BAYBAY) (After a Two Suplex Neckbreakers and a Shining Wizard)
Of all the matches that took place over the weekend from 8/19 through 8/21 (and wrestling fan's had a tons of choices to watch across all three days,) I was more hyped for this match than anything else. Ring of Honor's expert handling of the build for this has been the reason to watch the last four weeks of ROH TV. The pay off should be huge here as Ring of Honor's two biggest stars clash for the top prize in the company. In case you haven't been watching, Adam Cole joined the Bullet Club at Global Wars, and has been a thorn in Jay Lethal and ROH's side ever since. Cole set off a series of attacks, starting with taking out Kyle O'Reily with an "injury" the night of his title match with Lethal. Then he shaved Jay Lethal's dreads and he baited Lethal every chance he got.
These attacks forced Jay to snap, and Lethal practically begged Nigel McGuinness to make the title match, after Nigel told Cole he would never get another World Title match. This match has everything you want to see out of a big main event. The storytelling is off the charts from the beginning, with neither man abiding by the Code of Honor. Cole won't even look Lethal in the eyes, and Lethal can't stop death glaring at Cole. All of that stops when Cole reveals that he still has Jay's dreads, which causes Lethal to snap. There are so many great spots in this match, and the crowd rests in the palms of both men's hands the entire time.
The biggest one sees Lethal miss a Hail to the King through a table that leaves him with a bloody gash on his forehead, and a large abrasion on the right side of his body. Lethal would fight all the way up until the end, but Cole would put him away with a sequence of two suplex neckbreakers sandwiched around a shining wizard to capture his second RoH World Title. **** and ¾* (Match of the Year Contender)
Post-match: Kyle O'Reily makes his big return from "injury" to attack Adam Cole. The crowd loses it and the show ends with Kyle resting his knee over Cole's chest, while holding the ROH World Title on high!
Overall Rating: 8.5 out of 10 What a show from Ring of Honor. You certainly get your money's worth with Adam Cole and Jay Lethal's match of the year contender, (especially considering I was going into that match thinking that ROH was going to overbook the hell out of it. However, it seems they learned the lesson from Global Wars.) Jay Briscoe and Hangman Page damn near killed each other in an excellent hardcore bout. Not to mention, the rest of the card delivers some quality wrestling from top to bottom, outside of the six man tag (which was still technically sound for the most part.) Without a doubt, ROH Death Before Dishonor XIV is their best show of 2016.