ROH Glory by Honor XI 2012 Review
October 13th, 2012
International Centre – Mississauga, Ontario, Canada
Announcers: Kevin Kelly and Nigel McGuinness
Opening Tag Team Match!
Match #1: Bravado Brothers (Harlem and Lancelot) vs. Cedric Alexander and Caprice Coleman
Result: Alexander and Coleman defeat Bravado's when Coleman pins Lancelot with a frog splash @ 12:17
Harry: I know very little about Caprice Coleman. I got to know more about Cedric Alexander during the Cruiserweight Classic. I am a fan of the Bravado Brothers, however, I'll be the first to say that they can be hit and miss. This was a hit, as they packed a ton of action into the twelve minutes they got, making the most of it, and getting this crowd off to a hot start for one of the bigger shows of the ROH calendar. (***½)
Patrick: Fast paced, high flying action to kick off a show is what you want. I'm not a huge fans of the Bravados, but they put on a pretty good opener here against Caprice and Cedric. Little did we know what Cedric would become. (***)
Grudge Match!
Match #2: Mike Bennett with Maria Kanellis vs. Mike Mondo
Result: Bennett pins Mondo with a TKO @ 10:51
Harry: First of all, I hate the stalker angle. Always have, always will. It gets about a hundred times dumber when the baby face is stalking a heel's valet. As for the match, nothing really to write home about, aside from the big dive where Mondo ending up breaking his leg. Points for having the balls to do something like that, but doing it on the second match of the show was probably not the best idea. Bennett's offense has never really impressed me, but his character was a standout in ROH at the time, and his music was one of the few new ones I liked. Also, Nigel McGuinness gets bonus points from me for playing the Jerry Lawler role perfectly here. (**)
Patrick: Okay…how are you the good guy when you're trying to molest the bad guy's girl? Stupidity aside, this match wasn't as good as it should've been, which sucks, but you could put that on Mondo breaking his leg taking the dive off the top of the entrance way. What they COULD pull off was good. Just sad to see what could've been (**½)
More Tag Team Action!
Match #3: BJ Whitmer and Rhett Titus vs. Wrestling's Greatest Tag Team (Charlie Haas and Shelton Benjamin)
Result: WGTT defeat Whitmer and Titus when Haas pins Whitmer after a double team powerbomb @ 10:12
Harry: Disappointing. I really like Shelton and Whitmer. Titus has never been a big favorite except when he was apart of the All Night Xpress with Kenny King. Charlie Haas usually just annoys me, but he can go. This was not one of those situations. The only remotely interesting sequence in this match to me was the exchange of expletives and strikes between Whitmer and Haas. Just chalk this up to teams not gelling, I suppose. (**)
Patrick: What happens when you're stuck filling in the gaps of a feud where a player leaves, and one team doesn't seem to care…TADA!! With King having left ROH for TNA, Whitmer takes his spot. By this point, WGTT were on the outs, with fans becoming hostile towards Haas. The match itself is a decent brawl, but overall, complete meh. (**)
A Star Making Performance!
Match #4: Jay Lethal vs. Davey Richards
Result: Lethal defeats Richards by KO with the Koji Clutch @ 23:31
Harry: Before we address the match, let me first give credit to Lethal's promo. Patrick and I both elaborate further on the show, but suffice to say, it's well worth the watch. The match is well worth the watch as well, as both men show a passion, intensity, and most importantly, crispness to their work that we haven't had since the opener. I've made it no secret that I am not the biggest Davey Richards fan in the world, but this is easily one of the best matches on this show, and could be viewed as one of the matches that made Jay Lethal in ROH. (****)
Patrick: Considering this match was a week removed from Lethal completely snapping after Steen spit on his mom, there were a LOT of questions about Lethal's mindset going in. Telling ROH to kiss his ass may have answered some questions. After said promo, Lethal proceeds to have the one of the best matches of the night with former champ Davey Richards. But, this match was all about Lethal, and well worth his build. (****)
Card Is Subject To Change It Seems.
Match #5: Tadarius Thomas vs. Rhino with Truth Martini
Result: Tadarius Thomas pins Rhino with an Oklahoma roll @ 5:58
*Match was originally Tadarius Thomas vs. Roderick Strong but Strong refused to wrestle*
Harry: I love me some Rhino. As a teenage fan getting into ECW, he was one of my favorites. That said, some thirteen years later, he should be here to work with people who he can help. I don't think this match helped either person. Thomas' comes off lucky for Rhino not being ready. Rhino comes off looking like a stooge for being dragged into this match after Roderick refused to wrestle Thomas. The best part of this whole thing is the man bump that Martini took into the guardrail in the post match. Nothing to see here, folks. (*)
Patrick: A lot happens here. Roderick was supposed to have a match, but tells Truth, essentially, to piss off. So Truth grabs Rhino, who isn't ready. Rhino spends most of the match getting ready while Roderick drinks and smokes cigars. There's not much to the match that does NOT help TD at all. (**)
RoH Television Title Match!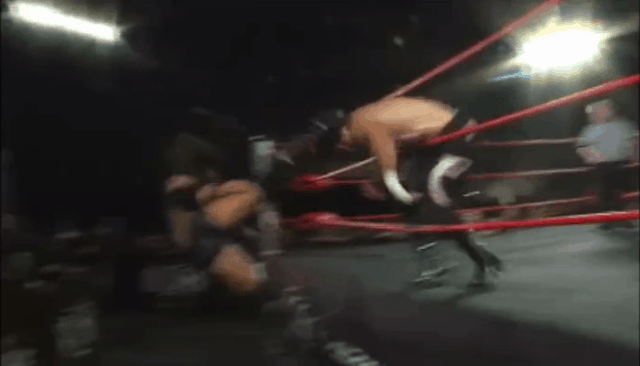 Match #6: ROH Television Title: Adam Cole © vs. Eddie Edwards
Result: Adam Cole pins Eddie Edwards to retain the TV title with the 'Florida Key' (cross-arm bridged German suplex) @ 19:09
Harry: Technically sound, but not particularly entertaining. A dead crowd doesn't help matters either. Adam Cole is not yet what he would become. Eddie Edwards is a former ROH Heavyweight champion, but not really someone who fans viewed as being in that top tier level of ROH talent. I like both men's ring work, but this right here was not the best example of what I've seen from either of them. (**½)
Patrick: It sucks that this had to follow two crowd-killers (for different reasons), because you have two beloved wrestlers here. Match suffers due to the crowd, and comes off as a boring, almost auto-pilot type match. Good, but not great (***)
RoH World Tag Team Title Match!
Match #7: ROH Tag Team titles: S.C.U.M. © (Jimmy Jacobs and Steve Corino) vs. The Briscoe Brothers (Jay and Mark)
Result: Jacobs and Corino defeat the Briscoe's to retain the ROH Tag Team titles when Jacobs pins Jay with a victory roll, post low blow by Corino, at 13:57
Harry: I'm something of a hit and miss ROH fan. For the longest time, I thought S.C.U.M. stood for Some Call Us Monsters. In the case of all three, that moniker would fit. Not so much a wrestling match as it is a brawl here. Probably would have been better off making this match 'No DQ' because it's not like the referee did a lot to stop all the brawling and craziness anyway. I do really like the finish, even if it did kind of have to suck for Jay. Hopefully he was wearing a cup, because Corino did not hold back on that kick. (**½)
Patrick: As someone who is a fan of all 4 men (aside from not liking redneck kung-fu from Mark), this match wasn't bad, but they didn't seem to mesh very well. More of a fight than anything, ends on one hell of a low blow from Coring that Robbie Gould would be proud of. IT'S GOOD!! The kick that is. The match? Not bad (***)
RoH World Title Match!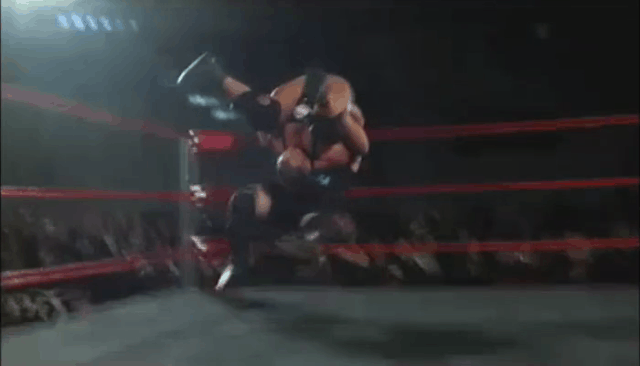 Match #8: ROH Heavyweight title: Kevin Steen © vs. Michael Elgin
Result: Kevin Steen pins Michael Elgin to retain the ROH Heavyweight title with a avalanche Package Piledriver @ 31:30
Harry: Steen has a promo before the match that ends up playing a factor in the finish. The main point of which is that the Package Piledriver is no longer banned in ROH. That said, matches like this make it very easy to see why despite his less then ideal body type (it would get better in NXT), Kevin Steen was a natural fit for the WWE. Clearly the best promo guy in ROH at the time, he goes out there for a half hour plus with the "Unbreakable" Michael Elgin and they beat the crap out of each other.
There is almost no break in the action, the crowd is into everything and they play off the promo mentioned earlier by having Elgin kick out of a normal Package PD, only to fall victim to the avalanche (off the turnbuckle) variety for the finish. As good as the match is, the aftermath is just as important, as Steen receives a gift from Nigel McGuinness. That gift? Well, it sets up the main event for the next iPPV, which would be Final Battle. (****½)
Patrick: You know what sucks? Having an awesome main event, and then making everyone forget about it. Sure, the "hometown" guy lost, but he put up a hell of a fight in doing so, taking an avalanche Package Piledriver before losing. Then, ROH made them forget about the whole match when Steen pulled out the Generico mask to end the show. The match itself proves to be the best in terms of all-around storytelling, and proves yet again why there was no one as hot as Steen in the indie scene at this point. (****)
The Show and More!
Harry Average Star: 2.75
Patrick Average Star: 3.00
For the 'Big Finish' to find out what we gave best and worst match, our "Cash and our Trash" and the overall rating for the show as well to hear us go into more detail about the matches you see listed above, be sure you check out episode 28 of Wrestling Unwrapped: ROH Glory by Honor XI from 2012 on the W2M Network.
Overall Match Standings Through Three Shows

Harry
1: Bret Hart © vs. Owen Hart- WWF Heavyweight Title: cage- WWF SummerSlam 1994- ****½
2: Kevin Steen © vs. Michael Elgin- ROH Heavyweight Title- ROH Glory by Honor XI 2012- ****
3: Jay Lethal vs. Davey Richards- ROH Glory by Honor XI 2012- ****
4: Caprice Coleman/Cedric Alexander vs. Harlem/Lancelot Bravado- ROH Glory by Honor XI 2012- ***½
5: Alundra Blayze © vs. Bull Nakano- WWF Women's Title- WWF SummerSlam 1994- ***
6: MnM vs. Hardy Boyz- WWECW December to Dismember 2006- ***
7: Diesel © vs. Razor Ramon- WWF Intercontinental Title- WWF SummerSlam 1994- **½
8: Jimmy Jacobs/Steve Corino © vs. Jay/Mark Briscoe- ROH Tag Team title- ROH Glory by Honor XI 2012- **½
9: Adam Cole © vs. Eddie Edwards- ROH Television title- ROH Glory by Honor XI 2012- **½
10: Big Show © vs. Bobby Lashley vs. Test vs. CM Punk vs. Rob Van Dam vs. Hardcore Holly- WWECW December to Dismember 2006- **1/2
11: Bigelow/I.R.S. vs. Headshrinkers- WWF SummerSlam 1994- **
12: Ballz Mahoney vs. Matt Striker- WWECW December to Dismember 2006- **
13: Mike Bennett vs. Mike Mondo- ROH Glory by Honor XI 2012- **
14: Daivari vs. Tommy Dreamer- WWECW December to Dismember 2006- **
15: Charlie Haas/Shelton Benjamin vs. BJ Whitmer/Rhett Titus- ROH Glory by Honor XI 2012- **
16: Tatanka vs. Lex Luger- WWF SummerSlam 1994- *½
17: Elijah Burke/Sylvester Terkay vs. Little Guido/Tony Mamaluke- WWECW December to Dismember 2006- *
18: Underfaker vs. Undertaker- WWF SummerSlam 1994- *
19: Tadarius Thomas vs. Rhino- ROH Glory by Honor XI 2012- *
20: Kevin Thorn/Ariel vs. Mike Knox/Kelly Kelly- WWECW December to Dismember 2006- ½*
21: Jeff Jarrett vs. Mabel- WWF SummerSlam 1994- ½*
Patrick
1: Kevin Steen © vs. Michael Elgin- ROH Heavyweight Title- ROH Glory by Honor XI 2012- ****
2: Jay Lethal vs. Davey Richards- ROH Glory by Honor XI 2012- ****
3: Bret Hart © vs. Owen Hart- WWF Heavyweight Title: cage- WWF SummerSlam 1994- ***½
4: Jimmy Jacobs/Steve Corino © vs. Jay/Mark Briscoe- ROH Tag Team title- ROH Glory by Honor XI 2012- ***
5: Adam Cole © vs. Eddie Edwards- ROH Television title- ROH Glory by Honor XI 2012- ***
6: Alundra Blayze © vs. Bull Nakano- WWF Women's Title- WWF SummerSlam 1994- ***
7: MnM vs. Hardy Boyz- WWECW December to Dismember 2006- ***
8: Caprice Coleman/Cedric Alexander vs. Harlem/Lancelot Bravado- ROH Glory by Honor XI 2012- ***
9: Diesel © vs. Razor Ramon- WWF Intercontinental Title- WWF SummerSlam 1994- **½
10: Mike Bennett vs. Mike Mondo- ROH Glory by Honor XI 2012- **½
11: Bigelow/I.R.S. vs. Headshrinkers- WWF SummerSlam 1994- **
12: Big Show © vs. Bobby Lashley vs. Test vs. CM Punk vs. Rob Van Dam vs. Hardcore Holly- WWECW December to Dismember 2006- **
13: Tadarius Thomas vs. Rhino- ROH Glory by Honor XI 2012- **
14: Tatanka vs. Lex Luger- WWF SummerSlam 1994- **
15: Ballz Mahoney vs. Matt Striker- WWECW December to Dismember 2006- **
16: Charlie Haas/Shelton Benjamin vs. BJ Whitmer/Rhett Titus- ROH Glory by Honor XI 2012- **
17: Elijah Burke/Sylvester Terkay vs. Little Guido/Tony Mamaluke- WWECW December to Dismember 2006- **
18: Underfaker vs. Undertaker- WWF SummerSlam 1994- **
19: Daivari vs. Tommy Dreamer- WWECW December to Dismember 2006- **
20: Jeff Jarrett vs. Mabel- WWF SummerSlam 1994- *
21: Kevin Thorn/Ariel vs. Mike Knox/Kelly Kelly- WWECW December to Dismember 2006- *