ROH TV Review 10.22.16
Location: Lowell, Massachusetts inside Lowell Memorial Auditorium
Tag Team Action!
The Tempura Boyz (Sho Tanaka & Yohei Komatsu) vs. Colt Cabana & Dalton Castle w/ The Boys
Winners: Dalton Castle & Colt Cabana via Bang-a-rang on Yohei
Well, this should be a treat. I haven't seen Tanaka and Komatsu since they left for excursion. Yohei gets to show off some of his quickness. He tags Sho in, but Sho gets caught in the middle of the two of them posing, and tags out to Sho. Cabana and Castle then get to work with some of their unorthodox offense. They have some really fun double team maneuvers, but The Tempura Boyz won't back down. Ultimately, their plucky young spirit wouldn't be enough. Pretty much a squash match for Cabana, and Castle, who are the #1 contenders for the World Tag Team Titles. We get too see more of Yohei then Sho, and Yohei's skill have much improved. * and ½ *
We come back from commercial with The Briscoes on the stage with Kevin Kelly. During the commercial, The Briscoes and Castle & Cabana got into a small altercation. Dem Boyz want the winners of The Young Bucks versus Cabana & Castle at Final Battle!
We go backstage with Cole & The Young Bucks. Cole hypes up his World Title match against Jay Lethal in England. Smash cut to Jay Lethal, who says he needs the RoH World Championship. Another smash cut to Kyle O'Reilly, who has the RoH World Champion at Final Battle. He wants it to be Adam Cole so badly, so that he can be rewarded for ripping his head off.
One on One!
Jonathan Gresham vs. Kyle O'Reilly
Winner: Kyle O'Reilly via Brainbuster
I do believe it's been a while since we've seen Jonathan. He's since won the CZW World Heavyweight Title in the last month, and he gets the opening salvo against Kyle. They start trading holds, and its a thing of beauty. Both men trade the dominant position in a hip toss until they take each other out of the ring. Upon their return inside the ring, they start a crisscross, and end up trading some more holds. Gresham hits Kyle's shoulder, and Kyle gets pissed. He unloads a couple of kicks, but Gresham catches a chop, and uppercuts the injuried shoulder to take us into the break!
We return to the action with O'Reilly connecting with a series of strikes. He continues the flow of offense, and ends up in a leg hold working for the heel hook. Gresham hits a couple of kicks to the injured shoulder, but Kyle stays relentless. Jonathan continues to target the shoulder, but Kyle stays in the match with his striking. Kyle cinches in a choke, and you see Gresham go limp. It was all over from there folks. This match had a nice flow to it. The opening hold trading went a little long for my taste, but Gresham continues to show that deserves a roster spot in Ring of Honor. ** and ½ *
Post-match, Hangman Page runs into the ring! He attacks the injured shoulder, and goes for the Rite of Passage, but Bobby Fish comes charging into the ring! We got ourselves a brawl! Here comes Adam Cole (BAYBAY!) to even the odds. Page sends O'Reilly into the guardrail shoulder first, and comes into the ring with a chair. He hits Bobby in the gut, and Adam Cole holds him for another shot. Fish spits into Page's face, and Page unloads with the chair to the gut of Fish. The assaults continue, and Fish holds his guts like he's dying. They're doing a nice job of making Page look dangerous in the enforcer role, and this helps with last week's promo stating that Page wants the TV Title.
We return from commercial with a highlight package of the Legacy of Hatred storyline. Specifically, it focuses on Punishment Martinez, whose been murdering Cheeseburger and Will Ferrara on ROH TV recently. After the package finishes up, Cheeseburger and Will Ferrara call out Punishment, who quickly obliges. Kevin Sullivan joins commentary.
A Challenge Answered!
Punishment Damian Martinez & BJ Whitmer vs. Will Ferrara & Cheeseburger
Winner: Punishment Martinez
We already know what's going to happen to Ferrara and Cheeseburger. Steve calls Kevin Sullivan father, and Kevin continues to call Steve Corino by his "evil" name. Sullivan also brings up that he doesn't want BJ to be his favored son, and mentions that BJ dresses like "Uncle Mark". Corino also reveals that he was the one who summoned Martinez! SQUASH
Post-match, Sullivan whispers something into Corino's ear while BJ & Martinez beat down Cheeseburger & Ferrara with the golden spike. Corino charges into the ring, and stops the beatdown. We return from commercial with Corino in the ring, and BJ leaves him the golden spike. He picks it up, but drops it quickly, and seems to shake off whatever trance he might have been under. This just keeps getting more complicated.
We get another Ladder War VI highlight package.
The Motor City Machine Guns come on down for their match. They talk about how they're broken after Ladder War VI. However, they want to prove they are the best tag team in the world. Sabin informs us that Nigel offered them the night off, but they wanted to fight! They love RoH, they love the fans, and they want to prove they are the very best. Shelley says they put their bodies on the line in Ladder War, and they are here again tonight because the fans deserve the very best. Shelley calls out their opponents, and we're under way!
Tag Team Main Event!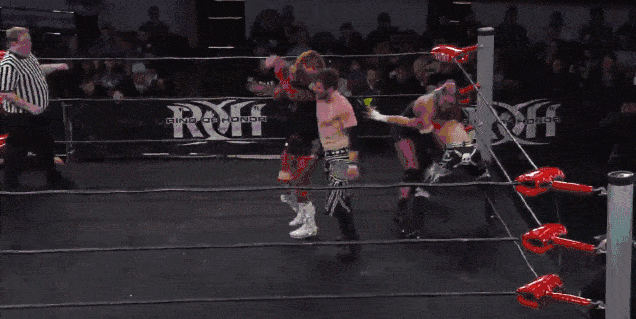 The Motor City Machine Guns (Alex Shelley & Chris Sabin) vs. Los Ingobernables de Japon (Tetsuya Naito & EVIL)
Winners: Los Ingobernables de Japon via Naito's Destino on Sabin.
Naito jumps Sabin from behind while EVIL hits Shelley off of the apron. The MCMG quickly take control, and isolate Naito. Stereo dives by the Guns onto the outside! Naito trips up Shelley, and blocks Sabin's attempted kick. EVIL takes advantage with Shelley, and tosses him to the outside. EVIL wraps a chair around Shelley's neck, and tosses him into the ring post. Los Ingobernables control the match for a long time, but the Guns retake control with some quick moves.
The match breaks down some after that, as we get some of the classic double maneuvers from the Motor City Machine Guns. Naito & EVIL then show off some of theirs. Nice STO from EVIL takes Shelley out, and Sabin eats some double teams moves from Los Ingobernables. Sabin wouldn't be able to recover, and it was all over. They told a nice story with the Guns here, but the match never really came together for me. ** and ¾ *
Next week, we get The Addiction taking on The Briscoes, and the semi-final match of the Six Man World Tag Team Tournament with KUSHIDA/ACH/White taking on The Cabinet.
Overall Rating: 5 out of 10 We get some nice story developments here on this episode, but the wrestling was lacking a bit this week. Maybe I've just been spoiled, but Ring of Honor usually gives us some great wrestling every week. We didn't get that this week. They hit on some stuff I'm interested in, but they continue to spin the wheels on the Legacy of Evil story, and I think we need a big development on that one soon.