ROH TV Review 10.01.16
Location: Brooklyn, New York inside MCU Park
Just a note here, this week's and next week's episode will be from the Field of Honor taping they did at the end of September. So, if you've seen that particular event already, this will be nothing new for you.
We open with a man named Keith Hardy singing the national anthem of the good ol' USA. Sadly, he's not Broken, nor singing anything related to being Obsolete!

RoH World TV Title Match
Bobby Fish defends against EVIL
Winner and STILL RoH TV Champion: Bobby Fish via Knee Bar
EVIL comes out strong with the dirty stuff, eye rakes and the like. Bobby Fish then quickly turns the tide with his striking. The match then spills to the outside, and EVIL wraps a chair around Fish's head and neck, and throws him into the ring post! We return from commercial with Bobby Fish back in control. Big exploder into the turnbuckle! EVIL with some huge strikes, and the two trade some big strikes after that.
EVIL connects with the Fisherman Buster! The beating EVIL has taken makes it to where he can't cover immediately afterward though. Superb half and half suplex from EVIL, and a big lariat get EVIL the near fall. Unfortunately, the big hits from EVIL just wouldn't be enough, and he would play right into Bobby Fish's clutches. Because the  commercial absolutely killed the momentum of this match, everything afterwards falls really flat. The finishing stretch, however, does save this one from being a stinker. **
IWGP Intercontinental Title Match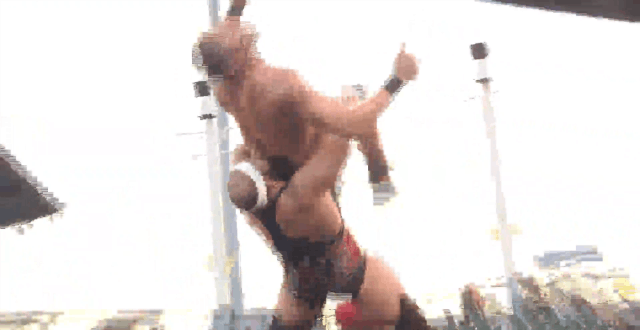 "Unbreakable" Michael Elgin defends against Donovan Dijak
Winner and STILL IWGP Intercontinental Champion: Michael Elgin via Elgin Bomb
As I said, this one was taped back at the end of September when Elgin was still champion. These big boys trade some shoulder blocks in the beginning, and Big Mike gains the advantage. After holding Dijak up for over forty seconds, Elgin finally drops him with the suplex! Dijak gets a turn to toss Elgin around the ring afterward, which looks equally impressive. Elgin deadlifts Dijak up for a standing suplex to send us to the commercial.
We come back to Elgin lariating the bejesus out of Dijak. Some huge strikes, a chokebreaker, and a moonsault net Dijak a near fall! Elgin finds his way to the top rope, but Nana distracts him, and Dijak pulls him down. As Dijak ascends the ropes, Elgin catches from behind and germans him across the ring! That would spell Dijak's doom, and Elgin retains. Really fun match. The exact opposite of the last match where they placed the commercial much better. ***
Eight Man Tag Team Main Event
The Bullet Club (The Young Bucks, Hangman Page, and Yujiro Takahashi) vs. The Motor City Machine Guns, Lio Rush, and Super ACH
Winners: The Bullet Club via Rite of Passage on Sabin
ACH runs the bases, and slides into the ring to be safe at home! Lio Rush and Matt Jackson start us off. The guys open with the expected speedy start, but we go right into the commercial break after about two minutes. Page & Sabin are in the ring as we return from commercial. We get a really cool four man team-up move from The Guns's team, and Nick continues to get the team up moves handed to him. The babyfaces prepare for some dives, but the Bullet Club put a stop to that with some superkicks! Lio Rush plays the babyface in peril as we head to another commercial.
He's still getting his butt handed to him when we return to the action. Matt gets stuck telling Lio to "suck it", and Lio gets a window to tag out to Super ACH. ACH dives on everybody on the outside, and damn near makes it to the pitcher's mound. The newfound smoothness that ACH found in Japan is on full display. The match comes unglued, and the babyfaces start taking it to the Bullet Club. More dives! "This is awesome" chants, and it's hard to disagree. Page gets Sabin all alone, he eats some Superkicks from the Bucks, and Adam sends it home. One heck of a match here folks. *** and ½ *
Next week, it's Kyle O'Reilly vs. Katsuyori Shibata, and the RoH World Title on the line as Adam Cole defends against Jay Lethal, Tetsuya Natio, and Hiroshi Tanahashi
Overall Rating: 5 out of 10 As a person who regularly watches RoH television, I'm just going to have to get used to the fact that the company can't immediately capitalize on a TV showing after the PPV. If you're looking to watch some great wrestling, this offering on television goes by quickly, and you get some good matches. If you're looking for something more after All Star Extravaganza, you're gonna have to wait another two weeks before we get anything there. Ring of Honor also really needs to space out it's commercials better. It's not often, but when they misplace them, it really kills the match. On a show that's all matches, that really hurts it overall.