ROH All Star Extravaganza VIII Review
Location: Lowell, Massachusetts inside Lowell Memorial Auditorium
A spectacular opening video package hyping up all of the matches taking place tonight at ROH All Star Extravaganza VIII, with Ladder War VI being the primary focus. You just simply can't get hyped enough for that one. We go inside the Auditorium, and it's a spectacular venue. I love the look of places of like this!
RoH World TV Title Match
Bobby Fish defends against Donovan Dijak
Winner and STILL RoH TV Champion: Bobby Fish via Rear Naked Choke
Dijak earned this title shot back at Death Before Dishonor, so let's see if he can make good on it. He's got the hometown crowd behind him, and the whole Ivan Dragon from Rocky thing going. Bobby Fish spends most of the match trying out to outwrestle Dijak, and really focuses on the right leg of Dijak. Dijak, meanwhile, sticks to his ultra impressive power game. I think they really do justice by the legwork, but it never plays into the finish, which bugs me. However, this match proves to be a terrific opener. I really think putting the championship on Dijak would have been the better move here, but he never tapped out, he just simply passed out. Hopefully, that will play into a title rematch down the line. *** and ¼ *
#1 Contender's Four Corner Survival Tag Team Match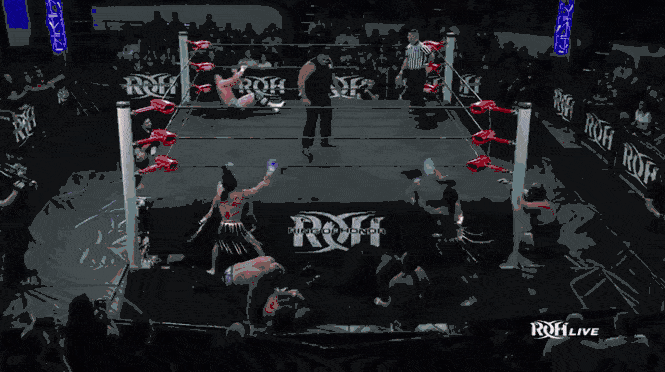 All Night Express (Rhett Titus & Kenny King) vs. Colt Cabana & Dalton Castle w/ The Boys vs. Shane Taylor & Keith Lee vs. War Machine (Hanson & Ray Rowe)
Winners and NEW #1 Contender's to the RoH World Tag Team Titles: Colt Cabana & Dalton Castle via Bang-a-rang on Titus.
Caprice Coleman does the guest commentary. The Cabinet are now kneeling during the Code of Honor. At least it's topical. Not like there is a Code of Honor to be had anyway, as War Machine attacks Lee & Taylor from the get go! This one was just sorta of there for me at the beginning. Very clustery, with no real flow of any sort. No doubt about it though, it has it's fun parts. Cabana and Castle are just a barrel of fun as a tag team, the feud between War Machine & Taylor and Lee gets highlighted a ton, and this match has one of the best finishing sequences I've seen all year.
Shane Taylor and Keith Lee are the truth, and have future tag team stars written all over them. The somersault tope from Keith Lee to the outside will drop your jaw every time, and both guys power moves are stunning. However, their hatred with War Machine ultimately cost them the match, and gave Cabana & Castle the chance they needed to get the big victory. ** and ¾ *
Nigel McGuinness joins the commentary table as they talk about Ladder War VI some more.
Old Rivals Collide
Dragon Lee vs. Kamaitachi
Winner: Dragon Lee via Phoneixplex
Lots of history to touch on here. Kamaitachi & Dragon had a string of matches last year, and earlier this year that just absolutely killed. Their match from Fantasticamania this year has to be considered a match of the year candidate. Dragon Lee defeated Kamaitachi for his mask in March of 2015, and the two traded the CMLL World Lightweight Championship earlier this year. This one should really be something. Low and behold, they go out there, and murder each other plain and simple. These guys pull all of the big moves in their arsenal's, but neither man wants to stay down. It almost grows tired by the end, it's ridiculous how often they're kicking out.
The world needs more Dragon Lee though. The dude's moveset is filthy good. It just wasn't Kamaitachi's night, and that's okay. Dragon Lee gets a huge foot in the door here in Ring of Honor, and we know Kamaitachi has toughness in spades. There wasn't a whole ton of match psychology here, and there were a few botches, but fucking hell, they killed each other out there. Nothing but love and respect from me on this one. **** and ¼ *
One on One
Kyle O'Reilly vs. Hangman Page
Winner: Kyle O'Reilly via Arm Bar
Well guys, the feud between Kyle O'Reilly & Adam Cole is well established at this point, and it looks like Kyle will be hunting some Bullet Club members on the road to getting his hands on Adam once again. The path for Kyle O'Reilly to walk is clear at this point, and Page seems to be Adam Cole's personal hitman, which I'm okay with. I love the guy. This match, however, isn't much to look at. Kyle's fire keeps him moving forward, and Page seems intent on fulfilling his role and duty to the Bullet Club. Page tweaks his knee doing the apron Shooting Star Splash, but it had no real bearing on the match.
Kyle finally puts Page away, but I'm thankful for the breather after that last match. Page attacks Kyle post-match, and drives him into the barricades a few times. He grabs a chair, wraps it around Kyle's shoulder and arm. Bobby comes running down the ramp, Adam stares him down, and then tosses Kyle into the ring post shoulder first. Page says he did what he needed to do. **
We get the tournament bracket for the RoH World Six Man Tag Team Title Tournament…
Kevin Kelly interviews Silas Young about the tournament, as well as his World Title shot that he earned for winning The Honor Rumble earlier this month. Silas says that him and the Beer City Bruiser couldn't find a suitable third man, so they couldn't enter the tournament. He then talks about how he earned his championship match.
"A lot of guys come out here and piss and moan that they had the deck stacked against them, but me being the man that I am, I thrive on that opportunity, and I loved being that first guy in the ring and going thru 25 other guys and when it was all said and done, I was the only man left standing in that ring."

Silas says he doesn't care if its Cole, Elgin, or God himself, he's gonna be the RoH World Champion come October 22nd. Silas is an underrated promo, and he absolutely nailed this one.
Six Man Tag Team Tournament Match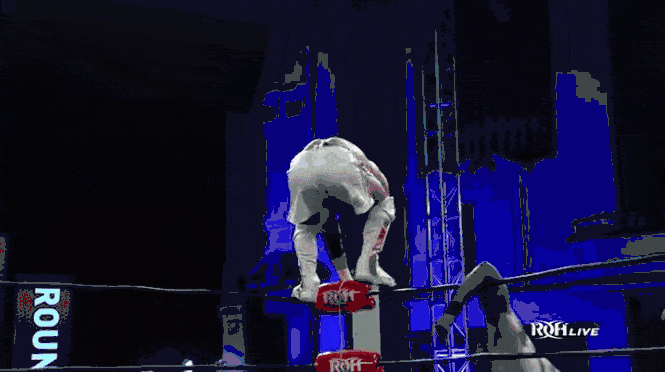 The Briscoes & Toru Yano vs. KUSHIDA, Super ACH, and Jay White
Winners: KUSHIDA, Super ACH, and Jay White via Midnight Star on Toru Yano
KUSHIDA replaces Lio Rush as he's going on a tour through Germany, which Alex Shelley seemed to have orchestrated. Ring announcer announces ACH as Super ACH, which commentary brings up that he underwent a metamorphosis of sorts during his tour in Japan. I think that metamorphosis comes out in spades during this one. ACH smoothed over some of the rough spots of his game, and he effortlessly flows from one move to the next.
Jay White and Jay Briscoe end up in the ring together after a while. A bit of history between these two as well, as they've had some dynamite bouts on Ring of Honor television, one of which went to a time limit draw. White is also still undefeated in Ring of Honor. Despite the previous teamwork experience between The Briscoes & Yano, they would come up short. I applaud Ring of Honor for putting them over, because I was for sure thinking that The Briscoes & Yano would have found their way into the next round no matter what. A fun start to what I hope proves to be a very fruitful tournament. ***
Grudge Match
Tetsuya Naito w/ EVIL vs. Jay Lethal
Winner: Jay Lethal via Lethal Injection
When Lethal went to war with The Bullet Club recently, he called up on his friends in Los Ingobernables de Japon. However, Jay's eagerness to get his hands on Adam Cole lead to Naito deciding to walk out on him. Lethal's anger at this betrayal lead to this match-up. Naito attacks Bobby Cruise while he's introducing Jay, and Jay leaps into action! This match didn't have much to it either, but it has it's fun stretches. Naito still gets to be Naito, but you knew where this one was going. EVIL gets involved as you'd expect, but Naito ultimately falls to Lethal. I'm curious if this will have ramifications going forward over in New Japan, but it's nice to see so many Ring of Honor guys going over the New Japan talent on this PPV. ** and ¾ *
RoH World Title Match
Adam Cole (BAYBAY!) defends against "Unbreakable" Michael Elgin
Winner and STILL RoH World Champion: Adam Cole via Last Shot
Another fun, yet ultimately predictable match on offer here. Elgin and Cole have so much history together in Ring of Honor, with Elgin being the one to lift the championship off of Cole the first time around, and Cole defeating Elgin for his first reign as Ring of Honor World Champion. They work very hard throughout the match, and some of it pays off, some of it doesn't. However, with the path they set forward for Kyle O'Reilly, there was zero chance Elgin was going to walk away from this one with the Ring of Honor World Title. ** and ¾ *
Ladder War VI for the RoH World Tag Team Titles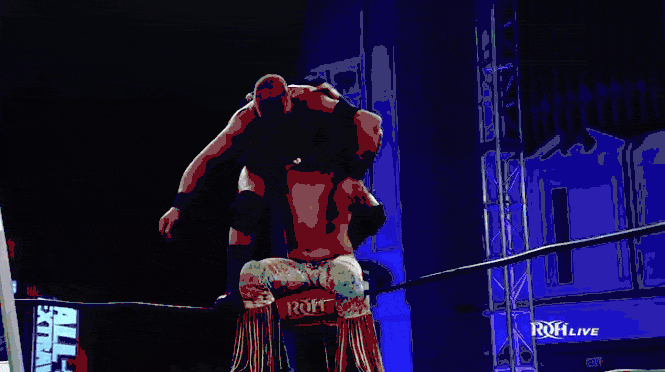 The Addiction defend against The Young Buck and The Motor City Machine Guns
Winners and NEW RoH World Tag Team Champions: The Young Bucks
How the hell do you boil this one down? This match was awesome. The Young Bucks were in their element from the get go. The live crowd knew it, the Bucks knew it, and they were certainly the stars in this one. Christopher Daniels' star shines just as bright. He bleeds like a stuck pig after taking a ladder straight to the face, takes the most spots out of everybody (the dude gets backdropped on just about everything in god's creation in this one, including being dropped off the top of a ladder, onto another ladder.). The Guns certainly get their time in this too, and Kazarian was phenomenal in his own right. This was just The Young Bucks night.
Here's a list of the bigger spots: Daniels getting murdered by a series of moves after being sandwiched in between a ladder, a string of four, count 'em, four table spots. An Indytaker on Alex Shelley on the outside of the damn ring, and so many more. I'll leave you with some comments about the finish from my stream of thought document as I watching this one.
"They setup a table on the other side of the ladder. Matt gets Kazarian in the Tombstone position, and Nick has a chance to grab the belts. He says fuck it, INDYTAKER THROUGH THE DAMN TABLE, AND KAZARIAN'S DEAD!!!"
"The Bucks win. I'm dead, all three teams are dead, and this one gets all five bloodstained snowflakes. A true middle finger from independent wrestling to WWE's best TLC matches of the past." *****
Overall Rating: 8 out of 10 Absolutely the most insane match I've seen all year takes place in the main event. Dragon Lee and Kamaitachi tore the house down. The only real downer the whole night was O'Reilly/Page, but I think both the crowd and the show needed that breather. Everything else on this show was above average to good. The main event is must watch, but the whole show is absolutely worth your time folks.