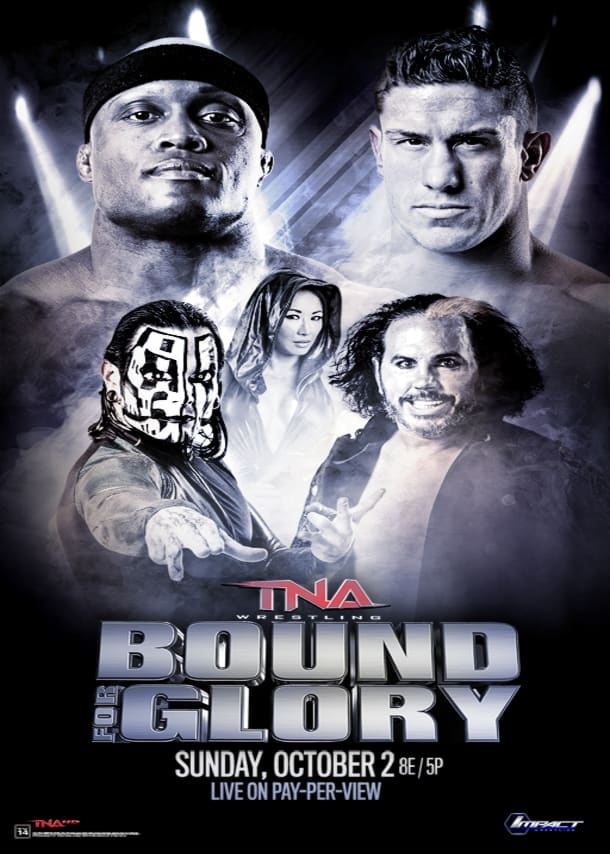 W2Mnet TNA Bound For Glory 2016 Preview
TNA Wrestling is once again in a precarious position heading into their biggest show of the year. Not only is the profitability of the company in question, but the entire state of TNA is in jeopardy after Bound For Glory 2016. There are TV tapings of Impact Wrestling happening. So, there is immediate life post BFG, but for how long after that? Only Dixie Carter, Billy Corgan, and whoever else is involved know the answer to that question. What we do know, is that TNA's yearly October pay-per-view airs on Sunday night.
There are six matches set on the card. Drew Galloway's unfortunate injury leaves him sidelined, so Eddie Edwards takes his spot in the Grand Championship match against Aron Rex. Lashley defends the TNA World Heavyweight Championship against Ethan Carter III. The Hardys challenge for the TNA World Tag Team Championships against The Decay in the Great War. Not to mention, Maria defending the TNA Knockouts Championship against Gail Kim as well. Since their move to POP TV, TNA creative has superseded their bonehead management. Regardless of how one feels about TNA the company, their product has been great to watch. The W2Mnet staff hopes the for more of the same on Sunday. Let's get on with the TNA Bound For Glory 2016 Preview.
An Introduction to the Article
As someone that has quite a bit of experience doing these roundtable type articles, I wanted to do this a bit differently than some others. Instead of having six people all give thoughts on each match, I felt it better to assign one match to each person. So, one of our staff members will answer a question pertaining to a match, then give their thoughts on the match itself, and finally predict a winner. This continues until the end of the article, when everyone gathers to give their overall thoughts on the event.
W2Mnet Staff
Sean Garmer, Editor-in-Chief, Co-Host of Wrestling 2 the MAX
Paul Leazar, Wrestling Dept. Head, Co-Host of Wrestling 2 the MAX, Host of The Wrestling Time Machine
Gary Vaughan, Host of Wrestling 2 the MAX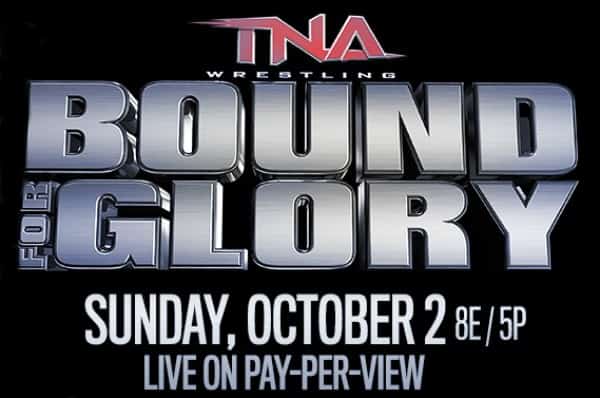 Former Friends, Now Enemies
"The Miracle" Mike Bennett vs. Moose
TNA has handled Moose well since he's arrived in the company?
If I had to grade them, I'd give them a C+. I think Moose's initial debut and subsequent alliance with Mike Bennett was a bit lame, simply because I think having him come in like the big bad ass brawler that he is, and having immediately attack Lashley simply because he wants to prove he's the best would have been better, but I also understand that not everybody watches Ring of Honor, and might not know who he is.
This makes his feud with Bennett rather secondary, and I don't think he's been terribly interesting in that feud simply because Mike Bennett has almost faded to the background behind the story Maria has been (I think she's had more TV time recently then he has.) Either way, they've gotten the point of who Moose is, and that's where they've done right. He could, however, be much hotter in terms of popularity if they hadn't stuck him with The Miracle.
I'm sure this will get more time than it actually needs. I was excited for The Miracle during his first few months, but he's never really ascended to the main event caliber star that TNA really wants. Moose, however, is still fresh, and they've been pushing him hard. No doubt in my mind that Moose goes over here despite everything Mike and Maria will try to do to see to the opposite. – Paul Leazar
Winner: Moose
Bound For Gold 2016 Gauntlet World Title #1 Contender's Match
Braxton Sutter, Shera, Grado, Baron Dax, Robbie E, Tyrus, Jessie Godderz, Eli Drake, TBA
The "To Be Announced" person is Cody (Rhodes)?
I would be extremely surprised if the TBA person is anyone but Cody. I don't think they have him come in and say he's "Bound For Glory" and not be in a match. This is the perfect way to start him out in TNA. He does a match where he can look good, show how he's different, and most of all win. No one in the Gauntlet match is a big player that it would be a big blow to have an outsider beat them in a Gauntlet match. This is the definition of midcard fodder and Eli Drake. I think it comes down to Cody and Eli Drake. Cody gets the win by doing his new submission and he makes a statement in his debut. – Sean Garmer
Winner: Cody
TNA Knockouts Championship Match
(Champion) Maria Kanellis Bennett vs. Gail Kim
The Maria management storyline has been a failure?
The Knockouts used to be one of the reasons to watch TNA programming every week. Quite frankly, when I see a Knockouts segment is about to come on my screen, it makes me want to hit the fast forward button. Maria works in her role and I think Allie has a chance to become a big babyface, but I'm not interested in the storyline. Gail Kim is great wrestler, but I don't care for her as a character. She doesn't really make me want to root for her in this feud, which really has been up and down throughout.
I may be on an island and that's fine, but I have not been compelled by what the Knockouts are doing for a long time. I hope we get the Allie turn here and Gail Kim wins the belt as well. This way, the storyline can take a much needed turn and perhaps the Knockouts interest me again. This is Bound For Glory, this is TNA's biggest show of the year, they should do the turn in this match. Allie costs Maria the belt setting up intrigue for what happens going forward in the Knockouts and Gail Kim gets a modicum of revenge too. – Sean Garmer
Winner AND NEW KNOCKOUTS CHAMPION: Gail Kim
The First TNA Grand Championship Match
Eddie Edwards vs. Aron Rex
You like the Grand Championship match format?
The Grand Championship is a good idea when it comes to variety. It offers TNA another championship and matches that differ from the others on the card. Plus, it would be a great way to showcase wrestlers with an MMA background. My issue is that I can see repitition being a big issue, expecially when you get to the later rounds of a tournament or just big matches overall. The formula would be give both guys a win in two rounds, with the third round being the final decision for a winner. You can only use the same few formulas before it becomes too predictable and boring. I hope TNA proves otherwise, but I fear I might be right.
Eddie Edwards looked strong as he went through each qualifying round for the Grand Championship before being disqualified with a loss. Aron Rex has done the same, but has proven he can knockout anyone at anytime. This bout will have each guy win a round. The third round will determine who is more ruthless. I think Aron Rex is that guy. Eddie Edwards is a great wrestler and a great guy, but like they say, nice guys finish last. – Gary Vaughan
Winner AND FIRST EVER TNA GRAND CHAMPION: Aron Rex
The Great War for the TNA Tag Team Championships
(Champions) The Decay vs. The Hardys
The Broken Matt Hardy Character and Story has easily been one of the best things in all of 2016 Wrestling?
Broken Matt Hardy has been one of the year's most intriguing characters. His story has captured the attention of wrestling fans around the world. Sure, it's ridiculous and every vignette he does is B movie quality from top to bottom. This cheesy, out there, story is exactly why Broken Matt Hardy has become one of the hottest characters in wrestling. As long as Broken Matt Hardy continues to evolve, he will be a fan favorite. If you ask me, this entire story and it's characters have put more eyes on TNA than anything else this year. That's a positive that TNA needs right now.
This feud has been one of the most compelling storylines in TNA as of late. When it comes to this match, you have to be ready for the strange and odd. You will witness psychotic gothic clowns battling a supernatural cult in the Hardys. There should be an array of props and weapons involved in this bout. I fully expect a large amount of blood being spilled as this war explodes into a frenzy of craziness. The Decay have a great presence, but The Hardyz will create an ending where they will be the ones standing when the smoke clears. – Gary Vaughan
Winners AND NEW TNA TAG TEAM CHAMPIONS: The Hardys
TNA World Heavyweight Championship Match
(Champion) Lashley vs. Ethan Carter III
Lashley has been the best thing about TNA in 2016?
2nd best maybe. As amazing as Lashley has been in 2016, it's not secret that the "Broken" story line revolving around The Hardys has been the best thing TNA has done all year simply because it drew in some many people who have either given on the product, or had to check it out for the first time simply because of how outlandish it has been. Fortunately for TNA, it's been a home run for them. As I've said in a couple of different places "Come for the Broken storyline, stay for the main event scene" as TNA's main event scene has been consistently interesting since Drew Galloway won the belt back in March.
Boy, do I go back and forth on this one. I'm highly invested in EC3, and I love him as the champion, but he's just not nearly as interesting as a face. That being said, before TNA brought Moose in, I would have said EC3 was a lock to win this one. However, they've built a whole lot into the idea of Moose vs. Lashley at some point, and I think they want Moose to go over Lashley to put him on the map, so with that being said, I think Lashley retains here. Whether it's clean or not, I can't really say. – Paul Leazar
Winner and STILL TNA World Heavyweight Champion: Lashley
Overall Thoughts
Here's the good and bad. What TNA cares to build, they do great with. The World Title and Tag Title matches should be out of this world. The Grand Championship Match, even with Drew out, should be great. The Knockouts Title Match depends on your level of interest in Gail Kim and Maria's feud, which for me, has dragged on forever. Everything else is thrown together. TNA tends to deliver well on these so I'm cautiously optimistic that this show will be good. It might be even better that this could be all she wrote for TNA, and the historical value shoots my interest through the roof. – Paul Leazar
I'm optimistic about this show. The back half should deliver in spades. The Grand Championship Match should be good. The Great War promises a thrill ride of so many emotions and zaniness. EC3 and Lashley have history, they've shown they can put on main event caliber bouts. I'm not worried about that part at all. The Knockouts match has a chance to be a nice angle. The Bound For Gold is a mystery. Moose and Mike Bennett I'm sure winds up decent too. TNA will throw an X-Division Title match in there too. Overall, this should be a memorable show and one people are talking about come Monday. I just wonder how many actually pay to watch it. – Sean Garmer
Bound For Glory has plenty to offer with a pretty solid card. Maria will cheat her way into retaining the Knockouts Championship. Cody Rhodes will be the surprise entrant in the Gauntlet match and I believe will win it as well. Moose will beat Mike Bennett with a vengeance. The Great War will end in a bloody mess, as the Hardyz win the tag belts. Lashley will beat down EC3 with everything he can find, but EC3 will walk away TNA Champion in the end. We should get a great show if the card lives up to how it seems on paper. – Gary Vaughan
Farewell For Now
That's all for our W2Mnet TNA Bound For Glory 2016 Preview. Hopefully, many of you will watch the show and give TNA a chance to impress on Sunday night. We encourage everyone to check out this week's Wrestling 2 the MAX for audio preview of the show, as well as news, other show reviews, and our W2M Power Rankings too.
https://soundcloud.com/w2mnetwork/wrestling-2-the-max-ep-214-pt-2-tna-bound-for-glory-preview-tna-sale-latest