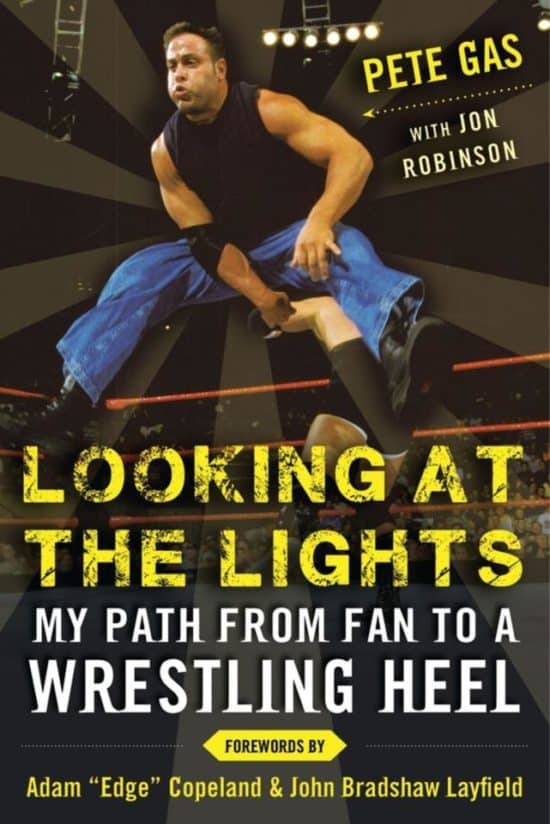 On this episode of Running Wild Podcast, the guys discuss their early WWE Wrestlemania 33 Preview and talk with Mean Street Posse member Pete Gas about his new book.
The two cover WWE Wrestlemania 33 a week early. They go over each match and share their thoughts about the Grand Daddy of them all. Giving you much more time to agree or disagree ahead of next week's event.
Rich Laconi shares an interview with Shane McMahon's real life friend and on screen heavy, Pete Gas. They talk about how Gas got into the wrestling business. What it was like to compile this book of his experience.
Plus, he gives us a sneak peak of some of the great stories that you'll find in the book itself. Looking At The Lights: My Path From Wrestling Fan to Wrestling Heel. They also talk about, whether they are fans of the WWF Attitude Era too. Not to mention, discussing dreaming about lacing up your own boots and stepping into the squared circle.
You can follow Pete Gas on Twitter and pick up his book on Barnes & Noble, Amazon.com and at your local bookstore.
Running Wild Podcast: Pete Gas Interview, WWE Wrestlemania 33 Preview
About Running Wild Podcast
Two longtime friends Rich Laconi and Runz run wild on everything and anything professional wrestling each week. They might talk about their experiences at an indy show, discuss what happened on WWE RAW, NXT, or even ROH or anything that strikes their fancy today.
Rich Laconi
A high school English teacher whose love of Shakespeare is only eclipsed by his passion for professional wrestling. An Editor for the Last Word on Sports wrestling department, he frequents as many WWE, ROH and independent wrestling shows as possible. Grew up a fan of Macho Man Randy Savage and Ric Flair, but now he pulls for heels, except for Kevin Owens. You can read his weekly work on Ring of Honor at PW Ponderings.
Runz
Wrestling connoisseur. Lifetime New Yorker who hates all New York teams. Consistently gets mistaken for Action Bronson. Once too sweet'd Hulk Hogan. Kevin Owens is his hero.