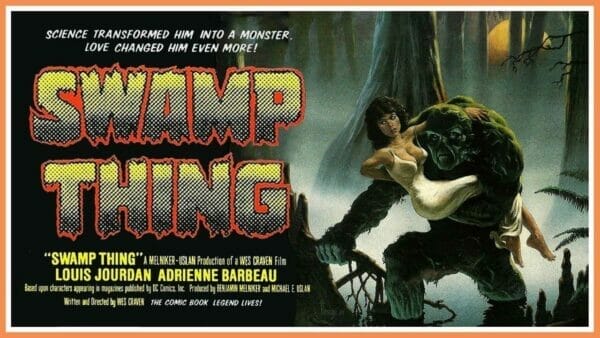 Sean Comer and Mark Radulich present their Swamp Thing 1983 Review! Swamp Thing (1983) is an American superhero horror film written and directed by Wes Craven, based on the Vertigo/DC Comics character of the same name created by Len Wein and Bernie Wrightson. It tells the story of scientist Alec Holland (Ray Wise) who becomes transformed into the monster the Swamp Thing (Dick Durock) through laboratory sabotage orchestrated by the evil Anton Arcane (Louis Jourdan). Later, he helps a woman named Alice Cable (Adrienne Barbeau) and battles the man responsible for it all, the ruthless Arcane. The film did well on home video and cable.
Check out more of the On Trial podcast series!
Support the W2M Network
Grammarly Ad: XXXX
Amazon Music Ad: XXXX
Receive a 30 Day free trial of Amazon Music on us. Also, you can get a special offer from Grammarly too!
Science transformed him into a monster. Love changed him even more! Swamp Thing 1983 Review!
About Radulich in Broadcasting
Mark Radulich has been an internet personality since 2004 with his Progressive Conservatism blog. He then took that blog to the airwaves and created a podcast for it. It then changed to PC Live. After that, he brought out the 411mania Ground and Pound Radio as well.
Also, Mark would partner up with another 411mania alum, Sean Comer, to create the movie franchise review podcast Long Road to Ruin and then Robert Cooper to create the metal album review podcast, The Metal Hammer of Doom. Robert Winfree took over the MMA show and then added his own podcast, Everybody Loves a Bad Guy. That's when the Radulich in Broadcasting Network was born. Joining Winfree in having their own podcasts were super fan's Jesse Starcher (Source Material). Finally, Winfree and Radulich added a weekly movie review show to the ever-growing lists of podcasts on the Network.
Don't forget to also give that Radulich in Broadcasting Network Facebook page a like to stay up on top of all the great podcasts that they offer. You can also find them at your convenience on Spreaker, Stitcher, TuneIn Radio, or iTunes! Just search "radulich" to subscribe to the network. Make sure to give the Network a follow on twitter @MarkRadulich.
About On Trial
Mark Radulich and Sean Comer review older films, usually in a well-known series. Making comparisons to see how it holds up to today's film standards. While also discussing the film in anticipation of the newest film in that series releasing in theaters shortly afterward.