Previously on Total Divas. Although, they tell you nothing at the start of this episode.
Total Divas Season 6 Episode 12 Review: Feel The Glow
The Miz is away shooting The Marine 5. Maryse wants to do something sexy for him while he's away. So, naturally, she seeks the advice of Eva Marie. They ask some random people backstage. "A good meal and her best friend." A man after my own heart.
INTRO!
Brie Bella is backstage looking for her husband. She not only can't find him, but there's literally no one backstage. Did she show up to RAW on Tuesday?
Next, Naomi pitches her Feel The Glow entrance to Mark Carrano. He says they need a bunch of approvals. However, for right now, he shelves it. I imagine this is how a lot of conversations in WWE go.
Then, Brie finally finds Daniel Bryan. She complains that she can't fill up her water bottle because she's no longer part of the locker room. What? Nothing comes of this.
After that, Dean Ambrose and Renee Young are on vacation in Lake Tahoe. Renee is very excited. Dean just wants to go pee. A rocking horse falls over. The dog barks.
Eva and Maryse go shopping. This is just an excuse to show them trying on a bunch of different bikinis. God bless you Total Divas producers. Eva comes up with the idea for a Baywatch photo shoot. WITH Dwayne "The Rock" Johnson Then they quote Pretty Woman, which The Rock should remake.
Naomi talks with Natalya about her glow entrance. She said creative is letting her try it. "This is two years in the making." Yet, this is the first time it's ever come up on this show. Also, it wasn't shelved very long.
Nattie tells her it must be good because they don't turn the lights off for just anybody. "No offense, but you're not a top guy." That's when The Revival appear and hit Naomi with the shatter machine. (Just Kidding)
Eva and Maryse go for body wraps. This is just an excuse for them to take off all their clothes, and then show them in saran wrap and a towel. Not to mention, listen to them moan loudly under the heat.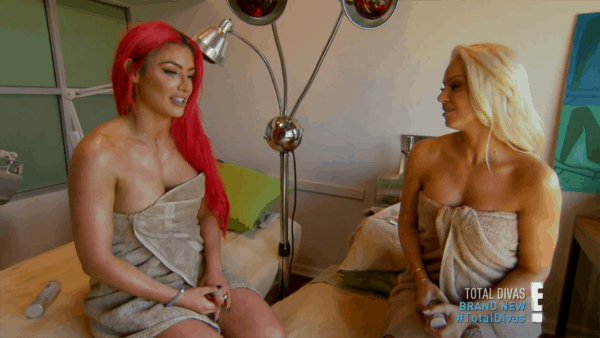 Renee calls Nikki Bella, who tells her to be "accidentally sexy." She puts on some daisy dukes and gets ready to cook. But Ambrose already has pizza and beer. "I don't want you slaving in the kitchen. I brought a hot meal to you." He has a point. Who wants to cook a bunch on vacation? I'm Team Dean.
Then, Naomi tests out her glow outfit. It's just a jacket and looks pretty weak. She's not happy with it.
After that, Brie complains about the lack of internet at the hotel. Bryan makes a joke about porn that Brie ignores. Brie is supposed to be on a conference call. This leads to a scene with Nikki, who is on the conference call. Sadly, the people now need to reschedule because Brie isn't on the call. So, Nikki calls Brie and bitches at her for being on the road with her husband. YES! IT'S THE BELLA TWINS FIGHTING PART 286 IN THIS SERIES!
Maryse has a ton of props for this beach photoshoot. Eva is a little scared. Gotta give the girl credit for going all out.
Ambrose and Renee are going shopping for nice clothes for Dean. This freaks out Dean, who says she's hanging out with the Bella's too much. Well, at least Nikki. Ambrose tries on a suit and some nice shoes. He then falls asleep, as Renee talks about her fancy dinner plans.
Eva and Maryse arrive to the photoshoot. Even the photographer is scared of all the props.
"Sorry I want this to be amazing," says Maryse. PREACH! Maryse gets an attitude with the photography people. They run once and Maryse says she's out of energy. This leads to Eva yelling at her and leaving. Well, that escalated quickly. Maryse apologizes, they laugh, then, they agree to eat to get their energy up. Then, decide to do the shoot later. Money must be nice.
Renee and Dean prepare for their fancy date. Basically, Thursday at the John Cena house.
Maryse and Eva eat burgers in their Baywatch bikinis. Clearly auditioning for a Carl's Jr. commercial. They return to the photoshoot, to shoot photos.
At dinner, Dean wants a whiskey. But they only have beer and wine. They eat a bunch of fancy food, but Renee is mad that Dean isn't enjoying it.
Naomi is ready to try out her glow entrance. She wants to take her career to the next level.
Oh cool, we're back to Nikki and Brie. They argue immediately. They have the same argument about Brie spending too much time with Bryan that they have every three episodes. I hate this show so much.
Next, Renee and Dean end up in a dive bar. Dean wants Renee's clam. Renee wanted a fancy dinner like Lady and The Tramp. "They had dinner in the alley," says Dean. Renee realizes she has lost this battle. Dean Ambrose is so much better on Total Divas than he is in WWE. They end up sharing a fry and concluding that Dean is The Tramp.
Then, Naomi is worried about her entrance, but here we go. She runs through the audition, as various people stand around. In fact, she does the audition three times. Three callbacks is usually a good thing, right?
Brie talks with Bryan about not being on the road so much with him. Bryan, of course, is super understanding and supportive because he's a rational human being. Brie and Nikki end up fine. I, for one, am shocked by this turn of events.
Finally, They show Naomi's glow entrance during the first SmackDown Live. Nattie is really happy for her. And that's the show.