So, I guess to make it seem like each episode is non-sequential, instead of doing Previously on Total Divas. They now do "Tonight On." Glad I finally figured that out.
Total Divas Season 6 Episode 13 Review: Group Sext
Brie Bella and Nikki Bella have lunch. Brie explains why it's so difficult to make babies. Nikki doesn't care.
INTRO!
Maryse can't read. The Miz makes fun of her.
We get highlights of Eva's non-wrestling storyline from last summer. Eva Marie is grateful to have a storyline, but upset that her storyline involves her doing nothing.
Brie goes to meet with a holistic doctor as to why her period is constantly late. The doctor thinks it might be her vegetarian diet. Mainly because she isn't getting enough iron. Then she does stress points.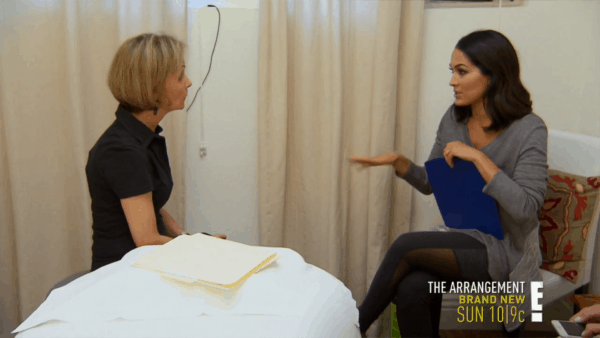 Lana is backstage preparing for her on-screen wedding that Roman Reigns ruins. She tells Rusev she got picked to do charity work.
Thus far, every scene has lasted about 30 seconds.
Miz gives Maryse a card that she can't read followed by a bag of glasses. Maryse hates glasses and contacts. However, she doesn't want to get lasik either. Well, then be blind.
Paige is summoned into Mark Carrano's office. Jerry Lawler is there just hanging out. We also get clips of Reigns ruining Lana's wedding.
In a sit-down interview, Paige reveals that she's been suspended because she didn't take the drug test in time. We see video of her crying on the phone. "Just do things how they want it."
ALL OF THESE SCENES ARE WAY TOO SHORT TO MEAN ANYTHING!
Eva talks to Natalya about her non-wrestling storyline. More clips of the storyline. Eva's still frustrated. Even a clip of Carmella from the show. They've shown more SmackDown and RAW clips than actual Total Divas footage.
Renee, Lana, and Rusev go do charity work in Anguilla, which is a place in the Caribbean. This is basically a vacation. Renee is not happy that Rusev is with them, because it was supposed to be a girls trip. Rusev likes to cook naked and wear speedos.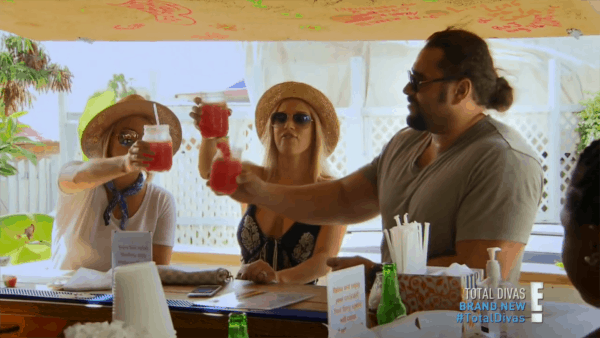 Nikki shows Brie that she needs to eat 10 salads to get the same amount of iron as one steak. That's a lot of wasted money for a visual lesson. Brie would rather remain a vegetarian than have kids. I don't buy that for a second.
Rusev, Lana, and Renee hit the beach to clean it up. After that, they play with the starving kids as well. Just kidding, there are relaxing and making Renee feel like a third wheel.
There's a ROSA MENDES CAMEO! Brie asks her about being a vegetarian and having a kid. Rosa said she gave up being a vegetarian so she could have a kid. Then she shows Brie the kid. Well, that's the last of Rosa Mendes.
Naomi arrives in Anguilla to "do charity work." Renee is excited. Lana wants to take a bunch of photos. This annoys Renee. "Naomi shows up, and now all she wants to do is hang out with us." WHAT?!?! I hate everyone and everything about this show.
Miz comes home from the gym. Next, it's revealed Maryse sent him a sext while he was at the gym. Miz lets her know that she sent it to the group text with Dolph Ziggler, Renee, and Zack Ryder. That group sounds about right. Miz again says she needs her eyes checked.
Eva and Nattie talk. Eva comes to realize that it's just an honor to be part of a storyline. Sorry, I checked out on this conversation and storyline a long time ago.
Ziggler and Ryder tease Maryse over the picture she sent. "You have a way better life than I do," says Ryder. OH! SHOT AT EMMA!
More Eva storyline clips. "When it comes down to it, we're entertainers." That's right, not wrestlers.
Renee and Naomi go out drinking. Rusev and Lana go out to dinner. Renee and Naomi are having a blast. Lana and Rusev are bored. Lana calls Renee to see what they're up to. Renee makes a Deez Nutz joke. Lana is upset. Rusev, like me, doesn't seem to care either way.
Renee and Naomi arrive back at the house, and find Rusev and Lana sleeping. They take a funny photo. Then, they try to sneak out, but are caught.
Brie finds out that chryotherapy is the reason why she can't get pregnant. Once again, checked out on this whole thing.
Renee and Naomi make a bunch of noise at the house. Lana gets up and yells at Renee for being needy. They mention charity work, of which they've done none. Naomi pushes Lana away to break things up.
The next morning, Renee eats breakfast alone. Rusev is like, "go make up with her. She just wants to be your friend." Why are the guys on this show so sensible and the girls so dumb? DIVA'S REVOLUTION!
They finally do charity work. They play with kids and talk to them about their hopes and dreams.
Maryse goes in for her lasik surgery. It's over in 30 seconds. Just like most scenes on this show.
Lana apologizes to Renee. She's sad that she's on Raw. While all her friends are on SmackDown. I have a feeling things work out for Lana later. They have a heart-to-heart and everything turns out fine. Because that's how this show works.
Maryse reads a note by Miz. SHE CAN READ!
That's the show. Please God, let it end!