Previously on Total Divas. Tonight: IT'S THE SEASON FINALE! And I have a HUGE announcement at the end of this review.
We're at WWE Summerslam 2016 and Natalya is worried because WWE isn't telling them their tag team partner for the event. Do they not have the internet?
Flashback to two weeks.
Total Divas Season 6 Episode 16 Review: Total Summerslam
INTRO!!!
Maryse is taking selfies by the pool. But she needs wind. So The Miz grabs a leaf blower. What a sweetheart. They plan a party for Summerslam week.
Nikki Bella doesn't think she'll be wrestling at Summerslam. SWERVE!
Nattie comes up with a prom theme for Maryse's party. Dolph Ziggler reveals that he took his cousin to his high school prom. At least you got to go, jerk. The scene ends with Renee Young touching Maryse's boob.
Highlights from Nattie and Alexa Bliss vs. Becky Lynch and Carmella on the go-home SmackDown Live before Summerslam. This just disappoints me that Alexa Bliss isn't on Total Divas. Cast better, E! Network.
It's SummerSlam weekend. That was a quick two weeks. Miz and Maryse discuss WWE Prom. Maryse reveals that she got dumped two hours before prom, so she never went. I'm sorry. Had I known you would turn out the way you did. I would have never dumped you. Please forgive me. Miz officially asks Maryse to WWE Prom. He promises to make this an AWESOME night.
Maryse pulls out her phone and gets a notification that Eva Marie has failed a drug test. Eva, who doesn't want to be filmed, is seen exiting her hotel and getting into a car. And that's the last we'll see of Eva on WWE TV. Maybe.
Oh, nope. Eva tells her side of the story. She turned her paperwork in late. "See you in 30 days." I'm afraid I've got some bad news.
Lana goes shopping with her sister. She wants to take Eva's place in the six woman tag match.
Brie Bella and Daniel Bryan go out to lunch. Brie asks SmackDown general manager Daniel Bryan to put in a good word to get Nikki on SummerSlam. Put it on a good word? He's the GM. He can just put her on the show. I don't think Brie realizes just how much authority Bryan has.
Lana and Naomi discuss a dance battle that they will have at WWE Prom.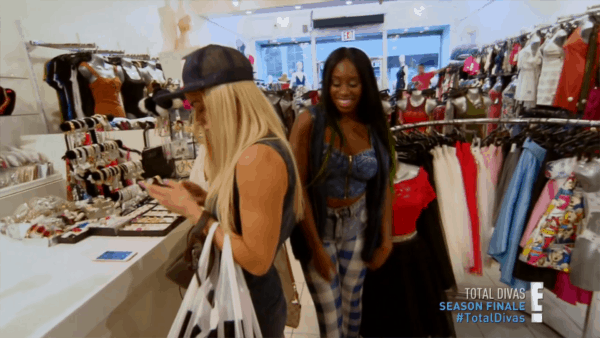 Brie and Nikki eat. Brie tells Nikki that she asked Bryan to help get her on the show. This upsets Nikki. UGGGHHHHHHHH! They will now bicker all episode until they no longer bicker.
The Total Divas do a Q&A session at a Tapout gym. Naomi just wants to know WHO IS THE THIRD WOMAN?!?!?! Naomi and Lana continue to discus their dance battle.
Bryan arrives back at the hotel and tells Brie about how he saved lives. Brie tells Bryan that she got into another fight Nikki. Bryan, sarcastically, says, "Shocking." Bryan says that Brie's heart was in the right place, but since Nikki didn't ask her to pitch a comeback, she shouldn't have done it.
Lana and Nattie head to a dance studio to prepare for a dancing battle. Nattie begins dancing on her own. Making the moves up as she goes. And that's what Lana doesn't know. She's lightning on her feet. Doesn't miss a beat. And that's what Lana doesn't see. Lana begins to hate hate hate. Nattie just decides to shake it off. Shake it off.
Brie apologies to Nikki. Everything is fine until they argue every episode next season.
Miz gets Maryse a dress. Maryse says it's exactly like the dress she was supposed to wear in high school. He also got her white gloves in a box. Maryse reaches for the gloves, and gets the Pretty Woman treatment.
It's time for WWE Prom. I'd say it looks like a real high school prom, but I never went to mine. MR. BELDING IS THERE! HOLY SHIT THERE IS A SAVED BY THE BELL INTRO SPLICED WITH WWE PROM HIGHLIGHTS! THIS IS THE GREATEST SCENE IN TOTAL DIVAS HISTORY! SHOW HAS PEAKED! Picture collage upcoming…
It's time for the dance battle. They have a lot to live up to after the previous scene. They begin to dance and I'm 100 percent sure that the music playing in the scene is not the music that played during the battle. This makes the battle a bit awkward. Lana and Naomi are really good dancers. Cue another picture collage.
Mr. Belding announces Prom King & Queen. Uso stuffed the ballot box. Thus disqualifying him. Miz and Maryse win. This whole scene will never be topped in the history of the show.
We're backstage at SummerSlam. Nattie is still freaking out about not knowing her partner. The five girls are pulled into a trailer, but we learn nothing. Instead, commercial.
All five girls make their way to the ring. The anticipation is killing me. ANOTHER COMMERCIAL! They're really milking this thing from nine months ago. To everyone's surprise, it's Nikki Bella. We get match highlights, which includes Nikki's new finisher.
Nattie, Naomi, Brie, and Nikki reflect on the past year. They even shoehorn Stephanie McMahon's, "you're no longer Divas, your Superstars" speech into this clip.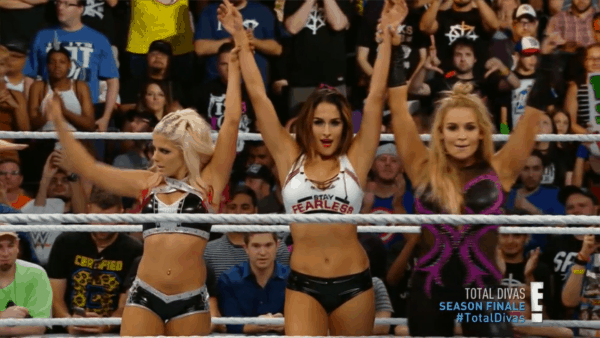 BRIE IS PREGNANT! Funnily enough, on the E! ticker during this entire episode, it ran news saying, "Brie Bella delivered her baby girl." And that's the end of the season.
And, the end of me recapping this show or Total Bellas. I apologize to anyone who looked forward to my recaps, even though they were typically weeks late. The show has just beaten me down to the point where it's not fun or rewarding in recapping them. I appreciate W2Mnet and Sean Garmer for letting me do this and rant and rave over the past year. I appreciate anyone who read these recaps and possibly laughed.
At least I'm going out on a high. Because WWE Prom will never be topped. And we'll always have that.