For the first time since 1986, the United States Men's National Team will miss a FIFA World Cup. A loss against Trinidad and Tobago, and wins by Panama and Honduras, doomed the United States Tuesday night.
Fans, former players and current United States players not on the roster reacted on social media. Plenty immediately – and rightfully so – began calling for the heads of Bruce Arena, the head coach, and Sunil Gulati, U.S. Soccer president.
However, there has to be some blame on the players, right?
USA World Cup Failure: Changes Are Needed
The United States looked lazy, unmotivated and certainly didn't look like a World Cup team.
It's hard to imagine if the United States would've made the playoff against Australia. With that roster and the players on the pitch, there's no way they could beat the Aussies.
However, they'll be facing Honduras in the playoff, while the United States sits at home. Sitting at home, trying to figure out where to go from here.
What the Pundits Are Saying
After the match, and over on ESPN News, Taylor Twellman, former U.S. National Team player, unleashed on the program.
He hit every point and did so with all the anger that U.S. National Team fans were feeling.
"As a whole, U.S. Soccer is not prepared," Twellman said. "They have not done a good enough job of getting this group ready to play. This is an utter embarrassment."
An utter embarrassment is an understatement. After the match, Grant Wahl, notable Sports Illustrated journalist, wrote "The most surreal and embarrassing night in US soccer history."
Twellman then elaborated that if the United States couldn't beat Trinidad and Tobago, who were last in the Hexagonal group, that they shouldn't deserve to go to Russia.
"The discussion after Brazil [in 2014] was, 'Can we beat the Colombias and the Belgiums and the Argentinas of the world,'" Twellman said. "Are you kidding me? We can't beat Trinidad on a field that's too wet and too heavy? What are we doing?"
The View from the Top, and What's Wrong
Out of the 25 players on the United States roster against Trinidad and Tobago, 14 players were in Brazil. In the starting lineup, however, only six players were in Brazil (Michael Bradley, Tim Howard, Omar Gonzalez, Matt Besler, DeAndre Yedlin and Jozy Altidore).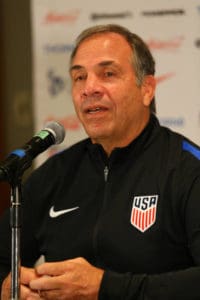 Despite head coach Bruce Arena's sentiments that "nothing needs to change" within U.S. Soccer, something does.
"Nothing has to change," Arena said. "To make any kind of crazy changes I think would be foolish. We're building a good system in our professional league. We have players playing abroad of some quality."
Yet, Arena ignored those players. He ignored a healthy Fabian Johnson, Timothy Chandler, and Danny Williams. Yes, John Brooks is injured, but Arena ignored English Premier League defender Geoff Cameron, leaving him out of the starting XI for the third-straight match.
Those five players make fans wonder: if included, would the result be different? However, Arena did precisely what he shouldn't have done last night: use the same starting lineup that he used against Panama.
"… We're all insane because the definition of insanity is doing the exact same thing knowing the result," said Twellman.
He couldn't be more right. To stop that insanity, change needs to happen within U.S. Soccer.
Perspective Replacements for Bruce Arena
Tab Ramos is doing a fine job with the youth program, hence the success of young teams in their respective World Cups and tournaments.
However, Arena and Gulati need out of the fold. Arena was to only be around just barely after the 2018 World Cup, but now it looks like his "sentence" might get cut short, just like his predecessor Jurgen Klinsmann.
Also, Peter Vermes and Jesse Marsch have had their names tossed around for the position, and Ramos has even had his name added to the list.
A former manager of the Argentine National Team, Atlanta United's Tata Martino is a foreign coach who has appeared on radars.
Another Missing Piece
The United States needs to establish a technical director as well. Since Jurgen Klinsmann's departure, there hasn't been a clear senior technical director for the federation.
Klinsmann was the man responsible for bringing the United States Johnson, Brooks, Williams, Christian Pulisic, Aron Johannsson, Julian Green, Chandler and Bobby Wood.
Now is the time for the United States to build from the ground up. Cleaning the house is the only option for this team. Focusing on the youth programs, which – as Twellman mentioned – has had a lot of money funneled over to them.
It's time for some change in U.S. Soccer. This was the very tough wake up call. Or else, they could kiss Qatar goodbye, too.
You can listen to Rachael McKriger, Erik Watkins and Sean Garmer each week. Right here on W2Mnet.com or I-Tunes, Youtube and more on the Soccer 2 the MAX Podcast.
MAIN PHOTO: Embed from Getty Images
Embed from Getty Images
Embed from Getty Images