The United States Women's National Team begins the Tournament of Nations shortly. It runs from July 27 through August 3. The inaugural tournament features live matches on the west coast between four squads. While the USWNT's matches against Brazil, Japan and Australia are on ESPN and ESPN2. Be aware that the other matches take place only on ESPN 3.
USWNT Tournament of Nations Roster Released
The last team to submit their roster was the United States, who are led by manager Jill Ellis. The USWNT also is under the leadership of co-captains Carli Lloyd and Becky Sauerbrunn.
"As a staff, we've watched a lot of league games in the first half of the season and that certainly played a role in our selection for this roster," says Ellis. "With three games against such high caliber opponents in eight days, and considering where our players are in their league seasons, we always have to factor in coverage and depth in player selection."
"I think this roster checks a lot of boxes with respect to where we are in our cycle; we have the capacity to look at new players, gain experience for others, and it gives us versatility within the team to have coverage and competition in positions."
Both captains undoubtedly made the roster. However, Ellis did not shake up the roster too much from the last national team matches. Ellis selected three goalkeepers: Alyssa Naeher, Jane Campbell and Abby Smith. For Smith, it's her second-straight national team call-up, while Campbell makes her senior roster return. Naeher likely starts in goal and has 15 senior team caps for the USWNT. Campbell has one cap. While Smith has yet to make her international debut.
Defenders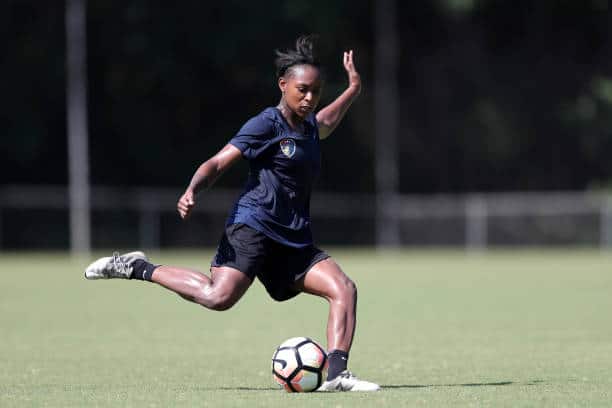 On defense, Taylor Smith is the new name in the bunch. This is the first international call-up for the defender for the North Carolina Courage. She's not the only Courage defender on the roster though, as Abby Dahlkemper looks to make her fifth appearance for the USWNT as well.
Julie Ertz, Kelley O'Hara, Case Short and Becky Sauerbrunn are all regular roster names. Ali Krieger makes her return, after being left off the last set of games against Norway and Sweden. Krieger has 98 appearances for the USWNT, and could get her 100th cap during the tournament itself.
Notably left off the roster was Meghan Klingenberg, a 2015 FIFA Women's World Cup champion. Klingenberg last appeared on the roster for the Norway and Sweden matches.
Midfielders
In the midfield, Morgan Brian makes her USWNT return, after missing the last two camps due to injury. Brian has featured for the Houston Dash nine times this season, totaling 602 minutes. Although, Brian has yet to score – or even provide an assist – this National Women's Soccer League season.
Making her senior call up for the first time is Boston Breakers midfielder Margaret Purce. Purce has been effective for the Breakers this season, appearing in 13 matches. Purce has started four matches, and has scored one goal.
Allie Long, Samantha Mewis, Carli Lloyd and Megan Rapinoe round out the regulars in the midfield. Lloyd could also achieve a milestone in this tournament, as she is only three goals away from scoring her 100th goal for the USWNT. Should Lloyd find those goals, she'll be the sixth USWNT player to reach the century mark.
Forwards
Ellis surprised many by bringing in seven forwards. Lindsey Horan, who is normally listed as a midfielder, features as a forward. Alex Morgan returns to the USWNT, as she was forced to miss the previous overseas trip due to a hamstring injury.
Ellis delivered another surprise by bringing in Lynn Williams, who recently just returned from injury for the North Carolina Courage.
Christen Press, Crystal Dunn, Sydney Leroux and Mallory Pugh are roster regulars, also in the squad.
Complete Roster
Goalkeepers (3): Alyssa Naeher, Jane Campbell, Abby Smith
Defenders (7): Abby Dahlkemper, Julie Ertz, Ali Krieger, Kelley O'Hara, Becky Sauerbrunn, Casey Short, Taylor Smith
Midfielders (6): Morgan Brian, Carli Lloyd, Allie Long, Samantha Mewis, Margaret Purce, Megan Rapinoe
Forwards (7): Crystal Dunn, Lindsey Horan, Sydney Leroux, Alex Morgan, Christen Press, Mallory Pugh, Lynn Williams
Wrapping it Up
In total, the roster features players from all 10 NWSL clubs, and only one foreign-based player in Dunn, who features for Chelsea Ladies in England.
"With the many NWSL players in this tournament from all four teams, it speaks to the quality of the league and it will be exciting for fans that watch these players compete for their clubs to see them play intense matches for their countries," says Ellis. "For the fans, it's going to be a chance to see World Cup veterans and rising stars on all four teams. Every game of the six should be extremely entertaining."
The USWNT kicks off the Tournament of Nations on July 27 against Australia. Then, they face Brazil on July 30. Finally they renew their rivalry with Japan on August 3.
You can listen to Rachael McKriger, Erik Watkins and Sean Garmer each week. Right here on W2Mnet.com or I-Tunes, Youtube and more on the Soccer 2 the MAX Podcast.
MAIN PHOTO:
DEFENDERS PHOTO:
MIDFIELDERS PHOTO:
FORWARDS PHOTO: