New Japan Pro Wrestling's previous big event Sakura Genesis provided some interesting circumstances leading into this show. Not to mention, a very tragic result in the main event. Certainly the expectation was that Kazuchika Okada would successfully defend his IWGP Heavyweight Championship. However, the reality of what occurred to Katsuyori Shibata is scary. Sadly, we don't know if or when we may ever see him inside a wrestling ring again. Surely, he would have featured in a major match on this show. Let's just hope he's able to recover from this injury and live life again.
That being said, Okada is in the main event once again defending the IWGP Heavyweight Championship against a very familiar foe in the Bullet Club's Underboss Bad Luck Fale. Could this be the big loss for Okada? And the major title victory that Fale has been seeking? It's totally possible. The Semi Main Event sees two men who also know each other fairly well due to their factions battling each other constantly. Bullet Club leader Kenny Omega faces off against the most consistently awesome Tomohiro Ishii. These two had a war at the New Japan Cup 2017 and this could certainly be another one.
A surprise from Sakura Genesis was War Machine walking away with the IWGP Tag Team Titles. Now, they face two former champion teams in the super veterans Ten Cozy and the Guerrillas of Destiny While Hiroshi Tanahashi and friends continues their fight with Los Ingobernables de Japon for the NEVER Six Man belts. Those are just the major matches, there's even more in store, including David Finlay and Cody Rhodes as well on NJPW's wrestling vacation. This is the W2Mnet NJPW Wrestling Dontaku 2017 Preview & Predictions.
W2Mnet NJPW Wrestling Dontaku 2017 Preview & Predictions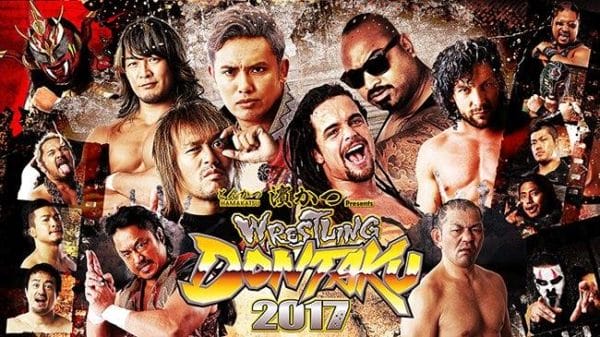 An Introduction to the Article
As someone that has quite a bit of experience doing these roundtable type articles, I wanted to do this a bit differently than some others. Instead of having numerous people all give thoughts on each match, I felt it better to assign one match to each person. So, one of our staff members will give their thoughts on the match itself and predict a winner. This continues until the end of the article, when everyone gathers to give their overall thoughts on the event. – Sean Garmer
W2Mnet Staff
Sean Garmer, Co-Host of Wrestling 2 the MAX, W2Mnet Editor in-Chief
Paul Leazar, Co-Host of Wrestling 2 the MAX, W2Mnet Wrestling Dept. Head
Jeff Sugg, W2Mnet Editor
Angel Gonzalez, W2Mnet Staff Member
Glenn Smith, W2Mnet Wrestling Contributor
Tom Reese, W2Mnet Wrestling Contributor
Robert Cooper, W2Mnet Wrestling & Games Contributor
Cedric Colon, W2Mnet Wrestling Contributor
Match 0: The Young Lions Battle
Tag Team Match: Yoshitatsu & Hirai Kawato vs. Tomoyuki Oka & Katsuya Kitamura
I always love watching these matches. There's something so fun about watching these Young Lion's go out there, and try to impress with only the basics allowed to them. Hirai Kawato is a spark plug of energy, Tomoyuki Oka clearly has been cloned to be Yuji Nagata, only larger, and Katsuya Kitamura just mauls you to death. The only problem here is the veteran, Yoshitatsu, who went from being an entertaining act in WWE to just terribly dull post injury here in New Japan. I'm gonna say Kitamura and Oka to win, mostly just because I want see them get the pin on Tatsu. – Paul Leazar
Winners: Kitamura & Oka
Other Staff Member Predictions: Everyone else also picked: Oka & Kitamura.
Match 1: CHAOS vs. Bullet Club
Tag Team Match: YOSHI-HASHI & Will Ospreay (CHAOS) vs. Yujiro Takahashi & Chase Owens (Bullet Club)
So here we are folks, Team Taco Assassins (Will Ospreay and Yoshi Hashi) against the Bullet Club B-Team. This is of course, Chase Owens and Yujiro Takahashi. They are going to be up against by far two members of the Bullet Club that don't do too much in the promotion. It may not be a total walk in the park, but it's hard not seeing the CHAOS team win. However, in the same token, anything is possible in this wacky world of professional wrestling. This should be a good match to have at the start of the show. – Glenn Smith
Winners: Taco Assassins
Other Staff Members Predictions: Everyone else also picked: CHAOS Team.
Match 2: Tiger & Friends vs. New Japan Dads
Six Man Tag Match: Tiger Mask W, Tiger Mask IV & Togi Makabe vs. Yuji Nagata, Manabu Nakanishi & Jushin Thunder Liger
This is your standard undercard tag match that NJPW uses to fill out shows. Sometimes they're used to set up singles matches down the line and sometimes they're used simply as warm up acts so to speak. This is probably just a match to showcase Tiger Mask W. Kota Ibushi under the mask seems to be a regular recurring role now. He's usually only on the bigger shows so it makes sense to have him shine amongst the the vets. This will be a quick match with everyone getting their moves in and getting out. Tiger Mask W scores the pin on Manabu Nakanishi. I'm gonna predict this match also sets up Tiger Mask W v Jushin Thunder Liger match next month in Osaka as a special attraction. – Tom Reese
Winners: Tiger Mask Team
Other Staff Members Predictions: Glenn Smith: New Japan Dad's. Everyone else picked: Team Tiger Mask.
Match 3: CHAOS vs. Suzuki-Gun
10 Man Tag Match: Hirooki Goto, Toru Yano, Jado, Rocky Romero & Beretta (CHAOS) vs. Minoru Suzuki, Takashi Iizuka, Yoshinobu Kanemaru, Taichi & El Desperado (Suzuki-Gun)
Color me surprised that I actually find this match to be anything resembling interesting. This is a match that we have been seeing in the undercard for what feels like forever. Now it's made slightly more interesting coming off of two title changes. Minoru Suzuki is now getting better after beating Hirooki Goto for the NEVER title. Then we have Roppongi Vice coming off a reclamation of their Junior tag titles.
Suzuki's win came as a surprise to me, as I always thought Goto wouldn't lose the title until at least Dominion. But they decided to pull the trigger on Suzuki, and I can't blame them. The dude is awesome, and fits the legacy of the title like a glove. So I see this match being more than just the every card slog that it has been. A win by either team, could put them in rematch contention for the belts, their respective members lost. That being said, I think that CHAOS is going to win this in order to start heating up the RPG Vice members as champs, and get them hot for the Super juniors tourney. This also gives Goto another chance at Minoru. – Robert Cooper
Winner: CHAOS
Other Staff Member Predictions: Glenn, Tom & Angel: Suzuki-Gun. Sean, Paul, Cedric: CHAOS.
Match 4: Special Singles Match
Singles Match: David Finlay vs. Cody
Here's another match I'm really looking forward to watching. David Finlay is a such a fun talent to watch in the ring. I'm in the minority when it comes to Cody. I've enjoyed his work tons. Cody's going to get the win here, but the match is going to be the more important part. How much does David get in? And how good will Cody look, going forward towards the G1? In short, Cody to win, David to impress. – Paul Leazar
Winner: Cody
Other Staff Member Predictions: Everyone else also picked: Cody.
Match 5: Juice & KUSHIDA vs. Los Ingobernables de Japon
Tag Team Match: Juice Robinson & KUSHIDA vs. Tetsuya Naito & Hiromu Takahashi (Los Ingobernables de Japon)
Right now, Los Ingobernables de Japon are on cloud nine. Hiromu Takahashi beat arguably the best IWGP Jr Heavyweight Champion ever, in KUSHIDA, in under three minutes. Then, he recently defeated Ricochet, who many believe is the best Jr Heavyweight in the world. Tetsuya Naito successfully retained the IWGP Intercontinental Championship against Juice Robinson. Regardless, KUSHIDA and Juice Robinson will be highly motivated to get some type of revenge on L.I.J. I fully expect to see KUSHIDA and Juice to start the match hot, but L.I.J. weathers the storm and make this a match. Let's go with the upset and have Juice pin Naito again. I don't think their storyline is over. – Angel Gonzalez
Winners: Team L.I.J.
Other Staff Member Predictions: Coop & Tom: Juice & KUSHIDA. Glenn, Sean, Paul, Cedric L.I.J.
Match 6: NEVER Openweight Six Man Tag Team Championship Match
Six Man Tag Match: (Champions) Hiroshi Tanahashi, Ryusuke Taguchi & Ricochet vs. SANADA, EVIL & BUSHI (Los Ingobernables de Japon)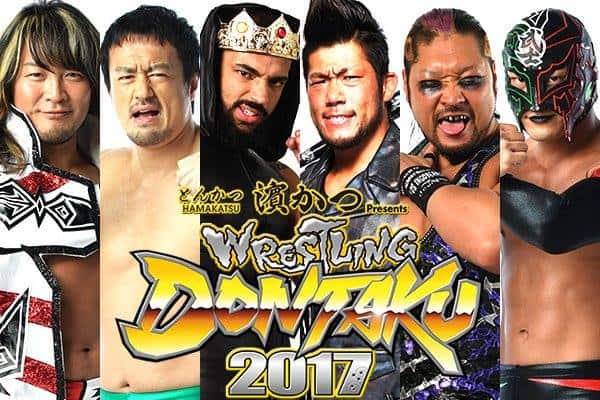 If you're going to have a tag team represented by three distinct members to hold a 6-Man Tag Team Championship. What better team to represent it than Taguchi Japan. This team is fused of past, present and future. Not to mention, comedy, drama and fantasy. Ryusuke Taguchi with his "funky weapon" cannot be taken lightly. Hiroshi Tanahashi, arguably the greatest NJPW champion (1 in a century pretty much spells it out). Plus, King Ricochet, arguably one of the purest young wrestlers to grace the ring.
But across the ring are the former champions, who have transformed their careers by uniting into one formidable group Los Ingobernables de Japon. The trio of BUSHI, EVIL and SANADA will definitely be hungry to regain the titles. Youth and dirty tactics are on their side for sure. But I still root for the experience and aerial mastery of Taguchi Japan and pick them as the favorites to retain. – Cedric Colon
Winners AND STILL CHAMPIONS: Taguchi Japan
Other Staff Member Predictions: Sean & Coop: Taguchi Japan. Tom, Paul, Glenn, Angel: L.I.J.
Match 7: IWGP Tag Team Championship Match
3 Way Match: (Champions) War Machine (ROH) vs. Hiroyoshi Tenzan & Satoshi Kojima (Ten Cozy) and Guerillas of Destiny (Bullet Club)
I think many would agree the heavyweight tag team division in NJPW is underwhelming. Two of their biggest teams, G.B.H and K.E.S are not wrestling due to injuries. Thus making the division very thin. This is why Ten Cozy were the champions for the sixth time. It's not a knock on them, I have the outmost respect for them. But they are the third generation. I would expect by now, NJPW would have more heavyweight tag teams. Thankfully, NJPW brought over War Machine from ROH and gave them a shot with the titles.
War Machine's match vs Ten Cozy was pretty fun. I expect their rematch to be just as good. The inclusion of G.O.D. adds an interesting wrinkle to War Machine's first title defense. This is not going to be the best match of the night, but it should be at least worth a watch. I don't think there is any way War Machine loses here. The crowd loves them, have a unique look, and they bring a level of physicality the division sorely needs. I suspect they are going to be champions for a long time, until K.E.S comes back fully healthy. – Angel Gonzalez
Winners AND STILL CHAMPIONS: War Machine
Other Staff Member Predictions: Everyone else also picked: War Machine.
Match 8: Bullet Club Leader vs. The Pitbull
Singles Match: Kenny Omega (Bullet Club) vs. Tomohiro Ishii (CHAOS)
In what could be considered a defacto #1 Contenders Match. The best bout machine, Kenny Omega goes one on one with the stone pitbull, Tomohiro Ishii. This encounter promises to be one of the most exciting match-ups on the entire card. Omega is one of the best athletes in the world of puroresu, and Ishii is one of the most underrated talents in the entire world. There isn't a wrestler working today that these guys couldn't get a good match out of, so following this match might be a difficult task. You know it's gonna be awesome. I feel like this is here for Kenny Omega to get his win back. Omega hits that One Winged Angel and gets that victory. – Jeff Sugg
Boy, do these guys have a tall task ahead of them. Trying and top their last effort during the New Japan Cup is rough. They put on a definite match of the year candidate last time. However, if there are two guys who could top that effort on the New Japan roster, it's these two. I would say that most of the folks following New Japan, know that Kenny is getting his win back here, and this could be the match that sets up the possible rematch for him.
Ishii still has yet to get his Heavyweight Title match for beating Okada last year during the G1. So, Kenny could use that as ammunition to challenge after Okada title's defense against Fale (especially if it's revealed that Fale came out only to soften Okada up more.) Either way, Mr. Six Stars gets the victory here, and this very well could be the match of the night. – Paul Leazar
Winner: Kenny Omega
Other Staff Member Predictions: Everyone else also picked: Kenny Omega.
MAIN EVENT: Match 9: IWGP Heavyweight Championship Match
Singles Match: (Champion) Kazuchika Okada (CHAOS) vs. Bad Luck Fale (Bullet Club)
The main event for the IWGP Heavyweight Championship is another offering to the altar of Okada. In what might be the most impressive run of any champion in recent memory, the Rainmaker is having incredible matches with everyone of every style. Now it's the Underboss, Bad Luck Fale's turn.
Expect Fale to use his size and girth to wear out Okada. These two have had several matches with each other and Okada knows how to get the best out of Fale. If Fale can get this match finished in 15 minutes or less, it all leads in his favor. Okada should survive once again and retain, but this is certainly a challenge to his reign he shouldn't take lightly. I full anticipate this to be a highly entertaining encounter. I suspect Okada to drag this one out close to the 30 minute mark where his offense will be more effective and his advantages more pronounced. After a Rainmaker or two, the Okada dollars will fall from the sky. – Jeff Sugg
This feels like a letdown given the level of opponents Okada has faced this year so far. The four singles matches Okada has had this year have ranged anywhere from great, to off the charts unbelievable. He's faced Kenny Omega, Minoru Suzuki, Tiger Mask W, and Katsuyori Shibata. So, now it's onto Bad Luck Fale. Fale being the resident big monster of NJPW is always in a featured position. It's no surprise, he usually gets a couple main events every year, outside of the G1. It's always either Okada or Tanahashi he's in there as well. So, the matches are mostly very good.
However, it's a case of been there, done that at this point. Although, this is a test for Okada, but more like, can he make this a great match, and continue his unbelievable 2017 run. This match has several factors working against it. First, it feels like a match thrown together for no real reason. My feeling is that they're saving the bigger Okada matches for Osaka in June and California in July. So it feels filler, in the end.
Also, there's the Fukuoka crowd. It's a notoriously dead crowd that can really hurt a match or show. So, the deck is really stacked against them having a great match. Having said all that, Okada is on a run like no other right now. He's now looked at, as the top guy in the fans eyes. He always gets the best out of Fale. The result is gonna be obvious. Okada is winning. The big question is how great can Okada make this match. The answer will lie with the Fukuoka crowd. If they're hot, it could happen. – Tom Reese
Winner AND STILL CHAMPION: Kazuchika Okada
Other Staff Member Predictions: Glenn Smith: Bad Luck Fale. Everyone else picked: Kazuchika Okada.
Farewell For Now
Well, that's all for our W2Mnet NJPW Wrestling Dontaku 2017 Preview & Predictions. You can also listen to Sean and Paul preview the event on an edition of Wrestling 2 the MAX.