Now a seeming tradition, NXT gets their night, before the big show on Sunday. It's almost like people are anticipating this NXT Takeover, just as much as Wrestlemania. Last year, The Revival walked into this show as NXT Tag Champions. For NXT Takeover Orlando, they are challengers. Authors of Pain are the current champions and they face former champions, DIY and Revival in a Triple Threat Match. If what we've seen from these teams combines to jell, it could be an amazing contest.
Last year, Asuka won the NXT Women's Championship on this show. She defeated Bayley and wound up not losing a match until the current moment. Could she see history repeat itself, as she takes on Ember Moon? It is entirely possible that the belt changes hands again. It could also just be the start of something more.
Last year, Shinsuke Nakamura made his debut on this show. He wound up with the Match of the Year in victory over Sami Zayn. Zayn wound up making his big WWE PPV debut the next night at Wrestlemania. Nakamura has a chance to have a farewell match against Bobby Roode. He also was on the undercard last year and now he's main eventing this show. Bobby Roode was on the sidelines watching and now he also is in the main event. What a difference a year makes.
W2Mnet NXT Takeover Orlando Preview
An Introduction to the Article
As someone that has quite a bit of experience doing these roundtable type articles, I wanted to do this a bit differently than some others. Instead of having numerous people all give thoughts on each match, I felt it better to assign one match to each person. So, one of our staff members will give their thoughts on the match itself and predict a winner. This continues until the end of the article, when everyone gathers to give their overall thoughts on the event. – Sean Garmer
W2Mnet Staff
Sean Garmer, Co-Host of Wrestling 2 the MAX, W2Mnet Editor-in-Chief
Paul Leazar, Co-Host of Wrestling 2 the MAX, W2Mnet Wrestling Dept. Head
Angel Gonzalez, W2Mnet Full Staff Member
Jeff Sugg, W2Mnet Editor
SAnitY Versus The Perfect 10 Squad
Eric Young, Alexander Wolfe, Nikki Cross & Killian Dain (SAnitY) vs. Tye Dillinger, No Way Jose, Roderick Strong & Ruby Riot
A late addition to the NXT card. This feels like it serves a two fold purpose. SAnitY have had their moments, but looking dominant against a group of singles wrestlers helps put that over even more. This should be fun with No Way Jose and Tye Dillinger providing the entertainment value. Roderick Strong killing people with Backbreakers. Ruby Riot debuting and hopefully making us want a match with her and Nikki Cross. There's also a chance this could be the last Takeover for Tye Dillinger. You have to think a post Wrestlemania 33 spot awaits for the Perfect 10 on the main roster. Killian Dain and Eric Young can match-up with anyone, but I'd expect the well oiled team aspect to come into play, as a larger story aspect than the individuals on SAnitY.
Regardless, this has the makings of an exciting opening match with a hot crowd. It wouldn't surprise me at all to see Dillinger take the pin for his team, in order to protect the ones sticking around for hurting too much from the loss. SAnitY keeps looking strong and they find someone else to single out and pester moving forward. – Sean Garmer
Winners: SAnitY
Other Staff Members Predictions: Jeff Sugg: Perfect 10 Squad. Paul & Angel: SAnitY.
The Debut of Tommy End on NXT
Aleister Black vs. Andrade "Cien" Almas
This match serves as the official debut for Tommy End on NXT. If you watched the WWE UK Tournament, you got a little preview for him in a match against Neville. Now known as Aleister Black, he's a big striker and Andrade Almas is going to certainly feel the pain. It's strikingly odd that they couldn't find anyone else to the job, aside from someone who is still coming into his own as a heel character. I get it, the point is probably that Almas will do so well that you aren't going to think about it. However, Andrade Almas needs to be winning matches himself and continuing to grow as "El Idolo." The great thing about these NXT Takeover shows, is that you know this match gets time.
Both men are going to get to showcase what they can do. I wouldn't be surprised at all, if we are talking about this match when the night is done. Almas was in position like this on the last Takeover show and he put on one hell of a performance. Black wants to impress and backup the hype he received when he signed. His character is also kind of dark, so getting to see if he has any character specific attributes will be interesting too. Expect a very good outing for the final match, before getting into the three title contests. Even if we know who's winning before the match even starts.- Sean Garmer
Winner: Aleister Black
Other Staff Members Predictions: Everyone else also picked: Aleister Black.
NXT Tag Team Championship Match
Triple Threat Match: (Champions) Authors of Pain vs. #DIY vs. The Revival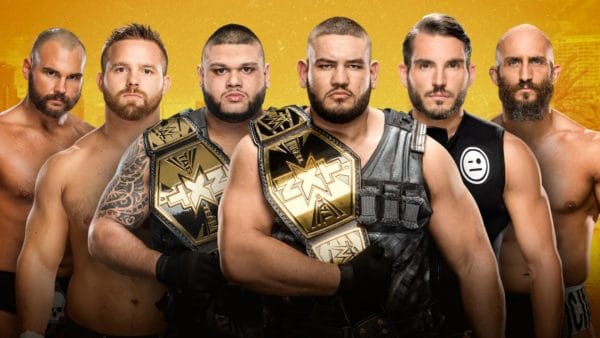 The triple threat match has a little bit of everything. True, underdog, fan favorite babyfaces. True, dastardly heels that the fans love anyway. Monster heels with no redeeming qualities. The champs, even without the championship advantage, feel like the runaway favorites. They hold a distinct power advantage, are hella athletes. They might be the most improved NXT wrestlers over the last year.
The Revival is never to be counted out of a contest. Especially, since there's the ability to win the titles without having to pin or submit Akam and Rezar. I could see them emerging victorious. Though I must admit that I believe it is more likely we see the Revival debut on the main roster on Tuesday.
DIY is easily one of the most popular acts in NXT. Maybe even in NXT history. They will have the crowd on their side for sure. Plus, they hold a distinct speed and quickness advantage too. I also believe they are willing to do whatever it takes to not only win the titles, but to have the best match of the weekend. DIY has also proven that on any given night they can defeat any tag team on the planet. Unfortunately, Takeover wont be the time and Orlando wont be the place. – Jeff Sugg
Winners AND STILL CHAMPIONS: Authors of Pain
Other Staff Members Predictions: Everyone else also picked: Authors of Pain.
NXT Women's Championship Match
(Champion) Asuka vs. Ember Moon
Sweet lord all mighty it's finally happening. For the very second Ember Moon stepped onto the scene, and started dominating everybody in sight, it felt like this clash was going to be inevitable. If you listen to the Wrestling 2 The MAX podcast (CHEAP PLUG!) you'll hear us talk about the women's division over there very often. Mainly, because it's basically been a one woman show since The Four Horsewomen got called up to the main roster. Asuka has yet to lose a match, she's beaten everybody, and now there's only one challenge left. Ember Moon has also yet to lose a singles match. Leading to the two biggest forces coming head to head in an epic clash, which has show stealer written all over it.
So who wins? Asuka? Maybe. I'll never get sick of watching her obliterate woman after woman. Her dominance is a constant draw. However, there comes a time when you have to lose. So does that mean that time is right to put on the belt Ember Moon?
Honestly, I don't know. She's a great wrestler, and she's everything you want to see in the ring. Recently, we've gotten a look at her promo game. It isn't quite up to snuff (you could make the same argument about Asuka too.) It comes down to this. If Asuka is getting the call-up to the main roster after Wrestlemania, do the switch. If it isn't, leave it on Asuka. Let the build continue. Let this be the feud that establishes Ember Moon as the heir-apparent. And let Asuka keep doing what she does best. Until you're ready to pull the trigger with Moon. – Paul Leazar
Winner AND STILL CHAMPION: Asuka
Other Staff Members Predictions: Angel Gonzalez: Ember Moon. Sean & Jeff: Asuka.
NXT Championship Match
(Champion) Bobby Roode vs. Shinsuke Nakamura
I have been tracking Bobby Roode's career since his time with Team Canada in TNA, back in 2005. He always had the look and charisma to make a name for himself in the WWE. I just didn't think it was going to be this fast. Roode did the unthinkable when he beat Shinsuke Nakamura at NXT Takeover San Antonio.
Not only was he the second person to beat Nakamura, he won the NXT championship in less than six months. It goes to show how much confidence Triple H has in Roode to carry the hottest brand in WWE. Roode has already defended his title in a tough bout against Kassius Ohno on the March 15 episode of NXT. So, Roode has the momentum and is battle tested for his second match against Nakamura.
Shinsuke Nakamura is finally getting his chance for revenge against NXT Champion Bobby Roode. This rematch did not come easy. He is coming back from a severe knee injury, which cost him his NXT championship. All doubts about his health quickly dissipated when he beat former Cruiserweight Champion T.J. Perkins. Can Nakamura use his strength and skill to beat Roode? Or will Roode outsmart him again?
The Odds
If Nakamura wins? This means the WWE brass do not feel Nakamura is ready for the main roster. Either that, or WWE creative does not have any plans for him yet.
If Roode wins? He continues to be the top heel of NXT. Overall, NXT has an abundance of credible baby faces. But significantly less credible heels. Having Roode as the champion, gives more opportunities to see fresh main event match-ups.
All indications show Roode is going to win this match. Nakamura has done it all in NXT. He remained undefeated for a long period of time. Had various rivalries with top NXT stars, and won the NXT championship twice. The only question that is left for Nakamura is? Does he appear on RAW or Smackdown Live after Wrestlemania? – Angel Gonzalez
Winner AND STILL CHAMPION: Bobby Roode
Other Staff Members Predictions: Everyone else also picked: Bobby Roode.
Overall Thoughts Part 1
While this Takeover does not have that traditional tag match that gets me super hyped. Not to mention, missing Ohno and Itami. I still fully anticipate NXT to steal the weekend. Roode and Nakamura know how to provide quality main events. They have great chemistry, and should have an excellent match. Loser Leaves NXT might not be an official stipulation, but it certainly feels that way. While Ember Moon might have less momentum than any previous challenger. She might also be Asuka's biggest threat to date. The lack of momentum could be intentional as it would make for a more surprising upset. Is there a reason why the SD! Women's title match participants have been kept so vague? Hmmm.
The triple threat match seems poised to steal the show, since it has a little bit of everything. The eight person mixed tag should be lots of fun and gets a lot of people on the card. Finally, The End has come. The debut of the next NXT sensation is set as Aleister Black arrives. Looking very much forward to this one. – Jeff Sugg
Overall Thoughts Part 2
Every time I think there is no way NXT can outdo themselves, they find a way to do so. Honestly, this may be the strongest card they have had to date. I am excited for every single match in NXT Takeover Orlando. Although I am not the biggest fan of AoP, adding The Revival to this tag team match adds a whole new layer. I am curious to see how The Revival perform in a triple threat. I cannot wait to see Ruby Riot match-up against Nikki Cross. Putting them in an eight person match, allows us to only get a glimpse at what could be a very combustible rivalry.
Almas is the most underrated wrestler on the NXT roster. He is a great opponent for the debuting Aleister Black. They may have the match of the night. Asuka vs Ember Moon is the match-up we all guessed would occur during Wrestlemania weekend. Next to Nikki Cross, Ember Moon is the only other credible threat to finally defeating Asuka. This show is also a good send-off for Nakamura. I am sure he will unleash all hell in what is likely his last match in NXT. Just like last year, the NXT roster outshines the main roster. – Angel Gonzalez
Farewell For Now
Well, that is all for our W2Mnet NXT Takeover Orlando Preview. Hope you also check out our WWE Wrestlemania 33 Preview as well. Before leaving you, be sure to check out Gary Vaughan Sean and Paul previewing both big events on the latest Wrestling 2 the MAX podcast below.