WWE's biggest event of the year is upon us. The showcase of the immortals. The Grandaddy of them all. It's Wrestlemania 33.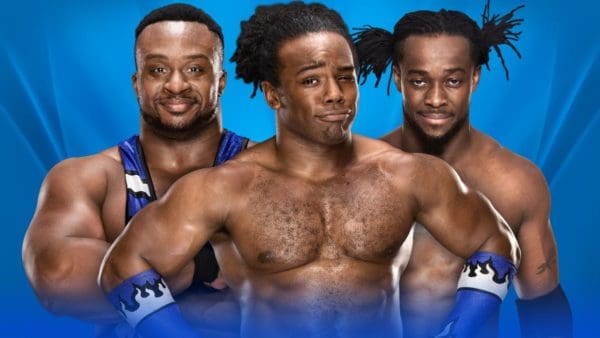 Hosted by the New Day.
An event that continues to get even more massive every year descends on Orlando. Almost every championship WWE has is being defended on the show as well. The high profile Pre-Show match contains Austin Aries and Neville for the WWE Cruiserweight Championship. There's also the Andre The Giant Memorial Battle Royal happening on the pre-show as well. Could it be a big night for Braun Strowman? Or Sami Zayn? Or is a debutante like Killian Dain going to match what Baron Corbin did last year and win it.
On the main card, Undertaker is rumored to take the main event spotlight with Big Dog Roman Reigns. Triple H and Seth Rollins battle in a Non-Sanctioned Match. AJ Styles takes on Shane McMahon in what surely could have people hoping neither man dies. John Cena and Nikki Bella combat The Miz and Maryse in a mixed tag match to determine who is the "It" couple in WWE.
Then, there are seven Championships on the line in various spots on the show. The RAW Tag Titles are hanging high in the air in a Ladder Match. Alexa Bliss defends her Smackdown Women's Title against only Mickie James, Naomi, Natalya, Becky Lynch and Carmella, for now anyway. While the RAW Women's Title match is set as an Elimination match with Bayley, Charlotte Flair, Nia Jax and Sasha Banks. In perhaps the most well booked match on the entire show, Kevin Owens and Chris Jericho collide for the United States Championship. The two dirty birds on Smackdown Dean Ambrose and Baron Corbin are probably gonna destroy each other for the Intercontinental Title. Bray Wyatt defends the WWE World Championship against former ally Randy Orton. While the WWE Universal Championship sees two familiar foes, Goldberg and Brock Lesnar go into final battle.
A mega card for WWE's mega show, which even includes musical performance somewhere in it.
Let's just hope we are left with a better event than last year.
W2Mnet WWE Wrestlemania 33 Preview
An Introduction to the Article
As someone that has quite a bit of experience doing these roundtable type articles, I wanted to do this a bit differently than some others. Instead of having numerous people all give thoughts on each match, I felt it better to assign one match to each person. So, one of our staff members will give their thoughts on the match itself and predict a winner. This continues until the end of the article, when everyone gathers to give their overall thoughts on the event. – Sean Garmer
W2Mnet Staff
Sean Garmer, Co-Host of Wrestling 2 the MAX, W2Mnet Editor-in-Chief
Paul Leazar, Co-Host of Wrestling 2 the MAX, W2Mnet Wrestling Dept. Head
Patrick Ketza, Host of Wrestling Unwrapped, W2Mnet Wrestling Senior Editor
Angel Gonzalez, W2Mnet Full Staff Member
Jeff Sugg, W2Mnet Editor
Glenn Smith, W2Mnet Wrestling Contributor
Harry Broadhurst, Co-Host of Wrestling Unwrapped, W2Mnet Football Contributor
Rick Beslin, W2Mnet Wrestling Contributor
Noah Mooney, W2Mnet Wrestling & Football Contribtor
Robert Taylor, W2Mnet Wrestling & Games Contribtor
Thomas Grim, W2Mnet Wrestling Contributor
Pre-Show Kickoff: WWE Cruiserweight Championship Match
(Champion) Neville vs. Austin Aries
I was beyond excited when Austin Aries finally joined the WWE. Admittedly, I thought he was going to do more in NXT but injuries got in the way. Specifically Hideo Itami got injured before the start of their rivalry in October 2017. In my opinion their rivalry could have been one of the best of the year. To make matters worse later that month Aries suffered a broken orbital bone which pretty much ended his NXT career. Admittedly, I was bummed when he joined the 205 Live roster. Whether it was ROH or TNA, "The Greatest Man That Ever Lived" proved he was one of the best wrestlers around. Sadly WWE feels he is better suited to make 205 Live, so far a failed experiment, great. He has a chance to do that going up against Neville, "The King of the Cruiserweights" of the biggest stage of them all.
I never thought Neville would ever become a heel. He was such a good white meat baby face. WWE never did anything with him but that wasn't his fault. I put that blame solely on the creative team. Since coming back from injury, Neville has shown a new edgy side to him. I am shocked to see how good he is as a hateable heel. He has really come onto his own and has added a sense of credibility that was missing with 205 Live. As one of the corner stones of 205 Live, I suspect he plans to show the world why the cruiserweights should be respected.
The Odds
If Aries wins: The Era of Greatness will officially begin. This will be Aries' first title run in the WWE. By putting the title on him, I believe the WWE is trying to see if he can get more attention on 205 Live.
If Neville wins: By beating arguably the most credible 205 wrestler, it will add more credibility to his title run. I think it's too soon for Neville to lose the title. He is doing a great job being the man to carry 205 Live. I suspect he is going to have the title for a very long time. Neville and Aries could have had match of the night but they are being relegated to the preshow. This is a darn shame but I hope that despite that, WWE will allow them to go all out. – Angel Gonzalez
Winner AND NEW CHAMPION: Austin Aries
Other Staff Members Predictions: Jeff, Sean, Coop, Robert, Patrick, Rick: Austin Aries. Paul, Noah, Harry: Neville.
Pre-Show Kickoff: Andre The Giant Memorial Battle Royal 2017
33 participants: Titus O'Neil, Sami Zayn, Braun Strowman, Killian Dain, R-Truth, Goldust. Luke Harper, Vaudevillains, The Ascension, Kalisto. Curtis Axel, Bo Dallas, Heath Slater, Sin Cara, Jinder Mahal, Dolph Ziggler. The Usos, Gable & Jordan, Rhyno. Primo & Epico, Breezeango, Tian Bing. Mojo Rawley, Apollo Crews, Curt Hawkins, Mark Henry, Big Show.
Let's do this by the process of elimination. Almost everyone in this match are just there for fodder and to get them on the card. However, there are some contenders of course. Sami Zayn is probably going to be in the final four, along with Braun Strowman. This continues the feud they had for a long period during 2016. Mojo Rawley was technically the first guy in this and with the possibility of Gronk appearing in this match, he could potentially go far.
There's a chance this could be something for Apollo Crews. Who am I kidding, I'm probably dreaming with that. Killian Dain being a big guy has final four potential as well. Big Show is always a contender in these things. Honestly though, he's there to give Braun a huge elimination. I'd say watch out for Chad Gable or Jason Jordan going far, to put over one of the Smackdown Tag Teams. However, the only reason you dump a guy like Braun in a match of this low caliber, is because he's winning it. Maybe I'm going chalk here, but it just feels like the obvious is happening. – Sean Garmer
Winner: Braun Strowman
Other Staff Member's Predictions: Noah, Angel, Robert, Coop Paul & Jeff: Braun Strowman. Rick, Harry, Glenn, Thomas, Sami Zayn. Patrick: Elias Sampson.
Pre-Show Kickoff: WWE Intercontinental Championship Match
(Champion) Dean Ambrose vs. Baron Corbin
An intriguing match on paper that could lead to a pretty good match. Both guys have a similar style, (although we know Dean can do more than what he does week to week.) We've seen Corbin work well when's he the second or third best wrestler in the ring. Baron has been Smackdown's answer to the Braun push, and I'd bet the few dollars I have in my pocket that Baron gets to add another championship accolade to his Wrestlemania resume. Don't get me wrong, I love Dean (a sentiment that seems to be fleeting for many wrestling fans these days,) but this reign hasn't really done all that much for him. Honestly, seems like busy work. Dean winning here does nothing for him, but it does a bunch for Baron. I'd be interested to see where an IC Title reign takes Mr. Corbin. – Paul Leazar
Winner AND NEW CHAMPION: Baron Corbin
Other Staff Members Predictions: Sean, Thomas, Rick, Patrick, Noah, Angel, Robert, Coop Baron Corbin. Glenn, Harry, Jeff: Dean Ambrose.
Commish vs. The Phenomenal One
Shane McMahon vs. AJ Styles
The only real sort of logic I can give for a Shane McMahon win, is if they're looking to move AJ Styles over to RAW. However, I feel that they can use the WWE Draft for that. I really don't see any other way for Shane to win. If he wins for any other reason than to set AJ Styles on a path, it'd do nothing for anybody. Shane doesn't need a win, he's an authority figure, and AJ is a former champ. For him to lose would do some damage to his character. So, Shane wins this match if the writers have something up their sleeve. Otherwise, he crashes and burns on a super spot.
AJ Styles has been hot fire ever since the post-RAW Wrestlemania last year. It's almost odd that the cards have dealt him a match with Shane McMahon. While this feud has been built logically. With that being said, AJ is a perennial contender for the world title. One of the most over guys on the roster. He has absolutely no reason to lose this match. If they want to do a storyline where AJ is on some sort of losing skid, and move him to RAW, maybe that could be an option. But, I don't see him losing to Shane under any other circumstance.
This is a match that I am surprised that I care about. I feel like they've done a really good job of building up this match. Before that, just the thought of it, made me roll my eyes. The fact that AJ wants Shane makes sense. He feels Shane has screwed him, and he wants revenge. Shane wants to beat respect into AJ, after AJ jumped him in the back. It all makes sense from a storytelling perspective.
Now, I'm not realy sure that the match does much for AJ. It's a lose/lose for him, he beats an authority figure, or loses to someone who is only known for jumping off of things. Let's be honest, this match has a pretty obvious outcome. – Robert Cooper (Coop)
Winner: AJ Styles
Other Staff Members Predictions: Everyone Else Also Picked: AJ Styles.
WWE United States Championship Match
(Champion) Chris Jericho vs. Kevin Owens
I've been waiting patiently for this match, ever since they started teaming at Summerslam. This will be the show stealing match that we will be talking about for years to come. Jericho could win this match because he's the Best In The World At What He Does. He will do whatever it takes to keep his United States Championship.
However, Kevin Owens should win this, because Jericho will be in an emotional state of wanting to ruin and humiliate Owens. This level of recklessness is the opportunity that blinds him to the goal of retaining his championship. He's bound to make costly mistakes to help Owens win. Also, it's possible Samoa Joe may appear and distract Jericho from achieving total victory over Owens. – Glenn Smith
Winner AND NEW CHAMPION: Kevin Owens
Other Staff Members Predictions: Everyone else also picked: Kevin Owens.
RAW Tag Team Championship Match
Triple Threat Ladder Match: (Champions) Luke Gallows & Karl Anderson, Enzo & Cass, Cesaro & Sheamus
Luke Gallows and Karl Anderson haven't been treated exactly as the most legitimate Tag champs of all time. However, they are at least defending their titles at Wrestlemania. Their challengers are former Tag champs Sheamus and Cesaro. Plus, the incredibly popular duo of Enzo and Big Cass. This match has little momentum going for it, so making the match a ladder match is sure to help it. This match is a potential show opener, so everyone involved is gunning to make it a match no one will want to follow.
While Cesaro is the only competitor that seems to be able to perform some insane stunts in a ladder match, Sheamus and Enzo will find ways to entice "Holy S***!" chants as Gallows, Anderson, and Big Cass play the grounded warriors. Anderson and Gallows title reign is fresh so they could retain the gold. Cesaro is a massive fan favorite so a win at Wrestlemania, in front of a huge audience for his team could be something. However, it is time for Enzo and Big Cass to take over the tag team division. Since debuting the night after Wrestlemania last year, Enzo and Cass get some of the loudest reactions every night and are in line for a title run. Goofy catchphrases aside, Enzo can talk among the best of them. A crowning moment for Enzo and Cass standing atop the ladders would be great. – Noah Mooney
Winners AND NEW CHAMPIONS: Enzo & Cass
Another Opinion
The current Raw tag team champions, Luke Gallows and Karl Anderson, feel like a team of destiny. They are legitimately one of the best tag teams in the world. And also a breath of fresh air in WWE. The duo has brought a piece of New Japan Pro-Wrestling with them in their style. While also bringing a piece of the past with them in their attitude. In a universe filled with edgy good guys and entirely too likable bad guys, the good brothers are truly about being mean and making green. Most of all, they are highly effective inside the squared circle. And even in a match that presents them no championship advantage, nor is suited to their strengths as competitors, they remain the favorites to retain.
Sheamus and Cesaro are WWE's resident chefs, as they have perfected their chicken salad recipe. To blow-off a feud that very few fans were excited about, they were given a seven match series. What did they do? They tore the house down. When given the old, tired "odd couple" tag team gimmick, what'd they do? They became a highlight of Raw on a regular basis. Even ending The New Day's record setting second tag title reign. These two have truly been the backbone of Raw's tag division. Possessing the ability to wrestle any tag team. Regardless of how the fans feel about the opponents, and do so very well.
Enzo and Cass, for all their popularity, seem destined for the chase. The addition of the ladder stipulation seems to benefit the Jersey jaw jackers though. I can at least envision them winning a ladder match here, whereas I just couldn't forsee them winning by pinfall. Honestly, it wouldn't be such a bad idea either, as perpetually failing to win big matches can stunt the growth of young talent. Plus, it sets up a big rematch for Raw's upcoming, brand specific PPV. I also suspect Enzo to do something very dangerous in an attempt to gain immortality in highlight packages. Nearly kill himself in the process. This would please Corey Graves to no end. – Jeff Sugg
Winners AND STILL CHAMPIONS: Gallows & Anderson
Other Staff Members Predictions: Sean, Paul, Glenn, Thomas: Enzo & Cass. Angel, Coop, Robert, Patrick, Rick: Gallows & Anderson. Harry Broadhurst: Cesaro & Sheamus.
The "It Couples" Tag Team Match
Mixed Tag Team Match: John Cena & Nikki Bella vs. The Miz & Maryse
Oh man, where do I start. I love John and Nikki, but this feud in general has been cringeworthy, at best. However, with that said, Miz and Maryse have a snowball's chance in hell of winning. – Thomas Grim
Winners: John Cena & Nikki Bella
Thomas and I must be seeing different feuds. Miz and Maryse have been absolute dynamite in the build-up. Literally, we thought this match was totally throw away. However, Miz and Maryse, to a lesser extent Cena and Nikki, made this a match worth watching. Maryse imitating Nikki in the Total Bellas skits is hilarious. Miz as Cena got the impression just right. Then, they brought in the right amount of reality into the feud to make it spicy. Thomas is right about Cena and Nikki are totally winning. However, Miz continues to show how great he is. Wouldn't be surprised at all, if John Cena proposes to Nikki after it's over too. I mean, they need to shill Total Bellas and Total Divas. – Sean Garmer
Winners: John Cena & Nikki Bella
Other Staff Members Predictions: Angel & Glenn: Miz & Maryse. Jeff, Paul, Coop, Robert, Patrick, Rick & Harry: Cena & Nikki.
Smackdown Women's Championship Match
(Champion) Alexa Bliss vs. Mickie James vs. Becky Lynch vs. Naomi vs. Natalya vs. Carmella
For the sake of my sanity, I'm only going to talk about the women that are currently in this match. I know there's rumors and possibilities that other women could get involved, but literally trying to pick one of them is crazy. Honestly, I feel there's only three women that could legit win this. If Natalya is getting some kind of glory run, I feel there's bigger opportunities, with an actually story in place, for her to do that. Carmella is nowhere near ready for the pressure, nor does she have the in-ring ability to carry the belt. I also think Becky having held the belt previously sort of puts her out of the running.
Now, speaking of former champions, Naomi held it for a hot minute. However, an injury forced them to put it back on Alexa. The intention was for her to walk-in to Orlando as champ. So, it's possible they may try to redeem that, by having Naomi walk out as champion instead. There's always a chance that Alexa retains. Especially, if they have either a former roster member, or perhaps Asuka make her debut. Having the current champion retain would allow Alexa to boast about beating everyone in one match. Setting the stage for someone else to show up and make a challenge.
Mickie James is a legend and to add credence to her claim of being a women's revolution pioneer, winning the belt would do just that. Regardless of the end result, let's hope the women get time to shine. I'll go with Naomi to get the hometown victory. – Sean Garmer
Winner AND NEW CHAMPION: Naomi
Other Staff Members Predictions: Patrick Ketza: Mickie James. Thomas, Harry, Rick, Paul, Noah, Jeff, Angel, Glenn, Robert, Coop: Naomi.
RAW Women's Championship Match
Fatal 4 Way Elimination Match: (Champion) Bayley vs. Charlotte Flair vs. Nia Jax vs. Sasha Banks
Take last year's triple threat and add another person. Make no mistake, this should be a great match. Especially, considering who is in the match. We know the skill set of three, but I feel this could really be a showcase for Nia Jax. Her power and strength can be used to her advantage easily. Charlotte's skill, and her wanting revenge for the loss at WWE Fastlane guides her. Sasha and Bayley need to rely on each other to try and get through this match. I do feel like the real story will be Monday at RAW. However, I still expect a great match. Sasha first eliminated, then Nia knocks off Charlotte. Finally, Bayley beats Nia to retain the RAW Women's Championship. – Patrick Ketza
Winner AND STILL CHAMPION: Bayley
Other Staff Members Predictions: Sean, Rick, Robert: Sasha Banks. Harry, Noah, Coop, Angel Paul: Bayley. Jeff Sugg: Charlotte. Glenn Smith: Nia Jax.
Cerebral Assassin vs. The Architect
Non-Sanctioned Match: Triple H vs. Seth Rollins
This match has a lot to live up to. Mainly, because of it having the best setup of any match at Mania. The classic tale of Student vs. Teacher. Authority vs. Rebel. Rollins vs. Triple H is a match a year and a half in the making. One that will be a likely candidate to steal the show. Due to Seth's re-injury of his knee, this match was in jeopardy of even happening. Making it even more exciting. Due to his limited abilities, like not being able to perform high risk moves where he lands on his feet. This match has changed to a Non-Sanctioned match, which makes the match even more appealing.
Two bitter rivals tearing each other apart with no rules is something anyone is on board for. The match will be fantastic. The storytelling of Rollins fighting through his injured knee, with determination to get redemption. Such a great story to tell. Also, the action will be intense. Especially since Samoa Joe is sure to get involved. Plus the possible return of Finn Balor as well. This match has all the bells and whistles. Rollins overcoming Triple H seems like the outcome.
However, due to Triple H having head-scratching wins at Wrestlemania (vs. Booker T at XIX, Brock Lesnar at XXVIII, and Sting at 31), The Game coming out on top isn't completely out of the equation. The scenario could play out as Rollins gives all he's got. But then his knee gives out and Triple H destroys him. This leads to Rollins getting the best babyface reaction of his life and being able to take time off to completely heal from his injury.
However, my money is still on Rollins to fend off all the odds, Samoa Joe and the sledgehammer included, to fight valiantly and defeat his former mentor with a pedigree in the middle of the ring. The match could truly propel Rollins in his babyface role and give the WWE Universe somebody they will be ecstatic to cheer for years to come. – Noah Mooney
Winner: Seth Rollins
Other Staff Members Predictions: Everyone else also picked: Seth Rollins.
WWE World Championship Match
(Champion) Bray Wyatt vs. Randy Orton
Only in the WWE is felony arson a story building premise. Randy had a "can't beat them, join them" theory when it came to Wyatt and his Family. It proved effective, as Randy was able to turn Harper against Bray and position himself to turn the tables on Wyatt. Randy first won the Rumble but in a sign of loyalty, turned down the title shot. AJ Styles became the number one contender until Orton turned to arson to let Bray know that they were no longer on the same page. Randy then beat Styles on Smackdown to earn this title shot.
However, let's face it, it took Bray a lot longer then it should have to find himself the champion. Not to mention, in the main event picture at all. The WWE is in desperate need of new main event level talent and Wyatt has all the tools to be that guy. Add in that he hasn't reached his 30th birthday yet and it's all the more reason to establish him right now. The best way to do that, is with a win here.
Randy Orton is a proven commodity as champion. It's a smart idea when trying to market Smackdown as an equal to Raw. Randy's last title reign ended in 2014 at WrestleMania XXX so it will have been a long time in between reigns for the "Apex Predator". This may be the hardest match on the show for me to call. But, I am going with Bray retaining. I think there is still plenty to do with Wyatt as champion. I feel like they would be missing a key opportunity to expand the uppercard for Smackdown, if they take the belt from Bray so quickly. – Harry Broadhurst
Winner AND STILL CHAMPION: Bray Wyatt
Other Staff Members Predictions: Patrick, Glenn, Robert, Jeff, Angel: Bray Wyatt. Sean, Rick, Noah, Coop, Paul: Randy Orton.
WWE Universal Championship Match
(Champion) Goldberg vs. Brock Lesnar w/ Paul Heyman
Goldberg returned to wrestling to promote a video game. As well as, to show to his family what he used to do. Somehow, along the way Goldberg was given the Universal Championship. Goldberg has never been one of those dedicated wrestlers who love to perform. He's an ex football player with a great look and full of intensity. I don't think we'll see anymore of Goldberg after Sunday and for that reason I'm picking Brock. Brock may be on a limited schedule as well, but he's an actual wrestler. Plus, the limited schedule makes him more of a special attraction, which he deserves. Brock will win the Universal title after kicking out of a spear and jackhammer. He'll hold the title on his limited dates until someone like Roman Reigns takes the belt off him. – Rick Beslin
Winner AND NEW CHAMPION: Brock Lesnar
Other Staff Members Predictions: Everyone else also picked: Brock Lesnar.
MAIN EVENT: The Dead Man vs. The Big Dog
Undertaker vs. Roman Reigns
Roman Reigns is going to absolutely destroy The Undertaker, and it will be decisive. Now, this is where I'm supposed to try and explain how The Undertaker can win the match. However, I just can't. This is going to be Roman's night, and it's going to be a great night for him. It will be a great night for us too. Why? Well, this is the night Roman finally begins his actual heel turn. No matter how they book this match, Roman is going to be the most hated person for the next three days. The WWE is going to capitalize on it with the rabid WrestleMania weekend crowd. Right? Right? Well, I can dream anyway. – Robert Taylor
Winner: Roman Reigns
Other Staff Members Predictions: Sean, Paul, Angel, Rick, Patrick, Jeff, Thomas: Roman Reigns. Coop, Harry, Noah: Undertaker.
Farewell For Now
Before leaving you, be sure to check out Gary Vaughan Sean and Paul previewing both big events on the latest Wrestling 2 the MAX podcast below.