W2Mnet NXT Takeover Toronto Preview
The WWE NXT product may be in a constant state of flux, but when it comes to these NXT Takeover events, they tend to deliver. NXT's roster is in a growing period with so many stars moving up for the WWE Draft. However, those that remain still provide the charisma and wrestling ability needed to fill arenas. At the previous Takeover, a new NXT Champion was crowned and set in motion a change for the promotion.
Now, the cast and crew arrive in Canada for NXT Takeover Toronto. Where all three championships are on the line. #DIY challenge NXT Tag Team Champions The Revival. Mickie James returns to a WWE ring for one night, to face Asuka. While, Shinsuke Nakamura puts the NXT Championship up against Samoa Joe. A trophy will be presented to either TM-61 or the Authors of Pain for winning the Dusty Rhodes Tag Team Classic. Plus, "The Perfect 10" Tye Dillinger takes on the "Glorious" Bobby Roode as well. Let's get on with it then, this is the W2Mnet NXT Takeover Toronto Preview.
An Introduction to the Article
As someone that has quite a bit of experience doing these roundtable type articles, I wanted to do this a bit differently than some others. Instead of having numerous people all give thoughts on each match, I felt it better to assign one match to each person. So, one of our staff members will make the case for each person winning said match, then give their thoughts on the match itself, and finally predict a winner. This continues until the end of the article, when everyone gathers to give their overall thoughts on the event.
W2Mnet Staff
Sean Garmer, Editor-in-Chief, Co-Host of Wrestling 2 the MAX
Paul Leazar, Wrestling Dept. Head, Co-Host of Wrestling 2 the MAX
Gary Vaughan, Co-Host of Wrestling 2 the MAX, Football Dept. Head
Cody Howk, W2Mnet WWE NXT Reviewer, Co-Host of Jobber's Court
Jeff Sugg, W2Mnet Editor, Wrestling Contributor
Don't forget, this show begins with a Pre-show, although no matches have been announced for it.
Bitter Enemies Singles Match
Tye Dillinger vs. Bobby Roode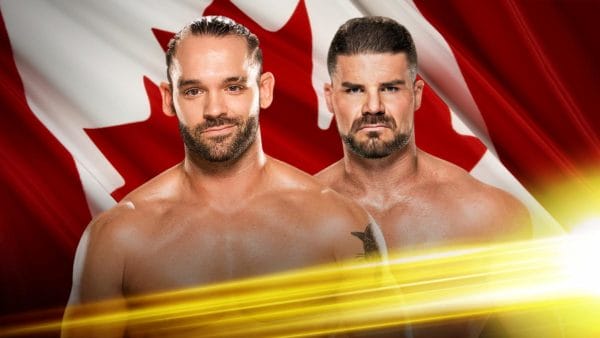 For over a decade Bobby Roode has been one of the most successful faces of TNA as well as the indy circuit. He's a multiple-time time World Champion and multiple- time Tag team champion. You name it and he's done it in the world of professional wrestling.
Tye Dillinger on the other hand is truly the physical embodiment of the term, "enhancement talent." Since signing with WWE in 2006, he has spent the better part of the last decade putting over other wrestlers in Ohio Valley Wrestling, Florida Championship Wrestling, and NXT, all while honing and perfecting his craft. That being said, ever since he emerged as the Perfect 10 the NXT Universe has come to love and respect him, even though he would continue to lose the big matches.
A Show Stealing Match
This time around, things seem to be different. With the arrival of the GLORIOUS Bobby Roode and the new, unforgiving attitude of Tye Dillinger. This match in my opinion may be the show stealer. You've got arguably the two most technically sound grapplers in the company. You could argue the two most charismatic story-tellers are going head-to-head in this match as well.
Sure, Nakamura and Samoa Joe facing off for the Championship will be great, the chemistry between those two men just hasn't been as electrifying for me as the tension growing between Roode and Dillinger.
Odds are favored for Bobby Roode winning this match. But maybe, JUST MAYBE, Tye Dillinger will show the world why the crowd chants "TEN! TEN! TEN!" every time he steps into the squared circle. Maybe, JUST MAYBE, Tye Dillinger will finally break the glass ceiling that he's been under for the last ten years and he will finally get his big win. – Cody Howk
Winner: Tye Dillinger
Other staff member's picks: Everyone else picked Bobby Roode
Dusty Rhodes Tag Team Classic Final Match
TM-61 vs. Authors of Pain
The Authors of Pain and TM-61 will be on the hunt to win the second annual Dusty Rhodes Tag Team Classic. Paul Ellering has lead the Authors of Pain, Akam and Rezar, on a path of total destruction. Though their end game is not clear, Ellering has brought his Authors of Pain to the finale and intends for them to win the tournament in a destructive fashion. Akam and Rezar are monsters and should be able to tear apart TM-61 who are half their size.
Paul Ellering has been known to assist his clients to victory. This is exactly why NXT General Manager William Regal has ordered Ellering to be locked in a cage suspended above the ring to avoid interference in the match. This makes the match more fair as TM-61 will be on their own. Shane Thorne and Nick Miller have clawed their way into the finale with their athletic ability.
Both men have overcome the odds, as they have beaten some of the best tag teams NXT has to offer. TM-61 can beat the Authors of Pain by using their speed, toughness, and their ability to do high flying maneuvers. Thorne and Miller also have the experience that they can use their long run as a tag team to out smart their opponents. In the end, I believe TM-61 will find a way once again to pull out a victory against a team they were not supposed to beat. It will be tough sledding, but Thorne and Miller are going to represent the Dusty Rhodes Tag Team Classic with great honor. – Gary Vaughan
Winner: TM-61
Other staff member's picks: Sean: TM-61, Paul: Authors of Pain, Cody: Authors of Pain Jeff: Authors of Pain
NXT Tag Team Championship 2 Out of 3 Falls Match
(Champions) The Revival vs. #DIY
The first match between these two was absolute magic. They have continued this feud surprisingly well and have us all anticipating another classic on Saturday. The Revival absolutely have a legit claim to "Best Tag Team in the World" right now. Many doubted how good Revival could be, but they prove every time out just how great they are.
It is incredible how they deliver something for hardcore fans to devour in each match. The little things they do are beautiful to watch. #DIY of Gargano and Ciampa have been perfect foils for the heels. In a way, they bring something that American Alpha didn't, which is a grit and never say die feeling to their matches. Their match at Brooklyn was a surefire Match of the Year candidate. This is a lot to live up to coming into this show.
Could Someone Be Main Roster Bound?
The 2 Out of 3 Falls staple was added to make this the definitive feud finisher. There's been quite a bit of talk amongst pundits that The Revival could be headed to the main roster soon. There's also been this thought that due to the addition of making this a quadruple WWE show weekend, someone has to be coming up from NXT. Though #DIY was once thought to be used for the Cruiserweight Division, it seems more likely they stay where they are. Also, it would make a lot of sense for DIY to win the titles here, thus winning the feud.
Especially, if Authors of Pain win the Dusty Rhodes Trophy earlier in the evening. Revival do have a bit of unfinished business with TM-61 and thus could stick around to have that match at a future Takeover event. This would also mean TM-61 walks out as Dusty Rhodes Trophy winners. Let's face it, #DIY are terrific, but it seems like they've also been teasing something between the two men. They don't need to win the titles to solidify anything. Although, one could make the argument Revival have done all they can do in NXT and should move up. At the end of the day, I can't see Revival going anywhere just yet. – Sean Garmer
Winners AND STILL CHAMPIONS: The Revival
Other staff member's picks: Paul: #DIY, Gary: The Revival, Cody: #DIY, Jeff: #DIY
NXT Women's Championship Match
(Champion) Asuka vs. Mickie James
The dominant NXT Women's Champion, Asuka, takes on her toughest challenge yet in returning legend, Mickie James. Mickie, while not in WWE, has maintained a commendable pace inside the ring. She will need every ounce of experience that she has amassed in her career in order to survive the onslaught of Asuka. The Champ is simply a mauler; whether it is her striking, grappling, or her pressure, Asuka is hell bent on destruction. If Mickie wins, it signifies that Asuka is ready to dominate a brand and has Wrestlemania plans. And that in the interim, NXT wants a stop gap to help prepare the future of their Women's division. If Asuka wins, hopefully it means that Ember Moon is on her horizon. – Jeff Sugg
Winner and STILL CHAMPION: Asuka
Other staff member's picks: Everyone else also picked Asuka
NXT Championship Match
(Champion) Shinsuke Nakamura vs. Samoa Joe
They've hyped up this rematch so well. Joe's promos have been absolutely killer since Brooklyn this year. I just can't wait to see these guys lock-up again with a better build in place. Shinsuke Nakamura is the lock going into this one. I don't think it's time to move the belt off of him, I still think the WWE wants him to carry the title a bit longer. So, they can see how well NXT does before they bring him up later.
I don't see terrific reason to move it back over to Samoa Joe. That is, unless, they want to have Shinsuke free and available to be in the Royal Rumble next year (although I really think his debut would be better served for the WWE RAW after Wrestlemania 33). In that case, they'd hot shot the belt back over to Joe for him to carry forward as a heel, which would be difficult, as they're aren't a ton of big faces for him to face. This is something I don't see happening though. – Paul Leazar
Winner AND STILL CHAMPION: Shinsuke Nakamura
Other staff member's picks: Everyone else also picked Nakamura
Overall Thoughts Part 1
There's something in the cold Canadian air that makes this network special seem just that, special. Typically Brooklyn has been the BIG show for NXT. However, Toronto is aiming to be one of the better WWE events of the year. Although NXT has lost some big name talent due to being promoted to Raw and Smackdown Live, the current developmental roster continues to flourish. The stories, in ring action, and video packages for each match have been great. This event should continue to prove why NXT is one of the hottest professional wrestling promotions in North America – Cody Howk
This show looks all kinds of fantastic. Every match has potential and every match has a thread of story going into it as well. This is what makes these NXT Takeover events so special. Perhaps the week-to-week television episodes are a bit lacking, but when these events come around, everyone's eyes are glued to their screens. I am into each match on this card for several reasons. Roode and Dillinger is going to create some terrific crowd interactions.
The Tag Team Classic Finale has a unique dynamic of experience versus total power. Not to mention, bringing back an old gimmick, which provides its own qualities to the match. DIY and Revival have a magical chemistry and I wouldn't be surprised if this is match of the show again. Mickie James and Asuka certainly is interesting. Especially because this is Asuka's toughest challenge since Bayley. Nakamura vs. Joe 2 could be an absolute classic and I hope they get to deliver. – Sean Garmer
Overall Thoughts Part 2
I'm really looking forward to this Takeover. It's another stacked card, and I think we'll get a terrific snapshot of what we have going forward. Is the rest of the Women's Division ready to step up? (You have to think somebody will attack Asuka after her match). #DIY and The Authors of Pain is a money feud for the Tag Titles going forward. Not to mention, all the injuries at the top of the NXT roster, who challenges for the NXT Title next? I just can't wait to see it all go down. – Paul Leazar
I fully anticipate NXT leading the charge during a super WWE weekend. Canada's own, Bobby Roode and Tye Dillinger might get the biggest reaction of the night. I suspect Toronto's hardcore fanbase to go crazy for DIY/Revival and Naka/Joe as well. This should ensure an electric atmosphere. It is the little things that turn a really good card into something special. Toronto will do their part. I hope the tradition of over-performing continues for NXT.
I like Nakamura vs Joe as Match of the Night, but with 2 out of 3 Falls to play with, the great old school heels should tell an amazing story as well. The chance for big surprises is always a crucial aspect of Takeovers. Will this be someone's last NXT bout? Could there be a new addition to debut? Will there be a MOTY candidate? I'm all-in on Saturday. – Jeff Sugg