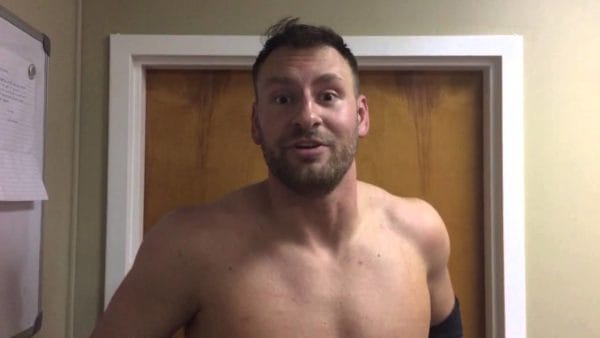 Running Wild Podcast's Rich Laconi and Runz bring you another episode of wrestling discussion. They share their thoughts on all the latest in the world of professional wrestling.
On this episode of Running Wild Podcast, the two discuss their reactions to the EVOLVE weekend of shows 72 and 73. They also talk about what could come from the apparent break up of Catch Point. The brutality of the Squared Circle of Survival match. Ethan Page's development as a top heel in the company. Plus, new talent appearing with the company.
The guys also recap and review WWE RAW and WWE Smackdown Live. They share their thoughts on the latest offerings from WWE programming and make their predictions for this year's iteration of WWE Survivor Series. The two debate the significance of the Undertaker's return and how the possibility of titles moving back and forth from brands will impact the product moving forward.
Rich was lucky enough to chat with Donovan Dijak, delving into how Dijak broke into the business. His transition from being ROH's 2015 Top Prospect winner, to being a stalwart for the company. What it was like to work with Jay Lethal and Prince Nana. Plus, what his future in the company looks like. Don't miss the Donovan Dijak Interview, an exclusive interview with one of independent wrestling most impactful superstars.
Running Wild Podcast: Donovan Dijak Interview, Evolve 72 and 73 Review, Undertaker Returns
About Running Wild Podcast
Two longtime friends Rich Laconi and Runz run wild on everything and anything professional wrestling each week. They might talk about their experiences at an indy show, discuss what happened on WWE RAW, NXT, or even ROH or anything that strikes their fancy.
Rich Laconi:
A high school English teacher whose love of Shakespeare is only eclipsed by his passion for professional wrestling. A regular contributor to Last Word on Sports wrestling department, he frequents as many WWE, ROH and independent wrestling shows as possible. Grew up a fan ofMacho Man Randy Savage and Ric Flair, but now he pulls for heels, except for Kevin Owens. You can read his weekly work on Ring of Honor, ROH Honorable Mention on Last Word Sports.
Runz
Wrestling connoisseur. Lifetime New Yorker who hates all New York teams. Consistently gets mistaken for Action Bronson. Once too sweet'd Hulk Hogan. Kevin Owens is his hero.